Subscribe for our newsletter to have the latest stories and curated art recommendations delivered straight to your inbox
ARTIST SPOTLIGHT
5 Famous Artists Exploring Geometric Abstraction
Like
comments
SAVE
Geometry is, to some degree, the basis of all painting. Artists use the basic shapes to construct a different world. By combining them in ever more elaborate ways, incredibly complex images can arise. That's the way that geometry was used in art for thousands of years. But as modern art began to emerge, artists started using basic geometry in an abstract way. Thus the term Geometric Abstraction was developed. Rather than making art that represented real life with these fundamental shapes, artists went directly to the shapes themselves.
What they found as they began doing this was a rich, mostly untold history of geometric abstraction. Cultures native to the American Southwest had been employing this style going back countless generations. Muslim cultures, given Islam's ban on representative images, had their own tradition. And the list goes on, including yantra designs in India and Aboriginal art in Australia.
Drawing from these traditions and striking out paths on their own, many artists began exploring abstract geometric art, and the results speak for themselves. Geometry art, with its emphasis on geometric shapes in art, opens up new dimensions of artistic expression. From intricate patterns to minimalist designs, artists explore the inherent beauty of geometric shapes and their interconnections. By manipulating lines, angles, and forms, geometric art stimulates visual perception and invites contemplation.
Let's look through the five of the most famous artists in the field.
Piet Mondrian
Composition No. 10 (1942) by Piet Mondrian
Piet Mondrian (1872 to 1944) was born in the Netherlands. But his career went far afield of his homeland. Over his lifetime, he helped create abstract art. His work gradually moved from the representational to the purely abstract, giving us a clear view into the development of his thinking and style.
His most popular geometric abstract art paintings contain large amounts of white space, intersected by straight lines, with some fields of primary color. That style became synonymous not only with the artist but with the growing field of modern art itself.
These paintings are sophisticated, direct, and show a radical break with Western art. They remain some of the most iconic paintings of the 20th — or any — century.
Wassily Kandinsky
Squares with Concentric Circles (1913) by Wassily Kandinsky
Like Piet Mondrian, Wassily Kandinsky (1866 to 1944) helped invent abstract art as we know it today. And like his contemporary, his career began as a representational artist — though he continued to push the boundaries until finally taking the leap into pure abstraction.
Kandinsky's influence is felt both from the art he created and for the theoretical works that he wrote. He helped clarify our thinking on just what geometric abstraction art is and how it works, as well as answer why we should paint in this style at all.
Music had a major effect on him. Since it is purely abstract, he borrowed terms from music to describe his work and painting in general. He also imbued his art with profound spiritual feeling.
Sonia Delaunay
Rhythme (1938) by Sonia Delaunay
Sonia Delaunay (1885 to 1979) was a force to be reckoned with. She co-founded Orphism — an art movement that combined the exuberant color of Fauvism with the visual abstraction of Cubism, all while pushing both into new frontiers past any representation.
Her work is also notable for its scope. She was a painter first, but took the ideas she discovered in her studio and applied them to a wide range of practical items, like clothing and furniture. She even famously decorated a Mantra M530A sports car.
Today, Delaunay's paintings are considered high level classics in the field of geometric abstraction.
Barnett Newman
Onement 1 (1948) by Barnett Newman
Barnett Newman (1905 to 1970) is one of the most controversial artists of the 20th century. Not because of the content of his paintings, but because of how confrontationally content-less his paintings were.
He started developing surrealism paintings before landing on his devastatingly simple style. His canvases often contain just two colors, with one large field interrupted by a single stripe (consider Onement 1 pictured above).
His work Who's Afraid of Red, Yellow and Blue III was famously attacked by Gerard Jan van Bladeren, who stabbed it with a knife in 1986. After its $400,000 restoration, van Bladeren returned in 1997 to stab it again. He couldn't find the painting, so he chose to deface Newman's Cathedra instead.
Kazimir Malevich
Suprematism (1915) by Kazimir Malevich
Kazimir Malevich (1879 to 1935) was a Russian artist whose career was not entirely in abstract art, though he gave us some of the most striking pieces in the field. He founded the school of Suprematism with his 1915 manifesto on the subject. His new art movement was based on simple shapes painted in few colors. This laid the groundwork for geometric abstraction.
His suprematist paintings are daring in their simplicity, dramatic in their composition. This work goes to show that using the barest of essential elements, an artist can still make us think and, most importantly, feel.
Conclusion
Abstract art has captivated the world with its unconventional beauty and the boundless creativity it offers. Over the years, numerous abstract artists have risen to fame, leaving an indelible mark on the art world. Their famous abstract artwork continues to inspire and challenge perceptions of what art can be.
One prominent aspect of abstract art is the incorporation of geometric elements. Geometric abstract art explores the use of precise shapes, lines, and compositions to convey emotions and ideas. The interplay of geometric forms creates a visually captivating experience, showcasing the artist's mastery of balance, symmetry, and spatial relationships.
Famous abstract artists such as Wassily Kandinsky, Piet Mondrian, and Kazimir Malevich are celebrated for their contributions to geometric abstraction. Their bold geometric paintings and compositions have become iconic representations of the movement, pushing boundaries and defying traditional artistic norms.
Passionate about Geometric Abstraction? Discover a handpicked selection of contemporary geometric abstract art and explore their visual language, hidden meanings and analogies.
SIMILAR ARTICLES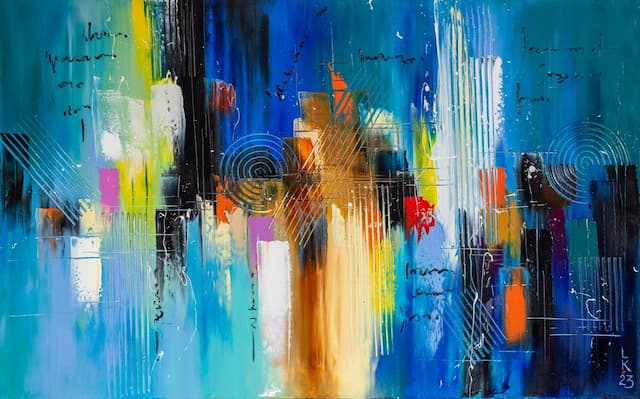 Famous Abstract Art and Artists
Abstract art is a captivating and revolutionary movement that emerged in the early 20th century, challenging the conventions of representational art. It sought to express emotions, ideas, and concepts through non-representational forms, focusing on the interplay of colour, line, shape, and composition. Abstract art opened up new possibilities for artists to explore the depths of their creativity and create works that transcend the confines of reality. The article embarks on a journey through the world of famous abstract art and delves into the lives and masterpieces of renowned abstract artists who have significantly contributed to this dynamic and expressive genre. Wassily Kandinsky (1866-1944) Russian-born artist, Wassily Kandinsky, is widely regarded as one of the pioneers of abstract art. He believed that art should visually represent the artist's inner spiritual and emotional experiences. Kandinsky's early works were influenced by Russian folk art and Impressionism. However, his encounter with the artworks of the Fauvists and the vibrant colours of Matisse sparked his shift towards abstraction. Kandinsky's abstract artworks, such as "Composition VII" and "Yellow-Red-Blue," exemplify his exploration of colour, form, and composition. He believed that colour had a direct emotional and spiritual impact on the viewer. His compositions often feature bold geometric shapes, swirling lines, and vibrant, contrasting colours. Kandinsky's art not only pushed the boundaries of representation but also sought to evoke profound emotional responses from the viewer, transcending the limitations of figurative art. Color Study. Squares with Concentric Circles (1913), Is one of Kandinsky's most recognisable artworks. A small artwork on the study of colour colour combinations and the perception it carries is reverred as his most famous artwork. Piet Mondrian (1872-1944) Dutch painter Piet Mondrian was crucial in developing abstract art, particularly geometric abstraction. He believed that art should strive for universal harmony and balance, which could be achieved through simplification and using primary colours and straight lines. Mondrian's iconic works, such as "Composition with Red, Blue, and Yellow" and "Broadway Boogie-Woogie," embody his distinctive style. He utilized a grid of horizontal and vertical lines intersecting with primary colours and black and white rectangles. Mondrian sought to reduce art to its essential elements, emphasizing the fundamental relationships between form, colour, and space. His artworks are characterized by order, clarity, and geometric precision. Composition with Red, Blue and Yellow (1930), is an abstract masterpiece, featuring geometric shapes and primary colors, embodying the principles of De Stijl movement. Mondrian's use of straight lines and primary colors evokes a sense of harmony and balance, making it a timeless representation of modern art. The artwork has become an influential symbol of abstract expressionism and continues to inspire artists and art enthusiasts around the world. Kazimir Malevich (1879-1935) Kazimir Malevich, a Russian avant-garde artist, was a prominent figure in the development of abstract art, particularly within the Suprematist movement. He believed in the power of pure geometric forms to evoke emotion and spirituality. Malevich's most famous work, "Black Square," created in 1915, is a seminal piece in the history of abstract art. It is a bold and radical composition with a black square on a white background. Malevich described this work as the "zero degree" of painting, representing the pure essence of art stripped of any representational elements. Through Suprematism, Malevich sought to free art from the constraints of the material world and explore the transcendental nature of pure form and colour. Joan Miró (1893-1983) Joan Miró, a Spanish painter, sculptor, and ceramicist, was known for his playful and imaginative abstract artworks. His style bridged the gap between abstraction and surrealism, combining organic shapes, biomorphic forms, and symbolic elements. Miró's works, such as "The Tilled Field" and "Harlequin's Carnival," feature vibrant colours, curvilinear shapes, and whimsical symbols. He often incorporated dreamlike and childlike imagery, blurring the lines between reality and the subconscious. Miró's art exudes a sense of spontaneity, freedom, and exploration of the inner self. He believed that art should evoke emotions and connect with the viewer subconsciously. Joan Miró – Harlequin's Carnival (1924 – 1925) Jackson Pollock (1912-1956) American artist Jackson Pollock was a crucial figure in the Abstract Expressionist movement. He revolutionized the art world with his unique approach to painting, which involved pouring and dripping paint onto a canvas on the floor. Pollock's famous "drip paintings," such as "Number 1, 1950 (Lavender Mist)" and "Autumn Rhythm (Number 30)," are dynamic and energetic compositions. Through his innovative technique, he explored the physicality of paint and the spontaneous gestures of the artist's hand. Pollock's artworks are characterized by intricate webs of drips, splatters, and gestural marks, creating a sense of movement, rhythm, and chaos. His works embody a raw and emotional expression, inviting viewers to interpret and engage with the artwork on a visceral level. No. 5, (1948) is considered one the most famous as well as the most expensive painting by Jackson Pollock Mark Rothko (1903-1970) American painter Mark Rothko is known for his large-scale colour field paintings that evoke deep emotional responses. Rothko believed that art should create an intimate and immersive experience, allowing viewers to contemplate the complexities of the human condition. Rothko's signature style involved large rectangular fields of colour, often stacked or overlapping. His compositions, such as "No. 61 (Rust and Blue)" and "White Center (Yellow, Pink and Lavender on Rose)," feature vibrant hues that seem to radiate from within the canvas. Rothko sought to create a sense of spiritual transcendence through his artworks, inviting viewers to immerse themselves in the luminous fields of colour and engage with the profound emotional depth conveyed. The famous "Orange, Red and Yellow" (1961) is not just the most famous but also grossed the highest Auction value Concluding Remarks The famous abstract artists and their artworks have left an indelible mark on the art world. Through their bold experimentation, they pushed the boundaries of artistic expression, challenging traditional notions of representation and emphasizing the power of colour, form, and composition. Wassily Kandinsky, Piet Mondrian, Kazimir Malevich, Joan Miró, Mark Rothko and Jackson Pollock are just a few visionary artists who have shaped the trajectory of abstract art. Their works continue to inspire and captivate audiences, inviting viewers to embark on a journey of introspection, emotion, and personal interpretation. Abstract art remains a testament to the limitless possibilities of human creativity and the power of art to transcend the boundaries of the tangible world. Main Image: Strange City by Liubov Kuptsova
5 Famous Nature-Inspired Art Pieces
As we've covered, nature is a tremendous inspiration to artists As we've covered, nature is a tremendous inspiration to artists 10 Famous Nature Artists and their work and what happens when something inspires artists? You get a lot of paintings. The subject matter of nature might be the most celebrated by artists around the world. This nature-based artwork leaves us no shortage of famous paintings to enjoy, and as the environment becomes an ever more important issue, this work is more important than ever. To highlight this long relationship between the artist and the environment, we've assembled a tour of 5 famous art piecesinspired by nature. And what happens when something inspires artists? You get a lot of paintings. The subject matter of nature might be the most celebrated by artists around the world. This nature-based artwork leaves us no shortage of famous paintings to enjoy, and as the environment becomes an ever more important issue, this work is more important than ever. To highlight this long relationship between the artist and the environment, we've assembled a tour of 5 famous art pieces inspired by nature. 1. The Oxbow (1836), Thomas Cole Thomas Cole founded the Hudson River School, one of the most formative groups in American painting. It's members worshipped the naturally abundant beauty of the Hudson Valley. And one of the best of these is The Oxbow. It shows the Connecticut River Valley as a storm rolls off into the distance. The titular bend in the river, the foreground that frames the scene, and the drama of the rain all combine to create a masterpiece. Some commentators have noted that the painting highlights the arrival of civilization, glimpsed by the cultivated fields in the distance. Today, the Hudson Valley is covered in buildings and cut through by roads. Maybe Cole could see what was coming. 2. Wanderer above the Sea of Fog (1818), Caspar David Friedrich Caspar David Friedrich was one of the greatest of the German Romantics. His landscapes can celebrate nature, and just as often, they evoke a spookiness that still sends shivers down our spines. But this piece does something else. It stirs us, calls us to action. The wanderer stands in the center of the canvas, his back to us, looking down into the mists that roam the mountains. It's a stunning natural image and one of the greatest in art. Its power remains more than 200 years after it was painted, and the mark it left on our visual culture cannot be overstated. To this day, the painting appears on numerous album and book covers. 3. Spiral Jetty (1970), Robert Smithson .Not satisfied with just being inspired by nature, the imminent sculptor Robert Smithson chose to collaborate with it for this legendary piece. Made out of basalt rocks, salt crystals, and mud, the enormous feature pushes out into the Great Salt Lake. The space has a haunting aura about it, like a monument from some civilization long past. It's become a pilgrimage for art lovers for that special quality: you have to see it in person to really get it. In 1999, the Dia Art Foundation took over as the owner of the work, taking on the immense responsibility of maintenance. It's no easy feat. While Smithson is no longer with us, his unique collaboration with the environment remains. READ: Check out 4 Artworks That Raise Awareness for Environmental Issues 4. Water Lilies (1898), Claude Monet Claude Monet's Water Lilies series includes several pieces worthy of a spot on this list. But since there are over 250 of them, we had to pick one. But the entire series is worth looking through. These paintings examine Monet's garden, a place of refuge and inspiration for the artist. By focusing on the water lilies, Monet focuses on the fine details available to all of us willing to take a closer look. While many artists choose to explore the natural world through big, bold landscapes, these paintings are intimate. Monet observes so thoroughly and evokes what he sees through beautiful color. 5. Red Canna (1919), Georgia O'Keeffe Georgia O'Keeffe's early painting Red Canna reveals all of the features that would go on to define the master's oeuvre. But it also retains that youthful flair that makes it such an exciting work. At first it seems simple, but once you begin to examine the bold color choices, the strength of the work reveals itself.There are multiple pairs of complementary colors, and a striking mixture of diagonal lines and the vertical jut of the flower itself. As she often did, O'Keeffe explores the similarity between the shapes of plants and the human body. This brings an eerie quality to the painting, making a flower all too familiar with ourselves. Nature and Art These 5 nature art paintings are only the tip of the iceberg. There really is no end to gorgeous art inspired by nature. Hopefully, this list can get you started on your own journey of discovery in this wide and wild field.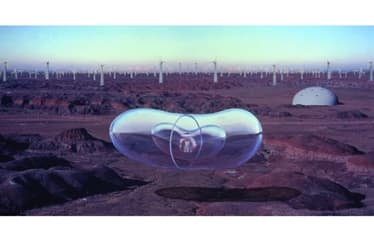 5 Japanese Artists You Should Know
With the excitement of the Summer Olympic Games Tokyo 2020 still fresh in our memory and the Paralympic Games Tokyo 2020 just around the corner, Japan is still on our minds. Unfortunately, we were not able to cheer live for our favorite athletes or to get lost in translation on Tokyo's vibrant streets, but nothing stops us from discovering more about the unique Japanese history, culture, and art. Because of its long isolation as an island nation, Japan's history overflows with one-of-a-kind perspectives and unique cultural forms. That independent streak makes Japanese art an always exciting realm of new experiences and fresh ideas. Over the 20th century, Japanese artists also began leading the pop art blend of mainstream fare with a critical artistic lens, while often embedding a rich mixture of themes and nods to historical legacy. Despite Japan's incredible cultural output, many people around the world are not nearly as familiar with artists from the nation as they should be. Below, we've put together a list of five Japanese artists you should know. This is by no means a comprehensive list, and it's in no particular order. This is a quick stroll through Japanese visual art, something to get you started on your own journey of discovery. 1. Mariko Mori Courtesy Museum of Contemporary Art North Miami Mariko Mori (1967) is an artist known for work in many fields, including: sculpture, digital art, and photography. Her oeuvre is filled with futuristic visions embedded with a profound influence from Japanese history. Her work plays with imaginative worlds and space-age forms, and the end result is always ethereal and mysterious. Some of Mori's pieces are particularly sweeping in scope. Primal Rhythm saw her place sculptures in a bay, standing above the water in haunting silence. One, Sun Pillar, is a transparent sculpture that juts out of a large rock. Beside it in the water is Moon Stone, an orb that changes its color depending on the tide. While the shapes and material appear futuristic, they collaborate with the natural environment. It's both beautiful and poignant, and it gives us an opportunity to rethink the way we interact with the world around us. Mori's profile has steadily risen since the 1990s, and for good reason. She continues to explore new methods while staying true to the conceptual depth and attention to form that have made her work an integral part of contemporary art. 2. Yuko Mohri Copyright Yuko Mohri Yuko Mohri (1980) is an installation artist who recombines items from our day-to-day life into what she calls "ecosystems." These installations often seem perilously balanced. Mohri includes sound and narrative as well, often telling stories through Rube Goldberg-like contraptions. In Moré Moré (Leaky), the artist made visual riffs on the use of buckets and plastic to catch leaking rain water that she saw in a subway station. Many of her pieces focus on the relationship between the human built world and the natural world. But the work is never overly ponderous. Often, the installations create a sense of fun. 3. Takashi Murakami Copyright Takashi Murakami Takashi Murakami (1962) is one of the most controversial artists in the contemporary scene. His anime-influenced sculpture and design have become the center of massive debates in the art world. Plus, his forays into commercial work have made him more popular than ever among fashionistas while angering art world purists. Murakami describes his style as "superflat," a term he also used for postwar Japanese culture as a whole. Aesthetically, the term refers to Japan's legacy of 2D art with little use of perspective. But societally, it points to the reduction of class influence on Japan. Today, Murakami asserts, the differences between high and low culture have flattened out into a single plane. Murakami has done everything from an anime-character sculpture show at Versaille, album covers for the likes of Kanye West, and hypebeast fashion crossover designs with Supreme. His flower motif is world famous, appearing on Louis Vuitton bags and jewelry worn by hip hop artists. It's become a kind of calling card for the rebel. Today, he devotes a large amount of his time cultivating the careers of young Japanese artists while still making art that destroys our notion of high and low culture. 4. Yoshitomo Nara Courtesy Wikipedia Yoshitomo Nara (1959) is a sculptor and painter who creates images of childhood with an unsettling undercurrent of horror. His subject matter is very consistent, but it is through this steady stream of similar images that he's been able to communicate so effectively. His characters, children with cartoonishly large eyes, are often engaged in naughty behavior, a rebelliousness that matches the artist's own. Nara constantly subverts the nostalgia of childhood while still evoking it. The effect is a strange blend of the cute and concerning. Nara is closely associated with another member of this list, Murakami, as both a contemporary and as a fellow traveller in the superflat school. But while Murakami is in a pitched battle between the high and low, Nara is much more focused on the expression of genuine human emotion. In 2020, the Los Angeles County Museum of Art held a retrospective of Nara's work spanning 36 years. The major event has helped boost his recognition outside of Japan. A well-earned honor 5. Yasumasa Mormura Copyright Yasumasa Mormura Yasumasa Mormura(1951) is a master of parody and humorous counterfeiting. But while many of his pieces are great fun, his career has an undercurrent of serious critique at its heart. Mormura's pieces appropriate the great works of Western art and other iconic images, inserting his own photography into them. The works are strangely shocking. We are so used to the Mona Lisa, we feel at home within its frame. And then to see it changed into a self portrait of Mormura himself turns everything on its head. It's a confrontation with the dominance of Western culture throughout the world. It subverts not only our expectation of a given painting, but our expectation of Western art as the source of all great masterpieces. In this way, Mormura is something of a punk rock artist. His themes of identity and imperialism are incredibly relevant to our times. That is why, late in his career, Mormura is still able to command attention for his important work. Asian art is more popular than ever, and collecting them is a fascinating hobby that can enrich your life through beauty, culture and education. Learn why you should start collecting Asian Art today.
ARTICLES ON ARTIST SPOTLIGHT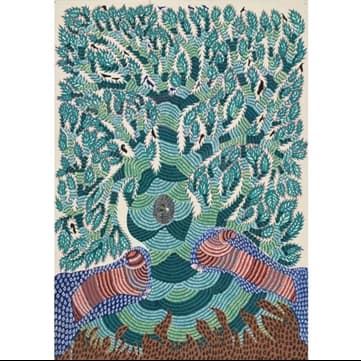 ARTIST SPOTLIGHT
From Gond Art to Jangarh Kalam: The Legacy of Jangarh Singh Shyam lives on!
A pioneering artist, Jangarh Singh Shyam redefined the Pardhan-Gond school of art. His signature style which was later named after him saw the evolution of Gond art from a ritualistic pictorial art made on the walls and floors to a more sophisticated menagerie of dots and dashes. This re-interpretation of the Gond art came to be famously known as Jangarh Kalam. Belonging to the Pardhan Gond community from the central Indian state of Madhya Pradesh, the artist was considered a cultural prodigy in his native village Patnagarh being an excellent flutist and painter. In 1981, the artist was invited by the legendary J. Swaminathan to work as an artist at Bharat Bhavan in Bhopal. It was at Bharat Bhavan, one of the country's most prestigious museums of tribal and contemporary Indian art, Jangarh Singh Shyam grew as an artist as his creative practice underwent sweeping changes. Mentored by Swaminathan, Shyam's inheritance in traditional music and storytelling blossomed into a distinctive style of image-making, imparting his paintings a rare life force and energy. As his popularity grew, Shyam found himself amidst the changing contemporary Indian art scene that was becoming more global in its outlook and more inclusive in its representation. It was for the first time we saw that the historically marginalized gained momentum and ground in the narrative space of the country. The artist gained major recognition when he participated in the Magiciens de la terre exhibition held at Centre Pompidou, Paris in 1989, and in Jyotindra Jain's Other Masters exhibition at the Crafts Museum, New Delhi in 1998. The artist was also commissioned to paint the interiors of Vidhan Bhavan, the Legislative Assembly of Madhya Pradesh, and the dome of Bharat Bhavan. Posthumously, his painting Landscape with Spider (1988) was sold for a record price of $31,250 at Sotheby's New York auction in 2010, marking a first for an adivasi (vernacular) artist. Gleaning from the vast repertoire of tales, ballads, folklore, and fantasies of the Pardhan-Gond community, Shyam fabricated them into his visual narrative, thus bringing the ancient myths and stories to life. As he sought inspiration from the past and the present, the rural and the urban, the real and the imagined, a new visual vocabulary emerged that gave concrete shapes and forms to his community's myths, legends, fables, tattoos, and music, which were, till then, hidden from the 'mainstream' society. It marked a paradigmatic shift in contemporary Indian art when the artist started using canvases, acrylic, oil and pen instead of the traditional charcoal, coloured soil, plant sap, leaves, cow dung, limestone powder, etc. This effective adaptation of the new media, tools and newer themes resulted in unforeseen results and inspired a generation of Gond artists to learn from Jangarh Singh Shyam. Jangarh Kalam, or Jangarh Singh Shyam's personal rendition of the Pardhan Gond art instilled a creative energy that surged with the emergence of individuality and personal style in a traditionally collective society where artmaking was a group endeavour. In Jangarh Kalam, the images are transcribed from oral narratives that take shape as birds, flying snakes, or growing trees, floating to the rhythm of the music in diverse innovative variations. From enchanted woodlands to aero planes, indigenous deities, childhood stories, and animals, Shyam used colourful dots and peripheral contours of radiating lines to create these unique shapes and patterns reverberating with movement, fluidity, and power. In a tragic turn of events, the visionary artist took his own life at the age of 39 while he was on an international art residency at the Mithila Museum, Japan. While the artist died young, he inspired a legion of young men and women from his community who followed him and were mentored by him in the style he created incidentally. Today, many well-known Gond artists including Shyam's wife and children and those who apprenticed under him continue to work in the Jangarh Kalam tradition keeping it alive and vibrant. Jangarh Singh Shyam, Paysage avec Araignée (Landscape with Spider), 1988 Image courtesy: Sotheby's Jangarh Singh Shyam, The Seprpent Shesha Holding The Earth on his Hood, ca. late 1980s Collection and image courtesy: Museum of Art & Photography (MAP), Bangalore Jangarh Singh Shyam, Ped, Chidiya Aur Hawaijahaz (Trees, Birds, and an Airplane), 1996 Collection and image courtesy: Museum of Art & Photography (MAP), Bangalore Jangarh Singh Shyam, Phulwari Devi, early 1990s Collection and image courtesy: Museum of Art & Photography (MAP), Bangalore Jangarh Singh Shyam, Untitled, 1989 Collection: FONDATION CARTIER PARIS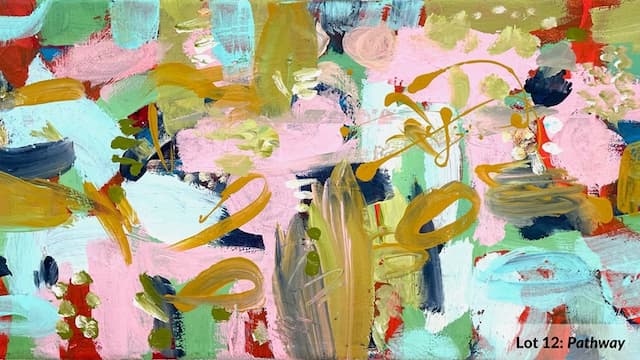 ARTIST SPOTLIGHT
CHRISTEL HAAG - UNSTOPPABLE FEMALE ARTISTS
In the one-century life span of abstract art, female abstract painters are not hard to find, to name just a few: Sonia Delaunay (a multidisciplinary artist who achieved success during her lifetime only due to her commercial work, whereas her husband Robert Delaunay was regarded as a serious artist), Lee Krasner (whose contribution to art history has been for a long time overshadowed by her marriage to the abstract expressionist painter Jackson Pollock), Elaine de Kooning (an accomplished artist, member of the Eighth Street Club in New York City she was mostly known as Mrs. William de Kooning, she dedicated most of her life to supporting her husband's career), Barbara Hepworth (less recognized than her contemporary and fellow British artist Henry Moore), Françoise Gilot (the French-American artist who never managed to escape the "Picasso's lover" title) and the list can go on. These talented artists have been less visible, not to say "invisible", to an art establishment blinded by gender bias. Despite a recent shift in mentality and contemporary culture, female artists are still seen as "less" than their male counterparts. Female abstract painters and women artists, in general, deserve more awareness. Christel Haag is a commercially successful German abstract artist. Her work is very process-orientated. She plays with various contrasting effects on canvas by using an entire arsenal of mark-making in her process. The evolution of her paintings does not follow a predetermined concept. Rather, her works gradually evolve through an intuitive and dynamic process. Despite the gestural process, a coherent painting emerges. Haag finds her inspiration in nature. She translates into marvellous color combinations the beauty and harmony that surrender her. Lot 34 Are we Flying In her own words: "In 2002 I made the decision to give up my career in Public Relations at a university, follow my heart and retrain as an artist. Once I made the decision to open the door to my creative urges, I felt that I had to go back to the beginning to discover who I really am as an artist. It was as if I granted myself the right to be free again, free without boundaries or pre-existing ideas of who I should be as an artist. Over the years my experiences led to my colorful, abstract, dynamic, and gestural style of painting. I always try to go to my creative limits while experimenting and giving my artworks my individual expression. Nature inspires me. The marvellous impressions I take home from my travels. Also, I express in my paintings the mood and feeling of a particular moment in time. It is first and foremost the joy of painting, of colors, of the creative process itself, and of the energy of being that drives my artistic creation." 5 vivid paintings from Haag's portfolio have been minted as unique NFT digital editions and are sold at auction in our coming event SHE IS UNSTOPPABLE. Browse her art and choose your favourite. Don't forget to register for the auction. Bidding starts May 14th.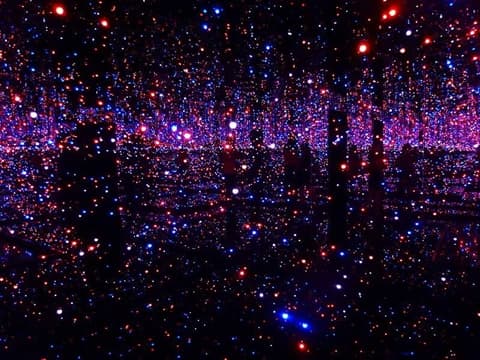 ARTIST SPOTLIGHT
10 Most Influential Living Female Artists
Below, we've assembled a list of the top 10 most influential female artists alive today. These women have left an incredible mark on the art world, and while their importance to the current scene is important, their impact will no doubt be felt for generations to come. Cindy Sherman Courtesy of Cindy Sherman Cindy Sherman made a name for herself through intricate self-portrait photography. Taking advantage of her skills as a costume maker and make-up artist, Sherman's early work began exploring identity by using the artist's body as the canvas. Her work frequently explores the place of women in the media and cultural landscape. Untitled Film Stills (1977-80) saw Sherman dressing as B-movie characters. In Centerfolds (1981), she upended the expectations of the male gaze, presenting complicated female characters where one might expect titillating, sexualized images. Her latest work speaks directly to the tools we use to communicate with each other. She now takes self-portraits using her phone, manipulating the images using multiple "face tuning" apps. The results are provocative and often disturbing. Tracey Emin Courtesy of Tracey Ermin Tracey Emin is no stranger to controversy. Her work is striking and confrontational, as well as deeply autobiographical. Her work reaches across an enormous array of mediums, from drawing, painting, and sculpture to neon text, film, photography, and sewn appliqué. Some of her installations made major waves in the art world. She premiered Everyone I Have Ever Slept With 1963–1995 (1997) at the Royal Academy of London. The work is a tent that visitors can enter into, and on the walls are appliquéd the names of, you guessed it, everyone the artist had slept with. It serves as a kind of haunted space, especially in the greater context of Ermin's work that challenges the role that sex plays in the perception of women. She has gone on to be a professor at the Royal Academy of Arts and a prolific, widely influential artist of our time. Yayoi Kusama Courtesy of Wikimedia Yayoi Kusama is an artist working in sculpture and installation, as well as many other mediums. She became a fixture of the 1960's counterculture, organizing happenings where participants were nude and covered in painted polka dots. Beginning in 1963, Kusama began creating her Infinity Rooms, a series of installations in which the walls of the rooms were covered in mirrors with colorful balls of light hanging at different lengths from the ceiling. The effect is the perception that the room of lights goes on forever. Her public installation work continues to appear across the world, including Brazil, Japan, Singapore, and beyond. Marina Abramović Courtesy of Wikimedia Marina Abramović is likely the most important and influential performance artist of our time. Her newsworthy works have captured the attention of the artworld for decades, and she isn't done yet. The Artist is Present (2010) saw Abramović sitting at a table at New York City's Museum of Modern Art. Visitors were invited to sit across the table from Abramović. This went on to become the largest performance art exhibit in MoMA's history. On top of her amazing career as an artist, she is also a philanthropist and a supporter of young artists through her Marina Abramović Institute. Judy Chicago Courtesy of the Brooklyn Museum Judy Chicago is a major name in the worlds of both art and feminism, with her career striking a path that unites them. Many of her unique techniques are borrowed from boat building, auto body repair, and similar disciplines — what the artist calls the "macho arts." The Dinner Party (1979) is likely Chicago's most important work to date. It shows a dinner table set in a triangle, with 39 places set for female heroes, both real and mythical. The dinner plates are all hand-painted homages to the woman who is seated there. The sprawling ambition and bold statement continue to fascinate and inspire people today. Shirin Neshat Courtesy of Wikimedia Shirin Neshat is an Iranian-born New York artist primarily working in photography, film, and video. Her work often focuses on the dichotomies, both socially constructed and eternal, that make up our world: Isamic and Western culture, male and female, public and private. Her film Women Without Men (2009) received the Silver Lion award at the Venice Film Festival. The film, based on the novel by Shahrnush Parsipur, depicts events during the British and American backed coup in Iran that overthrew their democratic government and installed the Shah as monarch in 1953. Vija Celmins Courtesy of SFMoMA Vija Celmins works in paintings and drawings, creating photorealistic pieces. She is celebrated today as one of the leaders in realism, though she pushes her work into almost abstract places by focusing on visual rhythm and the exclusive use of gray tones. Her early breakthrough saw her making exquisite replications of photojournalism, making masterful use of grayscale in her painting. These works highlighted how much of our world view at the time was dictated by black-and-white photographs and disseminated through the media. She has gone on to focus on sweeping visions of natural spaces and events. Much of her current work shows us starry skies, ocean waves, and other large and small scale views of the natural world. Bharti Kher Courtesy of Wikimedia Bharti Kher is an artist working sculpture, installation, and painting. Her work often speaks to realities of inhabiting a body as well as issues around culture. Perhaps her most popular work is The Skin Speaks a Language Not Its Own (2006). The piece depicts a full-size female elephant collapsed on the ground, covered in the traditional bindi — a mark made on the forehead among followers of Hinduism representing the third eye. By bringing together these two images of India, Kher creates a vivid embodiment of the country. Marlene Dumas Courtesy of Wikimedia Marlene Dumas is an artist working in the Netherlands who is known as one of the first three living women to sell an artwork above the $1 million mark. The notoriety is well deserved. Her work is always in ceaseless exploration of human moods and social conditions. Her paintings often eschew direct representation and instead make suggestions of emotional states. Her work often distorts faces and specifics, driving down into the heart of her subject. She continues to be a major name in the art world today. Dumas's prolific career continues to challenge viewers and evoke what it means to be alive. Julie Mehretu Courtesy of Forbes Julie Mehretu works in painting, drawing, and printmaking, often focusing on the socio-economic realities of our time. Her meticulous work is precise but ultimately deeply felt, mapping out the psychology of people in the urban environment. Her pieces often take on an enormous scale, often two stories tall. Mehretu describes her mark-making process as one that charts the movements and interactions of people in their own societal context. While her compositions can be overwhelming and grand, when viewers take the time to look at it in detail, they often find surprising narratives emerge.
Sign up for our newsletter to have the latest stories and curated art recommendations delivered straight to your inbox