Subscribe for our newsletter to have the latest stories and curated art recommendations delivered straight to your inbox
ART MARKET
Famous Abstract Art and Artists
Like
comments
SAVE
Abstract art is a captivating and revolutionary movement that emerged in the early 20th century, challenging the conventions of representational art. It sought to express emotions, ideas, and concepts through non-representational forms, focusing on the interplay of colour, line, shape, and composition. Abstract art opened up new possibilities for artists to explore the depths of their creativity and create works that transcend the confines of reality. The article embarks on a journey through the world of famous abstract art and delves into the lives and masterpieces of renowned abstract artists who have significantly contributed to this dynamic and expressive genre.
Wassily Kandinsky (1866-1944)
Russian-born artist, Wassily Kandinsky, is widely regarded as one of the pioneers of abstract art. He believed that art should visually represent the artist's inner spiritual and emotional experiences. Kandinsky's early works were influenced by Russian folk art and Impressionism. However, his encounter with the artworks of the Fauvists and the vibrant colours of Matisse sparked his shift towards abstraction.
Kandinsky's abstract artworks, such as "Composition VII" and "Yellow-Red-Blue," exemplify his exploration of colour, form, and composition. He believed that colour had a direct emotional and spiritual impact on the viewer. His compositions often feature bold geometric shapes, swirling lines, and vibrant, contrasting colours. Kandinsky's art not only pushed the boundaries of representation but also sought to evoke profound emotional responses from the viewer, transcending the limitations of figurative art.
Color Study. Squares with Concentric Circles (1913), Is one of Kandinsky's most recognisable artworks. A small artwork on the study of colour colour combinations and the perception it carries is reverred as his most famous artwork.
Piet Mondrian (1872-1944)
Dutch painter Piet Mondrian was crucial in developing abstract art, particularly geometric abstraction. He believed that art should strive for universal harmony and balance, which could be achieved through simplification and using primary colours and straight lines.
Mondrian's iconic works, such as "Composition with Red, Blue, and Yellow" and "Broadway Boogie-Woogie," embody his distinctive style. He utilized a grid of horizontal and vertical lines intersecting with primary colours and black and white rectangles. Mondrian sought to reduce art to its essential elements, emphasizing the fundamental relationships between form, colour, and space. His artworks are characterized by order, clarity, and geometric precision.
Composition with Red, Blue and Yellow (1930), is an abstract masterpiece, featuring geometric shapes and primary colors, embodying the principles of De Stijl movement. Mondrian's use of straight lines and primary colors evokes a sense of harmony and balance, making it a timeless representation of modern art. The artwork has become an influential symbol of abstract expressionism and continues to inspire artists and art enthusiasts around the world.
Kazimir Malevich (1879-1935)
Kazimir Malevich, a Russian avant-garde artist, was a prominent figure in the development of abstract art, particularly within the Suprematist movement. He believed in the power of pure geometric forms to evoke emotion and spirituality.
Malevich's most famous work, "Black Square," created in 1915, is a seminal piece in the history of abstract art. It is a bold and radical composition with a black square on a white background. Malevich described this work as the "zero degree" of painting, representing the pure essence of art stripped of any representational elements. Through Suprematism, Malevich sought to free art from the constraints of the material world and explore the transcendental nature of pure form and colour.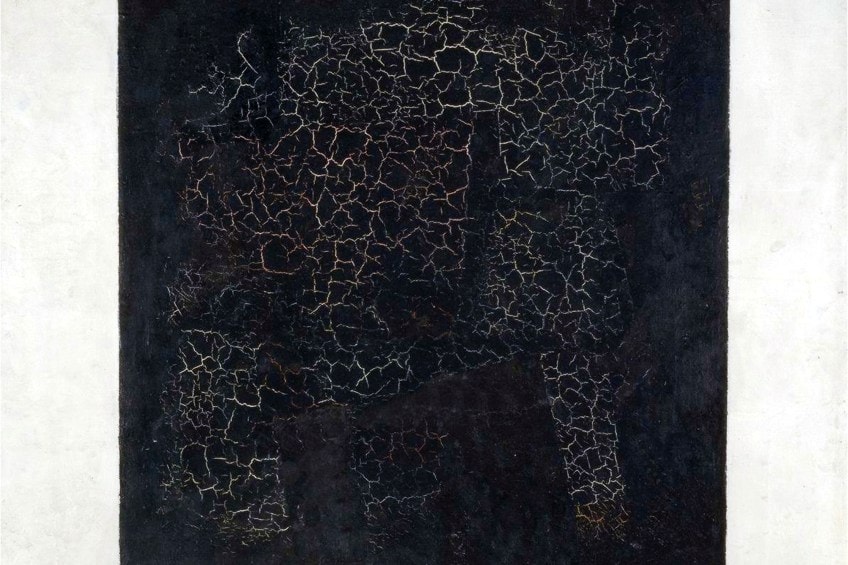 Joan Miró (1893-1983)
Joan Miró, a Spanish painter, sculptor, and ceramicist, was known for his playful and imaginative abstract artworks. His style bridged the gap between abstraction and surrealism, combining organic shapes, biomorphic forms, and symbolic elements.
Miró's works, such as "The Tilled Field" and "Harlequin's Carnival," feature vibrant colours, curvilinear shapes, and whimsical symbols. He often incorporated dreamlike and childlike imagery, blurring the lines between reality and the subconscious. Miró's art exudes a sense of spontaneity, freedom, and exploration of the inner self. He believed that art should evoke emotions and connect with the viewer subconsciously.
Joan Miró – Harlequin's Carnival (1924 – 1925)
Jackson Pollock (1912-1956)
American artist Jackson Pollock was a crucial figure in the Abstract Expressionist movement. He revolutionized the art world with his unique approach to painting, which involved pouring and dripping paint onto a canvas on the floor.
Pollock's famous "drip paintings," such as "Number 1, 1950 (Lavender Mist)" and "Autumn Rhythm (Number 30)," are dynamic and energetic compositions. Through his innovative technique, he explored the physicality of paint and the spontaneous gestures of the artist's hand. Pollock's artworks are characterized by intricate webs of drips, splatters, and gestural marks, creating a sense of movement, rhythm, and chaos. His works embody a raw and emotional expression, inviting viewers to interpret and engage with the artwork on a visceral level.
No. 5, (1948) is considered one the most famous as well as the most expensive painting by Jackson Pollock
Mark Rothko (1903-1970)
American painter Mark Rothko is known for his large-scale colour field paintings that evoke deep emotional responses. Rothko believed that art should create an intimate and immersive experience, allowing viewers to contemplate the complexities of the human condition.
Rothko's signature style involved large rectangular fields of colour, often stacked or overlapping. His compositions, such as "No. 61 (Rust and Blue)" and "White Center (Yellow, Pink and Lavender on Rose)," feature vibrant hues that seem to radiate from within the canvas. Rothko sought to create a sense of spiritual transcendence through his artworks, inviting viewers to immerse themselves in the luminous fields of colour and engage with the profound emotional depth conveyed.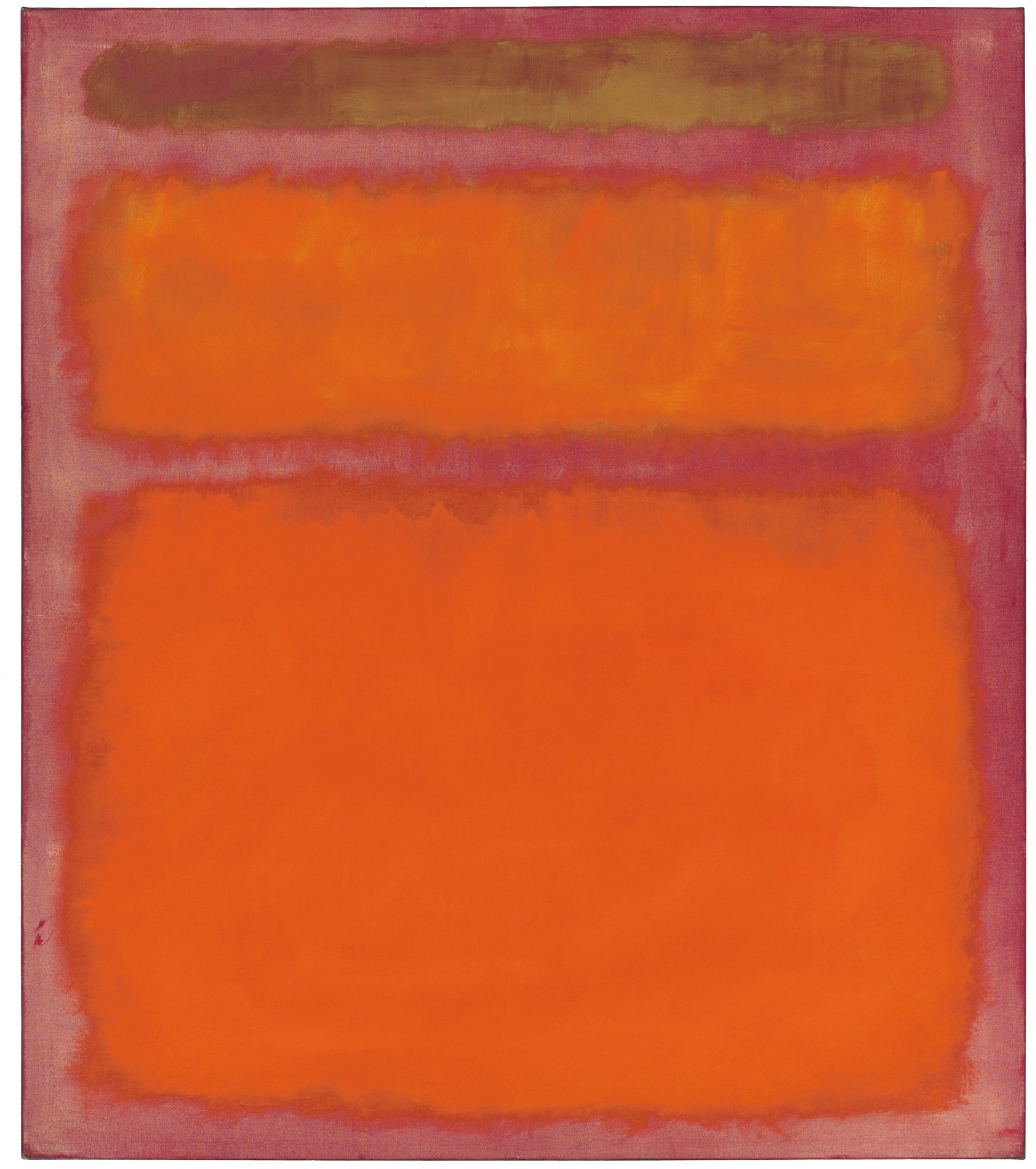 The famous "Orange, Red and Yellow" (1961) is not just the most famous but also grossed the highest Auction value
Concluding Remarks
The famous abstract artists and their artworks have left an indelible mark on the art world. Through their bold experimentation, they pushed the boundaries of artistic expression, challenging traditional notions of representation and emphasizing the power of colour, form, and composition. Wassily Kandinsky, Piet Mondrian, Kazimir Malevich, Joan Miró, Mark Rothko and Jackson Pollock are just a few visionary artists who have shaped the trajectory of abstract art. Their works continue to inspire and captivate audiences, inviting viewers to embark on a journey of introspection, emotion, and personal interpretation. Abstract art remains a testament to the limitless possibilities of human creativity and the power of art to transcend the boundaries of the tangible world.
Main Image: Strange City by Liubov Kuptsova
SIMILAR ARTICLES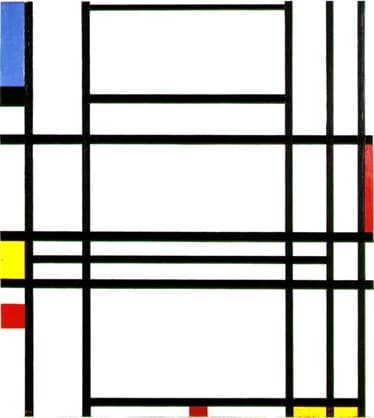 5 Famous Artists Exploring Geometric Abstraction
Geometry is, to some degree, the basis of all painting. Artists use the basic shapes to construct a different world. By combining them in ever more elaborate ways, incredibly complex images can arise. That's the way that geometry was used in art for thousands of years. But as modern art began to emerge, artists started using basic geometry in an abstract way. Thus the term Geometric Abstraction was developed. Rather than making art that represented real life with these fundamental shapes, artists went directly to the shapes themselves. What they found as they began doing this was a rich, mostly untold history of geometric abstraction. Cultures native to the American Southwest had been employing this style going back countless generations. Muslim cultures, given Islam's ban on representative images, had their own tradition. And the list goes on, including yantra designs in India and Aboriginal art in Australia. Drawing from these traditions and striking out paths on their own, many artists began exploring abstract geometric art, and the results speak for themselves. Geometry art, with its emphasis on geometric shapes in art, opens up new dimensions of artistic expression. From intricate patterns to minimalist designs, artists explore the inherent beauty of geometric shapes and their interconnections. By manipulating lines, angles, and forms, geometric art stimulates visual perception and invites contemplation. Let's look through the five of the most famous artists in the field. Piet Mondrian Composition No. 10 (1942) by Piet Mondrian Piet Mondrian (1872 to 1944) was born in the Netherlands. But his career went far afield of his homeland. Over his lifetime, he helped create abstract art. His work gradually moved from the representational to the purely abstract, giving us a clear view into the development of his thinking and style. His most popular geometric abstract art paintings contain large amounts of white space, intersected by straight lines, with some fields of primary color. That style became synonymous not only with the artist but with the growing field of modern art itself. These paintings are sophisticated, direct, and show a radical break with Western art. They remain some of the most iconic paintings of the 20th — or any — century. Wassily Kandinsky Squares with Concentric Circles (1913) by Wassily Kandinsky Like Piet Mondrian, Wassily Kandinsky (1866 to 1944) helped invent abstract art as we know it today. And like his contemporary, his career began as a representational artist — though he continued to push the boundaries until finally taking the leap into pure abstraction. Kandinsky's influence is felt both from the art he created and for the theoretical works that he wrote. He helped clarify our thinking on just what geometric abstraction art is and how it works, as well as answer why we should paint in this style at all. Music had a major effect on him. Since it is purely abstract, he borrowed terms from music to describe his work and painting in general. He also imbued his art with profound spiritual feeling. Sonia Delaunay Rhythme (1938) by Sonia Delaunay Sonia Delaunay (1885 to 1979) was a force to be reckoned with. She co-founded Orphism — an art movement that combined the exuberant color of Fauvism with the visual abstraction of Cubism, all while pushing both into new frontiers past any representation. Her work is also notable for its scope. She was a painter first, but took the ideas she discovered in her studio and applied them to a wide range of practical items, like clothing and furniture. She even famously decorated a Mantra M530A sports car. Today, Delaunay's paintings are considered high level classics in the field of geometric abstraction. Barnett Newman Onement 1 (1948) by Barnett Newman Barnett Newman (1905 to 1970) is one of the most controversial artists of the 20th century. Not because of the content of his paintings, but because of how confrontationally content-less his paintings were. He started developing surrealism paintings before landing on his devastatingly simple style. His canvases often contain just two colors, with one large field interrupted by a single stripe (consider Onement 1 pictured above). His work Who's Afraid of Red, Yellow and Blue III was famously attacked by Gerard Jan van Bladeren, who stabbed it with a knife in 1986. After its $400,000 restoration, van Bladeren returned in 1997 to stab it again. He couldn't find the painting, so he chose to deface Newman's Cathedra instead. Kazimir Malevich Suprematism (1915) by Kazimir Malevich Kazimir Malevich (1879 to 1935) was a Russian artist whose career was not entirely in abstract art, though he gave us some of the most striking pieces in the field. He founded the school of Suprematism with his 1915 manifesto on the subject. His new art movement was based on simple shapes painted in few colors. This laid the groundwork for geometric abstraction. His suprematist paintings are daring in their simplicity, dramatic in their composition. This work goes to show that using the barest of essential elements, an artist can still make us think and, most importantly, feel. Conclusion Abstract art has captivated the world with its unconventional beauty and the boundless creativity it offers. Over the years, numerous abstract artists have risen to fame, leaving an indelible mark on the art world. Their famous abstract artwork continues to inspire and challenge perceptions of what art can be. One prominent aspect of abstract art is the incorporation of geometric elements. Geometric abstract art explores the use of precise shapes, lines, and compositions to convey emotions and ideas. The interplay of geometric forms creates a visually captivating experience, showcasing the artist's mastery of balance, symmetry, and spatial relationships. Famous abstract artists such as Wassily Kandinsky, Piet Mondrian, and Kazimir Malevich are celebrated for their contributions to geometric abstraction. Their bold geometric paintings and compositions have become iconic representations of the movement, pushing boundaries and defying traditional artistic norms. Passionate about Geometric Abstraction? Discover a handpicked selection of contemporary geometric abstract art and explore their visual language, hidden meanings and analogies.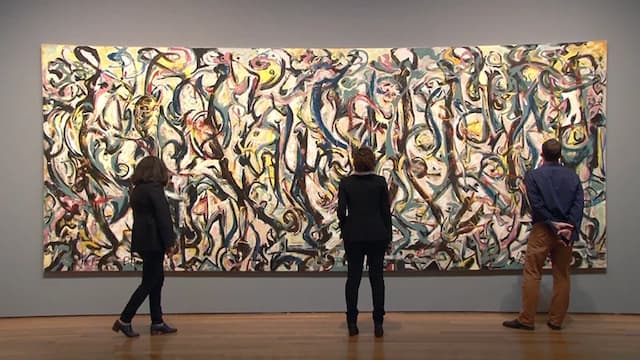 Understanding Abstract Art
Numerous theoretical ideas deal with abstract art. While some have taken the idea of "art for art's sake," others have implied that art should be like music; just as music is patterns of sound, art should be created by pure patterns of form, color, and line; there are those who see abstract art as carrying a moral dimension, abstract art can be seen to stand for virtues such as purity and spirituality; and finally, those using the term "abstract" formally, as a distinction from figuration in art (as in non-figurative). How Abstract Art impacts our mental process Abstract art seems to elicit different mental processes than figurative art. While representational art requires a more local and object-focused scan pattern, abstract art involves more globally distributed viewing patterns. Our brain adopts a more exploratory strategy for seeking visual clues while staring at abstract art. Hence more complex areas of our brain seem to be stimulated by abstract art. Appreciating abstract art To claim to understand abstract art is like pretending to understand the Universe; its complexity is beyond us. When it comes to abstract art, a more appropriate approach would be to learn to appreciate it. We can do this with an open mind and heart by looking for clues in the feelings and ideas it arises in us – the emotional approach. Nevertheless, art in general and abstract art in particular should and must be interpreted in its historical context. Despite claiming to be a universal form of art, the ideas behind abstract art were very much generated by a cumulus of factors converging at certain point in time – rational approach. First Experiments towards abstraction The big revolution in art and the journey towards Abstraction began with the Modernist artistic movements. The pioneering artists of the 19th century (Claude Monet, Paul Cézanne and George Surat among others) had a burning desire to innovate, not only because the Academic Art was not representative for an industrial society but they felt the menace of a new invention called daguerreotype. The growing popularity of the first photo camera was threatening the artists´ role of depicting reality, this is when the modern artists started to reject traditional three-dimensional space and instead used flat areas or patches of colour to create a new pictorial space. The Avant-garde - shapes and colours The following generation of Avant-garde artists proved to be even more radical and searched for inspiration far away from Europe, in the ancestral cultures of the African tribes. The Fauvists (like Henry Matisse or André Derrain) were interested in the scientific colour theories and in the use of complimentary colours for creating tension on the canvas. For many of the artists who adopted a fauvist approach it became a transitional stepping stone for future developments in their style, towards abstraction. The Cubists (George Braque, Pablo Picasso or Juan Griss) proposed a new way of depicting an object: multiple viewing angles layered on the canvas. The fragmentation and reassembling of the world proposed by the Parisian cubists had encouraged several other artists, especially from countries such as Holland and Russia, to push farther into a world of forms, leaving behind any reference to recognizable objects or scenes. The invention of these new kinds of abstract or "non-objective" art coincided with the cataclysm of World War I, and the artists involved explained their innovations in terms of contemporary revolutions in both society and consciousness or as the emergence of a changed human order. Inventing abstraction - Wassily Kandinsky "Colour is the keyboard, the eyes are the harmonies, the soul is the piano with many strings. The artist is the hand that plays, touching one key or another, to cause vibrations in the soul." - Wassily Kandinsky Until the end of the 19th century, the value of a painting was judged by its ability to represent reality. For this reason, music was often regarded by artists as a pure form of art. One of these artists was the Russian born Wassily Kandinsky. The future inventor of Abstraction was born on December 4, 1866 in Moscow and had a formal training in law, economics and ethnography. However, by the age of 30 he had abandoned a career in law; he had fled his native country for Munich, in order to pursue his passion for art. While still living in Russia, Kandinsky found an important connection between colour and music. He is believed to have had synaesthesia, a condition that makes people perceive colour not only as a visual property of objects, but to associate colours with sounds of different qualities and intensities. He was convinced that painting, alike music, must fulfil a spiritual role. Although Kandinsky had developed the philosophical foundation for an abstract art as early as 1909, he had been hesitant to abandon representation. After hearing Arnold Schoenberg's concert in January 1911, his work took a completely new turn. In the following days he made quick sketches of that performance and he further diluted these drawings until only traces of the original subject remained in his paintings. Composition V – first abstract painting? In the summer of the same year, Kandisnky began working on Composition V, a monumental painting in size, the most radical painting displayed at that time, announcing his ambitions for abstraction. Just a few months later, after being rejected by the official salon, he included the picture in the first exhibition of Der Blaue Reiter (the Blue Rider), a group co-founded together with Franz Marc (killed during the WWI at 36 years of age). Simultaneously, he published Concerning the Spiritual in Art, one of the first thesis to argue for artistic abstraction. His essay examines the purpose of art and how colours and forms impact the human soul. Since abstract art is freed from representation, colours and forms can display their own spirit and express the feelings of the artists. In his book, Kandinsky declares that the most advanced art offers "emotions that we cannot put into words". The events of 1911 were equivalent to opening Pandora's box in art. The invention of a non-objective form of art defined in manifestos as a reflection of the deep transformation in the society, anticipated the devastation of the WWI (1914-1918) but at the same time opened unknown paths for artistic explorations. 1. The Red Tree, 1908-1910, source: Gemeentemuseum den Haag 2. The Grey Tree, 1911, source: Gemeentemuseum den Haag 3. Flowering Apple Tree 1912, source: Tate Modern Piet Mondrian Other artists followed in Kandinsky's steps on the path of abstraction but no other artist's body of work can better illustrate the transformation from figurative depiction to abstraction as the Dutch painter Piet Mondrian. Mondrian's fascination with trees developed out of his earlier landscape painting. After absorbing the influences of Cubism, Mondrian reworked the image of his trees to abstraction, and later on to primary colours. The trunk and branches were transforming into a network of verticals and horizontals. He acknowledged the inspiration of nature but added, "I want to come as close as possible to the truth, and I abstract everything from that until I reach the foundation of things". No. 5, 1948, Jackson Pollock, sold in 2006 in a private sale for $135 million, according to The New York Times Abstract Expressionism - Abstraction in America "It seems to me that the modern painter cannot express this age, the airplane, the atom bomb, the radio, in the old forms of the Renaissance or of any other past culture. Each age finds its own technique." Jackson Pollock - interview with William Wright, 1950 Prior to WWII, the art world has been dominated for centuries by Europe but the new geo-political reality was about to reshape dramatically the global art scene. The arrival in the United States of various immigrants associated with the Surrealist movement (André Breton, Max Ernst or Marcel Duchamp) fleeing the war was extremely well timed. The European Surrealist proved to be a great influence on the young artists active in New York at that time. The expanding group of artists including figures such as Jackson Pollock, Mark Rothko, Arshile Gorky, Willem de Kooning, Barnett Newman, Robert Motherwell, Clyfford Still and Adolph Gottlieb was soon labelled as "Abstract Expressionists" despite never being formally organized in an art movement. They were, however, unified to some extent by the patronage of a wealthy heiress, Peggy Guggenheim. She is the first to organize exhibitions for the young artists at her newly open gallery, Art of This Century. No other name could better describe the gallery where Abstract Expressionism would catch the interest equally of art critics and politicians. Jackson Pollock – the star of Abstract Art One of Jackson Pollock's early works (Guardians of the secret, 1943) demonstrates how stylistic borrowings from the Cubist-derived abstraction, Expressionism and Surrealism were fused with the interest in myth and primitivism and powered by the idea of large scale painting (a symbol of the rebirth of Americana, intensely promoted through the Federal Art Project – part of Roosevelt's New Deal). Pollock's experiments didn't stop at mixing various art influences but he took a very daring approach. His most accomplished works were produced in a dramatically different fashion, he rhythmically dripped and spattered industrial paints, by using a stick instead of a brush, all-over huge expanses of unstretched canvases placed on his studio floor – what became known as "drip painting". His innovation lies in bringing the process of creation under the spotlights, his Action Painting was almost a mystic parade of gestures. Pollock is hailed by his main promoter, the art critic Clement Greenberg as the inheritor of the European abstract tradition. By the 1949, Pollock acquired appreciable market success so that Life magazine was asking rhetorically in a now famous editorial: "Is he the greatest living painter in the United States?". The wealthy art-buying class that were Pollock's enthusiasts incorporated the liberal intellectuals and politicians that were becoming increasingly interested in stepping-up the cold war against Communism. Abstract Expressionism and the Cold War The American administration began a cultural war against the Social-Realism (an art movement associated with the communist regimes) by exporting internationally Abstract Expressionism as a symbol of the western capitalism. Just as the Marshall Plan sought to extend America's influence in Europe through much needed it economic aid, the touring exhibition organized by MoMA with the support of CIA, sought to gain influence over the hearts of minds of Europe. New York School of Art By the early 1950s, the idea of an art movement called Abstract Expressionism seem more of critics´ invention than a homogenous art movement. Under the umbrella New York School you had on one hand the painters whose work was based on a gestural approach (Gestural Abstraction): De Kooning, Jackson Pollock and Robert Motherwell, on the other hand, artists like Clayford Still, Mark Rothko and Barnett Newman who relied on large fields of colour (Colour Field Painting) to produce solemn effects on their canvases. These artists had an interest in archetype and anima and studied Kandisnky´s theories. Despite their sometimes bombastic spiritual claims and being often criticized for being egocentrics, we should not forget that Newman and Rothko were a response to the history of their times. Human dignity and spiritual aspirations have been completely crushed during the WWII and their art was a way of healing the trauma of this great tragedy of human kind. As Paul Klee remarked in 1915: "The more fearful the world becomes, the more art becomes abstract". The Legacy Because of the huge influence of Abstract Expressionism in post-war America, other artists and movements are generally understood in relation to it. Ad Reinhardt in the early 1950s and then Frank Stella later in the decade painted abstract canvases, but rejected the Abstract Expressionist based on gesture They instead reinforced the essence of the painting as a physical object through precise geometric forms and smooth application of paint, anticipating the Minimalism art. Since the Abstract Expressionism painting was fundamentally "performative" it is regarded as the starting point for the Happenings (Allan Kaprow) of the 1960. Few decades later Abstract Art fell into semi-obscurity for a while only to be resuscitated and to coexist along a wide variety of art forms and ideas, so typical of our post-modern reality. "Abstraction allows man to see with his mind what he cannot see physically with his eyes… Abstract art enables to perceive beyond the tangible, to extract the infinite out of the finite. It is the emancipation of the mind. It is an exploration into unknown areas." – Arshile Gorky Author: Floarea Baenziger Refrences: Books: 1. David Hopkins, After Modern Art 1945-2000, Oxford University Press, 2000, pp. 5-33; 2. Robert Hughes, The Shock of the New: Art and the Century of Change, Thames & Hudson Ltd, 2004; 3. Kirk Varnedoe, Pictures of Nothing: Abstract Art since Pollock, Princeton University Press, 2006; 4. Leah Dickerman, Inventing abstraction – How a radical idea changed modern art, 1910-1925, catalogue MoMA, New York, 2013; Articles: 1. Helen A. Harrison, Through a Glass Brightly: Jackson Pollock in His Own Words, The New York Times, Nov. 15, 1998; 2. Pepe Karmel, The Golden Age of Abstraction: Right Now, ARTnews, April 24, 2013; 3. Meyer Schapiro, Nature of Abstract Art, www.on-curating.org, October 2003; 4. Celia Durkin, Eileen Hartnett, Daphna Shohamy, An objective evaluation on the beholder's response to abstract and figurative art based on construal level theory, PNAS, August 2020. Author: Floarea Bänziger, RtistiQ curator RtistiQ is a leading online art marketplace that features a wide curated selection of Abstract art created by emerging and established artists from all over the world. All artworks are original and blockchain powered so you can shop abstract art with an ease of mind. Discover all abstract artworks here.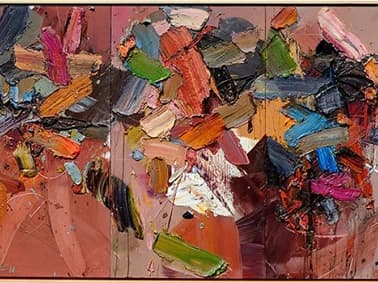 10 Exciting Southeast Asian Artists Experimenting in Abstract Art
Abstract art has roots across many cultures, and the contemporary art scene is now filled with many artists working in the abstract from every region on Earth. Hence, the understanding of abstract art can vary among individuals with different backgrounds. Below, we've assembled 10 of the most exciting abstract artists from Southeast Asia. These artists represent a wide variety of aesthetic approaches and span multiple generations. What is clear from these artists is that Southeast Asia continues to produce some of the most exciting voices in the world of abstract art. No survey of the field is complete without their work. Vietnam 1. Ha Manh Thang (b. 1980) Cry For A Flag #2 (2020) [SOURCE] Ha Manh Thang is a Vietnamese artist who is working at the forefront of his culture. As tidal shifts continue to occur since Doi Moi — a series of reforms set forth in 1986 that have brought Western corporations and values into the country — he discusses these ongoing changes on the canvas. His abstract works are as much studies in texture as in color, using the paint to build forms that cast shadows and reach out from the surface. While his figurative pieces are often satirical confrontations with society, these newest experimentations give his work a more universal tone. Ha Manh Thang received a degree from Hanoi Fine Arts University in 2004, going on to participate in several notable regional and international exhibitions. He currently lives in Hanoi. 2. Tulip Duong (b. 1966) My Window (2018) [SOURCE] Tulip Duong revels in the fast paced, the things in the world that are coming into being. Her abstract art borders on representation, though it never quite coheres into a full image. Instead, the pieces hang in that liminal space just before fully materializing. Working from her Hanoi studio, Tulip Duong has shown work around the world, touching on global issues while still maintaining Vietnamese characteristics in her compositions. This riveting connection is held together by her singular voice. The centrality of her viewpoint runs throughout her oeuvre, even as her paintings continue to explore new horizons. Since 2000, Tulip Duong's work has appeared in several group and solo shows, as well as publications. 3. Tran Tuan (b. 1961) Spring (2012) [SOURCE] Vietnamese artist Tran Tuan's career covers many different forms and approaches, but all of his work stands out as vivid, colorful and energetic studies. These paintings are alive with bold, heavy brushstrokes stitched together in unexpected ways. His abstract work takes a maximalist approach, every inch of his canvases are alive and urgent. He manages these brilliant palettes through an almost athletic vigor. The overwhelming images deliver the viewer over to a world entirely its own, one built out of dazzling color and intricate brushwork. Tran Tuan's work appears in private collections throughout Europe, North America and Australia. He received his degree from Fine Art University of Hanoi in 1990. Indonesia 4. Christine Ay Tjoe (b. 1973) Large Space of Shoots #2 (2020) [SOURCE] Chrstine Ay Tjoe is an Indonesian artist who restlessly seeks out the depths of the human condition. Her work spans many mediums, including: intaglio prints, textiles, painting, drawing, sculpture and large-scale installations. Her abstract paintings carry on the mission of her entire career, evoking the power — and darkness — in subjective experience. These works are splashes of complex forms on white canvas, both cryptic and beautiful. While an initial glance might only find confusion, a closer look reveals intricate control and detail work. These are intricately crafted pieces, with forms that seem to arise spontaneously out of the amorphous composition. Christine Ay Tjoe works in Bandung, her hometown. Her work has appeared around the world. 5. Erizal As (b. 1979) Formless Existence (2019) [SOURCE] Erizal As creates rhythmic, almost musical abstract works. His muscular brushstrokes and use of heavy layers of paint create crowded canvases that deliver up an excessive bounty. In all that excess is patterning akin to syncopation, a tension between the expectation of the viewer and where the art ultimately takes them. His work deals in real subject matter, but it handles scenes and portraiture in an entirely abstract way. This approach delivers an experience very rare in abstract painting, again testing expectations. His work often takes on themes like authenticity, or the lack of it, often with a critical eye toward society and power. Erizal As received his education at the Indonesian Institute of Fine Art. His selected group and solo exhibitions have appeared across Southeast Asia. 6. Rinaldi Syam (b. 1976) Landscape Color (2019) [SOURCE] Rinaldi Syam is a painter and sculptor working out of Indonesia. His abstract paintings are filled with sumptuous forms in a kind of collage, quilted together in rough edged regions. The soft texture draws the eye in, and the complex composition keeps the viewer there to decode what they have found. His work sometimes moves from the abstract to the surreal, but always with hallucinatory grandeur and a deeply felt sense of beauty. While his canvas sometimes overflows with detail, there is a gentleness to his technique, always rendering forms with reverence. That care and tenderness seeps out when looking at his paintings, a calming force that quietsthe space. Rinaldi Syam lives and works in Yogyakarta. His work has won several awards in both Indonesia and Japan. Thailand: 7. Nim Kruasaeng (b. 1974) [SOURCE] Nim Kruasaeng's paintings are simple, elegant observations. Their presence is unassuming and yet captivating. They gradually make their way through to the viewer, never demanding attention but always earning it — the way you lean in when someone whispers. The pieces often rely on rhythm and a palette of only two or three colors. Her ability to get the most out of these pared down elements reveals the mastery of the artist and her guiding obsessions: the relation between bodies in space, the pleasure of a perfect line, the ability to say more with suggestion than direct description. It is through thesegrounding ideas that her delicate and meditative work flows. Nim Kruaseng is a self-taught artist who found recognition in the 1990's from peers in the Thai art scene. She currently lives and works in both Bangkok and Pattaya. 8. Udomsak Krisanamis (b. 1966) Your Disco Needs You (2001) [SOURCE] Udomsak Krisanamis has built a career out of conceptually rigorous paintings that continue to develop a single line of thought. Through the integration of mixed-media on his canvas — including cellophane, noodles, newspaper, among other items — he builds pieces that combine strict formalism with exploration at the borders of these self-imposedlimits. The diversity born out of this single project is sweeping, though always anchored by his trademark style. The longer one takes in his work, the more one gets into the headspace of its creator. It is a journey into an uncompromising artistic vision that continues to remake the world. Udomsak Krisanamis currently lives and works in Bangkok. He received his education at Chulalongkorn University, Bangkok and the Art Institute of Chicago. His solo and group exhibitions have shown internationally. Singapore: 9. Genevieve Chua (b. 1984) EdgeControl #21, More True Than False (2017) [SOURCE] Genevieve Chua makes abstract work that seeks to evoke natural forms while always inserting visual reference from technological artifacts like the glitch. She aggressively explores beyond the expected presentation of painting, pushing the uneasy mix of the natural and the digital even further. Her work often breaks out of the traditional canvas, exploring unique objects to introduce abstract painting. She incorporates shaped canvases that come together to produce a kind of deconstructed canvas for her to explore. She also integrates printing methods to ground her painting, like screen prints and giclée prints. Genevieve Chua received her education at the Royal College of Art in London. Her solo exhibitions have spanned Asia, with group exhibitions around the world. 10. Jamie Tan (b. 1990) IntoxicatedCalls (2018) [SOURCE] Jamie Tan takes color field into the next century with a unique take on the genre that is informed as much by the structure of computer displays as the career of Rothko. Rather than taking off into highly conceptual detours, his work keeps returning to color. The paintings use a sophisticated understanding of that single tool and continue to reimagine how to present it. The clean lines and interlaced patterns of color strips that define Jamie Tan's work produce energy and movement through their interaction. But these pieces are not just practices in color theory. They also serve as a link in the discussion begun by color field painters from the century past with the current visual landscape of contemporary society. Jamie Tan earned a degree in Fine Arts from Lasalle College of the Arts in 2017. His first solo show debuted in 2019 Inspired by the artists? Shop abstract art on RtistiQ Art Marketplace. Enjoy 7 Day Delivery & 14 Day Return policy for all users today. Author: Jonathan M Clark
ARTICLES ON ART MARKET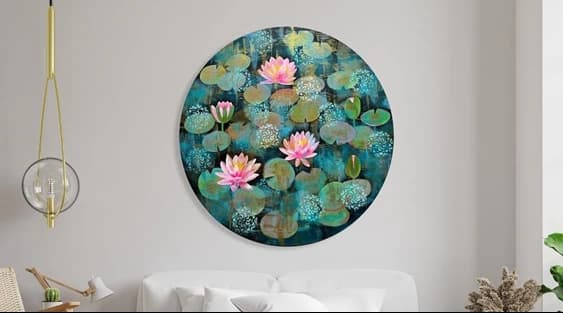 ART MARKET
The Ultimate Guide to Finding the Perfect Art Wall Paintings for Sale
Are you searching for the perfect art wall paintings to elevate your home decor? Look no further! Our ultimate guide has everything you need to know to find that one-of-a-kind masterpiece that will add a touch of sophistication to your living space. We understand that choosing the right wall painting can feel overwhelming with the plethora of options available in the market. That's why we've curated this comprehensive guide to simplify your decision-making process. From understanding different painting styles to selecting the right size and color scheme, our guide covers it all. We'll even walk you through the process of determining your personal taste and aligning it with the atmosphere you want to create in your home. Whether you're a seasoned art enthusiast or a first-time buyer, this guide is designed to help you find the perfect art wall paintings that resonate with your personality. So, get ready to transform your living space into a mesmerizing art gallery with our expert tips and advice. Benefits of incorporating art wall paintings in your home or office Art wall paintings have the power to transform any space, be it your home or office. They serve as a visual expression of your personality, adding depth and character to the walls. One of the key benefits of incorporating art wall paintings is their ability to create a focal point in a room. A well-placed painting can draw the eye and become a conversation starter. It can also help to tie together the various elements of your decor, creating a cohesive and aesthetically pleasing environment. In addition to their decorative value, art wall paintings can also have a positive impact on your mood and well-being. Studies have shown that engaging with art can reduce stress and anxiety, increase feelings of happiness, and even improve cognitive function. By surrounding yourself with artwork that resonates with you, you can create a space that promotes relaxation and creativity. Different types of art wall paintings When it comes to art wall paintings, there is a wide range of styles and genres to choose from. Understanding the different types can help you narrow down your options and find the perfect piece that suits your taste and home decor. One popular style of art wall paintings is abstract art. Abstract paintings are characterized by their non-representational forms and use of color, line, and shape to create a visual language. They can add a sense of energy and intrigue to a space, and their versatility makes them suitable for a variety of interior design styles. For those who prefer a more traditional approach, landscape paintings are a timeless choice. These paintings often depict natural scenery, such as mountains, forests, or seascapes. Landscape paintings can create a sense of tranquility and bring the beauty of the outdoors into your home. Another popular genre is portrait painting. Portraits capture the likeness and personality of a person, making them a great choice for adding a personal touch to your space. Whether you opt for a classic portrait or a contemporary interpretation, these paintings can make a bold statement and become a focal point in any room. Factors to consider when choosing art wall paintings Choosing the perfect art wall painting involves considering several factors that will help you make an informed decision. By taking these factors into account, you can ensure that the painting you choose not only fits your personal taste but also complements your existing decor. One of the first things to consider is the size of the painting. The size of the artwork should be proportional to the wall it will be displayed on. A large painting on a small wall can overwhelm the space, while a small painting on a large wall may get lost and fail to make an impact. Take measurements of your wall and consider the scale of the room to determine the appropriate size for your painting. Another important factor is the color scheme of the painting. The colors should harmonize with the overall color palette of the room. Consider the dominant colors in your decor and look for paintings that incorporate similar hues. This will help create a cohesive and visually pleasing environment. The subject matter of the painting is also a crucial consideration. Think about the atmosphere you want to create in the room. Do you want a serene and calming space? In that case, landscape or abstract paintings may be a good choice. If you want to make a bold statement or showcase your personality, consider opting for a painting with a strong subject or vibrant colors. Lastly, don't forget to consider your personal taste and emotional connection to the artwork. Art is subjective, and what resonates with one person may not resonate with another. Choose a painting that speaks to you on a deeper level, evokes emotions, and reflects your unique style and personality. Where to find art wall paintings for sale Now that you have a clear idea of the type of art wall painting you're looking for, it's time to explore the various avenues where you can find them for sale. From online marketplaces to art galleries and local artists, each option offers its own advantages and unique selection of artwork. Online marketplaces have become a popular destination for art buyers. Websites like RtistiQ, Saatchi Art, and Artsy connect artists with buyers from all over the world. These platforms offer a wide range of art wall paintings in different styles, sizes, and price ranges. They often have search filters that allow you to narrow down your options based on your preferences, making it easier to find the perfect piece. Art galleries and exhibitions are another great place to find art wall paintings. Visiting galleries allows you to see the artwork in person and get a better sense of its size, texture, and overall impact. Many galleries also represent emerging artists, giving you the opportunity to discover unique and undiscovered talent. If you're looking for something truly one-of-a-kind, consider reaching out to local artists or independent sellers. Many artists have their own websites or social media platforms where they showcase and sell their work. Buying directly from the artist not only supports their creative journey but also allows you to establish a personal connection and learn more about the inspiration behind the painting. No matter where you choose to buy your art wall painting, it's important to do your research and ensure that the seller is reputable. Read reviews, check their return policy, and ask any questions you may have before making a purchase. Investing in art is a personal experience, and finding the right seller can make all the difference. Tips for selecting the perfect art wall painting Now that you know where to find art wall paintings, let's delve into some expert tips for selecting the perfect piece that will enhance your home decor and bring joy to your space. Research and Explore: Take the time to research different artists, styles, and genres. Look for inspiration in magazines, art blogs, and social media platforms. Visit museums and galleries to get a better understanding of what resonates with you. Consider the Space: Before making a purchase, visualize how the painting will fit into your space. Consider the lighting, furniture arrangement, and overall ambiance of the room. Take into account the size, color, and subject matter of the painting to ensure it complements the space. Set a Budget: Art wall paintings can vary greatly in price, so it's important to set a budget before you start your search. Determine how much you're willing to spend and stick to it. Remember that art is an investment, and finding a piece you love within your budget is possible. Ask for Expert Advice: If you're unsure about the technical aspects of a painting or need guidance in making a decision, don't hesitate to seek expert advice. Consult with art consultants, interior designers, or even the artists themselves. They can offer valuable insights and help you make an informed choice. Trust Your Instincts: Ultimately, trust your instincts and choose a painting that speaks to you. Art is meant to evoke emotions and create a personal connection. If a painting resonates with you on an emotional level and brings you joy, it's likely the perfect choice for your home. By following these tips, you can navigate the world of art wall paintings with confidence and find the perfect piece that will enhance your living space for years to come. Conclusion Finding the perfect art wall painting may seem like a daunting task, but with the right knowledge and guidance, it can be an enjoyable and rewarding experience. By understanding different painting styles, considering important factors such as size and color scheme, and exploring various avenues for purchasing art, you can find a piece that truly reflects your personality and elevates your home decor. Remember that art is subjective, and what matters most is finding a painting that resonates with you on a deeper level. Trust your instincts, explore different options, and take the time to appreciate the beauty and creativity that art wall paintings bring to your living space. So, start your journey today! Transform your walls into a mesmerizing art gallery and create a space that not only inspires but also reflects your unique style and personality. Happy art hunting!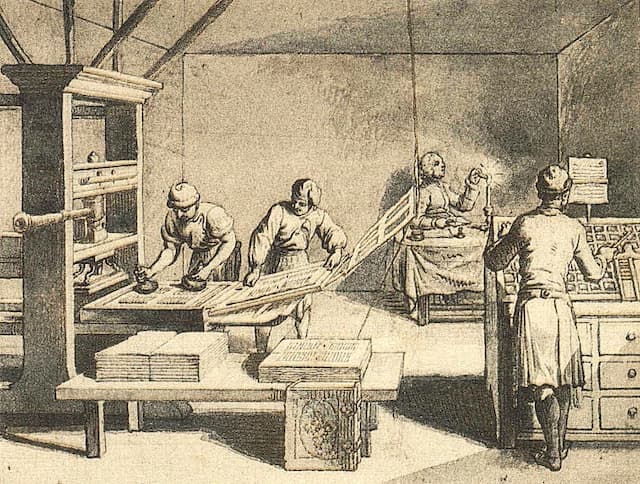 ART MARKET
Unveiling Limited Edition Prints: Are They Worth Collecting?
In the world of art, limited edition prints have garnered significant attention and debate over their value and worth. These prints, often produced by artists in limited quantities, have become popular for art enthusiasts to own a piece of their favourite works without breaking the bank. However, the question remains: are limited edition prints worth anything as an investment and a source of aesthetic pleasure? The reality is that Prints can be just as valuable as any other artwork created and have exceeded value in millions for some rare works by master artists. The Frugal Repast (Le Repas frugal), an etching by Pablo Picasso part of the La Suite des saltimbanques series created in 1904, is considered the first significant attempt by the artist in Printmaking, sold for GBP 6,014,500, in the year 2022 at christies. This article delves into the various facets of limited edition prints, exploring their history, factors affecting their value, and whether they hold lasting significance in the art market. The History of Limited Edition Prints Limited edition prints trace their origins back to the earliest forms of printmaking. Printmaking, as a technique, dates back to ancient civilizations such as the Egyptians and Chinese. However, producing prints in limited quantities gained traction during the Renaissance period in Europe. Artists like Albrecht Dürer and Rembrandt created engravings and etchings that were not only artistic masterpieces but also showed a shift in how art could be produced and distributed. Fast-forward to the 20th century, and limited edition prints began gaining prominence. Artists like Pablo Picasso, Salvador Dalí, and Andy Warhol embraced printmaking to make their art accessible to a broader audience. The Indian Master Raja Ravi Varma, gained large scale prominence due to lithographic prints, specifically of Gods and Godesses that he paiinted. The ability to reproduce artworks precisely and at a lower cost than original paintings made prints an attractive medium for artists and collectors. Factors Affecting the Value of Limited Edition Prints A complex interplay of factors influences the value of limited-edition prints. Here are some key aspects that contribute to their worth: Edition Size: One of the defining features of limited edition prints is the restricted number of copies produced. Generally, the smaller the edition size, the higher the perceived value. A print from an edition of 10 will likely hold more value than one from 100. Artist's Reputation: The artist's reputation plays a significant role in determining the value of their limited edition prints. Prints by renowned artists with established careers are more likely to appreciate value over time. Authenticity and Provenance: Authenticity is crucial in the art market. Limited edition prints with proper documentation and provenance are more valuable as they assure buyers of the artwork's legitimacy. Condition: The condition of the print also impacts its value. Well-preserved prints, without damage or discolouration, tend to command higher prices. Rarity: While the term "limited edition" implies rarity, some prints within an edition might be more sought after due to factors such as variations in colour or unique characteristics. Subject Matter: The subject of the print and its relevance to the artist's body of work can affect its value. Prints featuring iconic motifs or themes closely associated with the artist will likely be more valuable. Artistic Technique: The printmaking technique used can influence value. Specific techniques like etching, lithography, and serigraphy (silkscreen printing) require intricate skills and can add to the appeal and value of the print. Market Demand: Market trends and demand play a significant role in determining the value of limited edition prints. If a particular artist's work becomes fashionable or is featured in exhibitions, it can increase demand and higher prices. Limited Edition Prints as Investments Limited edition prints have often been seen as a way for collectors to invest in art without the hefty price tag of an original painting. However, the investment potential of these prints is a subject of debate. While some limited edition prints by highly regarded artists have appreciated significantly in value over time, not all prints yield substantial returns. The art market can be unpredictable, and factors such as shifts in artistic taste, economic conditions, and changes in the artist's popularity can impact the investment value of prints. Investing in limited edition prints requires careful research and consideration. It's essential to research the artist's career trajectory, study market trends, and consult experts before purchasing with the expectation of financial gain. Like any investment, risks are involved, and it's important not to rely solely on limited edition prints as a means of financial growth. Aesthetic Value and Enjoyment Beyond the realm of investment, limited edition prints hold intrinsic value in terms of aesthetics and personal enjoyment. Owning a limited edition print allows art enthusiasts to experience the beauty and creativity of an artist's work firsthand. These prints can serve as entry points into an artist's larger body of work, allowing viewers to connect with their artistic vision and style. Limited edition prints also allow individuals to decorate their living or working spaces with art that resonates with them. The affordability of prints compared to original artworks makes it possible for a broader range of people to own pieces that align with their artistic preferences. The Changing Landscape with Digital Art Digital technology has introduced a new dimension to the world of limited edition prints through the emergence of digital art and NFTs (Non-Fungible Tokens). NFTs allow digital artists to create limited edition digital artworks that are unique, provably authentic, and can be bought, sold, and owned on blockchain platforms. This raises questions about the value of traditional limited-edition prints in a world where digital art is gaining prominence. While digital art and NFTs have their own merits and challenges, traditional limited-edition prints continue to hold their place in the art market. The tactile quality of a physical print, the historical significance of printmaking techniques, and the enduring appeal of owning a tangible piece of art contribute to the lasting value of traditional limited edition prints. In Conclusion Whether limited edition prints are worth anything encompasses a multifaceted discussion. While these prints may not always yield substantial financial returns as investments, their value extends far beyond monetary considerations. Limited edition prints allow art enthusiasts to engage with the creative output of talented artists, enriching their lives aesthetically and emotionally. As the art market continues to evolve, limited edition prints remain an accessible and valuable means of connecting with art. Whether cherished for their aesthetic allure or sought after as collectibles, these prints are a testament to the enduring power of art to inspire, provoke, and delight.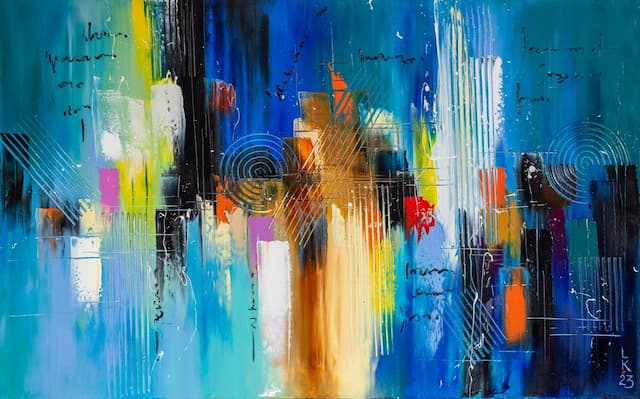 ART MARKET
Famous Abstract Art and Artists
Abstract art is a captivating and revolutionary movement that emerged in the early 20th century, challenging the conventions of representational art. It sought to express emotions, ideas, and concepts through non-representational forms, focusing on the interplay of colour, line, shape, and composition. Abstract art opened up new possibilities for artists to explore the depths of their creativity and create works that transcend the confines of reality. The article embarks on a journey through the world of famous abstract art and delves into the lives and masterpieces of renowned abstract artists who have significantly contributed to this dynamic and expressive genre. Wassily Kandinsky (1866-1944) Russian-born artist, Wassily Kandinsky, is widely regarded as one of the pioneers of abstract art. He believed that art should visually represent the artist's inner spiritual and emotional experiences. Kandinsky's early works were influenced by Russian folk art and Impressionism. However, his encounter with the artworks of the Fauvists and the vibrant colours of Matisse sparked his shift towards abstraction. Kandinsky's abstract artworks, such as "Composition VII" and "Yellow-Red-Blue," exemplify his exploration of colour, form, and composition. He believed that colour had a direct emotional and spiritual impact on the viewer. His compositions often feature bold geometric shapes, swirling lines, and vibrant, contrasting colours. Kandinsky's art not only pushed the boundaries of representation but also sought to evoke profound emotional responses from the viewer, transcending the limitations of figurative art. Color Study. Squares with Concentric Circles (1913), Is one of Kandinsky's most recognisable artworks. A small artwork on the study of colour colour combinations and the perception it carries is reverred as his most famous artwork. Piet Mondrian (1872-1944) Dutch painter Piet Mondrian was crucial in developing abstract art, particularly geometric abstraction. He believed that art should strive for universal harmony and balance, which could be achieved through simplification and using primary colours and straight lines. Mondrian's iconic works, such as "Composition with Red, Blue, and Yellow" and "Broadway Boogie-Woogie," embody his distinctive style. He utilized a grid of horizontal and vertical lines intersecting with primary colours and black and white rectangles. Mondrian sought to reduce art to its essential elements, emphasizing the fundamental relationships between form, colour, and space. His artworks are characterized by order, clarity, and geometric precision. Composition with Red, Blue and Yellow (1930), is an abstract masterpiece, featuring geometric shapes and primary colors, embodying the principles of De Stijl movement. Mondrian's use of straight lines and primary colors evokes a sense of harmony and balance, making it a timeless representation of modern art. The artwork has become an influential symbol of abstract expressionism and continues to inspire artists and art enthusiasts around the world. Kazimir Malevich (1879-1935) Kazimir Malevich, a Russian avant-garde artist, was a prominent figure in the development of abstract art, particularly within the Suprematist movement. He believed in the power of pure geometric forms to evoke emotion and spirituality. Malevich's most famous work, "Black Square," created in 1915, is a seminal piece in the history of abstract art. It is a bold and radical composition with a black square on a white background. Malevich described this work as the "zero degree" of painting, representing the pure essence of art stripped of any representational elements. Through Suprematism, Malevich sought to free art from the constraints of the material world and explore the transcendental nature of pure form and colour. Joan Miró (1893-1983) Joan Miró, a Spanish painter, sculptor, and ceramicist, was known for his playful and imaginative abstract artworks. His style bridged the gap between abstraction and surrealism, combining organic shapes, biomorphic forms, and symbolic elements. Miró's works, such as "The Tilled Field" and "Harlequin's Carnival," feature vibrant colours, curvilinear shapes, and whimsical symbols. He often incorporated dreamlike and childlike imagery, blurring the lines between reality and the subconscious. Miró's art exudes a sense of spontaneity, freedom, and exploration of the inner self. He believed that art should evoke emotions and connect with the viewer subconsciously. Joan Miró – Harlequin's Carnival (1924 – 1925) Jackson Pollock (1912-1956) American artist Jackson Pollock was a crucial figure in the Abstract Expressionist movement. He revolutionized the art world with his unique approach to painting, which involved pouring and dripping paint onto a canvas on the floor. Pollock's famous "drip paintings," such as "Number 1, 1950 (Lavender Mist)" and "Autumn Rhythm (Number 30)," are dynamic and energetic compositions. Through his innovative technique, he explored the physicality of paint and the spontaneous gestures of the artist's hand. Pollock's artworks are characterized by intricate webs of drips, splatters, and gestural marks, creating a sense of movement, rhythm, and chaos. His works embody a raw and emotional expression, inviting viewers to interpret and engage with the artwork on a visceral level. No. 5, (1948) is considered one the most famous as well as the most expensive painting by Jackson Pollock Mark Rothko (1903-1970) American painter Mark Rothko is known for his large-scale colour field paintings that evoke deep emotional responses. Rothko believed that art should create an intimate and immersive experience, allowing viewers to contemplate the complexities of the human condition. Rothko's signature style involved large rectangular fields of colour, often stacked or overlapping. His compositions, such as "No. 61 (Rust and Blue)" and "White Center (Yellow, Pink and Lavender on Rose)," feature vibrant hues that seem to radiate from within the canvas. Rothko sought to create a sense of spiritual transcendence through his artworks, inviting viewers to immerse themselves in the luminous fields of colour and engage with the profound emotional depth conveyed. The famous "Orange, Red and Yellow" (1961) is not just the most famous but also grossed the highest Auction value Concluding Remarks The famous abstract artists and their artworks have left an indelible mark on the art world. Through their bold experimentation, they pushed the boundaries of artistic expression, challenging traditional notions of representation and emphasizing the power of colour, form, and composition. Wassily Kandinsky, Piet Mondrian, Kazimir Malevich, Joan Miró, Mark Rothko and Jackson Pollock are just a few visionary artists who have shaped the trajectory of abstract art. Their works continue to inspire and captivate audiences, inviting viewers to embark on a journey of introspection, emotion, and personal interpretation. Abstract art remains a testament to the limitless possibilities of human creativity and the power of art to transcend the boundaries of the tangible world. Main Image: Strange City by Liubov Kuptsova
Sign up for our newsletter to have the latest stories and curated art recommendations delivered straight to your inbox