Subscribe for our newsletter to have the latest stories and curated art recommendations delivered straight to your inbox
ARTIST SPOTLIGHT
10 Exciting Southeast Asian Artists Experimenting in Abstract Art
Like
comments
SAVE
Abstract art has roots across many cultures, and the contemporary art scene is now filled with many artists working in the abstract from every region on Earth. Hence, the understanding of abstract art can vary among individuals with different backgrounds.
Below, we've assembled 10 of the most exciting abstract artists from Southeast Asia. These artists represent a wide variety of aesthetic approaches and span multiple generations.
What is clear from these artists is that Southeast Asia continues to produce some of the most exciting voices in the world of abstract art. No survey of the field is complete without their work.
Vietnam
1. Ha Manh Thang (b. 1980)
Cry For A Flag #2 (2020) [SOURCE]
Ha Manh Thang is a Vietnamese artist who is working at the forefront of his culture. As tidal shifts continue to occur since Doi Moi — a series of reforms set forth in 1986 that have brought Western corporations and values into the country — he discusses these ongoing changes on the canvas.
His abstract works are as much studies in texture as in color, using the paint to build forms that cast shadows and reach out from the surface. While his figurative pieces are often satirical confrontations with society, these newest experimentations give his work a more universal tone.
Ha Manh Thang received a degree from Hanoi Fine Arts University in 2004, going on to participate in several notable regional and international exhibitions. He currently lives in Hanoi.
2. Tulip Duong (b. 1966)
My Window (2018) [SOURCE]
Tulip Duong revels in the fast paced, the things in the world that are coming into being. Her abstract art borders on representation, though it never quite coheres into a full image. Instead, the pieces hang in that liminal space just before fully materializing.
Working from her Hanoi studio, Tulip Duong has shown work around the world, touching on global issues while still maintaining Vietnamese characteristics in her compositions. This riveting connection is held together by her singular voice. The centrality of her viewpoint runs throughout her oeuvre, even as her paintings continue to explore new horizons.
Since 2000, Tulip Duong's work has appeared in several group and solo shows, as well as publications.
3. Tran Tuan (b. 1961)
Spring (2012) [SOURCE]
Vietnamese artist Tran Tuan's career covers many different forms and approaches, but all of his work stands out as vivid, colorful and energetic studies. These paintings are alive with bold, heavy brushstrokes stitched together in unexpected ways.
His abstract work takes a maximalist approach, every inch of his canvases are alive and urgent. He manages these brilliant palettes through an almost athletic vigor. The overwhelming images deliver the viewer over to a world entirely its own, one built out of dazzling color and intricate brushwork.
Tran Tuan's work appears in private collections throughout Europe, North America and Australia. He received his degree from Fine Art University of Hanoi in 1990.
Indonesia
4. Christine Ay Tjoe (b. 1973)
Large Space of Shoots #2 (2020) [SOURCE]
Chrstine Ay Tjoe is an Indonesian artist who restlessly seeks out the depths of the human condition. Her work spans many mediums, including: intaglio prints, textiles, painting, drawing, sculpture and large-scale installations. Her abstract paintings carry on the mission of her entire career, evoking the power — and darkness — in subjective experience.
These works are splashes of complex forms on white canvas, both cryptic and beautiful. While an initial glance might only find confusion, a closer look reveals intricate control and detail work. These are intricately crafted pieces, with forms that seem to arise spontaneously out of the amorphous composition.
Christine Ay Tjoe works in Bandung, her hometown. Her work has appeared around the world.
5. Erizal As (b. 1979)
Formless Existence (2019) [SOURCE]
Erizal As creates rhythmic, almost musical abstract works. His muscular brushstrokes and use of heavy layers of paint create crowded canvases that deliver up an excessive bounty. In all that excess is patterning akin to syncopation, a tension between the expectation of the viewer and where the art ultimately takes them.
His work deals in real subject matter, but it handles scenes and portraiture in an entirely abstract way. This approach delivers an experience very rare in abstract painting, again testing expectations. His work often takes on themes like authenticity, or the lack of it, often with a critical eye toward society and power.
Erizal As received his education at the Indonesian Institute of Fine Art. His selected group and solo exhibitions have appeared across Southeast Asia.
6. Rinaldi Syam (b. 1976)
Landscape Color (2019) [SOURCE]
Rinaldi Syam is a painter and sculptor working out of Indonesia. His abstract paintings are filled with sumptuous forms in a kind of collage, quilted together in rough edged regions. The soft texture draws the eye in, and the complex composition keeps the viewer there to decode what they have found.
His work sometimes moves from the abstract to the surreal, but always with hallucinatory grandeur and a deeply felt sense of beauty. While his canvas sometimes overflows with detail, there is a gentleness to his technique, always rendering forms with reverence. That care and tenderness seeps out when looking at his paintings, a calming force that quiets
the space.
Rinaldi Syam lives and works in Yogyakarta. His work has won several awards in both Indonesia and Japan.
Thailand:
7. Nim Kruasaeng (b. 1974)
[SOURCE]
Nim Kruasaeng's paintings are simple, elegant observations. Their presence is unassuming and yet captivating. They gradually make their way through to the viewer, never demanding attention but always earning it — the way you lean in when someone whispers.
The pieces often rely on rhythm and a palette of only two or three colors. Her ability to get the most out of these pared down elements reveals the mastery of the artist and her guiding obsessions: the relation between bodies in space, the pleasure of a perfect line, the ability to say more with suggestion than direct description. It is through these
grounding ideas that her delicate and meditative work flows.
Nim Kruaseng is a self-taught artist who found recognition in the 1990's from peers in the Thai art scene. She currently lives and works in both Bangkok and Pattaya.
8. Udomsak Krisanamis (b. 1966)
Your Disco Needs You (2001) [SOURCE]
Udomsak Krisanamis has built a career out of conceptually rigorous paintings that continue to develop a single line of thought. Through the integration of mixed-media on his canvas — including cellophane, noodles, newspaper, among other items — he builds pieces that combine strict formalism with exploration at the borders of these self-imposed
limits.
The diversity born out of this single project is sweeping, though always anchored by his trademark style. The longer one takes in his work, the more one gets into the headspace of its creator. It is a journey into an uncompromising artistic vision that continues to remake the world.
Udomsak Krisanamis currently lives and works in Bangkok. He received his education at Chulalongkorn University, Bangkok and the Art Institute of Chicago. His solo and group exhibitions have shown internationally.
Singapore:
9. Genevieve Chua (b. 1984)
Edge
Control #21, More True Than False (2017) [SOURCE]
Genevieve Chua makes abstract work that seeks to evoke natural forms while always inserting visual reference from technological artifacts like the glitch. She aggressively explores beyond the expected presentation of painting, pushing the uneasy mix of the natural and the digital even further.
Her work often breaks out of the traditional canvas, exploring unique objects to introduce abstract painting. She incorporates shaped canvases that come together to produce a kind of deconstructed canvas for her to explore. She also integrates printing methods to ground her painting, like screen prints and giclée prints.
Genevieve Chua received her education at the Royal College of Art in London. Her solo exhibitions have spanned Asia, with group exhibitions around the world.
10. Jamie Tan (b. 1990)
Intoxicated
Calls (2018) [SOURCE]
Jamie Tan takes color field into the next century with a unique take on the genre that is informed as much by the structure of computer displays as the career of Rothko. Rather than taking off into highly conceptual detours, his work keeps returning to color. The paintings use a sophisticated understanding of that single tool and continue to reimagine how to present it.
The clean lines and interlaced patterns of color strips that define Jamie Tan's work produce energy and movement through their interaction. But these pieces are not just practices in color theory. They also serve as a link in the discussion begun by color field painters from the century past with the current visual landscape of contemporary society.
Jamie Tan earned a degree in Fine Arts from Lasalle College of the Arts in 2017. His first solo show debuted in 2019
Inspired by the artists? Shop abstract art on RtistiQ Art Marketplace. Enjoy 7 Day Delivery & 14 Day Return policy for all users today.
Author: Jonathan M Clark
SIMILAR ARTICLES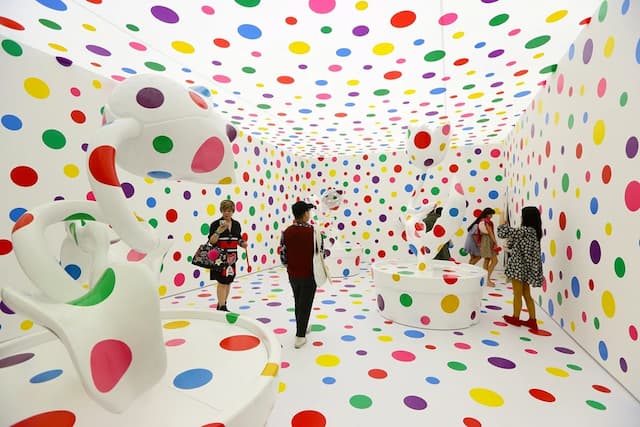 10 Contemporary Asian Artists You Should Know
The world of contemporary art is a vast and ever-evolving landscape, with artists from different corners of the globe making their mark on the artistic discourse. Despite its size and wealth of artistic talent, the art of Asia remains largely unexplored for many people around the world. In this article, we explore the works of nine talented contemporary Asian artists who have been instrumental in shaping the art scene, challenging conventions, and offering fresh perspectives. From traditional mediums to innovative techniques, these artists showcase the rich diversity and cultural vibrancy of Asia's art scene. Yayoi Kusama (Japan) Kusama has been an institution of the contemporary art scene since the 1960s. Her work in pop-art and performance art over the years are now the stuff of legend. Her installations are particularly popular. She often works with red and white polka dot motifs in her installations (like at the Singapore Biennale in 2006 and at the Matsumoto City Museum of Art).More recently, she created an Infinity Room—a dark, mirror-covered enclosure with hanging lights that appear to go on forever. Through her signature use of repetitive patterns and vibrant colors, Kusama explores themes of infinity, self-obliteration, and the interplay between the individual and the cosmos. Her immersive installations, such as "Infinity Mirror Rooms," invite viewers to delve into their own introspection and experience the boundless nature of existence. Kusama's career has spanned fashion, film, painting, performance, and even writing. Nam June Paik (South Korea) Nam June Paik is a highly influential and pioneering contemporary Korean artist who is often regarded as the "father of video art." Born in Seoul, South Korea, in 1932, Paik's groundbreaking work has left an indelible mark on the art world, merging technology, performance, and popular culture in innovative and thought-provoking ways. Paik's work encapsulates the second half of the 20th century. Much of it involved creating sculptures and installation pieces using manipulated television sets and embracing themes of communication and the rapid expanse of technology. Maybe his most notable achievement is TV Buddha (a series beginning in 1974). In this, a statue of the Buddha watches a small television that displays a live feed of the statue itself. Bharti Kher (India) Bharti Kher, an Indian-born artist, explores themes of identity, gender, and mythology in her multidisciplinary practice. Known for her distinctive use of bindis (forehead decorations), Kher's works often incorporate found objects and traditional Indian iconography. Her thought-provoking sculptures and installations challenge societal norms and invite contemplation on the role of women in Indian culture. The artist's works have been exhibited internationally and have garnered critical acclaim. Her powerful and visually arresting pieces have been showcased in prominent institutions and galleries, including the Tate Modern in London, the Museum of Contemporary Art in Tokyo, and the Guggenheim Museum in New York. Bharti Kher's contributions to contemporary art have made a significant impact, both in India and on the global stage. Through her compelling and thought-provoking works, she continues to push boundaries, challenge conventions, and provoke dialogue about the complexities of identity and culture in our interconnected world. Ai Weiwei (China) Ai is an influential contemporary artist and political activist. His work, connected to the Excessevist movement, includes video, sculpture and installation. One of his most popular pieces is Sunflower Seeds (2010). It was made for the Tate Modern's Turbine Hall. It is made up of one hundred million porcelain sunflower seeds—all handcrafted to perfection. The seeds were spread to fill the 1,000 square meter area and stacked up to 10 centimeters high. Through various mediums, including sculpture, photography, and installation, Ai Weiwei addresses issues such as human rights, freedom of expression, and the role of the individual in society. His thought-provoking artworks challenge authority and shed light on the complexities of contemporary Chinese society. His political advocacy for democracy and human rights in his home country has made him a controversial figure there. Sopheap Pich (Cambodia) Sopheap Pich is a celebrated contemporary artist from Cambodia whose works combine sculpture, installation, and conceptual art to explore themes of memory, history, and the relationship between humans and the natural world. Born in Battambang, Cambodia, in 1971, Pich experienced the devastating effects of the Khmer Rouge regime, which greatly influenced his artistic practice.Pich uses highly selective materials (like rattan, bamboo, dye, glue, and metal) to connect with his Cambodian heritage. These traditional materials are transformed into intricate sculptures that are both captivating and ephemeral. Pich's art is deeply rooted in his personal experiences and the history of Cambodia. He often incorporates materials deeply connected to Cambodian culture, such as rattan, bamboo, and found objects, into his sculptures and installations. Through his work, Pich explores the complexities of memory, displacement, and the process of healing in the aftermath of war. As the most internationally recognizable Cambodian artist, his work is an important porthole into a culture that is emerging as a major player in the artworld. Han Sai Por (Singapore) Han is a sculptor with a naturalist's heart. Many of her best known pieces are stone installations crafted to plant forms—mimicking the look and feel of seeds and fruits. But she is also renowned for her geometric work that carefully replicates a logical thought process through visual exploration. Han Sai Por's artistic practice is deeply rooted in her fascination with organic forms found in nature, such as rocks, trees, and water. Her sculptures often incorporate materials like stone, bronze, and wood, which she meticulously carves, shapes, and manipulates to create abstract yet evocative forms. Her works reflect her deep understanding of the inherent beauty and energy present in the natural world. One of Han Sai Por's notable series is the "Rock Series," where she explores the diverse textures, patterns, and qualities of rocks. Through her skillful manipulation of materials, she captures the essence of rocks, conveying their solidity, weight, and geological history. Her sculptures, which range from small, handheld pieces to monumental installations, celebrate the harmonious coexistence of humans and nature. The Tropical Leaf, Installation outside One Raffles Quay, Singapore Her work appears in public spaces throughout the world, making her art some of the most viewed on the planet, though many people might not recognize that they have walked by, touched and appreciated her work. David Medalla (Philippines) David Medalla, a Filipino artist, was born in Manila in 1942 and has made significant contributions to the international art world. As a multidisciplinary artist, Medalla has explored various mediums, including sculpture, installation, performance art, and painting, throughout his career. His experimental and boundary-pushing approach to art has garnered recognition and acclaim. Medalla was one of the major Filipino voices in contemporary art. And he built that voice using a tremendous range of disciplines, including: sculpture, painting, installation, and more. Medalla's early works were influenced by the Fluxus movement, a global network of artists that emerged in the 1960s. He became associated with the movement and participated in Fluxus events and exhibitions, collaborating with renowned artists such as Yoko Ono and John Cage. Medalla's works often incorporated ephemeral materials and explored concepts of process, transformation, and audience participation. He began his career creating performance art that brought him to prominence and connected him to key artists in Europe. Later, he co-founded the Signal Gallery in London where he spent time working with an international group of artists. He also helped fund and support revolutions as the chairman of Artists for Democracy. One of Medalla's most famous works is "A Stitch in Time" (1968), an ongoing participatory performance piece that involves visitors threading and weaving a collective tapestry. The artwork symbolizes the interconnectivity of individuals and the shared experiences that shape our world. Rirkrit Tiravanija (Thailand) TRirkrit Tiravanija is a highly regarded contemporary artist originally from Argentina but of Thai descent. Born in Buenos Aires in 1961, Tiravanija is known for his influential contributions to the field of relational aesthetics, a concept that emphasizes social interaction and participation as integral components of an artwork.. Tiravanija is a contemporary artist who uses concepts from architecture to reinvent to engage with that central question: how to live? He often creates rooms or entire buildings that reformat the way people cook and eat food or engage in leisure activities. In Untitled 1999 (a replication of the artist's own apartment in the East Village), participants in the exhibition lived inside it while it was being shown. Tiravanija's works often explore themes of community, cultural exchange, and globalization. He draws inspiration from his Thai heritage and frequently incorporates elements of Thai culture into his installations. His artwork serves as a platform for dialogue, fostering connections and understanding among diverse audiences. Beyond his installations, Tiravanija has also created multimedia works, including video, photography, and text-based pieces. He often collaborates with other artists and musicians, further emphasizing the communal aspect of his art and expanding the possibilities for creative expression. Tiravanija's influential contributions to contemporary art have earned him numerous accolades and exhibitions in prestigious galleries and museums worldwide. He has participated in major international art events such as the Venice Biennale and Documenta, solidifying his position as a significant figure in the global art scene. Tiravanija's continuously playful insight into our lives makes his work exciting and always engaging on a personal level. Shooshie Sulaiman (Malaysia) Born in Kuala Lumpur, Sulaiman's works encompass a diverse range of mediums, including painting, sculpture, installation, and multimedia art. Known for her thought-provoking exploration of identity, history, and cultural heritage, Sulaiman's art carries a powerful narrative that challenges and engages viewers. Sulaiman is an artist who sets a critical eye to today's culture and the way it both produces and views art. Her oeuvre includes installation, architecture, writing, and drawing. Many of her pieces In the Kedai Runcit No.12 (Sundry Shop No.12, 2011) installation, she created a Malaysian general store that sold food and art side-by-side, completely recontextualizing both. It highlights the importance of art as a nutritious activity, as well as highlighting its current status as a mere commodity. Sulaiman's inventive and always growing catalogue of provocative work make her one of the contemporary Asian artists you should know. Conclusion: The ten contemporary Asian artists highlighted in this article represent a mere fraction of the vibrant artistic talent emerging from the region. Through their unique perspectives, innovative techniques, and thought-provoking themes, they challenge traditional boundaries, question societal norms, and invite viewers to reconsider their perceptions. These artists contribute to the global art scene, enriching it with the cultural diversity and depth of the Asian artistic landscape. As they continue to create, these visionary artists pave the way for further exploration and appreciation of contemporary Asian art.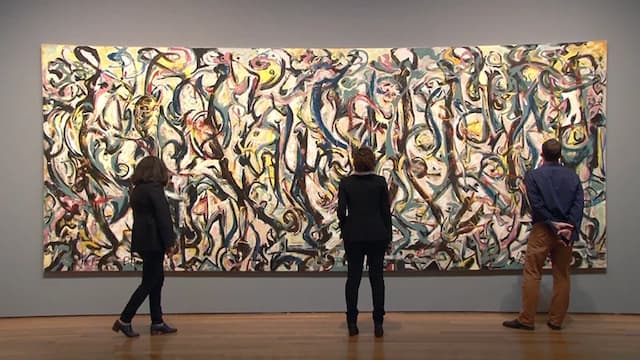 Understanding Abstract Art
Numerous theoretical ideas deal with abstract art. While some have taken the idea of "art for art's sake," others have implied that art should be like music; just as music is patterns of sound, art should be created by pure patterns of form, color, and line; there are those who see abstract art as carrying a moral dimension, abstract art can be seen to stand for virtues such as purity and spirituality; and finally, those using the term "abstract" formally, as a distinction from figuration in art (as in non-figurative). How Abstract Art impacts our mental process Abstract art seems to elicit different mental processes than figurative art. While representational art requires a more local and object-focused scan pattern, abstract art involves more globally distributed viewing patterns. Our brain adopts a more exploratory strategy for seeking visual clues while staring at abstract art. Hence more complex areas of our brain seem to be stimulated by abstract art. Appreciating abstract art To claim to understand abstract art is like pretending to understand the Universe; its complexity is beyond us. When it comes to abstract art, a more appropriate approach would be to learn to appreciate it. We can do this with an open mind and heart by looking for clues in the feelings and ideas it arises in us – the emotional approach. Nevertheless, art in general and abstract art in particular should and must be interpreted in its historical context. Despite claiming to be a universal form of art, the ideas behind abstract art were very much generated by a cumulus of factors converging at certain point in time – rational approach. First Experiments towards abstraction The big revolution in art and the journey towards Abstraction began with the Modernist artistic movements. The pioneering artists of the 19th century (Claude Monet, Paul Cézanne and George Surat among others) had a burning desire to innovate, not only because the Academic Art was not representative for an industrial society but they felt the menace of a new invention called daguerreotype. The growing popularity of the first photo camera was threatening the artists´ role of depicting reality, this is when the modern artists started to reject traditional three-dimensional space and instead used flat areas or patches of colour to create a new pictorial space. The Avant-garde - shapes and colours The following generation of Avant-garde artists proved to be even more radical and searched for inspiration far away from Europe, in the ancestral cultures of the African tribes. The Fauvists (like Henry Matisse or André Derrain) were interested in the scientific colour theories and in the use of complimentary colours for creating tension on the canvas. For many of the artists who adopted a fauvist approach it became a transitional stepping stone for future developments in their style, towards abstraction. The Cubists (George Braque, Pablo Picasso or Juan Griss) proposed a new way of depicting an object: multiple viewing angles layered on the canvas. The fragmentation and reassembling of the world proposed by the Parisian cubists had encouraged several other artists, especially from countries such as Holland and Russia, to push farther into a world of forms, leaving behind any reference to recognizable objects or scenes. The invention of these new kinds of abstract or "non-objective" art coincided with the cataclysm of World War I, and the artists involved explained their innovations in terms of contemporary revolutions in both society and consciousness or as the emergence of a changed human order. Inventing abstraction - Wassily Kandinsky "Colour is the keyboard, the eyes are the harmonies, the soul is the piano with many strings. The artist is the hand that plays, touching one key or another, to cause vibrations in the soul." - Wassily Kandinsky Until the end of the 19th century, the value of a painting was judged by its ability to represent reality. For this reason, music was often regarded by artists as a pure form of art. One of these artists was the Russian born Wassily Kandinsky. The future inventor of Abstraction was born on December 4, 1866 in Moscow and had a formal training in law, economics and ethnography. However, by the age of 30 he had abandoned a career in law; he had fled his native country for Munich, in order to pursue his passion for art. While still living in Russia, Kandinsky found an important connection between colour and music. He is believed to have had synaesthesia, a condition that makes people perceive colour not only as a visual property of objects, but to associate colours with sounds of different qualities and intensities. He was convinced that painting, alike music, must fulfil a spiritual role. Although Kandinsky had developed the philosophical foundation for an abstract art as early as 1909, he had been hesitant to abandon representation. After hearing Arnold Schoenberg's concert in January 1911, his work took a completely new turn. In the following days he made quick sketches of that performance and he further diluted these drawings until only traces of the original subject remained in his paintings. Composition V – first abstract painting? In the summer of the same year, Kandisnky began working on Composition V, a monumental painting in size, the most radical painting displayed at that time, announcing his ambitions for abstraction. Just a few months later, after being rejected by the official salon, he included the picture in the first exhibition of Der Blaue Reiter (the Blue Rider), a group co-founded together with Franz Marc (killed during the WWI at 36 years of age). Simultaneously, he published Concerning the Spiritual in Art, one of the first thesis to argue for artistic abstraction. His essay examines the purpose of art and how colours and forms impact the human soul. Since abstract art is freed from representation, colours and forms can display their own spirit and express the feelings of the artists. In his book, Kandinsky declares that the most advanced art offers "emotions that we cannot put into words". The events of 1911 were equivalent to opening Pandora's box in art. The invention of a non-objective form of art defined in manifestos as a reflection of the deep transformation in the society, anticipated the devastation of the WWI (1914-1918) but at the same time opened unknown paths for artistic explorations. 1. The Red Tree, 1908-1910, source: Gemeentemuseum den Haag 2. The Grey Tree, 1911, source: Gemeentemuseum den Haag 3. Flowering Apple Tree 1912, source: Tate Modern Piet Mondrian Other artists followed in Kandinsky's steps on the path of abstraction but no other artist's body of work can better illustrate the transformation from figurative depiction to abstraction as the Dutch painter Piet Mondrian. Mondrian's fascination with trees developed out of his earlier landscape painting. After absorbing the influences of Cubism, Mondrian reworked the image of his trees to abstraction, and later on to primary colours. The trunk and branches were transforming into a network of verticals and horizontals. He acknowledged the inspiration of nature but added, "I want to come as close as possible to the truth, and I abstract everything from that until I reach the foundation of things". No. 5, 1948, Jackson Pollock, sold in 2006 in a private sale for $135 million, according to The New York Times Abstract Expressionism - Abstraction in America "It seems to me that the modern painter cannot express this age, the airplane, the atom bomb, the radio, in the old forms of the Renaissance or of any other past culture. Each age finds its own technique." Jackson Pollock - interview with William Wright, 1950 Prior to WWII, the art world has been dominated for centuries by Europe but the new geo-political reality was about to reshape dramatically the global art scene. The arrival in the United States of various immigrants associated with the Surrealist movement (André Breton, Max Ernst or Marcel Duchamp) fleeing the war was extremely well timed. The European Surrealist proved to be a great influence on the young artists active in New York at that time. The expanding group of artists including figures such as Jackson Pollock, Mark Rothko, Arshile Gorky, Willem de Kooning, Barnett Newman, Robert Motherwell, Clyfford Still and Adolph Gottlieb was soon labelled as "Abstract Expressionists" despite never being formally organized in an art movement. They were, however, unified to some extent by the patronage of a wealthy heiress, Peggy Guggenheim. She is the first to organize exhibitions for the young artists at her newly open gallery, Art of This Century. No other name could better describe the gallery where Abstract Expressionism would catch the interest equally of art critics and politicians. Jackson Pollock – the star of Abstract Art One of Jackson Pollock's early works (Guardians of the secret, 1943) demonstrates how stylistic borrowings from the Cubist-derived abstraction, Expressionism and Surrealism were fused with the interest in myth and primitivism and powered by the idea of large scale painting (a symbol of the rebirth of Americana, intensely promoted through the Federal Art Project – part of Roosevelt's New Deal). Pollock's experiments didn't stop at mixing various art influences but he took a very daring approach. His most accomplished works were produced in a dramatically different fashion, he rhythmically dripped and spattered industrial paints, by using a stick instead of a brush, all-over huge expanses of unstretched canvases placed on his studio floor – what became known as "drip painting". His innovation lies in bringing the process of creation under the spotlights, his Action Painting was almost a mystic parade of gestures. Pollock is hailed by his main promoter, the art critic Clement Greenberg as the inheritor of the European abstract tradition. By the 1949, Pollock acquired appreciable market success so that Life magazine was asking rhetorically in a now famous editorial: "Is he the greatest living painter in the United States?". The wealthy art-buying class that were Pollock's enthusiasts incorporated the liberal intellectuals and politicians that were becoming increasingly interested in stepping-up the cold war against Communism. Abstract Expressionism and the Cold War The American administration began a cultural war against the Social-Realism (an art movement associated with the communist regimes) by exporting internationally Abstract Expressionism as a symbol of the western capitalism. Just as the Marshall Plan sought to extend America's influence in Europe through much needed it economic aid, the touring exhibition organized by MoMA with the support of CIA, sought to gain influence over the hearts of minds of Europe. New York School of Art By the early 1950s, the idea of an art movement called Abstract Expressionism seem more of critics´ invention than a homogenous art movement. Under the umbrella New York School you had on one hand the painters whose work was based on a gestural approach (Gestural Abstraction): De Kooning, Jackson Pollock and Robert Motherwell, on the other hand, artists like Clayford Still, Mark Rothko and Barnett Newman who relied on large fields of colour (Colour Field Painting) to produce solemn effects on their canvases. These artists had an interest in archetype and anima and studied Kandisnky´s theories. Despite their sometimes bombastic spiritual claims and being often criticized for being egocentrics, we should not forget that Newman and Rothko were a response to the history of their times. Human dignity and spiritual aspirations have been completely crushed during the WWII and their art was a way of healing the trauma of this great tragedy of human kind. As Paul Klee remarked in 1915: "The more fearful the world becomes, the more art becomes abstract". The Legacy Because of the huge influence of Abstract Expressionism in post-war America, other artists and movements are generally understood in relation to it. Ad Reinhardt in the early 1950s and then Frank Stella later in the decade painted abstract canvases, but rejected the Abstract Expressionist based on gesture They instead reinforced the essence of the painting as a physical object through precise geometric forms and smooth application of paint, anticipating the Minimalism art. Since the Abstract Expressionism painting was fundamentally "performative" it is regarded as the starting point for the Happenings (Allan Kaprow) of the 1960. Few decades later Abstract Art fell into semi-obscurity for a while only to be resuscitated and to coexist along a wide variety of art forms and ideas, so typical of our post-modern reality. "Abstraction allows man to see with his mind what he cannot see physically with his eyes… Abstract art enables to perceive beyond the tangible, to extract the infinite out of the finite. It is the emancipation of the mind. It is an exploration into unknown areas." – Arshile Gorky Author: Floarea Baenziger Refrences: Books: 1. David Hopkins, After Modern Art 1945-2000, Oxford University Press, 2000, pp. 5-33; 2. Robert Hughes, The Shock of the New: Art and the Century of Change, Thames & Hudson Ltd, 2004; 3. Kirk Varnedoe, Pictures of Nothing: Abstract Art since Pollock, Princeton University Press, 2006; 4. Leah Dickerman, Inventing abstraction – How a radical idea changed modern art, 1910-1925, catalogue MoMA, New York, 2013; Articles: 1. Helen A. Harrison, Through a Glass Brightly: Jackson Pollock in His Own Words, The New York Times, Nov. 15, 1998; 2. Pepe Karmel, The Golden Age of Abstraction: Right Now, ARTnews, April 24, 2013; 3. Meyer Schapiro, Nature of Abstract Art, www.on-curating.org, October 2003; 4. Celia Durkin, Eileen Hartnett, Daphna Shohamy, An objective evaluation on the beholder's response to abstract and figurative art based on construal level theory, PNAS, August 2020. Author: Floarea Bänziger, RtistiQ curator RtistiQ is a leading online art marketplace that features a wide curated selection of Abstract art created by emerging and established artists from all over the world. All artworks are original and blockchain powered so you can shop abstract art with an ease of mind. Discover all abstract artworks here.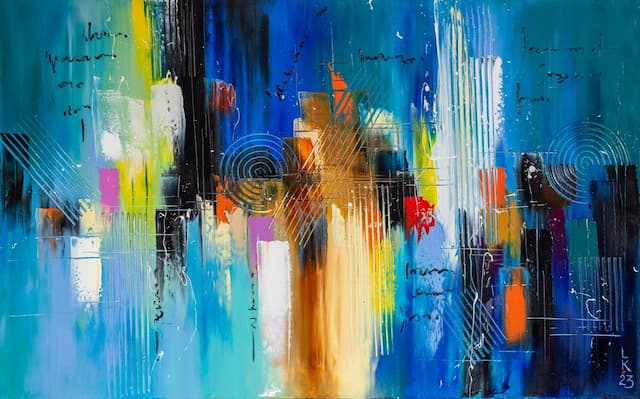 Famous Abstract Art and Artists
Abstract art is a captivating and revolutionary movement that emerged in the early 20th century, challenging the conventions of representational art. It sought to express emotions, ideas, and concepts through non-representational forms, focusing on the interplay of colour, line, shape, and composition. Abstract art opened up new possibilities for artists to explore the depths of their creativity and create works that transcend the confines of reality. The article embarks on a journey through the world of famous abstract art and delves into the lives and masterpieces of renowned abstract artists who have significantly contributed to this dynamic and expressive genre. Wassily Kandinsky (1866-1944) Russian-born artist, Wassily Kandinsky, is widely regarded as one of the pioneers of abstract art. He believed that art should visually represent the artist's inner spiritual and emotional experiences. Kandinsky's early works were influenced by Russian folk art and Impressionism. However, his encounter with the artworks of the Fauvists and the vibrant colours of Matisse sparked his shift towards abstraction. Kandinsky's abstract artworks, such as "Composition VII" and "Yellow-Red-Blue," exemplify his exploration of colour, form, and composition. He believed that colour had a direct emotional and spiritual impact on the viewer. His compositions often feature bold geometric shapes, swirling lines, and vibrant, contrasting colours. Kandinsky's art not only pushed the boundaries of representation but also sought to evoke profound emotional responses from the viewer, transcending the limitations of figurative art. Color Study. Squares with Concentric Circles (1913), Is one of Kandinsky's most recognisable artworks. A small artwork on the study of colour colour combinations and the perception it carries is reverred as his most famous artwork. Piet Mondrian (1872-1944) Dutch painter Piet Mondrian was crucial in developing abstract art, particularly geometric abstraction. He believed that art should strive for universal harmony and balance, which could be achieved through simplification and using primary colours and straight lines. Mondrian's iconic works, such as "Composition with Red, Blue, and Yellow" and "Broadway Boogie-Woogie," embody his distinctive style. He utilized a grid of horizontal and vertical lines intersecting with primary colours and black and white rectangles. Mondrian sought to reduce art to its essential elements, emphasizing the fundamental relationships between form, colour, and space. His artworks are characterized by order, clarity, and geometric precision. Composition with Red, Blue and Yellow (1930), is an abstract masterpiece, featuring geometric shapes and primary colors, embodying the principles of De Stijl movement. Mondrian's use of straight lines and primary colors evokes a sense of harmony and balance, making it a timeless representation of modern art. The artwork has become an influential symbol of abstract expressionism and continues to inspire artists and art enthusiasts around the world. Kazimir Malevich (1879-1935) Kazimir Malevich, a Russian avant-garde artist, was a prominent figure in the development of abstract art, particularly within the Suprematist movement. He believed in the power of pure geometric forms to evoke emotion and spirituality. Malevich's most famous work, "Black Square," created in 1915, is a seminal piece in the history of abstract art. It is a bold and radical composition with a black square on a white background. Malevich described this work as the "zero degree" of painting, representing the pure essence of art stripped of any representational elements. Through Suprematism, Malevich sought to free art from the constraints of the material world and explore the transcendental nature of pure form and colour. Joan Miró (1893-1983) Joan Miró, a Spanish painter, sculptor, and ceramicist, was known for his playful and imaginative abstract artworks. His style bridged the gap between abstraction and surrealism, combining organic shapes, biomorphic forms, and symbolic elements. Miró's works, such as "The Tilled Field" and "Harlequin's Carnival," feature vibrant colours, curvilinear shapes, and whimsical symbols. He often incorporated dreamlike and childlike imagery, blurring the lines between reality and the subconscious. Miró's art exudes a sense of spontaneity, freedom, and exploration of the inner self. He believed that art should evoke emotions and connect with the viewer subconsciously. Joan Miró – Harlequin's Carnival (1924 – 1925) Jackson Pollock (1912-1956) American artist Jackson Pollock was a crucial figure in the Abstract Expressionist movement. He revolutionized the art world with his unique approach to painting, which involved pouring and dripping paint onto a canvas on the floor. Pollock's famous "drip paintings," such as "Number 1, 1950 (Lavender Mist)" and "Autumn Rhythm (Number 30)," are dynamic and energetic compositions. Through his innovative technique, he explored the physicality of paint and the spontaneous gestures of the artist's hand. Pollock's artworks are characterized by intricate webs of drips, splatters, and gestural marks, creating a sense of movement, rhythm, and chaos. His works embody a raw and emotional expression, inviting viewers to interpret and engage with the artwork on a visceral level. No. 5, (1948) is considered one the most famous as well as the most expensive painting by Jackson Pollock Mark Rothko (1903-1970) American painter Mark Rothko is known for his large-scale colour field paintings that evoke deep emotional responses. Rothko believed that art should create an intimate and immersive experience, allowing viewers to contemplate the complexities of the human condition. Rothko's signature style involved large rectangular fields of colour, often stacked or overlapping. His compositions, such as "No. 61 (Rust and Blue)" and "White Center (Yellow, Pink and Lavender on Rose)," feature vibrant hues that seem to radiate from within the canvas. Rothko sought to create a sense of spiritual transcendence through his artworks, inviting viewers to immerse themselves in the luminous fields of colour and engage with the profound emotional depth conveyed. The famous "Orange, Red and Yellow" (1961) is not just the most famous but also grossed the highest Auction value Concluding Remarks The famous abstract artists and their artworks have left an indelible mark on the art world. Through their bold experimentation, they pushed the boundaries of artistic expression, challenging traditional notions of representation and emphasizing the power of colour, form, and composition. Wassily Kandinsky, Piet Mondrian, Kazimir Malevich, Joan Miró, Mark Rothko and Jackson Pollock are just a few visionary artists who have shaped the trajectory of abstract art. Their works continue to inspire and captivate audiences, inviting viewers to embark on a journey of introspection, emotion, and personal interpretation. Abstract art remains a testament to the limitless possibilities of human creativity and the power of art to transcend the boundaries of the tangible world. Main Image: Strange City by Liubov Kuptsova
ARTICLES ON ARTIST SPOTLIGHT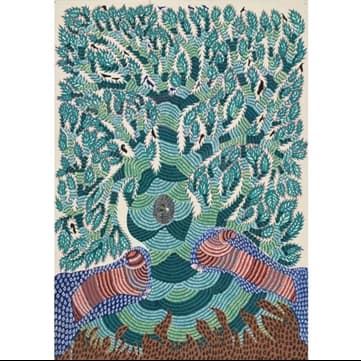 ARTIST SPOTLIGHT
From Gond Art to Jangarh Kalam: The Legacy of Jangarh Singh Shyam lives on!
A pioneering artist, Jangarh Singh Shyam redefined the Pardhan-Gond school of art. His signature style which was later named after him saw the evolution of Gond art from a ritualistic pictorial art made on the walls and floors to a more sophisticated menagerie of dots and dashes. This re-interpretation of the Gond art came to be famously known as Jangarh Kalam. Belonging to the Pardhan Gond community from the central Indian state of Madhya Pradesh, the artist was considered a cultural prodigy in his native village Patnagarh being an excellent flutist and painter. In 1981, the artist was invited by the legendary J. Swaminathan to work as an artist at Bharat Bhavan in Bhopal. It was at Bharat Bhavan, one of the country's most prestigious museums of tribal and contemporary Indian art, Jangarh Singh Shyam grew as an artist as his creative practice underwent sweeping changes. Mentored by Swaminathan, Shyam's inheritance in traditional music and storytelling blossomed into a distinctive style of image-making, imparting his paintings a rare life force and energy. As his popularity grew, Shyam found himself amidst the changing contemporary Indian art scene that was becoming more global in its outlook and more inclusive in its representation. It was for the first time we saw that the historically marginalized gained momentum and ground in the narrative space of the country. The artist gained major recognition when he participated in the Magiciens de la terre exhibition held at Centre Pompidou, Paris in 1989, and in Jyotindra Jain's Other Masters exhibition at the Crafts Museum, New Delhi in 1998. The artist was also commissioned to paint the interiors of Vidhan Bhavan, the Legislative Assembly of Madhya Pradesh, and the dome of Bharat Bhavan. Posthumously, his painting Landscape with Spider (1988) was sold for a record price of $31,250 at Sotheby's New York auction in 2010, marking a first for an adivasi (vernacular) artist. Gleaning from the vast repertoire of tales, ballads, folklore, and fantasies of the Pardhan-Gond community, Shyam fabricated them into his visual narrative, thus bringing the ancient myths and stories to life. As he sought inspiration from the past and the present, the rural and the urban, the real and the imagined, a new visual vocabulary emerged that gave concrete shapes and forms to his community's myths, legends, fables, tattoos, and music, which were, till then, hidden from the 'mainstream' society. It marked a paradigmatic shift in contemporary Indian art when the artist started using canvases, acrylic, oil and pen instead of the traditional charcoal, coloured soil, plant sap, leaves, cow dung, limestone powder, etc. This effective adaptation of the new media, tools and newer themes resulted in unforeseen results and inspired a generation of Gond artists to learn from Jangarh Singh Shyam. Jangarh Kalam, or Jangarh Singh Shyam's personal rendition of the Pardhan Gond art instilled a creative energy that surged with the emergence of individuality and personal style in a traditionally collective society where artmaking was a group endeavour. In Jangarh Kalam, the images are transcribed from oral narratives that take shape as birds, flying snakes, or growing trees, floating to the rhythm of the music in diverse innovative variations. From enchanted woodlands to aero planes, indigenous deities, childhood stories, and animals, Shyam used colourful dots and peripheral contours of radiating lines to create these unique shapes and patterns reverberating with movement, fluidity, and power. In a tragic turn of events, the visionary artist took his own life at the age of 39 while he was on an international art residency at the Mithila Museum, Japan. While the artist died young, he inspired a legion of young men and women from his community who followed him and were mentored by him in the style he created incidentally. Today, many well-known Gond artists including Shyam's wife and children and those who apprenticed under him continue to work in the Jangarh Kalam tradition keeping it alive and vibrant. Jangarh Singh Shyam, Paysage avec Araignée (Landscape with Spider), 1988 Image courtesy: Sotheby's Jangarh Singh Shyam, The Seprpent Shesha Holding The Earth on his Hood, ca. late 1980s Collection and image courtesy: Museum of Art & Photography (MAP), Bangalore Jangarh Singh Shyam, Ped, Chidiya Aur Hawaijahaz (Trees, Birds, and an Airplane), 1996 Collection and image courtesy: Museum of Art & Photography (MAP), Bangalore Jangarh Singh Shyam, Phulwari Devi, early 1990s Collection and image courtesy: Museum of Art & Photography (MAP), Bangalore Jangarh Singh Shyam, Untitled, 1989 Collection: FONDATION CARTIER PARIS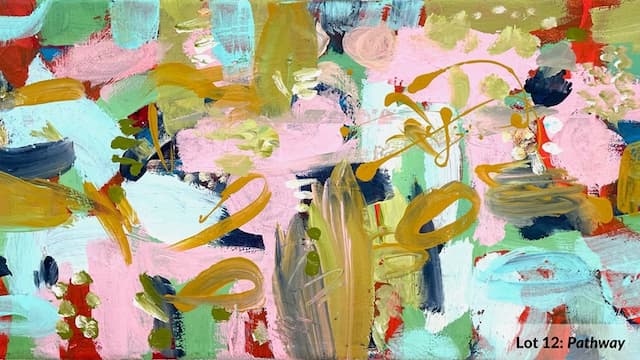 ARTIST SPOTLIGHT
CHRISTEL HAAG - UNSTOPPABLE FEMALE ARTISTS
In the one-century life span of abstract art, female abstract painters are not hard to find, to name just a few: Sonia Delaunay (a multidisciplinary artist who achieved success during her lifetime only due to her commercial work, whereas her husband Robert Delaunay was regarded as a serious artist), Lee Krasner (whose contribution to art history has been for a long time overshadowed by her marriage to the abstract expressionist painter Jackson Pollock), Elaine de Kooning (an accomplished artist, member of the Eighth Street Club in New York City she was mostly known as Mrs. William de Kooning, she dedicated most of her life to supporting her husband's career), Barbara Hepworth (less recognized than her contemporary and fellow British artist Henry Moore), Françoise Gilot (the French-American artist who never managed to escape the "Picasso's lover" title) and the list can go on. These talented artists have been less visible, not to say "invisible", to an art establishment blinded by gender bias. Despite a recent shift in mentality and contemporary culture, female artists are still seen as "less" than their male counterparts. Female abstract painters and women artists, in general, deserve more awareness. Christel Haag is a commercially successful German abstract artist. Her work is very process-orientated. She plays with various contrasting effects on canvas by using an entire arsenal of mark-making in her process. The evolution of her paintings does not follow a predetermined concept. Rather, her works gradually evolve through an intuitive and dynamic process. Despite the gestural process, a coherent painting emerges. Haag finds her inspiration in nature. She translates into marvellous color combinations the beauty and harmony that surrender her. Lot 34 Are we Flying In her own words: "In 2002 I made the decision to give up my career in Public Relations at a university, follow my heart and retrain as an artist. Once I made the decision to open the door to my creative urges, I felt that I had to go back to the beginning to discover who I really am as an artist. It was as if I granted myself the right to be free again, free without boundaries or pre-existing ideas of who I should be as an artist. Over the years my experiences led to my colorful, abstract, dynamic, and gestural style of painting. I always try to go to my creative limits while experimenting and giving my artworks my individual expression. Nature inspires me. The marvellous impressions I take home from my travels. Also, I express in my paintings the mood and feeling of a particular moment in time. It is first and foremost the joy of painting, of colors, of the creative process itself, and of the energy of being that drives my artistic creation." 5 vivid paintings from Haag's portfolio have been minted as unique NFT digital editions and are sold at auction in our coming event SHE IS UNSTOPPABLE. Browse her art and choose your favourite. Don't forget to register for the auction. Bidding starts May 14th.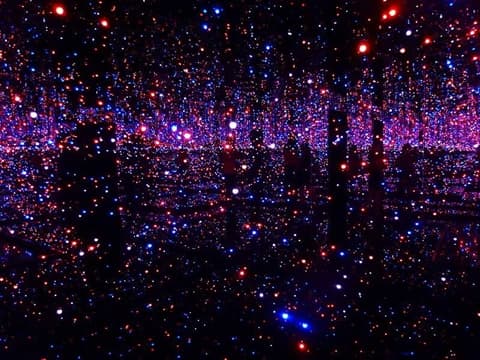 ARTIST SPOTLIGHT
10 Most Influential Living Female Artists
Below, we've assembled a list of the top 10 most influential female artists alive today. These women have left an incredible mark on the art world, and while their importance to the current scene is important, their impact will no doubt be felt for generations to come. Cindy Sherman Courtesy of Cindy Sherman Cindy Sherman made a name for herself through intricate self-portrait photography. Taking advantage of her skills as a costume maker and make-up artist, Sherman's early work began exploring identity by using the artist's body as the canvas. Her work frequently explores the place of women in the media and cultural landscape. Untitled Film Stills (1977-80) saw Sherman dressing as B-movie characters. In Centerfolds (1981), she upended the expectations of the male gaze, presenting complicated female characters where one might expect titillating, sexualized images. Her latest work speaks directly to the tools we use to communicate with each other. She now takes self-portraits using her phone, manipulating the images using multiple "face tuning" apps. The results are provocative and often disturbing. Tracey Emin Courtesy of Tracey Ermin Tracey Emin is no stranger to controversy. Her work is striking and confrontational, as well as deeply autobiographical. Her work reaches across an enormous array of mediums, from drawing, painting, and sculpture to neon text, film, photography, and sewn appliqué. Some of her installations made major waves in the art world. She premiered Everyone I Have Ever Slept With 1963–1995 (1997) at the Royal Academy of London. The work is a tent that visitors can enter into, and on the walls are appliquéd the names of, you guessed it, everyone the artist had slept with. It serves as a kind of haunted space, especially in the greater context of Ermin's work that challenges the role that sex plays in the perception of women. She has gone on to be a professor at the Royal Academy of Arts and a prolific, widely influential artist of our time. Yayoi Kusama Courtesy of Wikimedia Yayoi Kusama is an artist working in sculpture and installation, as well as many other mediums. She became a fixture of the 1960's counterculture, organizing happenings where participants were nude and covered in painted polka dots. Beginning in 1963, Kusama began creating her Infinity Rooms, a series of installations in which the walls of the rooms were covered in mirrors with colorful balls of light hanging at different lengths from the ceiling. The effect is the perception that the room of lights goes on forever. Her public installation work continues to appear across the world, including Brazil, Japan, Singapore, and beyond. Marina Abramović Courtesy of Wikimedia Marina Abramović is likely the most important and influential performance artist of our time. Her newsworthy works have captured the attention of the artworld for decades, and she isn't done yet. The Artist is Present (2010) saw Abramović sitting at a table at New York City's Museum of Modern Art. Visitors were invited to sit across the table from Abramović. This went on to become the largest performance art exhibit in MoMA's history. On top of her amazing career as an artist, she is also a philanthropist and a supporter of young artists through her Marina Abramović Institute. Judy Chicago Courtesy of the Brooklyn Museum Judy Chicago is a major name in the worlds of both art and feminism, with her career striking a path that unites them. Many of her unique techniques are borrowed from boat building, auto body repair, and similar disciplines — what the artist calls the "macho arts." The Dinner Party (1979) is likely Chicago's most important work to date. It shows a dinner table set in a triangle, with 39 places set for female heroes, both real and mythical. The dinner plates are all hand-painted homages to the woman who is seated there. The sprawling ambition and bold statement continue to fascinate and inspire people today. Shirin Neshat Courtesy of Wikimedia Shirin Neshat is an Iranian-born New York artist primarily working in photography, film, and video. Her work often focuses on the dichotomies, both socially constructed and eternal, that make up our world: Isamic and Western culture, male and female, public and private. Her film Women Without Men (2009) received the Silver Lion award at the Venice Film Festival. The film, based on the novel by Shahrnush Parsipur, depicts events during the British and American backed coup in Iran that overthrew their democratic government and installed the Shah as monarch in 1953. Vija Celmins Courtesy of SFMoMA Vija Celmins works in paintings and drawings, creating photorealistic pieces. She is celebrated today as one of the leaders in realism, though she pushes her work into almost abstract places by focusing on visual rhythm and the exclusive use of gray tones. Her early breakthrough saw her making exquisite replications of photojournalism, making masterful use of grayscale in her painting. These works highlighted how much of our world view at the time was dictated by black-and-white photographs and disseminated through the media. She has gone on to focus on sweeping visions of natural spaces and events. Much of her current work shows us starry skies, ocean waves, and other large and small scale views of the natural world. Bharti Kher Courtesy of Wikimedia Bharti Kher is an artist working sculpture, installation, and painting. Her work often speaks to realities of inhabiting a body as well as issues around culture. Perhaps her most popular work is The Skin Speaks a Language Not Its Own (2006). The piece depicts a full-size female elephant collapsed on the ground, covered in the traditional bindi — a mark made on the forehead among followers of Hinduism representing the third eye. By bringing together these two images of India, Kher creates a vivid embodiment of the country. Marlene Dumas Courtesy of Wikimedia Marlene Dumas is an artist working in the Netherlands who is known as one of the first three living women to sell an artwork above the $1 million mark. The notoriety is well deserved. Her work is always in ceaseless exploration of human moods and social conditions. Her paintings often eschew direct representation and instead make suggestions of emotional states. Her work often distorts faces and specifics, driving down into the heart of her subject. She continues to be a major name in the art world today. Dumas's prolific career continues to challenge viewers and evoke what it means to be alive. Julie Mehretu Courtesy of Forbes Julie Mehretu works in painting, drawing, and printmaking, often focusing on the socio-economic realities of our time. Her meticulous work is precise but ultimately deeply felt, mapping out the psychology of people in the urban environment. Her pieces often take on an enormous scale, often two stories tall. Mehretu describes her mark-making process as one that charts the movements and interactions of people in their own societal context. While her compositions can be overwhelming and grand, when viewers take the time to look at it in detail, they often find surprising narratives emerge.
Sign up for our newsletter to have the latest stories and curated art recommendations delivered straight to your inbox