Subscribe for our newsletter to have the latest stories and curated art recommendations delivered straight to your inbox
ART 101
Types of Indian Art - Phad Paintings
Like
comments
SAVE
Phad Paintings
Known to have originated in Shahpura, a town close to Bhilwara in Rajasthan, Phad paintings are intricate theological tales of local gods and goddesses. Shown in a kind of scroll artwork, phad paintings were originally intended as portable temples, these artworks were taken on the road by religious leaders of the Rabari tribe known as Bhopas and Bhopis, who would sing and perform tales about their local deities, Devnarayanji, an incarnation of Krishna, as well as Pabuji. Dating more than 700 years old, phad owes its popularity to this accompanying oral tradition.
During the evening, the Phad artwork would be unwrapped or extended in front of the villagers for a performance that would continue into the night. Perhaps this is why the locals gave these paintings the name "Phad," which translates to "fold" in their language. This entire thing would prove to be a fun event for the people living in the hamlet, and it would go on into the night. In some Indian communities, we are still able to see this practice.
Phad paintings' characteristics and techniques
The Phad artists are known for their intricate artwork. There is no wasted space; the whole canvas is used in the production of the final artwork. Phads have several human figures because they are depictions of ancient myths, which, depending on their status and position, would have different sizes and hues. These are textile paintings.
The fabric is treated with a fine paste made from wheat and rice flour that has been boiled in water before being applied and dried in the sun. Afterward, the fabric is rubbed with a Mohra to draw out its silky smoothness and brilliant brightness. A coat of paint may now be applied to the fabric. Phad's dyes come from a wide variety of plant and vegetable extracts and are completely non-toxic. The acrylic look is achieved using earthy tones.
Modernization
Despite the dedication by Shrilal Joshi, a renowned Phad painter and Padma Shri awardee, as well as his sons to popularizing the original phad painting technique, there are now fewer than ten artists who practice it on a full-time basis. This is a very unfortunate situation. Being a closely-guarded tradition of Phad in its original form is facing the threat of fading away. Under the patronage of his sons, Gopal and Kalyan Joshi, this revival effort expanded, with the rebranding of the school to Chitrashala, in 1990. The majority of those who are interested attend Joshi's art school, which he founded as a hobby. In India, folk art forms do not get nearly enough respect; as a consequence, working in this field does not lead to a financially rewarding career.
In today's society, there is an urgent need to foster the dissemination of historically significant creative practices. In addition to being beautiful, art forms like Phad help to keep alive folktales and stories that have been passed down from generation to generation and are part of India's rich culture.
Kalyan Joshi, Story of Pabuji, 2022
Don't miss out on this fantastic Phad Art form to collect as RtistiQ brings to you the Phygital NFT Folk Art auction that will be held between the 15-18th September 2022.
SIMILAR ARTICLES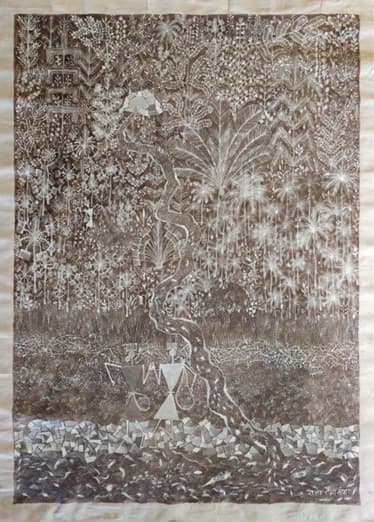 Types of Indian Art - Warli Paintings
A Traditional Art Form from India: Warli Paintings There are many different types of traditional art forms in India, but one that has remained in existence from time immemorial is the Warli painting art form. Warli paintings are characterized by their use of bold colors and simple shapes to create images of men, animals, trees, and plants on the walls of villages or used as decorations during festivals such as the Ganesh Festival or Navratri. Today, Warli paintings continue to be popular as wall décor pieces in homes across India, especially in Mumbai and Gujarat. Here's more about this traditional art form from India. Who is the Warli tribe? The Warlis are a tribe that resides in the North Sahyadri Range in Maharashtra, India. They are known for their warli painting designs, which are done using a mixture of earth and watercolors. The paintings depict scenes from daily life, such as hunting, fishing, and farming. Warli paintings are also used to tell stories and legends. What are the Warli paintings? The practice of Warli art is predicated on the idea of natural beauty, and many aspects of the natural world are often brought into sharp relief. Because agriculture is the primary means of subsistence for the community, members have a lot of admiration for the natural world and the fauna that inhabits it for the commodities that it provides. In a manner somewhat dissimilar to how ancient artworks were executed, it is common practice for warli painters to paint on the backgrounds of their clay houses while working on warli artwork. In Warli art, religious imagery, such as representations of gods and other symbols associated with religion, is never used. It speaks about how humans are reliant on the environment and how they are associated with it. It portrays the earth as a deity. The artworks of the Warli tribe convey a feeling of homogeneity in individuals and underline the tight social interactions that exist among the full members of society. Real-life settings and occurrences served as inspiration for many aspects of the artworks, including the forests, wildlife, festivals, social engagements, and social forms. It is also possible for a Warli artwork to serve as a graphic narrative of one of these classic tales. Many contemporary artists incorporate aspects of the modern environment into their work, such as automobiles, architecture, cycles, electronics, airplanes, and trains. Where can I purchase Warli paintings? You can buy Warli paintings in a number of places, both in India and online. One of the best ways to find a reputable seller is to ask around for recommendations. Once you've found a few potential sellers, take some time to compare prices and shipping costs before making your purchase. You can also find Warli paintings on display in a number of art galleries and museums, which can be a great way to view this traditional art form up close. You can also buy warli paintings online and get them delivered anywhere you want. Conclusion Warli paintings, which are often seen on the walls of villages or as decorations for celebrations like the Ganesh Festival or Navratri, are still widely collected and displayed in houses throughout India, particularly in the metropolitan areas of Mumbai and Gujarat. Don't miss out on these fantastic Warli Art Forms to collect as RtistiQ brings to you the Phygital NFT Folk Art auction that will be held between the 15-18th September 2022.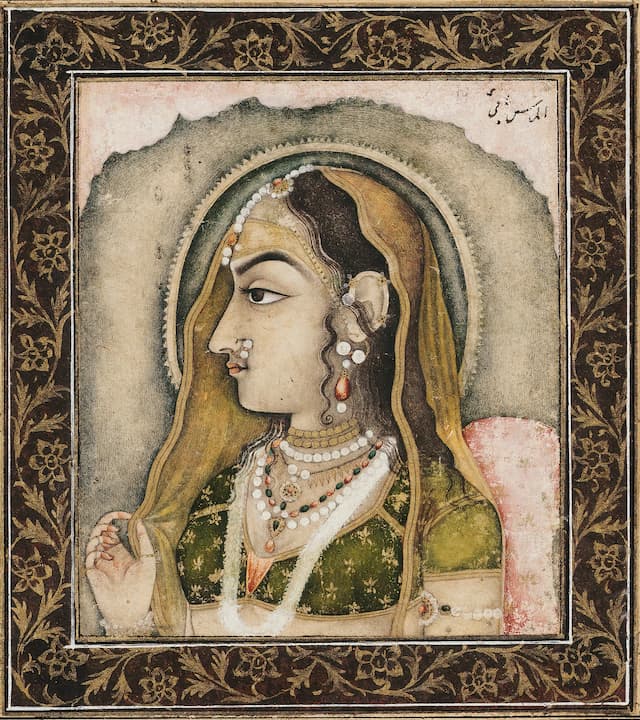 Traditional Indian Art Styles in Modern Age
When one brings up the topic of Unity in Diversity, India comes up in most of the conversations. This is not an anomaly per-se but India has been an example of different diverse cultures, languages, art forms, religions and a lot more existing in peaceful coexistence with each other within the same geographical boundaries. In a number of ways, these diverse elements fuse together to produce even more new hybrid elements. Keeping these cultural forces in mind India has been home to a number of schools and styles of paintings, which have evolved over a period of time since 1000's of years, maybe even more. In their original forms these paintings were done mostly on flat surfaces like rock shelters, house walls, floors and murals. It was later that these styles were adapted on various other mediums like ceramics and fabrics. Each major school of painting has a unique story to tell and these paintings help art historians re-construct the past cultures. These paintings depict the past lives of the contemporary people who made them like their daily practices, religious rituals, favorite past times, festivals and many more anecdotes. Warli The earliest evidence of art comes in the form of Prehistoric Art, like one sees at the Rock Shelters of Bhimbetka. Warli Art derives its origins from this prehistoric art. It is widely prevalent in rural districts of Thane and Nasik and other small parts of Maharashtra. This is a monochromatic art style in which twigs are used with rice paste. Usually white and yellow color on red mud walls is seen on the walls of houses. These paintings depict the everyday life of the village dwellers like their religious rituals, hunting practices and their festivals. In the 1970's, this ritual art took a radical turn when Jivya Soma Mashe and his son Balu Mashe started to paint. They painted not for ritual purposes, but because of their artistic pursuits. Jivya is known as the modern father of Warli painting. Since the 1970s, Warli painting has moved onto paper and canvas. Courtesy: http://godivinity.org/quiz-time-warli-art/ Madhubani This art form has mythical origins. According to a lot of contemporary village based artists who have kept this tradition alive, this painting style originated under the great King Janak of Mithila, which is present day Bihar and regions of Nepal. Till 1934, the outside world was oblivious about this art form. It was British Officer William G. Archer who saw some illustrations on the walls of houses of Bihar that had broken down in an earthquake. This art form uses simple floral, geometric and Indian Mythical designs and illustrations on colorful, symmetrical backdrops. Even today, Madhubani is a very popular folk art form. There are five schools within this art form which are, Bharni, Katchni, Tantric, Godna and Kohbar, which were primarily done by Upper Caste women in India and Nepal. Nowadays the Art Form has received a global outlook, which has made the Art Form go above the Caste System and there is no difference in the style practiced. Madhubani painting received official recognition in 1969 when Sita Devi (Padma Shri) received the State award by Government of Bihar. Jagdamba Devi (Padma Shri) was the first artist from Mithila to receive a National Award in Mithila paintings. Satya Narayan Lal Karn, his wife Moti Karn, Mahasundari Devi (Padma Shri), Baua Devi, Yamuna Devi, Shanti Devi, Chano Devi, Bindeshwari Devi, Chandrakala Devi, Shashi kala Devi, Leela Devi, Godavari Dutta, and Bharti Dayal are the other Madhubani Artists who were adorned by National Awards for their contributions to the Art form. Courtesy: Wikipedia (Kohbar made by artist Padma Shri Sita Devi) Phad This painting style has questionable origins but a lot of scholars are of the opinion that origins of this school of art has its roots with the coming up of Princely States in present day Rajasthan. One can do an approximate dating as this style is only executed on cloth so an educated guess can be around the early medieval period. In this form one comes across horizontal paintings of the lives of Legendary Heroes, Kings and Princes with their wars and other adventures. The most common colors used in this style are red, yellow and orange. It is interesting to see how multiple stories are narrated on a horizontal scroll. Courtesy: Wikipedia (Pabuji Ki Phad, a Phad painting scroll at National Museum, New Delhi) The Joshi families of Bhilwara, Shahpura in Bhilwara district of Rajasthan are widely known as the traditional artists of this folk art-form for the last two centuries. Presently, Shree Lal Joshi, Nand Kishor Joshi, Pradip Mukherjee, Prakash Joshi , Ghanshyam Joshi and Shanti Lal Joshiare the most noted artists of the phad painting, who are known for their innovations and creativity. Kerala Mural Painting Around the same time as the Phad, deep in southern part of the country in Kerala originated a very distinct type of painting style known for its colorful, vivacious and bold strokes. This art form is dated to around 8 th century A.D. so it can actually be put before the Phad in the chronological timeline. This art form developed as a medium of depicting spiritual and religious themes of Shiva, Shakti, Krishna and Mythology. All natural colors are used while executing this art form also known as panchavarna, most common being Ochre-Red, Yellow-Ochre, Bluish Green, Black and White. Courtesy: Yourstory By finding space for mural art outside the temples, it was the late Mammiyur Krishnan Kutty Nair, doyen of modern mural art in Kerala, who gave a new life to it during the last quarter of the twentieth century. Over the past several centuries, the pigments, glues and brushes for the Kerala mural tradition have been derived from natural sources, but now the newer promoters are utilizing modern pigments and colors for the art form Gond Painting This school of painting derives its name from one of the largest, forest dwelling tribal group called the Gonds. The Gonds are found mostly in present day regions of Madhya Pradesh, Vidarbha and Chhatisgarh. This art form is a very unique and intricate style where the painter uses dots and dashes to complete the painting and the painting is executed in such a way that one feels that it is made of straight lines and colors. Lines are used in such a way that it conveys a sense of movement to the still images. In the historic period the colors were naturally extracted from charcoal, cow dung, seed saps and flowers. The Gonds are known for their close affinity with mother nature and hence their paintings mostly depict natural landscapes, wildlife and parts of their stories passed on from generation to generation in the form of Oral Bardic Traditions. Courtesy: Isha Foundation Today, many talented Gond artists' works including Suresh Kumar Dhurve's can be seen on canvases in art galleries internationally. One of the distinctive elements is the use of signature patterns that are used to infill the larger forms on the canvas. Due to the scarcity of natural colors in the current age, Gond artists have started to use poster colors. This combined with the use of canvas has made modern Gond paintings much more vivid than its traditional counter parts. Kalamkari Painting This is one of the most famous art styles of India and it has made a mark in the international art spheres as well thanks to a lot of patronage from people all around the globe. This art style like Madhubani has a very rich antiquity but in material record it appears for the first time on the temple walls of the Sri Kalahasteshwar Temple in Sri Kalahasti, Andhra Pradesh under the Pallava Rulers. Later this temple was further renovated under the Later Cholas and finally new additions like the Gopuram and the thousand pillared hall were made by the famous Vijayanagara Monarch Sri Krishnadevaraya. It was in Sri Kalahasti under the Vijayanagara Patronage that this art form reached its zenith. This painting style started as a temple wall decoration style where themes of mythology and festivities were depicted. Later this art form was adapted on fabric which gave it a huge international market. There are two variants in this style, namely, Srikalahasti and the Machilipatnam style. The Srikalahasti style of Kalamkari, in which the pen or the "kalam" is used for freehand drawing and filling in the colors, is a complete handwork art. Machilipatnam style of Kalamkari craft involves vegetable-dyed block-painting of a fabric. Miniature Paintings During the 10th and 11th Centuries along with the advent of Persian-ate Rule in the Indian Subcontinent a number of Persian-ate elements were introduced by painters from Central Asia like Turks, Persians and Afghans. They introduced what we now call the Miniature Paintings where illustrations are executed from natural stone based colors on paper based 'wasli'. This painting style reached its zenith under the Mughals and it is known for the intricacy, brush strokes and symbolism. Interesting this painting has affinity with the European Renaissance art in the form of realism that is shown in these paintings. The most common example of these painting style is use of portraits of Kings and Queens to show their heroism and glamour. There are a lot of regional variations of miniature paintings, most common being Kangra, Dakkhani, Mughal, Bundi etc. Tanjore Paintings This style developed in the 1600's in the state of Thanjavur under the Nayaka Rulers. This art form borrows extensively from the Dakkhani and Maratha miniature painting styles. The most common feature of this school of painting is the use of silver and gold foil. Most common depictions in this art form are scenes from Indian Mythology, Kingly Portraits and scenes of Festivities. Artists have taken this old form of art and over the years combined it with other styles to create mixed media arts. For example, tanjores are also done on mirrors, glass and canvas. The idea of applying gold foil is unique to this traditional art, so this same style is taken and recreated on different mediums. Patachitra This is a late medieval style of painting that originated in present day Odisha. The name Pattachitra has evolved from the Sanskrit words patta, meaning canvas, and chitra, meaning picture. Pattachitra is thus a painting done on canvas, and is manifested by rich colourful application, creative motifs, and designs, and portrayal of simple themes, mostly mythological in depiction. The patuas or the painters of the patachitras were primarily wandering artists- who would travel from place to place with painted scrolls of various deities. However, in recent times, just as the canvas has taken the shape of papers bought easily from the market many a times, the natural colours are also substituted with easily bought acrylic and fabric paints from the market. Pichwai This form of painting style originated as wall hanging cloth paintings behind the Krishna idols in the Krishna Temples of Nathdwara, Rajasthan. Originally only themes from the Krishna Leela were depicted on cloth but as time went by more secular painting themes were executed on cloth for commercial purposes. These paintings are known for colorful, robust and intricate work with concealed hidden meanings within the symbolism. Kalighat Paintings This painting style finds its origins in the mid – 19 th Century Bengal. It is known as Kalighat because it started in the vicinity of the Kali Temple in Kolkata, where Patuas sat and painted mill-made paper with flowing brushwork using earthy colors like indigo, ochre and red. The major inspiration of these paintings are the scenes from the Mythology and Spiritualism, also known as "Oriental school of Kalighat Painting". Under the influence of British and the art schools promoted by them, the "Occidental school, of Kalighat painting" included pieces that depicted ordinary people engaging in everyday life or captured the changes taking place in Kolkata at the time. These paintings are known for their swift, seamless and free flowing outlines. The late artist Jamini Roy is among some of the most acclaimed painters who have been influenced by the distinctive style. Today, Kalighat paintings appear in museums and galleries across the globe, from the Victoria Memorial Hall in Kolkata to the Naprstek Museum in Prague. Hence, one can see how India is a melting pot where a number of painting styles originated. However, due to Globalization and Industrialization these native folk painting styles are losing their importance and there is a lot of lack of awareness among the current urban middle and affluent class of India, who are mostly exposed to foreign painting and art forms. The Indian Government and a number of NGO's are trying to spread awareness about these painting styles so that they can be revived. E-Commerce platforms like RtistiQ are trying to take these folk Indian art styles to the International market where these paintings can be sold and hence create a livelihood for the artists and help keep these old traditions alive. Author: Kush Dhebar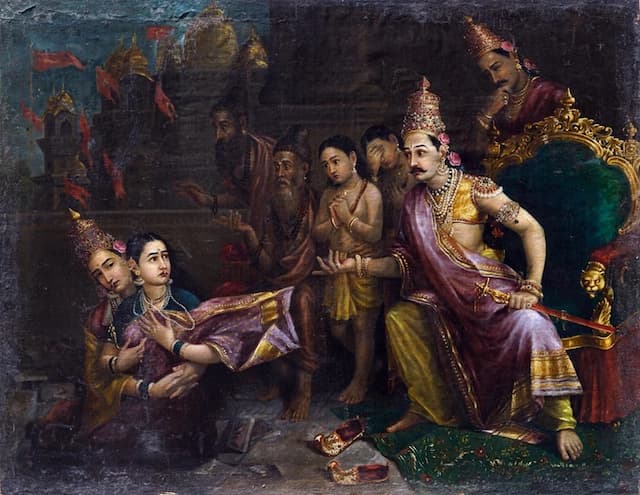 Navaratnas: The Nine Gems of Indian Art
The Government of India in the late 1970s named these nine iconic artists—Raja Ravi Varma, Amrita Shergill, Rabindranath Tagore, Jamini Roy, Abanindranath Tagore, Nandalal Bose, Gaganendranath Tagore, Sailoz Mookherjea, and Nicholas Roerich as National Treasures. We take a closer look at these Navaratnas who shaped the history of Indian modernism. RAJA RAVI VARMA (1848–1906) Widely regarded as the "father of modern Indian Art", Raja Ravi Varma is best-known for his exquisite paintings and prints depicting Indian subjects using European techniques. As one of the earliest proponents of lithography in India – the art of producing a work on a flat stone or metal plate – he employed the technique to depict popular scenes and characters from Hindu epics and religious literature. Despite his close relationship with the royal family of Travancore, Ravi Varma was considered an artist of the people as his realistic portrayals and interpretations of religious and mythological figures captivated and fascinated the country. Raja Ravi Varma, Sita Bhumipravesh, 1880 Royal Gaekwad Collection, Lakshmi Vilas Palace, Vadodara, Gujarat ABANINDRANATH TAGORE (1871 – 1951) As the founder of the Bengal School of Art, Abanindranath Tagore sought to establish a distinctly Indian art that celebrated an indigenous cultural heritage rather than Western art and culture. A passionate exponent of Swadeshi values, Tagore staunchly rejected the teachings of Western academic art schools, finding inspiration in traditional Oriental art forms such as Mughal miniatures, the Ajanta murals, folk paintings, and Japanese printmaking. This was reflected in his graceful, elongated figures, gleaned from the Mughal style, depicted in a Japanese-inspired wash technique, which are sophisticated depictions of India's unique spiritual and national identity. Abaninidranath Tagore, Queen Tissarakshita, ca. 1911 Royal Collection Trust, London, UK GAGANENDRANATH TAGORE (1867–1938) Gaganendranath Tagore, the older brother of Abanindranath Tagore, a self-trained watercolorist and cartoonist is considered one of the great pioneers of Indian art. Unlike his sibling, Gaganendranath embraced Western art movements including Cubism, Futurism, and German Expressionism at the turn of the century. Later in his career, Tagore turned to caricature. His playful cartoons of big-bellied politicians and bhadralok, meaning 'gentleman' in Bengali, are satirical observations of society at the beginning of the 20th century. Gaganendranath Tagore, Untitled, 1920 AMRITA SHER-GIL (1913–1941) Like Abanindranath Tagore, Amrita Sher-Gil was greatly inspired by the frescoes of Ajanta as well as the Mughal school of painting. Born to a Hungarian mother and aristocratic Sikh father, Sher-Gil's early years were spent training in Paris. Respected for her powerful self-portraits and bohemian lifestyle, Sher-Gil was described as the "Indian Frida Kahlo". Despite her privileged upbringing, the artist's paintings vividly depicted the daily lives of ordinary people. During her lifetime, Sher-Gil steadily gained recognition across Europe and she remains one of the greats of Indian art history. Amrita Sher-Gil, Self Portrait (7), 1930 National Gallery of Modern Art, New Delhi NANDALAL BOSE (1882–1996) Born into a middle-class Bengali family in the late 19th century, Nandalal Bose created some of the most iconic images in Indian history—including his depiction of Mahatma Gandhi walking with a staff, which became an iconic symbol for the non-violence movement, and his illustrations in the Constitution of India. As the principal at Kala Bhavan, Santiniketan, Bose also had a significant influence on the next generation of artistic heavyweights like Benode Behari Mukherjee and K.G. Subramanyan, filmmaker Satyajit Ray and many others. Nandalal Bose, Annapurna, 1943 National Gallery of Modern Art, New Delhi JAMINI ROY (1887–1972) Another gem in the treasure trove of Indian artistic talent, Jamini Roy was born in Beliatore, West Bengal. Roy's bold, sweeping brushstrokes and flat swathes of ochre, leafy green, vermillion, and blue show the heavy influence of traditional Bengali Kalighat painting – a 19th-century school of modern art that originated in Calcutta and was given its name due to the burgeoning settlement of patuas or cloth-painters around the temples of Kali at Kalighat in the city. Jamini Roy, Mother and Child, mid-1920s National Gallery of Modern Art, New Delhi RABINDRANATH TAGORE (1861–1941) The Nobel laureate poet, Rabindranath Tagore reshaped modern Bengali literature. In 1919, Tagore founded Kala Bhavan, which remains one of India's finest art institutions. Unlike his nephews Abanindranath and Gaganendranath, Rabindranath turned to art towards the end of his life. Inspired by New Zealander scrimshaw carvings, German woodcuts, and sculptures from the Pacific Islands, the artist's international outlook was reflected in unique artworks that appeared at the margins of his manuscripts alongside poetry and song lyrics. Rabindranath Tagore, Dancing Woman, 1928/1940 National Gallery of Modern Art, New Delhi NICHOLAS ROERICH (1874–1947) Nicolas Roerich remains the only artist not from India who was named a national treasure. The Russian artist developed a deep and spiritual connection with the country and came to be celebrated for his luminescent scenes of the snow-capped Himalayan peaks rendered in icy blues and vivid purples. As a passionate activist for the defense of cultural objects, Roerich's visions are not only picturesque but reveal a profound relationship with the landscape. Nicholas Roerich, Krishna (Spring in Kulu), 1930 Nicholas Roerich Museum, New York, USA SAILOZ MOOKHERJEA (1906–1960) Attributed by art critic Richard Bartholomew as India's "most significant painter…after Amrita Sher-Gil", Sailoz Mookherjea received little recognition during his lifetime. Nonetheless, the artist's impact on Indian modernism is monumental and he remains celebrated for his innovative scratching of the paint to create tactile and vigorous markings. Sailoz Mukherjea, Untitled (Two Sisters), 1959
ARTICLES ON ART 101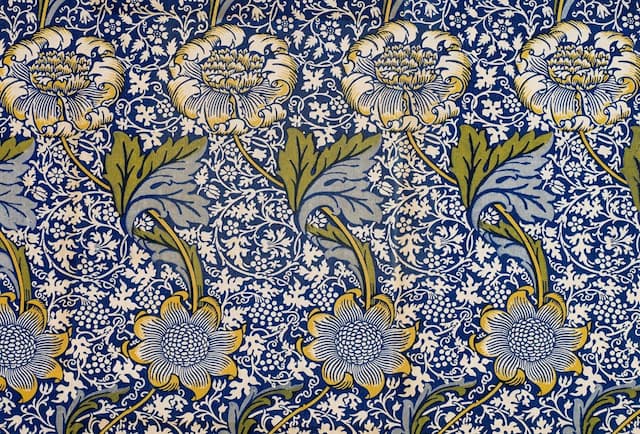 ART 101
Art Deco Styles: An Iconic Fusion of Elegance and Modernity
Art Deco is a prominent design style that emerged in the 1920s and flourished until the outbreak of World War II. Characterized by its luxurious materials, geometric forms, and streamlined aesthetic, Art Deco became a symbol of glamour and sophistication during the interwar period. This design movement impacted various visual arts, architecture, fashion, and interior design aspects. This article will delve into the captivating world of Art Deco styles, exploring its origins, key characteristics, influential artists and architects, and its lasting legacy. Origins and Influences Art Deco drew inspiration from various sources, blending elements from different cultures, historical periods, and artistic movements. The style's name derives from the 1925 Exposition Internationale des Arts Décoratifs et Industriels Modernes held in Paris, where it was first showcased. However, its roots can be traced back to the early 20th century, influenced by the avant-garde art movements of the time, such as Cubism and Fauvism. One of the significant influences on Art Deco was the discovery of King Tutankhamun's tomb in 1922, which sparked a craze for Egyptian motifs and symbolism. This fascination with ancient Egypt led to incorporation of pyramids, sphinxes, hieroglyphics, and other Egyptian-inspired motifs into Art Deco designs. Additionally, the style's streamlined forms and angular geometry were influenced by the emerging field of industrial design and the aesthetic of machines. Key Characteristics Art Deco is characterized by distinct visual features that make it instantly recognizable. Here are some key characteristics of Art Deco styles: Geometric Shapes: Art Deco embraces geometric shapes, such as zigzags, chevrons, triangles, and stepped forms. These shapes are often used to create dynamic, visually striking compositions. Streamlined Silhouettes: Inspired by the sleek lines of modern technology and transportation, Art Deco features streamlined, aerodynamic silhouettes. These can be seen in the period's buildings, furniture, and even fashion designs. Luxurious Materials: Art Deco celebrates luxury and opulence, employing exotic woods, marble, chrome, glass, and precious metals like gold and silver. These lavish materials contribute to the overall sense of elegance associated with the style. Decorative Elements: Art Deco designs often incorporate elaborate decorative elements, such as sunbursts, stylized floral motifs, and geometric patterns. These decorative details add a touch of sophistication to the overall composition. Bold Colors: Art Deco embraces bold, contrasting colour schemes. Vivid hues like royal blue, emerald green, ruby red, and vibrant yellow are frequently used to create a visually striking impact. Sunburst Motifs: The sunburst motif, symbolizing energy and optimism, is a recurring theme in Art Deco designs. It is often represented as a radiating pattern of geometric lines or a stylized sun. Influential Artists and Architects Numerous artists and architects played significant roles in shaping and popularizing Art Deco styles. Here are a few key figures: Tamara de Lempicka: A prominent Art Deco painter, de Lempicka's works epitomize the style's elegance and glamour. Her portraits often featured fashionable, confident women in luxurious settings. Émile-Jacques Ruhlmann: Ruhlmann was a renowned French furniture designer who created exquisite Art Deco pieces. His furniture designs combined luxurious materials with precise craftsmanship and sleek silhouettes. Erté: A Russian-born artist and designer, Erté was renowned for his extravagant fashion illustrations and costume designs. His work showcased the epitome of Art Deco elegance and sophistication. Raymond Hood: An influential architect, Hood's designs include the iconic Rockefeller Center in New York City. He incorporated Art Deco elements into the skyscraper's design, contributing to the style's popularity in the United States. Clarice Cliff: A British ceramic artist, Cliff revolutionized the pottery industry with her bold and colourful Art Deco designs. Her pottery pieces featured geometric patterns and vibrant glazes. Legacy and Modern Interpretations Although the heyday of Art Deco was in the early 20th century, its influence and appeal continue to resonate in modern design. Art Deco elements can be found in contemporary architecture, interior design, and fashion. In architecture, buildings like the Chrysler Building in New York City and the Napier Municipal Theatre in New Zealand exemplify the enduring impact of Art Deco. These structures continue to captivate audiences with their sleek lines, decorative details, and innovative use of materials. In interior design, Art Deco-inspired furniture and decor remain highly sought after. The style's emphasis on luxury and glamour translates well into modern homes, with its sleek lines and geometric patterns adding a touch of sophistication to any space. Art Deco influences can be seen in the designs of many contemporary fashion houses. The use of bold colours, geometric patterns, and luxurious materials harkens back to the elegance and allure of the Art Deco era. Conclusion Art Deco styles represent a fascinating fusion of elegance and modernity. Emerging in the 1920s, this design movement embraced geometric shapes, luxurious materials, and bold colours. Its influence extended to various artistic fields, leaving an indelible mark on architecture, interior design, fashion, and more. With its timeless appeal, Art Deco continues to captivate audiences and inspire contemporary design. The legacy of this iconic style serves as a testament to its enduring popularity and artistic significance.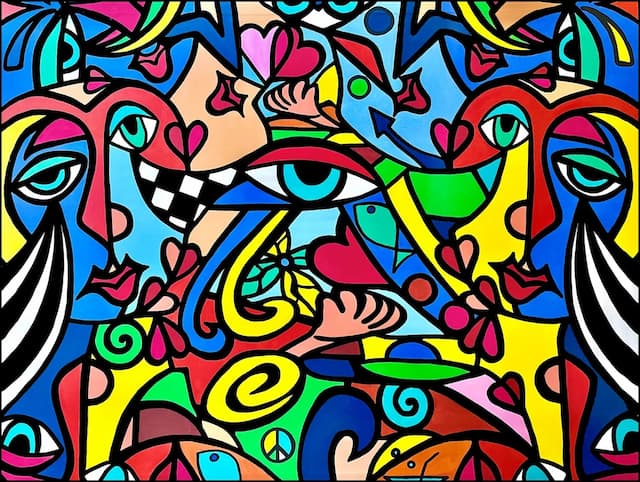 ART 101
Exploring Pop Art: Definition, Movement, and Notable Artists
Pop Art emerged as a vibrant and influential artistic movement in the mid-1950s, challenging traditional notions of art and embracing the popular culture of the time. With its bold imagery, vibrant colors, and incorporation of everyday objects, Pop Art brought art closer to the masses. This article explores the definition, key characteristics, notable artists, and lasting impact of Pop Art on the art world and popular culture. What is Pop Art? Pop Art, short for "popular art," was a movement that emerged in the United States and the United Kingdom during the 1950s and 1960s. It was a reaction against the dominant abstract expressionist movement, which focused on subjective, introspective, and non-representational art. Pop Art, on the other hand, celebrated the ordinary, the commercial, and the mundane, drawing inspiration from mass-produced consumer goods, advertising, and popular culture. What are the characteristics of Pop Art? Appropriation and Repetition: Pop Art often incorporated images and objects taken from popular culture, such as product packaging, comic books, and celebrities. Artists manipulated and repeated these images to highlight their significance and challenge the concept of originality. Bold Colors and Simplified Forms: Pop artists used vibrant, eye-catching colors to attract attention and evoke a sense of consumerism. They simplified forms and employed graphic techniques, reminiscent of advertising and comic book aesthetics. Irony and Critique: Pop Art often conveyed a sense of irony and critique by juxtaposing disparate elements, subverting traditional art forms, and challenging societal norms. It questioned the boundaries between high and low culture, art and mass production, and the commercialization of society. Leading Artists of the Pop Art Movement Andy Warhol: One of the most iconic figures associated with Pop Art, Warhol employed screen-printing techniques to reproduce everyday objects, such as Campbell's soup cans and Coca-Cola bottles. His work explored themes of consumerism, fame, and the cult of celebrity. Roy Lichtenstein: Lichtenstein is renowned for his comic book-inspired paintings, featuring bold lines, Ben-Day dots, and speech bubbles. By appropriating and enlarging comic strip panels, he elevated popular culture to the realm of high art. Claes Oldenburg: Oldenburg's sculptures took ordinary objects and transformed them into monumental works of art. His oversized sculptures of hamburgers, typewriters, and clothespins challenged the viewer's perception of scale and materiality. Richard Hamilton: Considered the father of British Pop Art, Hamilton explored the relationship between art and technology. His collage-like works incorporated images from advertising, cinema, and popular magazines, reflecting the media-saturated society. Impact and Legacy Pop Art's influence extends far beyond its initial emergence in the 1960s. Its vibrant and accessible style has had a lasting impact on contemporary art, design, fashion, and popular culture. Pop Art paved the way for subsequent art movements such as Neo-Pop, Street Art, and the appropriation art of the 1980s. It blurred the boundaries between high and low art, challenged the traditional notions of artistic value, and emphasized the democratization of art. Concluding Remarks Pop Art revolutionized the art world by breaking away from the abstract and introspective tendencies of the time. It celebrated the everyday, the commercial, and the popular culture, making art more accessible to a wider audience. Through its use of appropriation, bold colors, and irony, Pop Art continues to captivate and inspire, leaving an indelible mark on contemporary art and popular culture.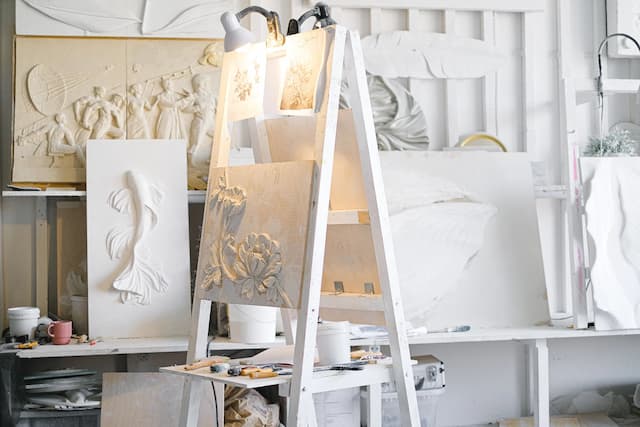 ART 101
Exploring Art Medium: A Fusion of Category and Material in Art Creation
Art is a vast and diverse realm that encompasses a wide range of creative expressions. Within this realm, the concept of "Art Medium" holds a crucial role, serving as the bridge between artistic intent and tangible creation. The medium that an artist chooses to work with can have a significant impact on the style and meaning of the artwork. For example, a painting made with oil paints will have a different look and feel than a painting made with watercolors. In the context of Art attribution "Art Medium" has been used interchangeably to refer both the category of artwork and the materials used to bring forth an artist's vision. This article delves into the multifaceted nature of art medium, exploring its dual significance in the world of art. Art Medium as a Category of Art In its first sense, an art medium represents the various categories or disciplines within the field of art. Each medium possesses distinct characteristics, techniques, and artistic approaches. Let's explore some of the prominent art mediums: Painting: Painting is a traditional and widely recognized medium that employs pigments on surfaces such as canvas, paper, or wood. It encompasses various styles like oil painting, watercolor, acrylics, and mixed media, each offering unique visual qualities and expressive possibilities. Painting, Pop Horizon by Barron Holand Sculpture: Sculpture involves shaping and manipulating materials such as stone, wood, metal, clay, or even found objects. Artists create three-dimensional forms that can range from classical figurative representations to abstract and conceptual installations. Sculpture, S-04 BIG FOOT by Aleks Rosenberg Drawing: Drawing is a fundamental art medium that employs pencils, pens, charcoal, or other tools to create two-dimensional representations. It encompasses techniques like sketching, shading, and hatching, allowing artists to convey ideas, explore compositions, and develop their artistic skills. Drawing, Dancer in Red by NK Hong Photography: Photography born from the marriage of science and art, captures moments through the lens of a camera. It employs light-sensitive materials and digital technologies to immortalize scenes, people, and emotions, providing a unique perspective on the world. Photography, La grève Je T'aime by Gudzovsky Printmaking: Printmaking encompasses various techniques such as etching, lithography, screen printing, and relief printing. Artists create multiple copies of their artworks, each possessing its own subtle variations, by transferring images onto paper or other surfaces. Ceramics: Ceramics involves working with clay, shaping it into objects, and firing them in kilns to achieve hardness and permanence. This ancient medium encompasses functional pottery, decorative vessels, sculptures, and intricate porcelain works. Textiles: Textile art employs fabrics, threads, and fibers to create tactile and visually engaging works. It includes techniques like weaving, embroidery, quilting, and textile installations, exploring themes of culture, identity, and materiality. Installation and Performance Art:: These mediums go beyond traditional forms, embracing immersive experiences and the participation of the audience. Artists use various materials, space, sound, and movement to create site-specific installations or enact performances that challenge the boundaries of art. Digital NFT: Very recently Digital NFT is being regarded as an art medium, and more importantly revolutionising Digital Art representation. Utilizing blockchain technology, NFTs represent unique digital assets, such as artwork, music, or videos, providing a secure and verifiable link between the digital file and ownership rights. Art Medium as Material Used in Art Creation In the alternate context, an art medium refers to the specific materials and tools employed by artists to bring their artistic visions to life. The choice of medium significantly influences the aesthetic outcome and the creative process itself. Artists often use it to describe how they created their artwork, which gives a sense of how it needs to be viewed as well. For e.g. Oil paintings ( referenced as "Oil on Canvas") are best observed from a distance to get a more clearer understanding and the depth of the Art. Again depending on the Category of work there are different materials used to fulfill the Artistic vision of the creator. Here are some examples of art mediums in the context of Material Used Paints: Artists use various types of paints, including oil paints, watercolors, acrylics, and gouache, each with its own characteristics and techniques. These pigments, when combined with binders, allow artists to manipulate color, texture, and opacity on different surfaces. A combination of the paint type and the support used form the Medium used for the artwork, for e.g. Oil on Canvas, Gouache on paper, Acrylic on Linen etc... Drawing Tools: Pencils, pens, charcoal, markers, and pastels are all examples of drawing tools that artists employ. These tools vary in hardness, texture, and line quality, enabling artists to create intricate details or bold, expressive strokes. Sculpting Materials: Sculptors utilize a plethora of materials such as stone, wood, metal, clay, plastic, and even unconventional materials like ice or food. Each material offers its unique qualities, texture, and potential for manipulation. Cameras and Photographic Equipment: With the advent of photography, cameras and photographic equipment became vital art mediums. Film cameras, digital cameras, lenses, lighting equipment, and photo-editing software all contribute to the creation of photographic art. Printmaking Supplies: Printmaking relies on materials like printing plates, inks, brayers, and printing presses. These tools facilitate the transfer of images from the plate to the chosen substrate, resulting in distinct prints with their own visual characteristics. Clay and Kilns: Ceramics artists employ different types of clay, glazes, and firing techniques to shape and fire their creations. The firing process in kilns transforms the raw materials into durable and visually captivating ceramic pieces. Fabrics and Threads: Textile artists utilize a wide range of fabrics, threads, dyes, and surface design techniques to create intricate tapestries, clothing, quilts, or fiber-based sculptures. The choice of fabric and the application of techniques contribute to the overall visual and tactile impact of the artwork. The Importance of Art Medium The medium that an artist chooses to work with can have a significant impact on the style and meaning of the artwork. For example, a painting made with oil paints will have a different look and feel than a painting made with watercolors. The medium can also affect the way that the viewer interacts with the artwork, an example being, a sculpture that is made from metal will feel different to the touch than a sculpture that is made from wood. The art medium is of utmost importance in the representation of art as it influences the aesthetics, technical possibilities, symbolic significance, and cultural context of an artwork. It allows artists to express their vision, engage viewers, and communicate their intended messages effectively. The careful consideration and deliberate selection of the art medium contribute to the overall artistic expression and impact of the artwork.Different art mediums have evolved throughout history and across cultures, reflecting the societal and historical context in which they originated. The selection of a particular medium can evoke associations and references to specific art movements, traditions, or periods. The Future of Art Mediums The art world is constantly evolving, and new art mediums are being developed all the time. For example, digital art is becoming increasingly popular, as artists use computers and other digital tools to create their work. It is impossible to predict what the future holds for art mediums. However, it is likely that new art mediums will continue to be developed, and that artists will continue to experiment with different materials and techniques. It's important to note that the future of art mediums will be shaped by the creativity and experimentation of artists themselves, as they continue to push boundaries, embrace new technologies, and explore innovative approaches to art-making. The possibilities are vast, and the future of art mediums for visual artists holds exciting potential for artistic expression and engagement with audiences. Digital, Augmented and Virtual Realities, Mixed Media, Eco-Friendly Materials, BioArt and Living Materials, all are being explored, included and evolved for Artists to continously push the boundaries of their creative abilities to produce thought provoking artworks. Conclusion In the realm of art, the term "art medium" embraces a dual meaning. It encompasses both the categorization of art forms and the materials employed by artists. The category of art medium reflects the different disciplines and techniques artists employ to create their work, while the material aspect highlights the tangible tools and substances used to manifest their creative visions. Artists' choices of medium significantly influence the visual, tactile, and conceptual qualities of their artworks. Furthermore, contemporary artists often push the boundaries of traditional mediums by exploring hybrid forms and incorporating new technologies. Understanding the significance of art medium enhances our appreciation for the diverse expressions and the innovative approaches artists employ in their creative endeavors.
Sign up for our newsletter to have the latest stories and curated art recommendations delivered straight to your inbox