Subscribe for our newsletter to have the latest stories and curated art recommendations delivered straight to your inbox
ARTIST SPOTLIGHT
Navaratnas: The Nine Gems of Indian Art
Like
comments
SAVE
The Government of India in the late 1970s named these nine iconic artists—Raja Ravi Varma, Amrita Shergill, Rabindranath Tagore, Jamini Roy, Abanindranath Tagore, Nandalal Bose, Gaganendranath Tagore, Sailoz Mookherjea, and Nicholas Roerich as National Treasures. We take a closer look at these Navaratnas who shaped the history of Indian modernism.
RAJA RAVI VARMA (1848–1906)
Widely regarded as the "father of modern ", Raja Ravi Varma is best-known for his exquisite paintings and depicting Indian subjects using European techniques. As one of the earliest proponents of lithography in India – the art of producing a work on a flat stone or metal plate – he employed the technique to depict popular scenes and characters from Hindu epics and religious literature. Despite his close relationship with the royal family of Travancore, Ravi Varma was considered an artist of the people as his and captivated and fascinated the country.
Raja Ravi Varma, Sita Bhumipravesh, 1880
Royal Gaekwad Collection, Lakshmi Vilas Palace, Vadodara, Gujarat
ABANINDRANATH TAGORE (1871 – 1951)
As the founder of the Bengal School of Art, Abanindranath Tagore sought to establish a distinctly Indian art that celebrated an indigenous cultural heritage rather than Western art and culture. A passionate exponent of Swadeshi values, Tagore staunchly rejected the teachings of Western academic art schools, finding inspiration in traditional Oriental art forms such as Mughal miniatures, the Ajanta murals, , and Japanese printmaking. This was reflected in his graceful, elongated figures, gleaned from the Mughal style, depicted in a Japanese-inspired wash technique, which are sophisticated depictions of India's unique spiritual and national identity.
Abaninidranath Tagore, Queen Tissarakshita, ca. 1911
Royal Collection Trust, London, UK

GAGANENDRANATH TAGORE (1867–1938)
Gaganendranath Tagore, the older brother of Abanindranath Tagore, a self-trained watercolorist and cartoonist is considered one of the great pioneers of. Unlike his sibling, Gaganendranath embraced Western art movements including Cubism, Futurism, and German Expressionism at the turn of the century. Later in his career, Tagore turned to caricature. His playful cartoons of big-bellied politicians and bhadralok, meaning 'gentleman' in Bengali, are satirical observations of society at the beginning of the 20th century.
Gaganendranath Tagore, Untitled, 1920

AMRITA SHER-GIL (1913–1941)
Like Abanindranath Tagore, Amrita Sher-Gil was greatly inspired by the frescoes of Ajanta as well as the Mughal school of painting. Born to a Hungarian mother and aristocratic Sikh father, Sher-Gil's early years were spent training in . Respected for her powerful self-portraits and bohemian lifestyle, Sher-Gil was described as the "Indian ". Despite her privileged upbringing, the artist's paintings vividly depicted the During her lifetime, Sher-Gil steadily gained recognition across Europe and she remains one of the greats of Indian art history.
Amrita Sher-Gil, Self Portrait (7), 1930
National Gallery of Modern Art, New Delhi
NANDALAL BOSE (1882–1996)
Born into a middle-class Bengali family in the late 19th century, Nandalal Bose created some of the most iconic images in Indian history—including his depiction of walking with a staff, which became an iconic symbol for the non-violence movement, and his illustrations in the Constitution of India. As the principal at Kala Bhavan, Santiniketan, Bose also had a significant influence on the next generation of artistic heavyweights like Benode Behari Mukherjee and K.G. Subramanyan, filmmaker Satyajit Ray and many others.
Nandalal Bose, Annapurna, 1943
National Gallery of Modern Art, New Delhi
JAMINI ROY (1887–1972)
Another gem in the treasure trove of Indian artistic talent, Jamini Roy was born in Beliatore, West Bengal. Roy's bold, sweeping brushstrokes and flat swathes of ochre, leafy green, vermillion, and blue show the heavy influence of traditional Bengali Kalighat painting – a 19th-century school of modern art that originated in Calcutta and was given its name due to the burgeoning settlement of patuas or cloth-painters around the temples of Kali at Kalighat in the city.
Jamini Roy, Mother and Child, mid-1920s
National Gallery of Modern Art, New Delhi
RABINDRANATH TAGORE (1861–1941)
The Nobel laureate poet, Rabindranath Tagore reshaped modern Bengali literature. In 1919, Tagore founded Kala Bhavan, which remains one of India's finest art institutions. Unlike his nephews Abanindranath and Gaganendranath, Rabindranath turned to art towards the end of his life. Inspired by New Zealander scrimshaw carvings, German woodcuts, and sculptures from the Pacific Islands, the artist's international outlook was reflected in unique artworks that appeared at the margins of his manuscripts alongside poetry and song lyrics.
Rabindranath Tagore, Dancing Woman, 1928/1940
National Gallery of Modern Art, New Delhi
NICHOLAS ROERICH (1874–1947)
Nicolas Roerich remains the only artist not from India who was named a national treasure. The Russian artist developed a deep and spiritual connection with the country and came to be celebrated for his luminescent scenes of the snow-capped Himalayan peaks rendered in icy blues and vivid purples. As a passionate activist for the defense of cultural objects, Roerich's visions are not only picturesque but reveal a profound relationship with the landscape.
Nicholas Roerich, Krishna (Spring in Kulu), 1930
Nicholas Roerich Museum, New York, USA
SAILOZ MOOKHERJEA (1906–1960)
Attributed by art critic Richard Bartholomew as India's "most significant painter…after Amrita Sher-Gil", Sailoz Mookherjea received little recognition during his lifetime. Nonetheless, the artist's impact on Indian modernism is monumental and he remains celebrated for his innovative scratching of the paint to create tactile and vigorous markings.
Sailoz Mukherjea, Untitled (Two Sisters), 1959
SIMILAR ARTICLES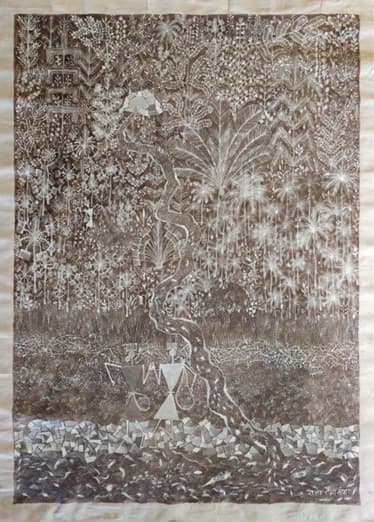 Types of Indian Art - Warli Paintings
A Traditional Art Form from India: Warli Paintings There are many different types of traditional art forms in India, but one that has remained in existence from time immemorial is the Warli painting art form. Warli paintings are characterized by their use of bold colors and simple shapes to create images of men, animals, trees, and plants on the walls of villages or used as decorations during festivals such as the Ganesh Festival or Navratri. Today, Warli paintings continue to be popular as wall décor pieces in homes across India, especially in Mumbai and Gujarat. Here's more about this traditional art form from India. Who is the Warli tribe? The Warlis are a tribe that resides in the North Sahyadri Range in Maharashtra, India. They are known for their warli painting designs, which are done using a mixture of earth and watercolors. The paintings depict scenes from daily life, such as hunting, fishing, and farming. Warli paintings are also used to tell stories and legends. What are the Warli paintings? The practice of Warli art is predicated on the idea of natural beauty, and many aspects of the natural world are often brought into sharp relief. Because agriculture is the primary means of subsistence for the community, members have a lot of admiration for the natural world and the fauna that inhabits it for the commodities that it provides. In a manner somewhat dissimilar to how ancient artworks were executed, it is common practice for warli painters to paint on the backgrounds of their clay houses while working on warli artwork. In Warli art, religious imagery, such as representations of gods and other symbols associated with religion, is never used. It speaks about how humans are reliant on the environment and how they are associated with it. It portrays the earth as a deity. The artworks of the Warli tribe convey a feeling of homogeneity in individuals and underline the tight social interactions that exist among the full members of society. Real-life settings and occurrences served as inspiration for many aspects of the artworks, including the forests, wildlife, festivals, social engagements, and social forms. It is also possible for a Warli artwork to serve as a graphic narrative of one of these classic tales. Many contemporary artists incorporate aspects of the modern environment into their work, such as automobiles, architecture, cycles, electronics, airplanes, and trains. Where can I purchase Warli paintings? You can buy Warli paintings in a number of places, both in India and online. One of the best ways to find a reputable seller is to ask around for recommendations. Once you've found a few potential sellers, take some time to compare prices and shipping costs before making your purchase. You can also find Warli paintings on display in a number of art galleries and museums, which can be a great way to view this traditional art form up close. You can also buy warli paintings online and get them delivered anywhere you want. Conclusion Warli paintings, which are often seen on the walls of villages or as decorations for celebrations like the Ganesh Festival or Navratri, are still widely collected and displayed in houses throughout India, particularly in the metropolitan areas of Mumbai and Gujarat. Don't miss out on these fantastic Warli Art Forms to collect as RtistiQ brings to you the Phygital NFT Folk Art auction that will be held between the 15-18th September 2022.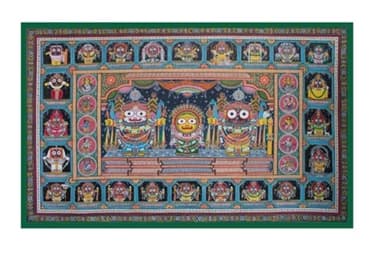 Type of Indian Art - Pattachitra
Pattachitra Paintings: A Journey Through Indian Art Every culture has its own art form, and India is no exception. Paintings are an integral part of Indian history and culture, especially since they date back to the Indus Valley Civilization, where they were used as trade and social currency. Pattachitra paintings, also known as Kamal Pustakam, are part of the traditional folk art of Odisha, India. They tell stories from Hindu mythology using paints made from natural materials like tree bark, leaves, flowers, clay, vegetable dyes, and even cow dung. Learn more about this special art form with our complete guide to Pattachitra Paintings below. What are Pattachitra paintings? Pattachitra paintings are a type of Indian folk art that originated in the state of Odisha. The word patta means cloth in Sanskrit, and chitra means picture. Pattachitra paintings are usually done on cloth or canvas using natural dyes and pigments. The themes of these paintings typically depict Hindu gods and goddesses, religious scenes, and stories from Indian mythology. The Pattachitra painters, also recognized as chitrakars, have mostly been recognized for their depictions of Hindu mythology. Artists use a chalk-and-gum combination to cover the fabric prior to painting. Two separate stones are used to massage the substance into the fabric. Eventually, the fabric has hardened, and the painter begins the painting. Practicing pattachitra requires adherence to a set of norms and regulations. In Pattachitra's artworks, a flowery boundary is a requirement, as is the use of neutral colors in a single tone. As a result, Pattachitra's aesthetic is unique and could not be imitated, making each artist's work unique. Thus, if you like a particular style, you have to find an artist who has mastered that style to try and replicate it. And RtistiQ brings to you that specific artist called KeshabPradhan and you can find his intricate works here at the Folk Art Auction which will take place between 15 – 18 September 2022. Dont miss out on this 1 time opportunity. Styles The most common style of pattachitra painting is the Orissa style, which originated in the state of Orissa in eastern India. The Orissa style is characterized by its use of natural dyes and pigments, as well as by its intricate patterns and designs. Another popular style of pattachitra painting is the Bengal style, which originated in the state of Bengal in northeastern India. How to Recognize a Good Pattachitra Painting If you are looking to buy pattachitra paintings online, look for an artist who has been trained in the traditional style to make sure you get the best pattachitra paintings. The colors should be bright and vibrant, and the lines should be clean and sharp. The painting should tell a story, and the artist should be able to explain the symbolism behind the work. Make sure to buy from a reputable source so you can be sure you're getting a genuine Pattachitra painting online. Conclusion Pattachitra paintings have a long and rich history, dating back to the 7th century CE. These paintings were originally created as temple hangings, but they eventually became popular among the general population as well. Today, Pattachitra paintings are still made in Odisha and are considered to be a valuable part of Indian culture, and they have been incorporated into the modern aesthetics of India.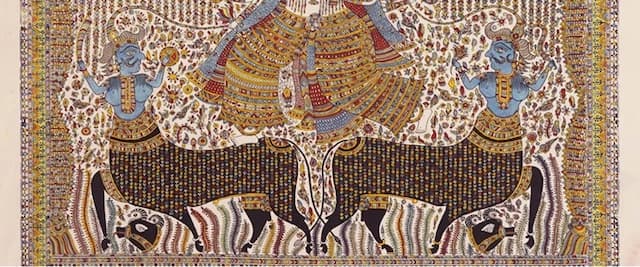 Types of Indian Art - Mata Ni Pachedi
A traditional Indian folk art form, Mata Ni Pachedi Mata ni Pachedi, also known as Mata ki Chowki, is a traditional Indian folk art form from Gujarat. The term "Mata Ni Pachedi" literally means "behind the goddess" and refers to the cloth hangings or veils that are used to cover the images of Hindu goddesses in the temples of Gujarat. The Art form had grabbed headlines recently after the Indian Prime Minister Narendra Modi gifted the Pachedi to the Prime Minister of United Kingdom Rishi Sunak, at the G20 Summit at Bali in 2022. History of this incredible textile art The history of Mata Ni Pachedi can be traced back to the 17th century when the Vaghri community of Gujarat first practised it. The Vaghri community used to travel from village to village, setting up makeshift temples and creating these cloth hangings to depict the goddesses. Over time, the art form evolved and became more sophisticated, using natural dyes, intricate patterns, and detailed depictions of the goddesses. The Gujarat Council on Science & Technology (GUJCOST) applied for the GI tag in 2020 on behalf of the craft, and was awarded the esteemed Geographical Indication Tag on the World Intelectual Property Day on the 26th of April 2023. It is speculated that Gujarat, a historically significant location from which foreign rulers had launched invasions of India, was where this art style first emerged. As raids also often destroyed temples, the nomads came up with a way to keep their religion alive and stop invaders from saying bad things about their gods and goddesses: they put pictures of their gods and goddesses on cloth. The Mata ni Pachedi begins with a hard powder dye bath for the fabric. Fermenting a mixture of iron rust plus jaggery takes around 15 to 20 days, yielding a natural black. The mixture is then cooked with tamarind seed flour, kachka, which is called. Maintaining the solution's viscosity prevents any seepage onto the fabric. Within a hundred years or more, the black created by iron rust leads the fabric to start disintegrating, the painting becomes frail, but the colors stay untouched. The use of gold and silver, formerly common, has been abandoned. Alum is used to make red, kattha is used to make orange, mehendi plants are used to make green, and violet is used to make blue. To fix the colors into the fabric, the material is simmered well with thawli blossom after being rinsed in the neighboring Sabarmati River to remove any surplus dye. The colors would not fade regardless of how many times it was washed or dried. It's important for the artist to be cautious while coloring in the tones so they don't bleed into other parts of the picture. Sanjay Chitara, Ten Mother Goddesses, 2022 Even though paintbrushes have replaced bamboo twigs as the tool of choice, bamboo twigs are still often used for making preliminary sketches and outlines. Brushes were traditionally fashioned from the twigs of palm trees. Chewing the twigs would separate the fibers, making them useful for making a brush. For many years, cotton fabric was the only kind that was used, but recently people have started working on cotton silk as well. Each and every piece of fabric is procured from the local marketplaces of Ahmedabad, which is a center for the textile industry. Cotton vividly retains colors, and after being washed, the pigments stick to the fabric even more strongly. Mata ni Pachedi is a beautiful and unique form of Indian folk art. The brightly colored fabrics and intricate designs are eye-catching and vibrant. This type of textile is typically used in ceremonial contexts such as weddings or religious festivals. Mata ni Pachedi fabrics are also thought to have magical powers and are often used as talismans. Sanjay Chitara, Visat Mata, 2022 Today, Mata Ni Pachedi is practiced by a small community of artisans who have inherited the art form from their ancestors. Some of the major artists who have contributed to the development of this art form include: Raja Chitara: He is one of the most well-known artists of Mata Ni Pachedi and has been practising the art form for over 40 years. His work has been exhibited in various museums and galleries around the world. Govardhan Giri: He is another well-known artist who has been practising Mata Ni Pachedi for several decades. His work is known for its intricate detailing and use of natural dyes. Rakesh Bani: A younger artist gaining recognition for his innovative approach to Mata Ni Pachedi. He often incorporates contemporary themes and designs into his work while maintaining the art form's traditional techniques and motifs. Don't miss out on these fantastic Mata Ni Pachedi Art Forms to collect on RtistiQ from an extraordinary selection of Indian Folk and Tribal Art collection . RtistiQ aims to bring forward these hidden gems to the mainstream in partnership with the families and organisations supporting to maintain the traditions and cultures for our future generation.
ARTICLES ON ARTIST SPOTLIGHT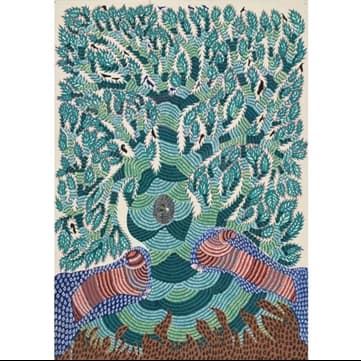 ARTIST SPOTLIGHT
From Gond Art to Jangarh Kalam: The Legacy of Jangarh Singh Shyam lives on!
A pioneering artist, Jangarh Singh Shyam redefined the Pardhan-Gond school of art. His signature style which was later named after him saw the evolution of Gond art from a ritualistic pictorial art made on the walls and floors to a more sophisticated menagerie of dots and dashes. This re-interpretation of the Gond art came to be famously known as Jangarh Kalam. Belonging to the Pardhan Gond community from the central Indian state of Madhya Pradesh, the artist was considered a cultural prodigy in his native village Patnagarh being an excellent flutist and painter. In 1981, the artist was invited by the legendary J. Swaminathan to work as an artist at Bharat Bhavan in Bhopal. It was at Bharat Bhavan, one of the country's most prestigious museums of tribal and contemporary Indian art, Jangarh Singh Shyam grew as an artist as his creative practice underwent sweeping changes. Mentored by Swaminathan, Shyam's inheritance in traditional music and storytelling blossomed into a distinctive style of image-making, imparting his paintings a rare life force and energy. As his popularity grew, Shyam found himself amidst the changing contemporary Indian art scene that was becoming more global in its outlook and more inclusive in its representation. It was for the first time we saw that the historically marginalized gained momentum and ground in the narrative space of the country. The artist gained major recognition when he participated in the Magiciens de la terre exhibition held at Centre Pompidou, Paris in 1989, and in Jyotindra Jain's Other Masters exhibition at the Crafts Museum, New Delhi in 1998. The artist was also commissioned to paint the interiors of Vidhan Bhavan, the Legislative Assembly of Madhya Pradesh, and the dome of Bharat Bhavan. Posthumously, his painting Landscape with Spider (1988) was sold for a record price of $31,250 at Sotheby's New York auction in 2010, marking a first for an adivasi (vernacular) artist. Gleaning from the vast repertoire of tales, ballads, folklore, and fantasies of the Pardhan-Gond community, Shyam fabricated them into his visual narrative, thus bringing the ancient myths and stories to life. As he sought inspiration from the past and the present, the rural and the urban, the real and the imagined, a new visual vocabulary emerged that gave concrete shapes and forms to his community's myths, legends, fables, tattoos, and music, which were, till then, hidden from the 'mainstream' society. It marked a paradigmatic shift in contemporary Indian art when the artist started using canvases, acrylic, oil and pen instead of the traditional charcoal, coloured soil, plant sap, leaves, cow dung, limestone powder, etc. This effective adaptation of the new media, tools and newer themes resulted in unforeseen results and inspired a generation of Gond artists to learn from Jangarh Singh Shyam. Jangarh Kalam, or Jangarh Singh Shyam's personal rendition of the Pardhan Gond art instilled a creative energy that surged with the emergence of individuality and personal style in a traditionally collective society where artmaking was a group endeavour. In Jangarh Kalam, the images are transcribed from oral narratives that take shape as birds, flying snakes, or growing trees, floating to the rhythm of the music in diverse innovative variations. From enchanted woodlands to aero planes, indigenous deities, childhood stories, and animals, Shyam used colourful dots and peripheral contours of radiating lines to create these unique shapes and patterns reverberating with movement, fluidity, and power. In a tragic turn of events, the visionary artist took his own life at the age of 39 while he was on an international art residency at the Mithila Museum, Japan. While the artist died young, he inspired a legion of young men and women from his community who followed him and were mentored by him in the style he created incidentally. Today, many well-known Gond artists including Shyam's wife and children and those who apprenticed under him continue to work in the Jangarh Kalam tradition keeping it alive and vibrant. Jangarh Singh Shyam, Paysage avec Araignée (Landscape with Spider), 1988 Image courtesy: Sotheby's Jangarh Singh Shyam, The Seprpent Shesha Holding The Earth on his Hood, ca. late 1980s Collection and image courtesy: Museum of Art & Photography (MAP), Bangalore Jangarh Singh Shyam, Ped, Chidiya Aur Hawaijahaz (Trees, Birds, and an Airplane), 1996 Collection and image courtesy: Museum of Art & Photography (MAP), Bangalore Jangarh Singh Shyam, Phulwari Devi, early 1990s Collection and image courtesy: Museum of Art & Photography (MAP), Bangalore Jangarh Singh Shyam, Untitled, 1989 Collection: FONDATION CARTIER PARIS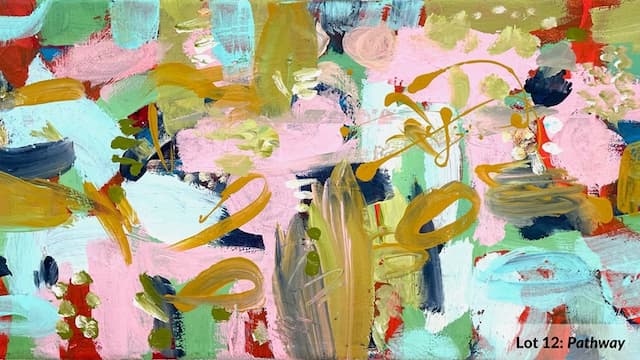 ARTIST SPOTLIGHT
CHRISTEL HAAG - UNSTOPPABLE FEMALE ARTISTS
In the one-century life span of abstract art, female abstract painters are not hard to find, to name just a few: Sonia Delaunay (a multidisciplinary artist who achieved success during her lifetime only due to her commercial work, whereas her husband Robert Delaunay was regarded as a serious artist), Lee Krasner (whose contribution to art history has been for a long time overshadowed by her marriage to the abstract expressionist painter Jackson Pollock), Elaine de Kooning (an accomplished artist, member of the Eighth Street Club in New York City she was mostly known as Mrs. William de Kooning, she dedicated most of her life to supporting her husband's career), Barbara Hepworth (less recognized than her contemporary and fellow British artist Henry Moore), Françoise Gilot (the French-American artist who never managed to escape the "Picasso's lover" title) and the list can go on. These talented artists have been less visible, not to say "invisible", to an art establishment blinded by gender bias. Despite a recent shift in mentality and contemporary culture, female artists are still seen as "less" than their male counterparts. Female abstract painters and women artists, in general, deserve more awareness. Christel Haag is a commercially successful German abstract artist. Her work is very process-orientated. She plays with various contrasting effects on canvas by using an entire arsenal of mark-making in her process. The evolution of her paintings does not follow a predetermined concept. Rather, her works gradually evolve through an intuitive and dynamic process. Despite the gestural process, a coherent painting emerges. Haag finds her inspiration in nature. She translates into marvellous color combinations the beauty and harmony that surrender her. Lot 34 Are we Flying In her own words: "In 2002 I made the decision to give up my career in Public Relations at a university, follow my heart and retrain as an artist. Once I made the decision to open the door to my creative urges, I felt that I had to go back to the beginning to discover who I really am as an artist. It was as if I granted myself the right to be free again, free without boundaries or pre-existing ideas of who I should be as an artist. Over the years my experiences led to my colorful, abstract, dynamic, and gestural style of painting. I always try to go to my creative limits while experimenting and giving my artworks my individual expression. Nature inspires me. The marvellous impressions I take home from my travels. Also, I express in my paintings the mood and feeling of a particular moment in time. It is first and foremost the joy of painting, of colors, of the creative process itself, and of the energy of being that drives my artistic creation." 5 vivid paintings from Haag's portfolio have been minted as unique NFT digital editions and are sold at auction in our coming event SHE IS UNSTOPPABLE. Browse her art and choose your favourite. Don't forget to register for the auction. Bidding starts May 14th.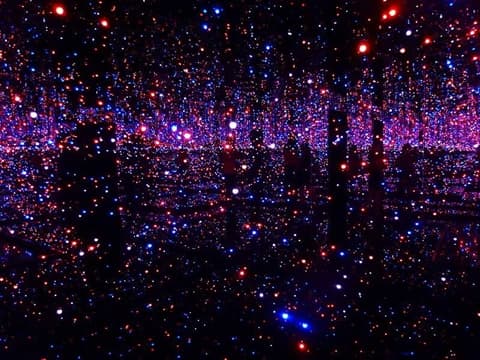 ARTIST SPOTLIGHT
10 Most Influential Living Female Artists
Below, we've assembled a list of the top 10 most influential female artists alive today. These women have left an incredible mark on the art world, and while their importance to the current scene is important, their impact will no doubt be felt for generations to come. Cindy Sherman Courtesy of Cindy Sherman Cindy Sherman made a name for herself through intricate self-portrait photography. Taking advantage of her skills as a costume maker and make-up artist, Sherman's early work began exploring identity by using the artist's body as the canvas. Her work frequently explores the place of women in the media and cultural landscape. Untitled Film Stills (1977-80) saw Sherman dressing as B-movie characters. In Centerfolds (1981), she upended the expectations of the male gaze, presenting complicated female characters where one might expect titillating, sexualized images. Her latest work speaks directly to the tools we use to communicate with each other. She now takes self-portraits using her phone, manipulating the images using multiple "face tuning" apps. The results are provocative and often disturbing. Tracey Emin Courtesy of Tracey Ermin Tracey Emin is no stranger to controversy. Her work is striking and confrontational, as well as deeply autobiographical. Her work reaches across an enormous array of mediums, from drawing, painting, and sculpture to neon text, film, photography, and sewn appliqué. Some of her installations made major waves in the art world. She premiered Everyone I Have Ever Slept With 1963–1995 (1997) at the Royal Academy of London. The work is a tent that visitors can enter into, and on the walls are appliquéd the names of, you guessed it, everyone the artist had slept with. It serves as a kind of haunted space, especially in the greater context of Ermin's work that challenges the role that sex plays in the perception of women. She has gone on to be a professor at the Royal Academy of Arts and a prolific, widely influential artist of our time. Yayoi Kusama Courtesy of Wikimedia Yayoi Kusama is an artist working in sculpture and installation, as well as many other mediums. She became a fixture of the 1960's counterculture, organizing happenings where participants were nude and covered in painted polka dots. Beginning in 1963, Kusama began creating her Infinity Rooms, a series of installations in which the walls of the rooms were covered in mirrors with colorful balls of light hanging at different lengths from the ceiling. The effect is the perception that the room of lights goes on forever. Her public installation work continues to appear across the world, including Brazil, Japan, Singapore, and beyond. Marina Abramović Courtesy of Wikimedia Marina Abramović is likely the most important and influential performance artist of our time. Her newsworthy works have captured the attention of the artworld for decades, and she isn't done yet. The Artist is Present (2010) saw Abramović sitting at a table at New York City's Museum of Modern Art. Visitors were invited to sit across the table from Abramović. This went on to become the largest performance art exhibit in MoMA's history. On top of her amazing career as an artist, she is also a philanthropist and a supporter of young artists through her Marina Abramović Institute. Judy Chicago Courtesy of the Brooklyn Museum Judy Chicago is a major name in the worlds of both art and feminism, with her career striking a path that unites them. Many of her unique techniques are borrowed from boat building, auto body repair, and similar disciplines — what the artist calls the "macho arts." The Dinner Party (1979) is likely Chicago's most important work to date. It shows a dinner table set in a triangle, with 39 places set for female heroes, both real and mythical. The dinner plates are all hand-painted homages to the woman who is seated there. The sprawling ambition and bold statement continue to fascinate and inspire people today. Shirin Neshat Courtesy of Wikimedia Shirin Neshat is an Iranian-born New York artist primarily working in photography, film, and video. Her work often focuses on the dichotomies, both socially constructed and eternal, that make up our world: Isamic and Western culture, male and female, public and private. Her film Women Without Men (2009) received the Silver Lion award at the Venice Film Festival. The film, based on the novel by Shahrnush Parsipur, depicts events during the British and American backed coup in Iran that overthrew their democratic government and installed the Shah as monarch in 1953. Vija Celmins Courtesy of SFMoMA Vija Celmins works in paintings and drawings, creating photorealistic pieces. She is celebrated today as one of the leaders in realism, though she pushes her work into almost abstract places by focusing on visual rhythm and the exclusive use of gray tones. Her early breakthrough saw her making exquisite replications of photojournalism, making masterful use of grayscale in her painting. These works highlighted how much of our world view at the time was dictated by black-and-white photographs and disseminated through the media. She has gone on to focus on sweeping visions of natural spaces and events. Much of her current work shows us starry skies, ocean waves, and other large and small scale views of the natural world. Bharti Kher Courtesy of Wikimedia Bharti Kher is an artist working sculpture, installation, and painting. Her work often speaks to realities of inhabiting a body as well as issues around culture. Perhaps her most popular work is The Skin Speaks a Language Not Its Own (2006). The piece depicts a full-size female elephant collapsed on the ground, covered in the traditional bindi — a mark made on the forehead among followers of Hinduism representing the third eye. By bringing together these two images of India, Kher creates a vivid embodiment of the country. Marlene Dumas Courtesy of Wikimedia Marlene Dumas is an artist working in the Netherlands who is known as one of the first three living women to sell an artwork above the $1 million mark. The notoriety is well deserved. Her work is always in ceaseless exploration of human moods and social conditions. Her paintings often eschew direct representation and instead make suggestions of emotional states. Her work often distorts faces and specifics, driving down into the heart of her subject. She continues to be a major name in the art world today. Dumas's prolific career continues to challenge viewers and evoke what it means to be alive. Julie Mehretu Courtesy of Forbes Julie Mehretu works in painting, drawing, and printmaking, often focusing on the socio-economic realities of our time. Her meticulous work is precise but ultimately deeply felt, mapping out the psychology of people in the urban environment. Her pieces often take on an enormous scale, often two stories tall. Mehretu describes her mark-making process as one that charts the movements and interactions of people in their own societal context. While her compositions can be overwhelming and grand, when viewers take the time to look at it in detail, they often find surprising narratives emerge.
Sign up for our newsletter to have the latest stories and curated art recommendations delivered straight to your inbox