Subscribe for our newsletter to have the latest stories and curated art recommendations delivered straight to your inbox
ARTIST SPOTLIGHT
Queens, Goddesses and Nymphs: Women in the Art of Raja Ravi Varma
Like
comments
SAVE
"(Raja) Ravi Varma's imaginary women are cyphers, they will never be realistic because very few people actually look like that. Every now and then in their own way, the women Ravi Varma imagined can and do reflect what we would like to see in ourselves and the world around us."
Deepanjana Pal
Raja Ravi Varma, one of the greatest painters in Indian history, transcended boundaries between the real, ideal, and imaginary, particularly when it came to depicting women. From simple flowers to glittering jewellery, gorgeous brocades on cascading silks, Ravi Varma embellished his iconic women, thus reinterpreting the Indian ideal of feminine beauty with his fair-skinned, doe-eyed puranic nayikas (heroines), devis (goddesses), maharanis (queens) and apsaras (celestial nymphs) whose general demeanour is one of tender piety and sublime grace. Being the first to portray the sensuality and modesty of Indian women through Indian sensibilities and European techniques, he was perhaps the biggest influencer of his time.
Arguably one of the most beautiful of Raja Ravi Varma's nayikas is Radha. She exudes a soft beauty, intelligence and sensitivity. Not surprisingly, these traits are also found in the goddesses and strong females of orthodox literature across pan-India. Since her beauty transcended other definitions of beauty, Raja Ravi Varma has to exercise extra caution when bringing her to life on canvas. As human and godly loves coalesce in this relationship, we see Radha both as a lover and a devotee of Krishna. Perhaps this explains the pooja thali present in the portrait. It also showcases other symbols of spiritual devotion like the brass thali of flower assortment and sweet desserts. This shows the character prioritizing worship and devotion over the romantic play between the two. She is shown contently sitting on the rocks near the flowing water. The faint hint of a smile shows that she may have seen him approaching her.
Radha in the Moonlight, 1890
Raja Ravi Varma had a knack for depicting historical and mythological lore in all his artworks. He also made the traditional, bold, and strong Indian woman as a central theme for his works showcased at the World Columbian Exposition. There was a specific purpose behind this action. He wanted to spread the Indian woman's sophistication and attractiveness when she adorns herself in various Indian attires. The reason behind it is not hard to fathom. The painter wanted to tell the Western world that the characters etched on canvas in his artworks were real women and not a figment of his active imagination. This was his way of helping the traditional Indian lady to be exposed to a larger audience that spanned the globe.
Dressed in a gorgeous nauvari saree, Expectation is a painting of a woman expectantly waiting for someone special is a quintessential Ravi Varma nayika. This character is depicted in a light that the Western and Indian world would connect with. It is easy to recognize the culture and affluence in the artwork. No wonder that it was a part of the Chicago exhibition.
Expectation, 1893
Living from 1848 until 1906, Raja Ravi Varma's regal portraiture went above and beyond the conventions of the genre, combining a heady mix of opulence, drama, flair, and storytelling. The famous painter also had Tamil Nadu as his base for a short time. In this period, he came up with artworks depicting several members of the imperial family. These include Maharaja Thondaiman of Pudukkottai, an art connoisseur, and his soulmate Janaki Subamma Bai Sahib. Some other works also included their sons and other members of the royal family. An intelligent and 'intriguing' woman, according to the British station-in-charge of Pudukkottai, Queen Janaki Subbamma was a capable and resourceful woman who realised that in matters of governance, the latter called the shots, leaving her to protect her turf. Ravi Varma added a lot of detailing to the jewellery that adorns her body. No wonder that the illuminance radiating from her gems and pearls is a standout feature of the artwork. Art fans will be drawn to the nose ring and the oversized jhumkas that Subbmma is shown wearing. The rich and vibrant aura of the royal is as visible in her glowing jewellery and saree as through her powerfully piercing gaze.
Her Highness Janaki Subamma Bai Sahib of Pudukkottai, 1879
Raja Ravi Varma specialises in adding a human touch to ethereal Goddesses. This way, he tries to bridge the gap between the human and the divine. Such artworks go a long way in letting people re-think the traditional perceptions about womanhood. The artist has been considered an early pioneer of modern Indian art. His core competency in giving a human touch to the divine figures helped add a touch of realistic essence to the artworks. This was a pathbreaking milestone in the history of Indian Art. What today is taken for granted in our collective psyche is the reference of these humanlike forms of Gods, which bridge the gap between mythology, history, and religion. Through his affordable lithographs that reached almost every household, what lingers in every Indian male memory is bowing down in respect to the mother Goddess in her many forms. Evident in his artworks is the realistic depiction of the human form while weaving in the mythological aspect of Indian goddesses where they are depicted with four hands, holding a veena, lotus, prayer beads, etc.
Goddess Saraswati, Ravi Varma Press, 1890
There Comes Papa shows how a regal lady from Malabar gesticulating her husband's arrival to her infant son, whom she carries in her arms. The painting also shows a white and grey dog looking in the direction of the father's arrival. An excited pet dog also looks towards the arriving father. Raja Ravi Varma had dispatched 10 works of art to the World's Columbian Exposition at Chicago in 1893. There Comes Papa was one of the select paintings as a part of this batch of artworks. The inspiration behind the painting is dear to the painter. This is because it featured his eldest daughter as the mother with her own son. This painting has a note to describe the artwork. It says, "A Keralite mother clad in white cloth is preparing to go to the temple with her son at her arm. A dog is following."
The painting is a depiction of the blend of Western essence like a pet canine with an affluent yet traditional Keralite female of an era gone by.
There Comes Papa, 1893
Amongst these extraordinary paintings, one portrait that stands out is of his formidable mother-in-law. Known in the family as Karutha Amooma ("the dark-complexioned grandmother"), the innately human Mahaprabha of Mavelikara comes across as a woman with dark complexion, bloodshot eyes, and an imperious glare. There are many indicators of her royal lineage. Take, for instance, her posture as she is seated. Art fans also note the brass prop and her shawl, which portrays an imperial air about her. This is a documentation of a matriarch in a social system that accords the women with authority and privilege. Ravi Varma's world too had a heavy influence of such a matriarchal society, and his paintings too reflect the strong authority wielded by female characters. It remains an exceptional work depicting a woman of stern character without softening either her powerful countenance or her distinct physical features.
Mahaprabha of Mavelikkara, 1880
Ravi Varma had a knack for portraying female characters that went against the cultural rules, style, and societal expectations. As a result, he managed to let an Indian beauty emerge that transcended regional parameters. No wonder that his artworks and female characters embodied the essence of classic and contemporary. He succeeded in letting art fans blur the distinction between the imaginary as real, and thus believe in both.
SIMILAR ARTICLES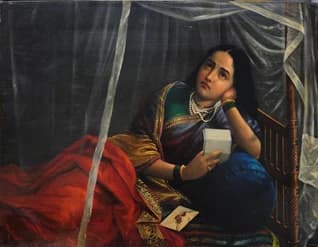 The Many Moods and Emotions in the art of Raja Ravi Varma
Celebrated among the greatest painters in India, and a visionary far beyond his times Raja Ravi Varma was known for the rich shades and energetic hues of his mythological prints and the ethereal power of his temperate paintings. Born into an aristocratic family in 1848 in the village of Kilimanoor, Kerala, Ravi Varma was the first one to blend European academic norms for the depiction of true details naturalism with a rich India-centric influence. Working with an illusionistic flair, Ravi Varma reimagined the Hindu mythological stories so deeply entrenched in the popular Indian imagination. Up until then, most of these characters were painted were flat, and the deities were recognized only by their accessories and mounts. Owing to modern realism, Raja Ravi Varma offered them a face thus humanizing them. And many lovely episodes from the Hindu epics came to life, in full-bodied form, colour, and emotion that were palpable. In a unique fusion and intermingling of light and shadows by using a perspective that added depth to his paintings, the artist traversed through disparate moods and emotions. His paintings reverberate with a zest to a celebration called life. This is why his paintings had trees adorned with fruits and flowers, and waters made more mesmerising with the various hues. Last but not least were the painting's subjects themselves. The longing in the eyes made it seem that they would blink and come out of the painting any moment now. Disappointed, 1906 It was a remarkable shift from the type of art that was painted then. Now the eyes expressed a longing as the folds of sari fluttered, the jewels that generously adorned his subjects shimmered in a perceived angle of light - and Virahotkhandita Nayika was born. According to the classical convention, one way of recognizing 'the grieving woman who is separated from her beloved' is through her open, unbound hair. And this is how one sees the woman portrayed here - unhappy after receiving a letter from her lover. In an image depicting the relationship between a friend and the heroine, Chitralekha paints the picture of Aniruddha, the Prince (in this case the Vaishnava deity Krishna) who stole heroine Usha's heart. Ravi Varma titled this Chitralekha not only because that is the name of Usha's friend, but because Chitralekha means someone who is as stunning as a painted image. In this case, the friend could really be the heroine's own conscience. It sings a soliloquy by the grieving Nayika, one who is in separation. At that moment, Chitralekha conjures up his face in a painting. Chitralekha thus transforms into Usha's own conscience. Chitralekha, 1890 Ravi Varma was aware of the narrative and context of the epic. Hence, he could visualize these narratives in his mind and put them on the canvas. He did not conform to set standards of following a painting theme as per the story. He was known to alter the mood and theme as per what he was commissioned or as an innovative inspiration. The classic scene of Lord Rama breaking Lord Shiva's bow to marry Sita is legendary, for it was a precursor to the war between Lord Rama and Ravan. Varma painted the scene to show anguish on the character's faces to mark this future event. Rama Breaking The Sacred Bow Of Siva Before His Marriage To Sita, 1906 Rama, Sita and Lakshmana Crossing The Sarayu, 1906 From one of longing and a high octane drama to a state of absolute bliss. This is a painting of Rama, Sita and Lakshana Crossing The Sarayu on their way to exile. To depict Sita's contentment when she was with her husband Rama, Ravi Varma portrayed her elaborately dressed, a peaceful visage, and her hair bound in a bun. The Stolen Interview, early 20th century If we look closely at the two characters in The Stolen Interview, we may think that they are meant for each other. It shows how two people in love conducted themselves back in those days. We see the man looking at the female, while the lady pretends to be busy with a flower in her hand. But their presence in such close proximity makes us believe that they consider each other their soulmate. The role of the flower is as symbolic in this painting as it is in most of the other paintings of Varma. The rose depicted here symbolizes eternal love. The female character has draped a simple yet elegant gold-bordered saree. The pearl jewellery she adorns around her neck is meant to tell us that she comes from an affluent household. The light is shown to come inside from out, showcasing that we, the viewers, are witnessing a private moment as complete outsiders. Yashoda and Krishna, ca. 1911 In this painting, one finds the zenith of motherly love, Vatsalya Bhava as the infant Krishna is hugging his mother Yashoda and is holding a cup in his tiny hand. His cherubic face pressed close to his mother as he begs for some fresh milk while she is milking the cow. At this moment, both the mother and the son are at their intimate best. Yashoda's glance reveals her ecstatic joy of the nearness of her baby, whose demand she enjoys and fulfills grudgingly. pestering demand of her child. These characters are the protagonists of a historic moment from a classical text, were intended to be noble, heroic, momentous, and emotional in the most human way. These gods, goddesses, noblemen, and women left an indelible impact on art, religion, society, and aesthetics as they democratized art, perhaps groundbreaking in the history of the Indian art movement.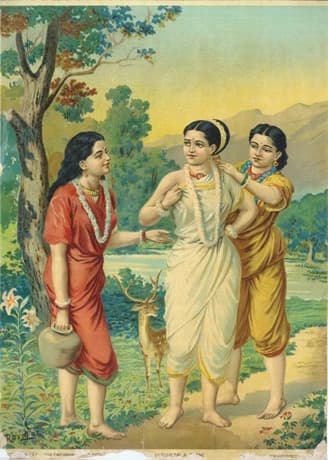 Raja Ravi Varma and Shakuntala
Throughout the history of art, varied artistic reinterpretations of mythology have resulted in some of the most iconic works of art. Mythology resonated in the splendid Avalokiteshwara of Ajanta; Sandro Botticelli's The Birth of Venus (1483-85); the cheap mass-produced Battala woodcuts; Picasso's Minotaur Ravishing a Female Centaur (1933/39); MF Husain's Mahabharata series (1971); and in some cases dominated entire repertoire of artists like Raja Ravi Varma. Known for his emblematic depictions of Hindu mythology, Raja Ravi Varma arrived at something that was never seen before - the archetypal Nayika or Heroine. With the use of oil paint and realism, Ravi Varma recreated the literary heroine as an empowered woman rather than a damsel in distress. It wasn't so that every other mythological character found a place in Ravi Varma's canvas, but only those dramatic characters that had permeated into the Indian psyche over the centuries. Shakutala was one of many Nayikas that Ravi Varma resuscitated in a new avatar and it seems that she occupied a special place in the artist's oeuvre. Kalidas' eponymous heroine born to the great sage Vishwamitra and celestial nymph Menaka, Shakuntala's life was full of trials and tribulations. Soon after her father and mother abandoned her, sage Kanva brought her up in his ashrama. As the story goes the sage found her in a forest amidst singing shakunta birds and named her Shakuntala. She later met Emperor Dushyanta of Hastinapur and married him only to be deserted by her husband in a forest while she was asleep. Their son Bharata, later became the emperor and the predecessor of the Kauravas and Pandavas. Her efforts to reunite with her husband is one of India's most loved and much read literary saga retold in Mahabharata and Kalidas' Abhijnanashakuntalam (The Recognition of Shakuntala). Ravi Varma's fascination with Shakuntala resulted in many memorable creations including the first chromolithograph "Birth of Shakuntala" (Shakuntala Janma; also bears the spelling 'Sakoontala') that came out of Ravi Varma Fine Art Lithographic Press in 1894. Other such timeless Raja Ravi Varma lithographic compositions featuring Shakuntala include Shakuntala Patralekhana, Shakuntala Dushyanta, Menaka Shakuntala, Shakuntala Removing a Thorn from Her Foot, Shakuntala Sakhi, and many others. One of the lithographs, titled Shakuntala Sakhi portrays a young Shakuntala in sylvan surroundings with her sakhis (friends) Anusuya and Priyamvada. Ravi Varma who captured in her many moods and many more life incidents gives us a glimpse of a young and playful Skauntala adorned in flowers with Anususya, Priyamvada and a deer. Shakuntala's white drape clashes against Anusuya and Priyamvada's bright red and yellow sarees, a familiar trope used by artists to depict the nayika/heroine's purity. The scene symbolically juxtaposes Shakuntala's naive innocence where her friends tend to her with the deer's fickleness. Unaware of the life changing events, Shakuntala here is bliss personified. Through his lithographic press, Ravi Varma also gave new meaning to the art of collecting and owning art. This pioneering step made it possible for the common man to own a piece of art produced by the incredible Raja Ravi Varma! Credited for many-a-firsts, Raja Ravi Varma was possibly the first Indian artist to master perspective and the use of oil paint; he also pioneered the use of human models to depict Hindu gods and goddesses and scenes and stories from Ramayana, Mahabharata, and the Puranas; the first Indian artist to gain widespread international fame at a time when painters and craftsmen largely remained either anonymous or unidentified; and the first to make his work available not just to a specific class of patrons but also to common people by way of his oleographs. RtistiQ brings to you the Raja Ravi Varma Phygital NFT art auction that will be held between the 28th- 31st July'22. Don't miss out and collect them all by clicking here. https://art.rtistiq.com/en/auction/raja-ravi-varma-nft-drop2/lots Ravi Varma, Birth of Shakuntala, circa 1894, Ravi Varma Press Image courtesy: Google Arts & Culture; Raja Ravi Varma Heritage Foundation, Bengaluru Ravi Varma, Shakuntala Patralekhan, 1895, Ravi Varma Press Image courtesy: Google Arts & Culture; Raja Ravi Varma Heritage Foundation, Bengaluru Raja Ravi Varma, Shakuntala Removing Thorn from Foot, 1898 Image courtesy: Google Arts & Culture; Raja Ravi Varma Heritage Foundation, Bengaluru Ravi Varma, Menaka Shakuntala Sakhi, circa 1890, Ravi Varma Press Image courtesy: Google Arts & Culture; Raja Ravi Varma Heritage Foundation, Bengaluru Ravi Varma, Shakuntala Sakhi, circa 1890, Ravi Varma Press Image courtesy: Google Arts & Culture; Raja Ravi Varma Heritage Foundation, Bengaluru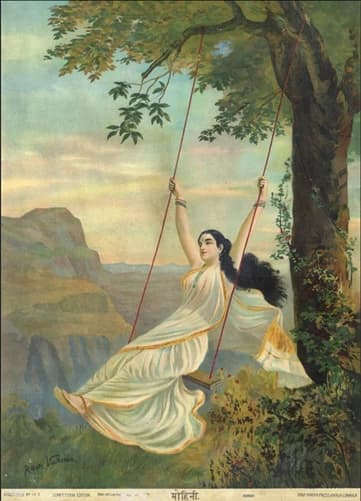 Mohini - A Raja Ravi Varma Lithograph
Raja Ravi Varma was one of the most celebrated artists of India in the 19th century. He was a popular and significant artist of the time, who combined European sensibilities with traditional Indian artistic landscape, thus carving a niche for himself. Raja Ravi Varma's early life was spent in the tiny hamlet of Kilimanoor, around 40 km north of Trivandrum in Kerala. He was from a princely family, closely linked to the ruling family in Trivandrum. His family was creatively inclined and had a profound effect on the young Ravi Varma. His father was a Sanskrit scholar, and his mother was a poet. His uncle was an amateur artist, who painted in the Tanjore style. So, when Ravi Varma began to exhibit artistic inclinations, it was his uncle who encouraged him with his early lessons. He was a pioneer in the field of art, having successfully combined Indian iconography with western painting techniques. His prolific repertoire included paintings of Indian mythological figures, Gods, Goddesses, studio-style portraits of royalty, and scenes from everyday life. He was one of the earliest Indian artists to exhibit his paintings abroad. He was revolutionary in his contribution to the Indian art scene, having established a lithographic press so that his paintings become accessible to the common man. He was awarded the Kaiser-i-Hind, gold medal, for his service to the British Raj, in the year 1904. Even after a century, his work is still celebrated and sold for millions of dollars at the top art houses around the world. The lithograph Indian mythology is a veritable treasure trove of stories, filled with fantasy, adventure, heart wrenching tragedy, romance, and mystery. It is no wonder that the characters who populated these mythic legends have managed to capture the imagination of the people who read them. Being the extraordinary artist that he was, Raja Ravi Varma was successful in breathing a new life into these characters, by reimagining them and showing a rare human side to them, while transporting them to his wonderous paintings. The lithograph featured here is titled, Mohini, the temptress. It is based on the original oil painting by Ravi Varma, which was named, Mohini on a swing. This painting depicts, Mohini, the female form or avatar of Lord Vishnu, who features in the lore of yore. Mohini is mentioned in the puranas, as a seductress, enchanting and dazzling the demons with her beauty and beguiling them to concede and let the God's taste the nectar of life first. The next time Lord Vishnu took Mohini's avatar was to save Lord shiva from the clutches of the formidable and unvanquishable demon, Bhrahmasura. In this exquisite painting, Mohini is shown seated on a swing under a shade of a majestic tree. She is swathed in a white attire, presumably a saree, with a rich gold border and simple jewellery. The bangles and necklace seem to accentuate her delicate wrists and slender neck. Mohini is captured here in a rare, lighthearted moment, with her windswept hair trailing behind her and her feet in the air, as she attempts to swing higher. Image courtesy: Google Arts & Culture; Raja Ravi Varma Heritage Foundation, Bengaluru The scenic background, with Ravi Varma's trademark artistic touches serves to accentuate the beauty of the painting. Ravi Varma as an artist often managed to cross the thin line between the real and the imaginary world, especially when it came to portraying women. He used many elements like richly decorated attire, jewellery, even flowers and fruits to accentuate the beauty of his muses and to bring out their mood in the painting. For instance, in his famous painting 'Radha in the moonlight', the nayika Radha, is seen sitting on the rocks, next to flowing water on which moonlight is reflected. The faint hint of smile and her gaze hints at the fact that she may have seen Krishna, approaching her. Her body language, the way her sari is pulled around her shoulders and her luminous beauty, reveal the fact that she is both a lover and devotee of Lord Krishna. The brass pooja thali next to her, with a medley of flowers, sweets, and fruits, symbolizes an element of piety and devotion present in Radha. Here, as the divine and mortal elements merge, the relationship is shown to be on a spiritual level as well. The whole mood of the painting seems to be one of serenity, while in the case of 'Mohini' there seems to be an element of sublime sensuality and playfulness. Mohini, despite her celestial status, indulges in a moment of mundane magic, as she swings higher. Her diaphanous sari and languid body language in carefree abandonment, as she enjoys the moment is an ode to her seductive nature and infuses the painting with an undertone of sensuality. The artist has skillfully combined the luminous beauty of a goddess and the seduction and playfulness of a nymph to create the original enchantress Mohini, in this lyrical and captivating composition. In 1979, the Indian government declared Ravi Varma paintings a national treasure and banned exports of the same. Most of his work is exhibited in museums or owned by private collectors. The rarity with which these paintings come for sales and auctions and their sheer exclusivity, make them a high-value investment. This auction is important as it gives the buyer the distinctive chance to own a rare piece of painting, that has captured the imagination of people, the world over. The fact that these prints are extremely rare to come by makes them a unique collector's item. RtistiQ brings to you the Raja Ravi Varma Phygital NFT art auction that will be held between the 28th- 31st July'22. Don't miss out and collect them all by clicking here. https://art.rtistiq.com/en/nftdrop
ARTICLES ON ARTIST SPOTLIGHT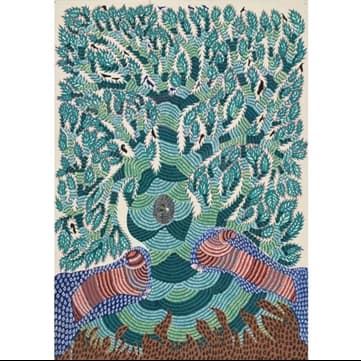 ARTIST SPOTLIGHT
From Gond Art to Jangarh Kalam: The Legacy of Jangarh Singh Shyam lives on!
A pioneering artist, Jangarh Singh Shyam redefined the Pardhan-Gond school of art. His signature style which was later named after him saw the evolution of Gond art from a ritualistic pictorial art made on the walls and floors to a more sophisticated menagerie of dots and dashes. This re-interpretation of the Gond art came to be famously known as Jangarh Kalam. Belonging to the Pardhan Gond community from the central Indian state of Madhya Pradesh, the artist was considered a cultural prodigy in his native village Patnagarh being an excellent flutist and painter. In 1981, the artist was invited by the legendary J. Swaminathan to work as an artist at Bharat Bhavan in Bhopal. It was at Bharat Bhavan, one of the country's most prestigious museums of tribal and contemporary Indian art, Jangarh Singh Shyam grew as an artist as his creative practice underwent sweeping changes. Mentored by Swaminathan, Shyam's inheritance in traditional music and storytelling blossomed into a distinctive style of image-making, imparting his paintings a rare life force and energy. As his popularity grew, Shyam found himself amidst the changing contemporary Indian art scene that was becoming more global in its outlook and more inclusive in its representation. It was for the first time we saw that the historically marginalized gained momentum and ground in the narrative space of the country. The artist gained major recognition when he participated in the Magiciens de la terre exhibition held at Centre Pompidou, Paris in 1989, and in Jyotindra Jain's Other Masters exhibition at the Crafts Museum, New Delhi in 1998. The artist was also commissioned to paint the interiors of Vidhan Bhavan, the Legislative Assembly of Madhya Pradesh, and the dome of Bharat Bhavan. Posthumously, his painting Landscape with Spider (1988) was sold for a record price of $31,250 at Sotheby's New York auction in 2010, marking a first for an adivasi (vernacular) artist. Gleaning from the vast repertoire of tales, ballads, folklore, and fantasies of the Pardhan-Gond community, Shyam fabricated them into his visual narrative, thus bringing the ancient myths and stories to life. As he sought inspiration from the past and the present, the rural and the urban, the real and the imagined, a new visual vocabulary emerged that gave concrete shapes and forms to his community's myths, legends, fables, tattoos, and music, which were, till then, hidden from the 'mainstream' society. It marked a paradigmatic shift in contemporary Indian art when the artist started using canvases, acrylic, oil and pen instead of the traditional charcoal, coloured soil, plant sap, leaves, cow dung, limestone powder, etc. This effective adaptation of the new media, tools and newer themes resulted in unforeseen results and inspired a generation of Gond artists to learn from Jangarh Singh Shyam. Jangarh Kalam, or Jangarh Singh Shyam's personal rendition of the Pardhan Gond art instilled a creative energy that surged with the emergence of individuality and personal style in a traditionally collective society where artmaking was a group endeavour. In Jangarh Kalam, the images are transcribed from oral narratives that take shape as birds, flying snakes, or growing trees, floating to the rhythm of the music in diverse innovative variations. From enchanted woodlands to aero planes, indigenous deities, childhood stories, and animals, Shyam used colourful dots and peripheral contours of radiating lines to create these unique shapes and patterns reverberating with movement, fluidity, and power. In a tragic turn of events, the visionary artist took his own life at the age of 39 while he was on an international art residency at the Mithila Museum, Japan. While the artist died young, he inspired a legion of young men and women from his community who followed him and were mentored by him in the style he created incidentally. Today, many well-known Gond artists including Shyam's wife and children and those who apprenticed under him continue to work in the Jangarh Kalam tradition keeping it alive and vibrant. Jangarh Singh Shyam, Paysage avec Araignée (Landscape with Spider), 1988 Image courtesy: Sotheby's Jangarh Singh Shyam, The Seprpent Shesha Holding The Earth on his Hood, ca. late 1980s Collection and image courtesy: Museum of Art & Photography (MAP), Bangalore Jangarh Singh Shyam, Ped, Chidiya Aur Hawaijahaz (Trees, Birds, and an Airplane), 1996 Collection and image courtesy: Museum of Art & Photography (MAP), Bangalore Jangarh Singh Shyam, Phulwari Devi, early 1990s Collection and image courtesy: Museum of Art & Photography (MAP), Bangalore Jangarh Singh Shyam, Untitled, 1989 Collection: FONDATION CARTIER PARIS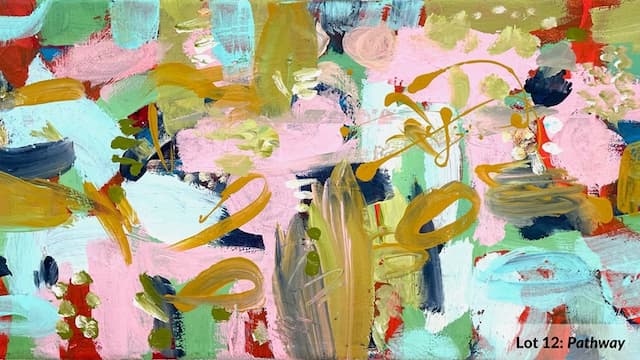 ARTIST SPOTLIGHT
CHRISTEL HAAG - UNSTOPPABLE FEMALE ARTISTS
In the one-century life span of abstract art, female abstract painters are not hard to find, to name just a few: Sonia Delaunay (a multidisciplinary artist who achieved success during her lifetime only due to her commercial work, whereas her husband Robert Delaunay was regarded as a serious artist), Lee Krasner (whose contribution to art history has been for a long time overshadowed by her marriage to the abstract expressionist painter Jackson Pollock), Elaine de Kooning (an accomplished artist, member of the Eighth Street Club in New York City she was mostly known as Mrs. William de Kooning, she dedicated most of her life to supporting her husband's career), Barbara Hepworth (less recognized than her contemporary and fellow British artist Henry Moore), Françoise Gilot (the French-American artist who never managed to escape the "Picasso's lover" title) and the list can go on. These talented artists have been less visible, not to say "invisible", to an art establishment blinded by gender bias. Despite a recent shift in mentality and contemporary culture, female artists are still seen as "less" than their male counterparts. Female abstract painters and women artists, in general, deserve more awareness. Christel Haag is a commercially successful German abstract artist. Her work is very process-orientated. She plays with various contrasting effects on canvas by using an entire arsenal of mark-making in her process. The evolution of her paintings does not follow a predetermined concept. Rather, her works gradually evolve through an intuitive and dynamic process. Despite the gestural process, a coherent painting emerges. Haag finds her inspiration in nature. She translates into marvellous color combinations the beauty and harmony that surrender her. Lot 34 Are we Flying In her own words: "In 2002 I made the decision to give up my career in Public Relations at a university, follow my heart and retrain as an artist. Once I made the decision to open the door to my creative urges, I felt that I had to go back to the beginning to discover who I really am as an artist. It was as if I granted myself the right to be free again, free without boundaries or pre-existing ideas of who I should be as an artist. Over the years my experiences led to my colorful, abstract, dynamic, and gestural style of painting. I always try to go to my creative limits while experimenting and giving my artworks my individual expression. Nature inspires me. The marvellous impressions I take home from my travels. Also, I express in my paintings the mood and feeling of a particular moment in time. It is first and foremost the joy of painting, of colors, of the creative process itself, and of the energy of being that drives my artistic creation." 5 vivid paintings from Haag's portfolio have been minted as unique NFT digital editions and are sold at auction in our coming event SHE IS UNSTOPPABLE. Browse her art and choose your favourite. Don't forget to register for the auction. Bidding starts May 14th.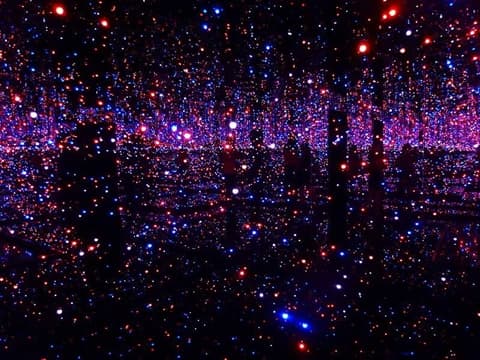 ARTIST SPOTLIGHT
10 Most Influential Living Female Artists
Below, we've assembled a list of the top 10 most influential female artists alive today. These women have left an incredible mark on the art world, and while their importance to the current scene is important, their impact will no doubt be felt for generations to come. Cindy Sherman Courtesy of Cindy Sherman Cindy Sherman made a name for herself through intricate self-portrait photography. Taking advantage of her skills as a costume maker and make-up artist, Sherman's early work began exploring identity by using the artist's body as the canvas. Her work frequently explores the place of women in the media and cultural landscape. Untitled Film Stills (1977-80) saw Sherman dressing as B-movie characters. In Centerfolds (1981), she upended the expectations of the male gaze, presenting complicated female characters where one might expect titillating, sexualized images. Her latest work speaks directly to the tools we use to communicate with each other. She now takes self-portraits using her phone, manipulating the images using multiple "face tuning" apps. The results are provocative and often disturbing. Tracey Emin Courtesy of Tracey Ermin Tracey Emin is no stranger to controversy. Her work is striking and confrontational, as well as deeply autobiographical. Her work reaches across an enormous array of mediums, from drawing, painting, and sculpture to neon text, film, photography, and sewn appliqué. Some of her installations made major waves in the art world. She premiered Everyone I Have Ever Slept With 1963–1995 (1997) at the Royal Academy of London. The work is a tent that visitors can enter into, and on the walls are appliquéd the names of, you guessed it, everyone the artist had slept with. It serves as a kind of haunted space, especially in the greater context of Ermin's work that challenges the role that sex plays in the perception of women. She has gone on to be a professor at the Royal Academy of Arts and a prolific, widely influential artist of our time. Yayoi Kusama Courtesy of Wikimedia Yayoi Kusama is an artist working in sculpture and installation, as well as many other mediums. She became a fixture of the 1960's counterculture, organizing happenings where participants were nude and covered in painted polka dots. Beginning in 1963, Kusama began creating her Infinity Rooms, a series of installations in which the walls of the rooms were covered in mirrors with colorful balls of light hanging at different lengths from the ceiling. The effect is the perception that the room of lights goes on forever. Her public installation work continues to appear across the world, including Brazil, Japan, Singapore, and beyond. Marina Abramović Courtesy of Wikimedia Marina Abramović is likely the most important and influential performance artist of our time. Her newsworthy works have captured the attention of the artworld for decades, and she isn't done yet. The Artist is Present (2010) saw Abramović sitting at a table at New York City's Museum of Modern Art. Visitors were invited to sit across the table from Abramović. This went on to become the largest performance art exhibit in MoMA's history. On top of her amazing career as an artist, she is also a philanthropist and a supporter of young artists through her Marina Abramović Institute. Judy Chicago Courtesy of the Brooklyn Museum Judy Chicago is a major name in the worlds of both art and feminism, with her career striking a path that unites them. Many of her unique techniques are borrowed from boat building, auto body repair, and similar disciplines — what the artist calls the "macho arts." The Dinner Party (1979) is likely Chicago's most important work to date. It shows a dinner table set in a triangle, with 39 places set for female heroes, both real and mythical. The dinner plates are all hand-painted homages to the woman who is seated there. The sprawling ambition and bold statement continue to fascinate and inspire people today. Shirin Neshat Courtesy of Wikimedia Shirin Neshat is an Iranian-born New York artist primarily working in photography, film, and video. Her work often focuses on the dichotomies, both socially constructed and eternal, that make up our world: Isamic and Western culture, male and female, public and private. Her film Women Without Men (2009) received the Silver Lion award at the Venice Film Festival. The film, based on the novel by Shahrnush Parsipur, depicts events during the British and American backed coup in Iran that overthrew their democratic government and installed the Shah as monarch in 1953. Vija Celmins Courtesy of SFMoMA Vija Celmins works in paintings and drawings, creating photorealistic pieces. She is celebrated today as one of the leaders in realism, though she pushes her work into almost abstract places by focusing on visual rhythm and the exclusive use of gray tones. Her early breakthrough saw her making exquisite replications of photojournalism, making masterful use of grayscale in her painting. These works highlighted how much of our world view at the time was dictated by black-and-white photographs and disseminated through the media. She has gone on to focus on sweeping visions of natural spaces and events. Much of her current work shows us starry skies, ocean waves, and other large and small scale views of the natural world. Bharti Kher Courtesy of Wikimedia Bharti Kher is an artist working sculpture, installation, and painting. Her work often speaks to realities of inhabiting a body as well as issues around culture. Perhaps her most popular work is The Skin Speaks a Language Not Its Own (2006). The piece depicts a full-size female elephant collapsed on the ground, covered in the traditional bindi — a mark made on the forehead among followers of Hinduism representing the third eye. By bringing together these two images of India, Kher creates a vivid embodiment of the country. Marlene Dumas Courtesy of Wikimedia Marlene Dumas is an artist working in the Netherlands who is known as one of the first three living women to sell an artwork above the $1 million mark. The notoriety is well deserved. Her work is always in ceaseless exploration of human moods and social conditions. Her paintings often eschew direct representation and instead make suggestions of emotional states. Her work often distorts faces and specifics, driving down into the heart of her subject. She continues to be a major name in the art world today. Dumas's prolific career continues to challenge viewers and evoke what it means to be alive. Julie Mehretu Courtesy of Forbes Julie Mehretu works in painting, drawing, and printmaking, often focusing on the socio-economic realities of our time. Her meticulous work is precise but ultimately deeply felt, mapping out the psychology of people in the urban environment. Her pieces often take on an enormous scale, often two stories tall. Mehretu describes her mark-making process as one that charts the movements and interactions of people in their own societal context. While her compositions can be overwhelming and grand, when viewers take the time to look at it in detail, they often find surprising narratives emerge.
Sign up for our newsletter to have the latest stories and curated art recommendations delivered straight to your inbox