Subscribe for our newsletter to have the latest stories and curated art recommendations delivered straight to your inbox
ARTIST SPOTLIGHT
8 Chinese artists to follow this year
Like
comments
SAVE
Over the past decade, the Chinese art market has seen a huge growth spurt, leaving the confines of the domestic market and making expansive forays into the global art scene. In this short time, it has managed to carve a niche for itself in the often-aggressive global art auction landscape.
As a testament to this extraordinary growth, it is now the second-largest in the world. At the core of this thriving art scene are the artists who drive the interest in Chinese art.
Their artistic styles are as rich and diverse as the culture and landscape of this vast country, ranging from contemporary art and abstract art paintings to Chinese ink. Here, we explore 8 Chinese artists to follow this year.
1.Cui Ruzhuo
Source: chinesenewart.com
Cui Ruzhuo is a veritable doyen in the field of contemporary Chinese ink painting. He was born in Beijing, China in the year 1944 and he honed his skills under the tutelage of the inventive and prolific painter and calligrapher, Li kuchan. He started his career as a teacher at the prestigious Academy of arts and design in Beijing, after which he relocated to the United states in 1981. He returned to China in the year 1996 and soon afterwards his works began to be acknowledged and honored in political circles. Apart from his artistic pursuits he devoted his time to mentoring doctoral students at the Chinese National Academy of Art. Ruzhuo often employs traditional methods and imagery through a technique known as historical literati painting, which makes his compositions of Chinese landscapes and mountains appear ethereal, almost meditative to the viewer.
One of his greatest achievements is the landscape finger painting. With his inimitable style and methods Ruzhuo converted ink brush painting to finger painting, opening up new realms of aesthetics and styles in the Chinese painting scene. Ruzhuo, through a potent mix of reality and imagination manages to capture the essence of the landscape and the delicate quality of the space and time which gives his paintings an almost meditative and mysterious quality.

His works have been collected by institutions and collectors globally and his record setting works at auctions have made him one of the most expensive living Chinese artist at auctions. His iconic painting titled 'Lotus' garnered more than 15 million dollars at a Christie's auction in Hongkong and his 'Landscape in the snow' sold for over 30 million dollars at Poly auction in Hongkong , making him one of the most expensive living Chinese artist at the time.
2. Liu Ye
Image Credit: Sothebys
Liu Ye is one of the stalwarts in the field of contemporary Chinese oil paintings. His compositions have been inspired and influenced by Western abstract artists like Piet Mondrian and Paul Klee. His paintings often feature young children standing before paintings in his trademark colorful and stylized images and often include the Dutch cartoon character Miffy. Born in Beijing in 1964, he specialized in mural paintings from the Central Academy of Fine Arts and proceeded to earn an MFA from the Berlin university of Arts.
What sets his work apart from his contemporaries is that fact that Yes's paintings do not seek to engage with the political and economic landscape of the country. He strives to broaden his views, bringing in elements from his own imagination and things which spike his interest, taking in a broader view of humanity and the ever-changing human conditions.
Liu has had solo exhibitions at a variety of famous institutions, including museums and galleries all around the world. His work can be found in the permanent collection of museums such as the Shanghai Art museum and the Long museum among many others.
He is a formidable name in some of the world's leading auction houses. His painting titled 'Sword' was sold for HK$42.68 m at Sotheby's Hongkong in 2013 and another one titled 'Smoke' was sold for a record price of HK$52.18 at Sotheby's Hongkong.
3. Huang Jiannan
Image Credit: Artnet
Huang Jiannan is a Chinese artist of domestic and international fame. He was born in 1952 in China. Mostly a self-taught artist, he developed a unique style of painting in the early days of his life. In the fall of 1977, he visited a prominent artist of South China Ink painting, Guan Shanyue and became his student. His unique style combines traditional ink with Western oil paintings, and he has a propensity for using bright colors. His forte is landscape styled paintings.
Huang's color ink painting 'The Loop of Nature' was displayed and collected by the gallery Carrousel du Louvre in Paris. His work has been featured at a variety of prestigious auctions with a realized price of up to $827,215 USD, for his painting titled 'Mountain range' sold at Poly international auction co. in 2015.
4. Zhou Chunya
Image Credit: Tatler
Zhou Chunya is a renowned contemporary Chinese oil painting artist. He is best known for his series titled 'Green dog' and is said to be influenced by his affection for his pet who died shortly before he embarked on this series. He was born in Chongqing in China in 1955 and did his studies at the Sichuan Academy of Fine Arts and proceeded to receive his MFA from the Kassel Academy of Fine Arts in Germany in 1988.
His time spent abroad helped him embrace western methodologies and combine it effectively with traditional Chinese calligraphy. His work is exhibited in a variety of prestigious institutions including the All Show Art Center and the Tang contemporary art center in Beijing, The Shanghai Gallery of Art, The Museum of Fine Arts in Houston. His painting titled 'China Scenery' sold for 44.27 million yuan (US$6.71 million) in 2017 at a China Guardian auction in Beijing. In 2013, Zhou was ranked the second most expensive Chinese contemporary artist in the world.
5.Fan Zeng
Image Credit: asia-art.net
Fan Zeng is often described as one of the greatest artists of China. He specializes in Chinese ink art. He was born on July 5, 1938 in Nantong ,China. He was a student at the Central Academy of Fine Arts where he was under the tutelage of Wu Zuoren, Li Keran, Jiang Zhaohe, and Li Kuchan. He is renowned for his mastery of traditional Chinese painting techniques. He artfully mixes elements such as landscape, flower and bird along with elements of poetry and calligraphy. His fame has led to the establishment of museums to exhibit his work both in China and Japan. At a magnificent art exhibition held in 1988 in Hongkong, his masterpiece, "The Parade of the Beauties" was sold for HK$12,000,000. (almost 2 million U.S. dollars)
6.Leng Jun
Leng Jun is a contemporary Chinese oil painting artist who his renowned for his hyper realistic painting of women. The paintings are unique in the sense that they look like actual photographs, down to the little wisp of hair or fold of a dress. He was born in 1963 and graduated from the Fine Arts department at the Hankou Branch of Wuhan Normal College in 1984.He was deeply influenced by the phenomenon known as 'opening of China' wherein information from the west was accessible and helped him develop his artistic aesthetics. His paintings have been sold at auctions throughout the country and have been acquired by both private collectors and institutions. He is an influential name in the Chinese art world.
7. Zeng Fanzhi
Zeng Fanzhi is a contemporary Chinese painter dealing with oil medium. He is known for his vivid depiction of human faces verging on the abstract. He was born in 1964 in Wuhan and studied at the Hubei Academy of Fine Arts where he developed an interest in German expressionist painting. His iconic painting 'Tiananmen' delves into the changing face of Chinese culture.
He is an artist of great renown and is highly sought after. His vivid painting 'Mask Series no6' broke the record at an auction in 2008 at Christie's Hong Kong. Fanzhi's artwork titled 'The last supper' was sold at Sotheby's Hongkong for a whopping US$23.3 million, setting a new record for contemporary Asian artwork.
8. Zhang Xiogang
Zhang Xiogang is a Chinese contemporary artist of fame. His paintings are mostly in the oil painting genre, with a highly stylized almost surreal portraits of people who pose stiffly and formally. His work mainly focuses on the aftermath of the cultural revolution and the relevance of family history and memory in modern day China. He was born 1958 in Kunming, China, and studied painting at the Sichuan Academy of fine arts in Chongqing.
He chanced upon a series of old family photographs which served as an inspiration for his celebrated series 'Bloodline'. His work has been exhibited in famous institutions around the world including Pace gallery in New York and the 1995 Venice Biennale and the Daegu Art museum. In 007, a painting of his sold for US$ 6 million at Sotheby's and in 2011, his oil work titled 'Forever Lasting Love' sold for HK$ 79 million, a record price for a contemporary art work from China.
Author: Anupama Vijayakumar
RtistiQ is an online art gallery with the vision of connecting global artists and art collectors with the passion for art. Explore our wide collection of paintings available for purchase online. Shop today !
SIMILAR ARTICLES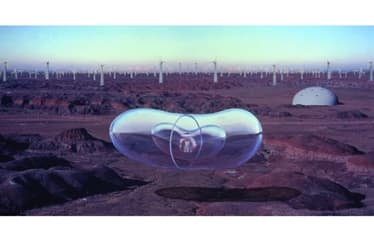 5 Japanese Artists You Should Know
With the excitement of the Summer Olympic Games Tokyo 2020 still fresh in our memory and the Paralympic Games Tokyo 2020 just around the corner, Japan is still on our minds. Unfortunately, we were not able to cheer live for our favorite athletes or to get lost in translation on Tokyo's vibrant streets, but nothing stops us from discovering more about the unique Japanese history, culture, and art. Because of its long isolation as an island nation, Japan's history overflows with one-of-a-kind perspectives and unique cultural forms. That independent streak makes Japanese art an always exciting realm of new experiences and fresh ideas. Over the 20th century, Japanese artists also began leading the pop art blend of mainstream fare with a critical artistic lens, while often embedding a rich mixture of themes and nods to historical legacy. Despite Japan's incredible cultural output, many people around the world are not nearly as familiar with artists from the nation as they should be. Below, we've put together a list of five Japanese artists you should know. This is by no means a comprehensive list, and it's in no particular order. This is a quick stroll through Japanese visual art, something to get you started on your own journey of discovery. 1. Mariko Mori Courtesy Museum of Contemporary Art North Miami Mariko Mori (1967) is an artist known for work in many fields, including: sculpture, digital art, and photography. Her oeuvre is filled with futuristic visions embedded with a profound influence from Japanese history. Her work plays with imaginative worlds and space-age forms, and the end result is always ethereal and mysterious. Some of Mori's pieces are particularly sweeping in scope. Primal Rhythm saw her place sculptures in a bay, standing above the water in haunting silence. One, Sun Pillar, is a transparent sculpture that juts out of a large rock. Beside it in the water is Moon Stone, an orb that changes its color depending on the tide. While the shapes and material appear futuristic, they collaborate with the natural environment. It's both beautiful and poignant, and it gives us an opportunity to rethink the way we interact with the world around us. Mori's profile has steadily risen since the 1990s, and for good reason. She continues to explore new methods while staying true to the conceptual depth and attention to form that have made her work an integral part of contemporary art. 2. Yuko Mohri Copyright Yuko Mohri Yuko Mohri (1980) is an installation artist who recombines items from our day-to-day life into what she calls "ecosystems." These installations often seem perilously balanced. Mohri includes sound and narrative as well, often telling stories through Rube Goldberg-like contraptions. In Moré Moré (Leaky), the artist made visual riffs on the use of buckets and plastic to catch leaking rain water that she saw in a subway station. Many of her pieces focus on the relationship between the human built world and the natural world. But the work is never overly ponderous. Often, the installations create a sense of fun. 3. Takashi Murakami Copyright Takashi Murakami Takashi Murakami (1962) is one of the most controversial artists in the contemporary scene. His anime-influenced sculpture and design have become the center of massive debates in the art world. Plus, his forays into commercial work have made him more popular than ever among fashionistas while angering art world purists. Murakami describes his style as "superflat," a term he also used for postwar Japanese culture as a whole. Aesthetically, the term refers to Japan's legacy of 2D art with little use of perspective. But societally, it points to the reduction of class influence on Japan. Today, Murakami asserts, the differences between high and low culture have flattened out into a single plane. Murakami has done everything from an anime-character sculpture show at Versaille, album covers for the likes of Kanye West, and hypebeast fashion crossover designs with Supreme. His flower motif is world famous, appearing on Louis Vuitton bags and jewelry worn by hip hop artists. It's become a kind of calling card for the rebel. Today, he devotes a large amount of his time cultivating the careers of young Japanese artists while still making art that destroys our notion of high and low culture. 4. Yoshitomo Nara Courtesy Wikipedia Yoshitomo Nara (1959) is a sculptor and painter who creates images of childhood with an unsettling undercurrent of horror. His subject matter is very consistent, but it is through this steady stream of similar images that he's been able to communicate so effectively. His characters, children with cartoonishly large eyes, are often engaged in naughty behavior, a rebelliousness that matches the artist's own. Nara constantly subverts the nostalgia of childhood while still evoking it. The effect is a strange blend of the cute and concerning. Nara is closely associated with another member of this list, Murakami, as both a contemporary and as a fellow traveller in the superflat school. But while Murakami is in a pitched battle between the high and low, Nara is much more focused on the expression of genuine human emotion. In 2020, the Los Angeles County Museum of Art held a retrospective of Nara's work spanning 36 years. The major event has helped boost his recognition outside of Japan. A well-earned honor 5. Yasumasa Mormura Copyright Yasumasa Mormura Yasumasa Mormura(1951) is a master of parody and humorous counterfeiting. But while many of his pieces are great fun, his career has an undercurrent of serious critique at its heart. Mormura's pieces appropriate the great works of Western art and other iconic images, inserting his own photography into them. The works are strangely shocking. We are so used to the Mona Lisa, we feel at home within its frame. And then to see it changed into a self portrait of Mormura himself turns everything on its head. It's a confrontation with the dominance of Western culture throughout the world. It subverts not only our expectation of a given painting, but our expectation of Western art as the source of all great masterpieces. In this way, Mormura is something of a punk rock artist. His themes of identity and imperialism are incredibly relevant to our times. That is why, late in his career, Mormura is still able to command attention for his important work. Asian art is more popular than ever, and collecting them is a fascinating hobby that can enrich your life through beauty, culture and education. Learn why you should start collecting Asian Art today.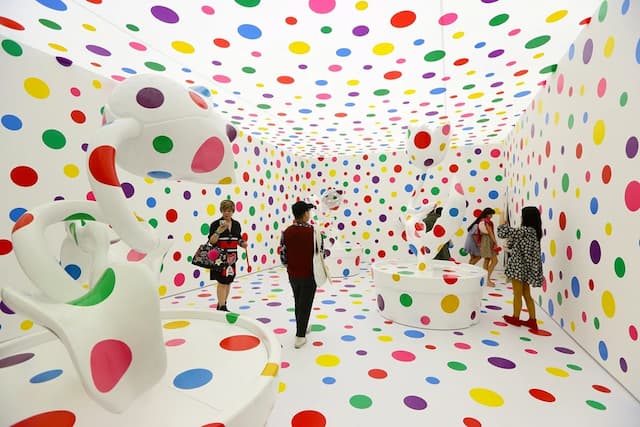 10 Contemporary Asian Artists You Should Know
The world of contemporary art is a vast and ever-evolving landscape, with artists from different corners of the globe making their mark on the artistic discourse. Despite its size and wealth of artistic talent, the art of Asia remains largely unexplored for many people around the world. In this article, we explore the works of nine talented contemporary Asian artists who have been instrumental in shaping the art scene, challenging conventions, and offering fresh perspectives. From traditional mediums to innovative techniques, these artists showcase the rich diversity and cultural vibrancy of Asia's art scene. Yayoi Kusama (Japan) Kusama has been an institution of the contemporary art scene since the 1960s. Her work in pop-art and performance art over the years are now the stuff of legend. Her installations are particularly popular. She often works with red and white polka dot motifs in her installations (like at the Singapore Biennale in 2006 and at the Matsumoto City Museum of Art).More recently, she created an Infinity Room—a dark, mirror-covered enclosure with hanging lights that appear to go on forever. Through her signature use of repetitive patterns and vibrant colors, Kusama explores themes of infinity, self-obliteration, and the interplay between the individual and the cosmos. Her immersive installations, such as "Infinity Mirror Rooms," invite viewers to delve into their own introspection and experience the boundless nature of existence. Kusama's career has spanned fashion, film, painting, performance, and even writing. Nam June Paik (South Korea) Nam June Paik is a highly influential and pioneering contemporary Korean artist who is often regarded as the "father of video art." Born in Seoul, South Korea, in 1932, Paik's groundbreaking work has left an indelible mark on the art world, merging technology, performance, and popular culture in innovative and thought-provoking ways. Paik's work encapsulates the second half of the 20th century. Much of it involved creating sculptures and installation pieces using manipulated television sets and embracing themes of communication and the rapid expanse of technology. Maybe his most notable achievement is TV Buddha (a series beginning in 1974). In this, a statue of the Buddha watches a small television that displays a live feed of the statue itself. Bharti Kher (India) Bharti Kher, an Indian-born artist, explores themes of identity, gender, and mythology in her multidisciplinary practice. Known for her distinctive use of bindis (forehead decorations), Kher's works often incorporate found objects and traditional Indian iconography. Her thought-provoking sculptures and installations challenge societal norms and invite contemplation on the role of women in Indian culture. The artist's works have been exhibited internationally and have garnered critical acclaim. Her powerful and visually arresting pieces have been showcased in prominent institutions and galleries, including the Tate Modern in London, the Museum of Contemporary Art in Tokyo, and the Guggenheim Museum in New York. Bharti Kher's contributions to contemporary art have made a significant impact, both in India and on the global stage. Through her compelling and thought-provoking works, she continues to push boundaries, challenge conventions, and provoke dialogue about the complexities of identity and culture in our interconnected world. Ai Weiwei (China) Ai is an influential contemporary artist and political activist. His work, connected to the Excessevist movement, includes video, sculpture and installation. One of his most popular pieces is Sunflower Seeds (2010). It was made for the Tate Modern's Turbine Hall. It is made up of one hundred million porcelain sunflower seeds—all handcrafted to perfection. The seeds were spread to fill the 1,000 square meter area and stacked up to 10 centimeters high. Through various mediums, including sculpture, photography, and installation, Ai Weiwei addresses issues such as human rights, freedom of expression, and the role of the individual in society. His thought-provoking artworks challenge authority and shed light on the complexities of contemporary Chinese society. His political advocacy for democracy and human rights in his home country has made him a controversial figure there. Sopheap Pich (Cambodia) Sopheap Pich is a celebrated contemporary artist from Cambodia whose works combine sculpture, installation, and conceptual art to explore themes of memory, history, and the relationship between humans and the natural world. Born in Battambang, Cambodia, in 1971, Pich experienced the devastating effects of the Khmer Rouge regime, which greatly influenced his artistic practice.Pich uses highly selective materials (like rattan, bamboo, dye, glue, and metal) to connect with his Cambodian heritage. These traditional materials are transformed into intricate sculptures that are both captivating and ephemeral. Pich's art is deeply rooted in his personal experiences and the history of Cambodia. He often incorporates materials deeply connected to Cambodian culture, such as rattan, bamboo, and found objects, into his sculptures and installations. Through his work, Pich explores the complexities of memory, displacement, and the process of healing in the aftermath of war. As the most internationally recognizable Cambodian artist, his work is an important porthole into a culture that is emerging as a major player in the artworld. Han Sai Por (Singapore) Han is a sculptor with a naturalist's heart. Many of her best known pieces are stone installations crafted to plant forms—mimicking the look and feel of seeds and fruits. But she is also renowned for her geometric work that carefully replicates a logical thought process through visual exploration. Han Sai Por's artistic practice is deeply rooted in her fascination with organic forms found in nature, such as rocks, trees, and water. Her sculptures often incorporate materials like stone, bronze, and wood, which she meticulously carves, shapes, and manipulates to create abstract yet evocative forms. Her works reflect her deep understanding of the inherent beauty and energy present in the natural world. One of Han Sai Por's notable series is the "Rock Series," where she explores the diverse textures, patterns, and qualities of rocks. Through her skillful manipulation of materials, she captures the essence of rocks, conveying their solidity, weight, and geological history. Her sculptures, which range from small, handheld pieces to monumental installations, celebrate the harmonious coexistence of humans and nature. The Tropical Leaf, Installation outside One Raffles Quay, Singapore Her work appears in public spaces throughout the world, making her art some of the most viewed on the planet, though many people might not recognize that they have walked by, touched and appreciated her work. David Medalla (Philippines) David Medalla, a Filipino artist, was born in Manila in 1942 and has made significant contributions to the international art world. As a multidisciplinary artist, Medalla has explored various mediums, including sculpture, installation, performance art, and painting, throughout his career. His experimental and boundary-pushing approach to art has garnered recognition and acclaim. Medalla was one of the major Filipino voices in contemporary art. And he built that voice using a tremendous range of disciplines, including: sculpture, painting, installation, and more. Medalla's early works were influenced by the Fluxus movement, a global network of artists that emerged in the 1960s. He became associated with the movement and participated in Fluxus events and exhibitions, collaborating with renowned artists such as Yoko Ono and John Cage. Medalla's works often incorporated ephemeral materials and explored concepts of process, transformation, and audience participation. He began his career creating performance art that brought him to prominence and connected him to key artists in Europe. Later, he co-founded the Signal Gallery in London where he spent time working with an international group of artists. He also helped fund and support revolutions as the chairman of Artists for Democracy. One of Medalla's most famous works is "A Stitch in Time" (1968), an ongoing participatory performance piece that involves visitors threading and weaving a collective tapestry. The artwork symbolizes the interconnectivity of individuals and the shared experiences that shape our world. Rirkrit Tiravanija (Thailand) TRirkrit Tiravanija is a highly regarded contemporary artist originally from Argentina but of Thai descent. Born in Buenos Aires in 1961, Tiravanija is known for his influential contributions to the field of relational aesthetics, a concept that emphasizes social interaction and participation as integral components of an artwork.. Tiravanija is a contemporary artist who uses concepts from architecture to reinvent to engage with that central question: how to live? He often creates rooms or entire buildings that reformat the way people cook and eat food or engage in leisure activities. In Untitled 1999 (a replication of the artist's own apartment in the East Village), participants in the exhibition lived inside it while it was being shown. Tiravanija's works often explore themes of community, cultural exchange, and globalization. He draws inspiration from his Thai heritage and frequently incorporates elements of Thai culture into his installations. His artwork serves as a platform for dialogue, fostering connections and understanding among diverse audiences. Beyond his installations, Tiravanija has also created multimedia works, including video, photography, and text-based pieces. He often collaborates with other artists and musicians, further emphasizing the communal aspect of his art and expanding the possibilities for creative expression. Tiravanija's influential contributions to contemporary art have earned him numerous accolades and exhibitions in prestigious galleries and museums worldwide. He has participated in major international art events such as the Venice Biennale and Documenta, solidifying his position as a significant figure in the global art scene. Tiravanija's continuously playful insight into our lives makes his work exciting and always engaging on a personal level. Shooshie Sulaiman (Malaysia) Born in Kuala Lumpur, Sulaiman's works encompass a diverse range of mediums, including painting, sculpture, installation, and multimedia art. Known for her thought-provoking exploration of identity, history, and cultural heritage, Sulaiman's art carries a powerful narrative that challenges and engages viewers. Sulaiman is an artist who sets a critical eye to today's culture and the way it both produces and views art. Her oeuvre includes installation, architecture, writing, and drawing. Many of her pieces In the Kedai Runcit No.12 (Sundry Shop No.12, 2011) installation, she created a Malaysian general store that sold food and art side-by-side, completely recontextualizing both. It highlights the importance of art as a nutritious activity, as well as highlighting its current status as a mere commodity. Sulaiman's inventive and always growing catalogue of provocative work make her one of the contemporary Asian artists you should know. Conclusion: The ten contemporary Asian artists highlighted in this article represent a mere fraction of the vibrant artistic talent emerging from the region. Through their unique perspectives, innovative techniques, and thought-provoking themes, they challenge traditional boundaries, question societal norms, and invite viewers to reconsider their perceptions. These artists contribute to the global art scene, enriching it with the cultural diversity and depth of the Asian artistic landscape. As they continue to create, these visionary artists pave the way for further exploration and appreciation of contemporary Asian art.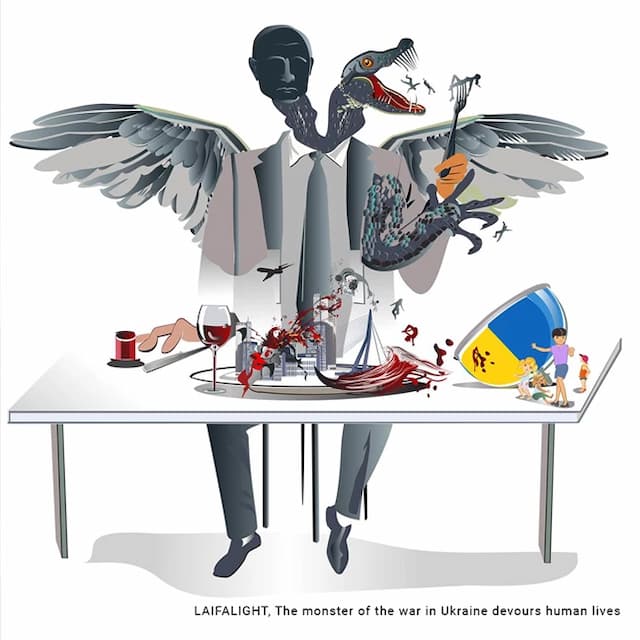 An Interview with Ukrainian Artist Anna Laifalight as Invasion Continues
Anna Laifalight - Digital artist since 2009. Based in Kyiv, Ukraine. RtistiQ: What is your current situation Anna? Anna: From the very beginning of the war on February 24, my family decided to stay in Kyiv. But, on the 21st day of the war, I moved with my daughter to a quieter area in western Ukraine to my parents since there were explosions in our district and a large nine-story residential building was damaged not far from the house where we live in Kyiv. My husband and many other families with children still remain in their homes in Kyiv, and constantly testify about the explosions. RtistiQ: Explain more about your art. Anna: I mainly create digital art in Adobe Illustrator. That's why it is easy for me to take everything necessary for it with me to another place: my laptop, my wacom tablet and an external hard drive. I have been working as a digital artist since 2009. My first collaboration as an artist was with stock agencies such as Shutterstock, Creative market, Adobe stock. Lately I saw that my artworks were used around the Globe in different projects, including many commercial ones. Some of them you can be seen here: https://www.laifalight.com/custom-design . I started to get freelance orders for art from different countries from time to time. In 2020 I launched my own site https://laifalight.com where I decided to represent only exclusive artworks. Although I have never arranged personal exhibitions, I found my art printed on canvases, book covers, murals, paper glasses, and textiles worldwide. "The series of beautiful streets with fashion people '' has become my "visit card" and has been created by me in my own way since 2010. RtistiQ: What do you think of NFTs? Anna: The use of the technology (NFT / Blockchain) provides a great opportunity for fairness to the authors, as this will help to avoid theft of digital works. Thank you for supporting artists from Ukraine in such a difficult time of the war. Our country and people are in great need of support.
ARTICLES ON ARTIST SPOTLIGHT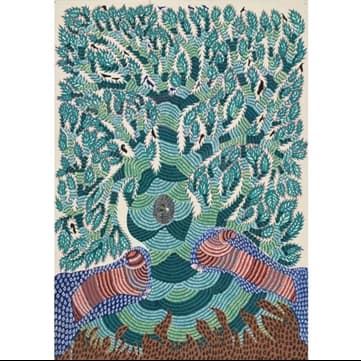 ARTIST SPOTLIGHT
From Gond Art to Jangarh Kalam: The Legacy of Jangarh Singh Shyam lives on!
A pioneering artist, Jangarh Singh Shyam redefined the Pardhan-Gond school of art. His signature style which was later named after him saw the evolution of Gond art from a ritualistic pictorial art made on the walls and floors to a more sophisticated menagerie of dots and dashes. This re-interpretation of the Gond art came to be famously known as Jangarh Kalam. Belonging to the Pardhan Gond community from the central Indian state of Madhya Pradesh, the artist was considered a cultural prodigy in his native village Patnagarh being an excellent flutist and painter. In 1981, the artist was invited by the legendary J. Swaminathan to work as an artist at Bharat Bhavan in Bhopal. It was at Bharat Bhavan, one of the country's most prestigious museums of tribal and contemporary Indian art, Jangarh Singh Shyam grew as an artist as his creative practice underwent sweeping changes. Mentored by Swaminathan, Shyam's inheritance in traditional music and storytelling blossomed into a distinctive style of image-making, imparting his paintings a rare life force and energy. As his popularity grew, Shyam found himself amidst the changing contemporary Indian art scene that was becoming more global in its outlook and more inclusive in its representation. It was for the first time we saw that the historically marginalized gained momentum and ground in the narrative space of the country. The artist gained major recognition when he participated in the Magiciens de la terre exhibition held at Centre Pompidou, Paris in 1989, and in Jyotindra Jain's Other Masters exhibition at the Crafts Museum, New Delhi in 1998. The artist was also commissioned to paint the interiors of Vidhan Bhavan, the Legislative Assembly of Madhya Pradesh, and the dome of Bharat Bhavan. Posthumously, his painting Landscape with Spider (1988) was sold for a record price of $31,250 at Sotheby's New York auction in 2010, marking a first for an adivasi (vernacular) artist. Gleaning from the vast repertoire of tales, ballads, folklore, and fantasies of the Pardhan-Gond community, Shyam fabricated them into his visual narrative, thus bringing the ancient myths and stories to life. As he sought inspiration from the past and the present, the rural and the urban, the real and the imagined, a new visual vocabulary emerged that gave concrete shapes and forms to his community's myths, legends, fables, tattoos, and music, which were, till then, hidden from the 'mainstream' society. It marked a paradigmatic shift in contemporary Indian art when the artist started using canvases, acrylic, oil and pen instead of the traditional charcoal, coloured soil, plant sap, leaves, cow dung, limestone powder, etc. This effective adaptation of the new media, tools and newer themes resulted in unforeseen results and inspired a generation of Gond artists to learn from Jangarh Singh Shyam. Jangarh Kalam, or Jangarh Singh Shyam's personal rendition of the Pardhan Gond art instilled a creative energy that surged with the emergence of individuality and personal style in a traditionally collective society where artmaking was a group endeavour. In Jangarh Kalam, the images are transcribed from oral narratives that take shape as birds, flying snakes, or growing trees, floating to the rhythm of the music in diverse innovative variations. From enchanted woodlands to aero planes, indigenous deities, childhood stories, and animals, Shyam used colourful dots and peripheral contours of radiating lines to create these unique shapes and patterns reverberating with movement, fluidity, and power. In a tragic turn of events, the visionary artist took his own life at the age of 39 while he was on an international art residency at the Mithila Museum, Japan. While the artist died young, he inspired a legion of young men and women from his community who followed him and were mentored by him in the style he created incidentally. Today, many well-known Gond artists including Shyam's wife and children and those who apprenticed under him continue to work in the Jangarh Kalam tradition keeping it alive and vibrant. Jangarh Singh Shyam, Paysage avec Araignée (Landscape with Spider), 1988 Image courtesy: Sotheby's Jangarh Singh Shyam, The Seprpent Shesha Holding The Earth on his Hood, ca. late 1980s Collection and image courtesy: Museum of Art & Photography (MAP), Bangalore Jangarh Singh Shyam, Ped, Chidiya Aur Hawaijahaz (Trees, Birds, and an Airplane), 1996 Collection and image courtesy: Museum of Art & Photography (MAP), Bangalore Jangarh Singh Shyam, Phulwari Devi, early 1990s Collection and image courtesy: Museum of Art & Photography (MAP), Bangalore Jangarh Singh Shyam, Untitled, 1989 Collection: FONDATION CARTIER PARIS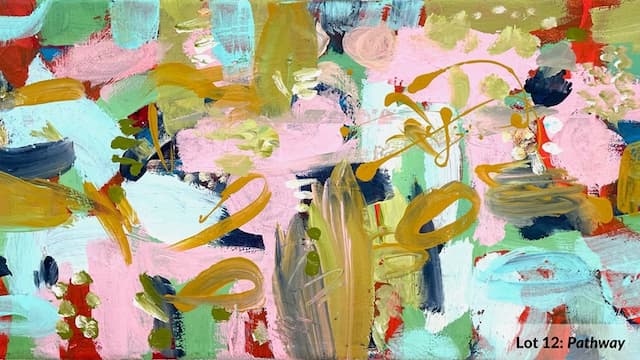 ARTIST SPOTLIGHT
CHRISTEL HAAG - UNSTOPPABLE FEMALE ARTISTS
In the one-century life span of abstract art, female abstract painters are not hard to find, to name just a few: Sonia Delaunay (a multidisciplinary artist who achieved success during her lifetime only due to her commercial work, whereas her husband Robert Delaunay was regarded as a serious artist), Lee Krasner (whose contribution to art history has been for a long time overshadowed by her marriage to the abstract expressionist painter Jackson Pollock), Elaine de Kooning (an accomplished artist, member of the Eighth Street Club in New York City she was mostly known as Mrs. William de Kooning, she dedicated most of her life to supporting her husband's career), Barbara Hepworth (less recognized than her contemporary and fellow British artist Henry Moore), Françoise Gilot (the French-American artist who never managed to escape the "Picasso's lover" title) and the list can go on. These talented artists have been less visible, not to say "invisible", to an art establishment blinded by gender bias. Despite a recent shift in mentality and contemporary culture, female artists are still seen as "less" than their male counterparts. Female abstract painters and women artists, in general, deserve more awareness. Christel Haag is a commercially successful German abstract artist. Her work is very process-orientated. She plays with various contrasting effects on canvas by using an entire arsenal of mark-making in her process. The evolution of her paintings does not follow a predetermined concept. Rather, her works gradually evolve through an intuitive and dynamic process. Despite the gestural process, a coherent painting emerges. Haag finds her inspiration in nature. She translates into marvellous color combinations the beauty and harmony that surrender her. Lot 34 Are we Flying In her own words: "In 2002 I made the decision to give up my career in Public Relations at a university, follow my heart and retrain as an artist. Once I made the decision to open the door to my creative urges, I felt that I had to go back to the beginning to discover who I really am as an artist. It was as if I granted myself the right to be free again, free without boundaries or pre-existing ideas of who I should be as an artist. Over the years my experiences led to my colorful, abstract, dynamic, and gestural style of painting. I always try to go to my creative limits while experimenting and giving my artworks my individual expression. Nature inspires me. The marvellous impressions I take home from my travels. Also, I express in my paintings the mood and feeling of a particular moment in time. It is first and foremost the joy of painting, of colors, of the creative process itself, and of the energy of being that drives my artistic creation." 5 vivid paintings from Haag's portfolio have been minted as unique NFT digital editions and are sold at auction in our coming event SHE IS UNSTOPPABLE. Browse her art and choose your favourite. Don't forget to register for the auction. Bidding starts May 14th.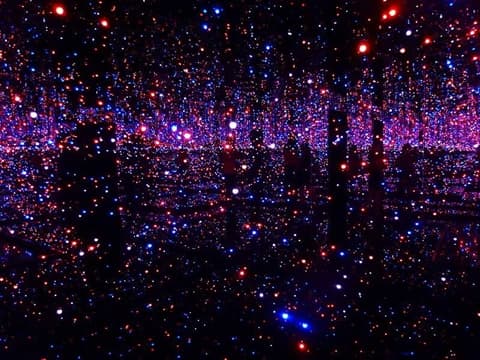 ARTIST SPOTLIGHT
10 Most Influential Living Female Artists
Below, we've assembled a list of the top 10 most influential female artists alive today. These women have left an incredible mark on the art world, and while their importance to the current scene is important, their impact will no doubt be felt for generations to come. Cindy Sherman Courtesy of Cindy Sherman Cindy Sherman made a name for herself through intricate self-portrait photography. Taking advantage of her skills as a costume maker and make-up artist, Sherman's early work began exploring identity by using the artist's body as the canvas. Her work frequently explores the place of women in the media and cultural landscape. Untitled Film Stills (1977-80) saw Sherman dressing as B-movie characters. In Centerfolds (1981), she upended the expectations of the male gaze, presenting complicated female characters where one might expect titillating, sexualized images. Her latest work speaks directly to the tools we use to communicate with each other. She now takes self-portraits using her phone, manipulating the images using multiple "face tuning" apps. The results are provocative and often disturbing. Tracey Emin Courtesy of Tracey Ermin Tracey Emin is no stranger to controversy. Her work is striking and confrontational, as well as deeply autobiographical. Her work reaches across an enormous array of mediums, from drawing, painting, and sculpture to neon text, film, photography, and sewn appliqué. Some of her installations made major waves in the art world. She premiered Everyone I Have Ever Slept With 1963–1995 (1997) at the Royal Academy of London. The work is a tent that visitors can enter into, and on the walls are appliquéd the names of, you guessed it, everyone the artist had slept with. It serves as a kind of haunted space, especially in the greater context of Ermin's work that challenges the role that sex plays in the perception of women. She has gone on to be a professor at the Royal Academy of Arts and a prolific, widely influential artist of our time. Yayoi Kusama Courtesy of Wikimedia Yayoi Kusama is an artist working in sculpture and installation, as well as many other mediums. She became a fixture of the 1960's counterculture, organizing happenings where participants were nude and covered in painted polka dots. Beginning in 1963, Kusama began creating her Infinity Rooms, a series of installations in which the walls of the rooms were covered in mirrors with colorful balls of light hanging at different lengths from the ceiling. The effect is the perception that the room of lights goes on forever. Her public installation work continues to appear across the world, including Brazil, Japan, Singapore, and beyond. Marina Abramović Courtesy of Wikimedia Marina Abramović is likely the most important and influential performance artist of our time. Her newsworthy works have captured the attention of the artworld for decades, and she isn't done yet. The Artist is Present (2010) saw Abramović sitting at a table at New York City's Museum of Modern Art. Visitors were invited to sit across the table from Abramović. This went on to become the largest performance art exhibit in MoMA's history. On top of her amazing career as an artist, she is also a philanthropist and a supporter of young artists through her Marina Abramović Institute. Judy Chicago Courtesy of the Brooklyn Museum Judy Chicago is a major name in the worlds of both art and feminism, with her career striking a path that unites them. Many of her unique techniques are borrowed from boat building, auto body repair, and similar disciplines — what the artist calls the "macho arts." The Dinner Party (1979) is likely Chicago's most important work to date. It shows a dinner table set in a triangle, with 39 places set for female heroes, both real and mythical. The dinner plates are all hand-painted homages to the woman who is seated there. The sprawling ambition and bold statement continue to fascinate and inspire people today. Shirin Neshat Courtesy of Wikimedia Shirin Neshat is an Iranian-born New York artist primarily working in photography, film, and video. Her work often focuses on the dichotomies, both socially constructed and eternal, that make up our world: Isamic and Western culture, male and female, public and private. Her film Women Without Men (2009) received the Silver Lion award at the Venice Film Festival. The film, based on the novel by Shahrnush Parsipur, depicts events during the British and American backed coup in Iran that overthrew their democratic government and installed the Shah as monarch in 1953. Vija Celmins Courtesy of SFMoMA Vija Celmins works in paintings and drawings, creating photorealistic pieces. She is celebrated today as one of the leaders in realism, though she pushes her work into almost abstract places by focusing on visual rhythm and the exclusive use of gray tones. Her early breakthrough saw her making exquisite replications of photojournalism, making masterful use of grayscale in her painting. These works highlighted how much of our world view at the time was dictated by black-and-white photographs and disseminated through the media. She has gone on to focus on sweeping visions of natural spaces and events. Much of her current work shows us starry skies, ocean waves, and other large and small scale views of the natural world. Bharti Kher Courtesy of Wikimedia Bharti Kher is an artist working sculpture, installation, and painting. Her work often speaks to realities of inhabiting a body as well as issues around culture. Perhaps her most popular work is The Skin Speaks a Language Not Its Own (2006). The piece depicts a full-size female elephant collapsed on the ground, covered in the traditional bindi — a mark made on the forehead among followers of Hinduism representing the third eye. By bringing together these two images of India, Kher creates a vivid embodiment of the country. Marlene Dumas Courtesy of Wikimedia Marlene Dumas is an artist working in the Netherlands who is known as one of the first three living women to sell an artwork above the $1 million mark. The notoriety is well deserved. Her work is always in ceaseless exploration of human moods and social conditions. Her paintings often eschew direct representation and instead make suggestions of emotional states. Her work often distorts faces and specifics, driving down into the heart of her subject. She continues to be a major name in the art world today. Dumas's prolific career continues to challenge viewers and evoke what it means to be alive. Julie Mehretu Courtesy of Forbes Julie Mehretu works in painting, drawing, and printmaking, often focusing on the socio-economic realities of our time. Her meticulous work is precise but ultimately deeply felt, mapping out the psychology of people in the urban environment. Her pieces often take on an enormous scale, often two stories tall. Mehretu describes her mark-making process as one that charts the movements and interactions of people in their own societal context. While her compositions can be overwhelming and grand, when viewers take the time to look at it in detail, they often find surprising narratives emerge.
Sign up for our newsletter to have the latest stories and curated art recommendations delivered straight to your inbox