Subscribe for our newsletter to have the latest stories and curated art recommendations delivered straight to your inbox
ART 101
What is a Lithograph?
Like
comments
SAVE
What is Lithography?
A lithograph is an image produced via a special stone inking process called lithography. Lithography is the process of printmaking in which an image or a design is drawn onto a flat stone (or a prepared metal plate, usually made of zinc or aluminium) and affixed by means of a chemical reaction. The word lithography is derived from a combination of two Greek words: 'lithos' meaning stones and 'graphien' meaning to write or to scratch. In this planographic printing process the surface containing the image is rubbed with a greasy substance that allows the ink to adhere to it, while the non-image surface is made ink-repellent.
Invention of Lithography
German author and playwright Aloys Senefelder invented lithography in the late eighteenth century (1798) by accident. Senefelder, who was looking for a practical way to publish his plays, used a Bavarian limestone as the printing surface, and called this process 'Chemical Printing'. This invention made colour printing easier now that different colours could be applied to separate stones and overprinted onto the same sheet. Lithography also made it possible to print a much wider range of marks and areas of tone than was possible with earlier printmaking relief or intaglio methods. Till the nineteenth century this much sought after graphic art form, which was an expensive method back then, was not used for commercial purposes. Originally associated with printing maps and music, lithography was later used by iconic artists like Odilon Redon, Pablo Picasso and Andy Warhol in their works.
Smiling Spider by Odilon Redon, 1891 Image courtesy: Wikimedia Commons
The Process
This printing process is based on the simple principle of immiscibility of oil and water. The intended image or design for the lithograph is created directly on a polished slab of limestone using an oil-based lithographic crayon or ink such as tusche, crayon, pencils, lacquer, or synthetic materials. The stone is ready to be etched or processed once the image has been made. During this part of the process the printing surface or the surface where the intended print is to be transferred, is kept wet so that the grease-based ink when transferred will only stick to the oil-receptive surface. The drawn surface is then inked and then the ink is transferred to a sheet of paper by putting the paper and the printing surface through a special press.
Even if the process of lithography is used to copy an existing work of art, each lithographic edition is different from the other. A lithograph can be identified by its distinctive dot pattern because there are always differences in how the ink creates a randomly scattered image in different papers.
In India, in the year 1894, Raja Ravi Varma started The Ravi Varma Fine Art Lithographic Press at Girgaum, which was later moved to Ghatkopar in Bombay, and finally shifted it to Malavli, near Lonavala in 1899. Ravi Varma pioneered this painstaking process of image reproduction and produced oleographs of his popular works and thus democratising the art of collecting. Often mistaken for oil paintings, Oleographs, also called chromolithographs, are lithographic prints textured and designed to resemble an oil painting. These coloured lithographs are produced by preparing a separate stone for each colour and they are printed by placing one colour over the other. Sometimes, a single print could need as many as 30 stones! Later, the print is placed onto the canvas and then varnish is added to mimic the look of an oil painting.
Some of the most evocative Raja Ravi Varma oleographs like Shakuntala Janma, Lakshmi, Saraswati, Mohini, Vasantika, Ahalya, Arjun Subhadra, Sharda, Madri and many others were a result of this technique. This printing press was the largest picture printing establishment in India, and the most innovative. Along with hand-colouring, the process involved using as many woodblocks or litho-stones to match the colours and tones to transfer the image. It would take several months to produce an oleograph depending on the number of colours present in the original work. The oleographs printed here were very popular and continued to be printed in thousands for many years, even after the death of Raja Ravi Varma in 1906. In today's day and age, these rare lithographs are prized collectables.
Raja Ravi Varma, Birth of Sakuntala (Shakuntala Janma) Image courtesy: Google Arts & Culture; Raja Ravi Varma Heritage Foundation
Raja Ravi Varma, Lakshmi Image courtesy: Raja Ravi Varma Heritage Foundation
Raja Ravi Varma, Saraswati Image courtesy: Raja Ravi Varma Heritage Foundation
Raja Ravi Varma, Mohini Image courtesy: Raja Ravi Varma Heritage Foundation (Facebook Page)
Historical Significance
Lithography revolutionized the world of printmaking when it was invented by Alois Senefelder in 1796. Before lithography, the dominant printmaking techniques were labor-intensive and time-consuming. Lithography offered a more accessible and efficient method, enabling artists to reproduce their work on a larger scale and reach a wider audience. This led to a democratization of art, making it more affordable and allowing for the dissemination of ideas and aesthetics. The indian master artist Raja Ravi Varma, gained greater popularity using Lithography as a medium to reach a wider audience and garnered a mass appeal for his paintings covering Indian Mythology, Gods and Godesses. Other major artists who have embraced Lithography include, Toulouse-Lautrec, Edvard Munch, Pablo Picasso, Joan Miró, Salvador Dali, David Hockney, Jim Dine, Wayne Thiebaud, Yoshida Hiroshi, S Nandagopal, Kim Tschang Yeul, Tyeb Mehta, Wu Guanzhong, who have all used to technique and contributed to the advancement of Lithography across the globe. Their lithographic works have not only gained recognition within their respective regions but have also made an impact on the global art scene, enriching the diversity and depth of lithography as an art form.
Artistic Potential and Characteristics
Lithography as a medium offers artists immense creative potential. Its versatility allows for the reproduction of various artistic styles and techniques, ranging from detailed line work to rich tonal values. Lithographs can capture intricate details and textures, resembling original drawings or paintings. The ability to work directly on the plate also allows artists to experiment, revise, and explore different effects, making each lithograph a unique piece of art.
Collecting Lithographs
Collecting lithographs can be a rewarding experience for art enthusiasts. When considering lithographs for your collection, it is important to pay attention to factors such as the quality of the print, the edition size, and the condition of the artwork. Limited editions with smaller print runs tend to be more valuable. Additionally, the reputation and significance of the artist, as well as the historical context of the lithograph, can greatly influence its collectability and market value. Remember that building a collection of lithographs should be a personal journey guided by your passion for art and the desire to appreciate the unique works of celebrated artists. Take your time, explore various sources, and seek expert advice when necessary to make informed decisions and build a collection that brings you joy and fulfillment.
Conclusion
Lithography stands as a remarkable art form, offering artists a versatile medium for creative expression and making art accessible to a broader audience. With its rich history, unique technique, and artistic potential, lithographs continue to inspire and captivate art enthusiasts worldwide. By understanding the intricacies and significance of lithography, we can appreciate and engage with this art form on a deeper level.
SIMILAR ARTICLES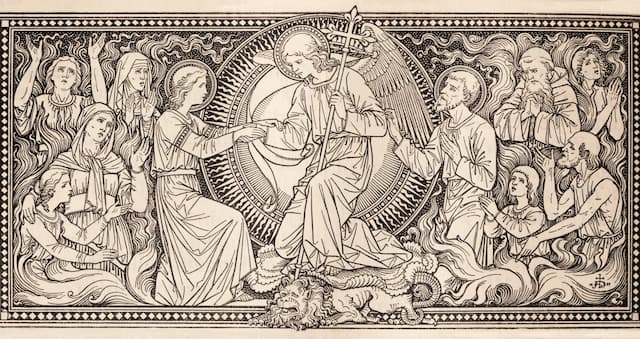 How to Tell a Lithograph from a Painting: A Comprehensive Guide
Art enthusiasts and collectors often come across various forms of visual art, including lithographs and paintings. While both mediums have their own unique appeal, it is important to understand the differences between them. This article aims to provide a comprehensive guide on how to differentiate between a lithograph and a painting, considering their techniques, materials, and characteristics. By gaining insights into these key factors, you'll be equipped with the knowledge to identify and appreciate these art forms more effectively. Understanding Lithographs A lithograph is a type of printmaking technique that involves the process of drawing or painting on a stone or metal plate. It is based on the principle of oil and water repelling each other. The artist creates an image on the stone using specialized tools, and then applies ink to the stone's surface. The ink adheres to the image while being repelled by the wet areas, and a piece of paper is pressed onto the plate to transfer the image. A more detailed article on Lithographs can be referenced in the article What Is A Lithograph. Analyzing Painting Techniques Painting, on the other hand, involves the application of pigments onto a surface, typically canvas, using various tools like brushes, knives, or even fingers. Paintings can be created with different types of paints, such as oil, acrylic, watercolor, or gouache. Artists have greater freedom to manipulate the paint, creating textures, layering colors, and incorporating various brushstrokes, thereby resulting in a unique and original piece of artwork. There are a few key differences between lithographs and paintings that can help you tell them apart. Paper: Lithographs are typically printed on high-quality paper, such as rag paper or watercolor paper. Paintings, on the other hand, can be painted on any type of paper, including newsprint, canvas, or wood. Ink: Lithographs are printed with ink that is specifically designed for lithography. This ink is water-based and has a high viscosity, which means that it is thick and does not flow easily. Paintings, on the other hand, can be painted with any type of paint, including oil paint, acrylic paint, or watercolor paint. Printing process: Lithographs are printed using a process called intaglio printing. This process involves pressing the plate against the paper in a very controlled manner. Paintings, on the other hand, are painted by hand, and there is no such control over the application of paint. Texture: Lithographs typically have a smooth, even texture. Paintings, on the other hand, can have a variety of textures, depending on the type of paint and brushstrokes used. Signature: Lithographs are typically signed by the artist. Paintings, on the other hand, are not always signed. Examining the Surface One of the key ways to differentiate between a lithograph and a painting is by examining the surface closely. Lithographs typically have a flat, smooth texture with even ink distribution. Due to the nature of the printing process, the lines and colors in lithographs tend to be more uniform and consistent. In contrast, paintings often exhibit varied textures, visible brushstrokes, and an overall three-dimensional quality. The presence of texture is a strong indicator of an original painting. Inspecting the Signature Another important aspect to consider is the presence of an artist's signature. In most cases, lithographs are signed in pencil, usually at the bottom margin, while paintings are typically signed in paint directly on the artwork itself. Examining the signature can provide valuable insights into the authenticity and origin of the piece. Additionally, lithographs may have edition numbers or impressions indicating the total number of prints made from the original plate. Assessing the Color Saturation Color saturation is another distinguishing factor between lithographs and paintings. Lithographs tend to have more consistent color saturation throughout the print, with an absence of subtle variations that are commonly seen in paintings. Paintings, on the other hand, often exhibit subtle color shifts, gradients, and nuanced tonal variations, showcasing the artist's hand in mixing and applying the pigments. Considering the Frame and Glass The framing and glass used can also provide clues about whether you're looking at a lithograph or a painting. Paintings are usually framed with a mat and glass, which helps protect the artwork and enhance its presentation. In contrast, lithographs are typically framed without glass, as the glass can cause unwanted reflections and interfere with viewing the image. Moreover, lithographs are often mounted directly on the backing board to prevent any damage caused by the pressure of the glass. Conclusion Distinguishing between a lithograph and a painting requires a keen eye and understanding of the key differences in technique, materials, and characteristics. By examining the surface, signature, color saturation, and framing, you can confidently identify whether you are looking at a painting or a Lithograph.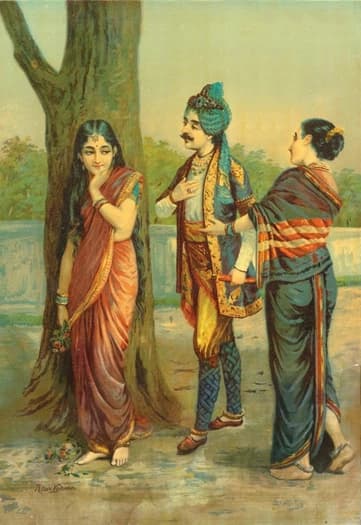 How Madalasa met Rutudhwaja - A Raja Ravi Varma Lithograph
Though the battle is still on between the supremacy of word and image, the power of a visual representation and its psycho-social immediacy when compared to the written text is undeniable. A prolific artist, Raja Ravi Varma's paintings and oleographs of religious and mythological subjects and paintings from various classical and literary sources helped uncover many tales and stories that were hitherto unknown. Prior to Raja Ravi Varma, these characters were part of complicated hagiographies and mythological genealogies with their biographies (both historical and mythical) restricted to a few learned elites. The opening of the Ravi Varma Fine Art Lithographic Press in 1894 further democratised the patronage, consumption and reception of these images leaving a tremendous impact on religion, society and aesthetics. One such unforgettable work is Madalasa Rutudhwaja, a scene depicting a marriage proposal made by the king of Kashi Rutudhwaja to Madalasa. Markendeya Purana describes Madalasa as the most ideal and learned woman. Theirs was a unique love story full of drama, and the scene depicted in the Raja Ravi Varma paintings and subsequent print is much like a theatrical tableau. As the story goes, a demon by the name of Patalaketu was infatuated with Madalasa and at the same time, he was also tormenting rishi Galava, a sage of highest merit. One day, the demon abducted Madalasa in the hopes of ultimately winning her over. Galava, in frustration, looked towards the heavens when a divine horse appeared in the sky that had the ability to travel a thousand yojanas in a single day. The sage received the horse and gifted it to Rutadwaja who rode the horse and killed the demon Patalaketu. Thus, the heroic and noble king Rutudhwaja married the beautiful Madalasa by killing Patalaketu. This print from the Ravi Varma Press is derived from a painting by Raja Ravi Varma that depicts the courtship of Madalasa and Rutudhwaja. The print is also called "A Proposal of Marriage." The lithograph shows a triumphant Rutudhwaja seeking Madalsa's hand in marriage, as she coyly faces away from him. Being the fiercely independent and intelligent woman that she was, we witness a rare moment in this composition, where the Nayika (heroine) is keenly pondering over the Nayaka's (hero) proposal instead of readily agreeing to it. Madalasa's shy reluctance is visible in her gesture as she touches her cheek to deeply think over Rutudhwaja's question. Her need for solitude is indicated by her body which is turned away from Rutudhwaja as she stands slightly further away. She is looking away neither seeing her suitor nor the viewer indicates that she is taking her time. Of no ordinary lineage, Madalasa was the daughter of a Gandharva (celestial being) by the name of Vishvavasu. She was believed to be a Brahmavadini, a female expounder of the highest philosophical knowledge. Madalasa, dressed in all precious finery - a red and gold silk saree, bejewelled headpiece, bangles and earrings, her lustrous hair left untied; she holds a bouquet of flowers, perhaps a gift from Rutudhwaja ahead of his proposal. Next to her, Rutudhwaja too appears resplendent as a Maharaja dressed in a brocade and velvet jacket, a silk shirt and sash tied around his waist, cross-stitched and gold-coloured jodhpurs, and leather jutis. His royal status is further accentuated by a bejewelled turban complete with a feathered sarpech (aigrette), gold and emerald necklaces, thick anklets made of gold and the sword hidden inside a velvet sheath. Raja Ravi Varma, true to his artistic genius introduces us to these two fascinating characters but also manages to beautifully narrate their stories in a simple composition bearing merely three characters and the gorgeous landscape behind them. It was as if Ravi Varma took it upon himsewlf to prove the adage "a picture is worth a thousand words" right… With his paintings and oleographs not only did the iconic painter give these characters a face and a personality, but he also immortalised these subjects in the minds of the people for eternity. RtistiQ brings to you the Raja Ravi Varma Phygital NFT art auction that will be held between the 28th- 31st July'22. Don't miss out and collect them all by clicking here. https://art.rtistiq.com/en/auction/raja-ravi-varma-nft-drop2/lots Ravi Varma, Madalasa Rutudhwaja, Ravi Varma Press Picture Depot Image courtesy: Raja Ravi Varma Heritage Foundation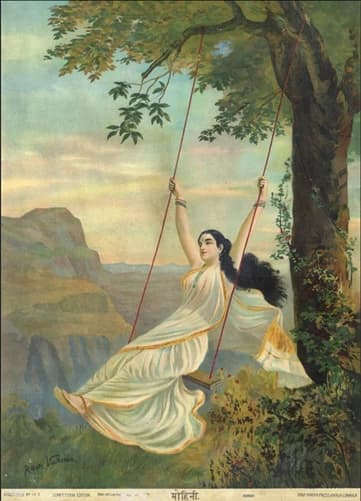 Mohini - A Raja Ravi Varma Lithograph
Raja Ravi Varma was one of the most celebrated artists of India in the 19th century. He was a popular and significant artist of the time, who combined European sensibilities with traditional Indian artistic landscape, thus carving a niche for himself. Raja Ravi Varma's early life was spent in the tiny hamlet of Kilimanoor, around 40 km north of Trivandrum in Kerala. He was from a princely family, closely linked to the ruling family in Trivandrum. His family was creatively inclined and had a profound effect on the young Ravi Varma. His father was a Sanskrit scholar, and his mother was a poet. His uncle was an amateur artist, who painted in the Tanjore style. So, when Ravi Varma began to exhibit artistic inclinations, it was his uncle who encouraged him with his early lessons. He was a pioneer in the field of art, having successfully combined Indian iconography with western painting techniques. His prolific repertoire included paintings of Indian mythological figures, Gods, Goddesses, studio-style portraits of royalty, and scenes from everyday life. He was one of the earliest Indian artists to exhibit his paintings abroad. He was revolutionary in his contribution to the Indian art scene, having established a lithographic press so that his paintings become accessible to the common man. He was awarded the Kaiser-i-Hind, gold medal, for his service to the British Raj, in the year 1904. Even after a century, his work is still celebrated and sold for millions of dollars at the top art houses around the world. The lithograph Indian mythology is a veritable treasure trove of stories, filled with fantasy, adventure, heart wrenching tragedy, romance, and mystery. It is no wonder that the characters who populated these mythic legends have managed to capture the imagination of the people who read them. Being the extraordinary artist that he was, Raja Ravi Varma was successful in breathing a new life into these characters, by reimagining them and showing a rare human side to them, while transporting them to his wonderous paintings. The lithograph featured here is titled, Mohini, the temptress. It is based on the original oil painting by Ravi Varma, which was named, Mohini on a swing. This painting depicts, Mohini, the female form or avatar of Lord Vishnu, who features in the lore of yore. Mohini is mentioned in the puranas, as a seductress, enchanting and dazzling the demons with her beauty and beguiling them to concede and let the God's taste the nectar of life first. The next time Lord Vishnu took Mohini's avatar was to save Lord shiva from the clutches of the formidable and unvanquishable demon, Bhrahmasura. In this exquisite painting, Mohini is shown seated on a swing under a shade of a majestic tree. She is swathed in a white attire, presumably a saree, with a rich gold border and simple jewellery. The bangles and necklace seem to accentuate her delicate wrists and slender neck. Mohini is captured here in a rare, lighthearted moment, with her windswept hair trailing behind her and her feet in the air, as she attempts to swing higher. Image courtesy: Google Arts & Culture; Raja Ravi Varma Heritage Foundation, Bengaluru The scenic background, with Ravi Varma's trademark artistic touches serves to accentuate the beauty of the painting. Ravi Varma as an artist often managed to cross the thin line between the real and the imaginary world, especially when it came to portraying women. He used many elements like richly decorated attire, jewellery, even flowers and fruits to accentuate the beauty of his muses and to bring out their mood in the painting. For instance, in his famous painting 'Radha in the moonlight', the nayika Radha, is seen sitting on the rocks, next to flowing water on which moonlight is reflected. The faint hint of smile and her gaze hints at the fact that she may have seen Krishna, approaching her. Her body language, the way her sari is pulled around her shoulders and her luminous beauty, reveal the fact that she is both a lover and devotee of Lord Krishna. The brass pooja thali next to her, with a medley of flowers, sweets, and fruits, symbolizes an element of piety and devotion present in Radha. Here, as the divine and mortal elements merge, the relationship is shown to be on a spiritual level as well. The whole mood of the painting seems to be one of serenity, while in the case of 'Mohini' there seems to be an element of sublime sensuality and playfulness. Mohini, despite her celestial status, indulges in a moment of mundane magic, as she swings higher. Her diaphanous sari and languid body language in carefree abandonment, as she enjoys the moment is an ode to her seductive nature and infuses the painting with an undertone of sensuality. The artist has skillfully combined the luminous beauty of a goddess and the seduction and playfulness of a nymph to create the original enchantress Mohini, in this lyrical and captivating composition. In 1979, the Indian government declared Ravi Varma paintings a national treasure and banned exports of the same. Most of his work is exhibited in museums or owned by private collectors. The rarity with which these paintings come for sales and auctions and their sheer exclusivity, make them a high-value investment. This auction is important as it gives the buyer the distinctive chance to own a rare piece of painting, that has captured the imagination of people, the world over. The fact that these prints are extremely rare to come by makes them a unique collector's item. RtistiQ brings to you the Raja Ravi Varma Phygital NFT art auction that will be held between the 28th- 31st July'22. Don't miss out and collect them all by clicking here. https://art.rtistiq.com/en/nftdrop
ARTICLES ON ART 101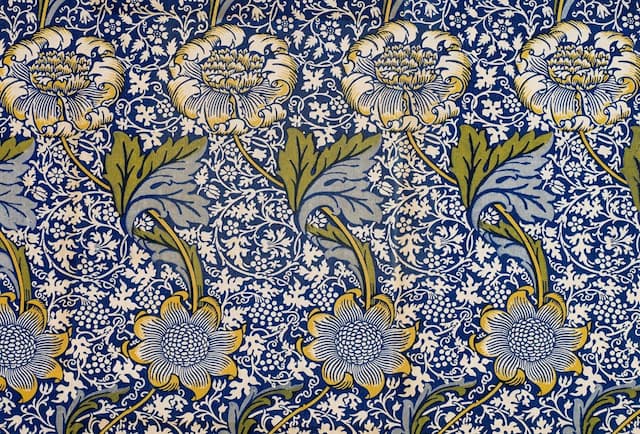 ART 101
Art Deco Styles: An Iconic Fusion of Elegance and Modernity
Art Deco is a prominent design style that emerged in the 1920s and flourished until the outbreak of World War II. Characterized by its luxurious materials, geometric forms, and streamlined aesthetic, Art Deco became a symbol of glamour and sophistication during the interwar period. This design movement impacted various visual arts, architecture, fashion, and interior design aspects. This article will delve into the captivating world of Art Deco styles, exploring its origins, key characteristics, influential artists and architects, and its lasting legacy. Origins and Influences Art Deco drew inspiration from various sources, blending elements from different cultures, historical periods, and artistic movements. The style's name derives from the 1925 Exposition Internationale des Arts Décoratifs et Industriels Modernes held in Paris, where it was first showcased. However, its roots can be traced back to the early 20th century, influenced by the avant-garde art movements of the time, such as Cubism and Fauvism. One of the significant influences on Art Deco was the discovery of King Tutankhamun's tomb in 1922, which sparked a craze for Egyptian motifs and symbolism. This fascination with ancient Egypt led to incorporation of pyramids, sphinxes, hieroglyphics, and other Egyptian-inspired motifs into Art Deco designs. Additionally, the style's streamlined forms and angular geometry were influenced by the emerging field of industrial design and the aesthetic of machines. Key Characteristics Art Deco is characterized by distinct visual features that make it instantly recognizable. Here are some key characteristics of Art Deco styles: Geometric Shapes: Art Deco embraces geometric shapes, such as zigzags, chevrons, triangles, and stepped forms. These shapes are often used to create dynamic, visually striking compositions. Streamlined Silhouettes: Inspired by the sleek lines of modern technology and transportation, Art Deco features streamlined, aerodynamic silhouettes. These can be seen in the period's buildings, furniture, and even fashion designs. Luxurious Materials: Art Deco celebrates luxury and opulence, employing exotic woods, marble, chrome, glass, and precious metals like gold and silver. These lavish materials contribute to the overall sense of elegance associated with the style. Decorative Elements: Art Deco designs often incorporate elaborate decorative elements, such as sunbursts, stylized floral motifs, and geometric patterns. These decorative details add a touch of sophistication to the overall composition. Bold Colors: Art Deco embraces bold, contrasting colour schemes. Vivid hues like royal blue, emerald green, ruby red, and vibrant yellow are frequently used to create a visually striking impact. Sunburst Motifs: The sunburst motif, symbolizing energy and optimism, is a recurring theme in Art Deco designs. It is often represented as a radiating pattern of geometric lines or a stylized sun. Influential Artists and Architects Numerous artists and architects played significant roles in shaping and popularizing Art Deco styles. Here are a few key figures: Tamara de Lempicka: A prominent Art Deco painter, de Lempicka's works epitomize the style's elegance and glamour. Her portraits often featured fashionable, confident women in luxurious settings. Émile-Jacques Ruhlmann: Ruhlmann was a renowned French furniture designer who created exquisite Art Deco pieces. His furniture designs combined luxurious materials with precise craftsmanship and sleek silhouettes. Erté: A Russian-born artist and designer, Erté was renowned for his extravagant fashion illustrations and costume designs. His work showcased the epitome of Art Deco elegance and sophistication. Raymond Hood: An influential architect, Hood's designs include the iconic Rockefeller Center in New York City. He incorporated Art Deco elements into the skyscraper's design, contributing to the style's popularity in the United States. Clarice Cliff: A British ceramic artist, Cliff revolutionized the pottery industry with her bold and colourful Art Deco designs. Her pottery pieces featured geometric patterns and vibrant glazes. Legacy and Modern Interpretations Although the heyday of Art Deco was in the early 20th century, its influence and appeal continue to resonate in modern design. Art Deco elements can be found in contemporary architecture, interior design, and fashion. In architecture, buildings like the Chrysler Building in New York City and the Napier Municipal Theatre in New Zealand exemplify the enduring impact of Art Deco. These structures continue to captivate audiences with their sleek lines, decorative details, and innovative use of materials. In interior design, Art Deco-inspired furniture and decor remain highly sought after. The style's emphasis on luxury and glamour translates well into modern homes, with its sleek lines and geometric patterns adding a touch of sophistication to any space. Art Deco influences can be seen in the designs of many contemporary fashion houses. The use of bold colours, geometric patterns, and luxurious materials harkens back to the elegance and allure of the Art Deco era. Conclusion Art Deco styles represent a fascinating fusion of elegance and modernity. Emerging in the 1920s, this design movement embraced geometric shapes, luxurious materials, and bold colours. Its influence extended to various artistic fields, leaving an indelible mark on architecture, interior design, fashion, and more. With its timeless appeal, Art Deco continues to captivate audiences and inspire contemporary design. The legacy of this iconic style serves as a testament to its enduring popularity and artistic significance.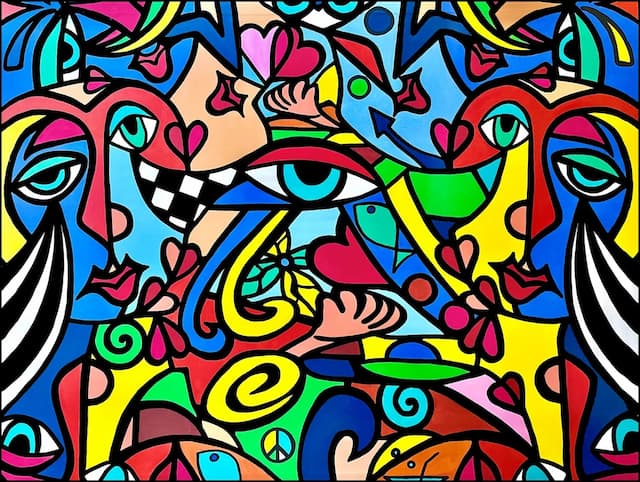 ART 101
Exploring Pop Art: Definition, Movement, and Notable Artists
Pop Art emerged as a vibrant and influential artistic movement in the mid-1950s, challenging traditional notions of art and embracing the popular culture of the time. With its bold imagery, vibrant colors, and incorporation of everyday objects, Pop Art brought art closer to the masses. This article explores the definition, key characteristics, notable artists, and lasting impact of Pop Art on the art world and popular culture. What is Pop Art? Pop Art, short for "popular art," was a movement that emerged in the United States and the United Kingdom during the 1950s and 1960s. It was a reaction against the dominant abstract expressionist movement, which focused on subjective, introspective, and non-representational art. Pop Art, on the other hand, celebrated the ordinary, the commercial, and the mundane, drawing inspiration from mass-produced consumer goods, advertising, and popular culture. What are the characteristics of Pop Art? Appropriation and Repetition: Pop Art often incorporated images and objects taken from popular culture, such as product packaging, comic books, and celebrities. Artists manipulated and repeated these images to highlight their significance and challenge the concept of originality. Bold Colors and Simplified Forms: Pop artists used vibrant, eye-catching colors to attract attention and evoke a sense of consumerism. They simplified forms and employed graphic techniques, reminiscent of advertising and comic book aesthetics. Irony and Critique: Pop Art often conveyed a sense of irony and critique by juxtaposing disparate elements, subverting traditional art forms, and challenging societal norms. It questioned the boundaries between high and low culture, art and mass production, and the commercialization of society. Leading Artists of the Pop Art Movement Andy Warhol: One of the most iconic figures associated with Pop Art, Warhol employed screen-printing techniques to reproduce everyday objects, such as Campbell's soup cans and Coca-Cola bottles. His work explored themes of consumerism, fame, and the cult of celebrity. Roy Lichtenstein: Lichtenstein is renowned for his comic book-inspired paintings, featuring bold lines, Ben-Day dots, and speech bubbles. By appropriating and enlarging comic strip panels, he elevated popular culture to the realm of high art. Claes Oldenburg: Oldenburg's sculptures took ordinary objects and transformed them into monumental works of art. His oversized sculptures of hamburgers, typewriters, and clothespins challenged the viewer's perception of scale and materiality. Richard Hamilton: Considered the father of British Pop Art, Hamilton explored the relationship between art and technology. His collage-like works incorporated images from advertising, cinema, and popular magazines, reflecting the media-saturated society. Impact and Legacy Pop Art's influence extends far beyond its initial emergence in the 1960s. Its vibrant and accessible style has had a lasting impact on contemporary art, design, fashion, and popular culture. Pop Art paved the way for subsequent art movements such as Neo-Pop, Street Art, and the appropriation art of the 1980s. It blurred the boundaries between high and low art, challenged the traditional notions of artistic value, and emphasized the democratization of art. Concluding Remarks Pop Art revolutionized the art world by breaking away from the abstract and introspective tendencies of the time. It celebrated the everyday, the commercial, and the popular culture, making art more accessible to a wider audience. Through its use of appropriation, bold colors, and irony, Pop Art continues to captivate and inspire, leaving an indelible mark on contemporary art and popular culture.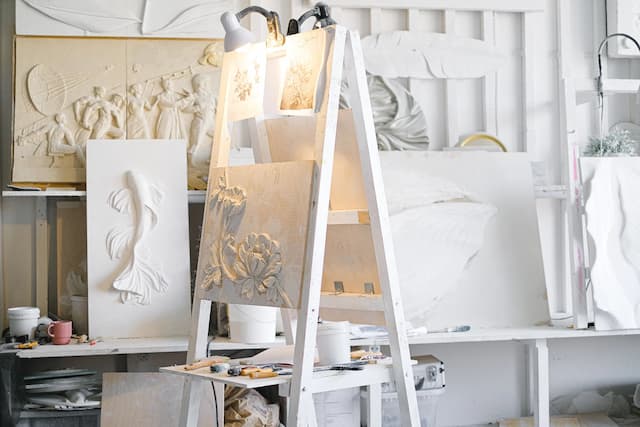 ART 101
Exploring Art Medium: A Fusion of Category and Material in Art Creation
Art is a vast and diverse realm that encompasses a wide range of creative expressions. Within this realm, the concept of "Art Medium" holds a crucial role, serving as the bridge between artistic intent and tangible creation. The medium that an artist chooses to work with can have a significant impact on the style and meaning of the artwork. For example, a painting made with oil paints will have a different look and feel than a painting made with watercolors. In the context of Art attribution "Art Medium" has been used interchangeably to refer both the category of artwork and the materials used to bring forth an artist's vision. This article delves into the multifaceted nature of art medium, exploring its dual significance in the world of art. Art Medium as a Category of Art In its first sense, an art medium represents the various categories or disciplines within the field of art. Each medium possesses distinct characteristics, techniques, and artistic approaches. Let's explore some of the prominent art mediums: Painting: Painting is a traditional and widely recognized medium that employs pigments on surfaces such as canvas, paper, or wood. It encompasses various styles like oil painting, watercolor, acrylics, and mixed media, each offering unique visual qualities and expressive possibilities. Painting, Pop Horizon by Barron Holand Sculpture: Sculpture involves shaping and manipulating materials such as stone, wood, metal, clay, or even found objects. Artists create three-dimensional forms that can range from classical figurative representations to abstract and conceptual installations. Sculpture, S-04 BIG FOOT by Aleks Rosenberg Drawing: Drawing is a fundamental art medium that employs pencils, pens, charcoal, or other tools to create two-dimensional representations. It encompasses techniques like sketching, shading, and hatching, allowing artists to convey ideas, explore compositions, and develop their artistic skills. Drawing, Dancer in Red by NK Hong Photography: Photography born from the marriage of science and art, captures moments through the lens of a camera. It employs light-sensitive materials and digital technologies to immortalize scenes, people, and emotions, providing a unique perspective on the world. Photography, La grève Je T'aime by Gudzovsky Printmaking: Printmaking encompasses various techniques such as etching, lithography, screen printing, and relief printing. Artists create multiple copies of their artworks, each possessing its own subtle variations, by transferring images onto paper or other surfaces. Ceramics: Ceramics involves working with clay, shaping it into objects, and firing them in kilns to achieve hardness and permanence. This ancient medium encompasses functional pottery, decorative vessels, sculptures, and intricate porcelain works. Textiles: Textile art employs fabrics, threads, and fibers to create tactile and visually engaging works. It includes techniques like weaving, embroidery, quilting, and textile installations, exploring themes of culture, identity, and materiality. Installation and Performance Art:: These mediums go beyond traditional forms, embracing immersive experiences and the participation of the audience. Artists use various materials, space, sound, and movement to create site-specific installations or enact performances that challenge the boundaries of art. Digital NFT: Very recently Digital NFT is being regarded as an art medium, and more importantly revolutionising Digital Art representation. Utilizing blockchain technology, NFTs represent unique digital assets, such as artwork, music, or videos, providing a secure and verifiable link between the digital file and ownership rights. Art Medium as Material Used in Art Creation In the alternate context, an art medium refers to the specific materials and tools employed by artists to bring their artistic visions to life. The choice of medium significantly influences the aesthetic outcome and the creative process itself. Artists often use it to describe how they created their artwork, which gives a sense of how it needs to be viewed as well. For e.g. Oil paintings ( referenced as "Oil on Canvas") are best observed from a distance to get a more clearer understanding and the depth of the Art. Again depending on the Category of work there are different materials used to fulfill the Artistic vision of the creator. Here are some examples of art mediums in the context of Material Used Paints: Artists use various types of paints, including oil paints, watercolors, acrylics, and gouache, each with its own characteristics and techniques. These pigments, when combined with binders, allow artists to manipulate color, texture, and opacity on different surfaces. A combination of the paint type and the support used form the Medium used for the artwork, for e.g. Oil on Canvas, Gouache on paper, Acrylic on Linen etc... Drawing Tools: Pencils, pens, charcoal, markers, and pastels are all examples of drawing tools that artists employ. These tools vary in hardness, texture, and line quality, enabling artists to create intricate details or bold, expressive strokes. Sculpting Materials: Sculptors utilize a plethora of materials such as stone, wood, metal, clay, plastic, and even unconventional materials like ice or food. Each material offers its unique qualities, texture, and potential for manipulation. Cameras and Photographic Equipment: With the advent of photography, cameras and photographic equipment became vital art mediums. Film cameras, digital cameras, lenses, lighting equipment, and photo-editing software all contribute to the creation of photographic art. Printmaking Supplies: Printmaking relies on materials like printing plates, inks, brayers, and printing presses. These tools facilitate the transfer of images from the plate to the chosen substrate, resulting in distinct prints with their own visual characteristics. Clay and Kilns: Ceramics artists employ different types of clay, glazes, and firing techniques to shape and fire their creations. The firing process in kilns transforms the raw materials into durable and visually captivating ceramic pieces. Fabrics and Threads: Textile artists utilize a wide range of fabrics, threads, dyes, and surface design techniques to create intricate tapestries, clothing, quilts, or fiber-based sculptures. The choice of fabric and the application of techniques contribute to the overall visual and tactile impact of the artwork. The Importance of Art Medium The medium that an artist chooses to work with can have a significant impact on the style and meaning of the artwork. For example, a painting made with oil paints will have a different look and feel than a painting made with watercolors. The medium can also affect the way that the viewer interacts with the artwork, an example being, a sculpture that is made from metal will feel different to the touch than a sculpture that is made from wood. The art medium is of utmost importance in the representation of art as it influences the aesthetics, technical possibilities, symbolic significance, and cultural context of an artwork. It allows artists to express their vision, engage viewers, and communicate their intended messages effectively. The careful consideration and deliberate selection of the art medium contribute to the overall artistic expression and impact of the artwork.Different art mediums have evolved throughout history and across cultures, reflecting the societal and historical context in which they originated. The selection of a particular medium can evoke associations and references to specific art movements, traditions, or periods. The Future of Art Mediums The art world is constantly evolving, and new art mediums are being developed all the time. For example, digital art is becoming increasingly popular, as artists use computers and other digital tools to create their work. It is impossible to predict what the future holds for art mediums. However, it is likely that new art mediums will continue to be developed, and that artists will continue to experiment with different materials and techniques. It's important to note that the future of art mediums will be shaped by the creativity and experimentation of artists themselves, as they continue to push boundaries, embrace new technologies, and explore innovative approaches to art-making. The possibilities are vast, and the future of art mediums for visual artists holds exciting potential for artistic expression and engagement with audiences. Digital, Augmented and Virtual Realities, Mixed Media, Eco-Friendly Materials, BioArt and Living Materials, all are being explored, included and evolved for Artists to continously push the boundaries of their creative abilities to produce thought provoking artworks. Conclusion In the realm of art, the term "art medium" embraces a dual meaning. It encompasses both the categorization of art forms and the materials employed by artists. The category of art medium reflects the different disciplines and techniques artists employ to create their work, while the material aspect highlights the tangible tools and substances used to manifest their creative visions. Artists' choices of medium significantly influence the visual, tactile, and conceptual qualities of their artworks. Furthermore, contemporary artists often push the boundaries of traditional mediums by exploring hybrid forms and incorporating new technologies. Understanding the significance of art medium enhances our appreciation for the diverse expressions and the innovative approaches artists employ in their creative endeavors.
Sign up for our newsletter to have the latest stories and curated art recommendations delivered straight to your inbox