Subscribe for our newsletter to have the latest stories and curated art recommendations delivered straight to your inbox
ART 101
Types of Indian Art - Gond Art
Like
comments
SAVE
The Art of Gond: A Journey into the Color and Creativity of India.
With its natural bounty of flora and fauna, India's reputation as a nature lover's paradise precedes it. However, far less known than the diversity of birds and animals found in the country is India's rich cultural history, which adds an element of diverse beauty to its landscape through artistic mediums such as paintings, pottery, and sculptures, among others. One such medium is Gond art, or the art of the Gond tribe that lives in Central India around Jabalpur and Mandla.
This is the history and relevance of this art form.
What is Gond art?
The art of Gond has its origin in the eastern Indian state of Chhattisgarh. Gond art, which literally means graphic art or signboard art, involves the creation of paintings on raw pieces of wood from local trees. The name Gond comes from the tribe who are known to inhabit this region since long ago and who have perfected this unique form of painting over centuries and made it their own trademark style.
Gond Art History
The Gond tribe has been creating this form of art for at least 1500 years because there are underground drawings throughout the area that stretch back to the Neolithic period era, so it would be possible that they're simply continuing a tradition that began much earlier. Indigenous Indians, notably those of the Gond tribe, do have a long history of enjoying paintings and other kinds of artistic expression. But among the Gonds, the Pardhan Gonds have been the best known for their creative prowess. The Gondoliers believed that seeing a lucky picture would bring them good fortune. This idea prompted the Gond to adorn their homes with markings and patterns from their culture all over the walls and the floor to form beautiful Gond painting designs and a tradition was formed. The Gondoliers also utilized art as a means of documenting their past.
Gond Art Characteristics
Shapes
Style choices ensure that the edges used to construct the subjects—whether at the edges or deep within—immediately draw the eye. The lines and dots provide an incomparable shine which is distinctive to Gond art. The descriptive quality of such art is enhanced by the use of numerous geometrical forms and repetitions, such as those imitating fish scales, droplets of water, and flower shapes.
Colors
Vivid colors, notably red, turquoise, yellow, as well as white, abound throughout the large Gond painting and also provide wonderful contrast for the viewer. Colorful paints like these are often made by extracting the pigment from natural materials such dirt, carbon, leaves of plants and fluid, or even cow manure. Chui Mitti, a kind of gravel found locally, is used to make yellow, whereas Gheru Mitti is used to make brown. As for the other colors, black comes from charcoal, red from Hibiscus flowers, and green from leaf tissue.
Conclusion
Though Gond art has been around for centuries, it has seen resurgence in popularity in recent years. This is likely due to the vibrant colors and intricate patterns that are characteristic of the style. Additionally, traditional Gond art often tells a story or conveys a message, making it all the more meaningful.
Don't miss out on these fantastic Gond Art Forms to collect as RtistiQ brings to you the Phygital NFT Folk Art auction that will be held between the 15-18th September 2022.
SIMILAR ARTICLES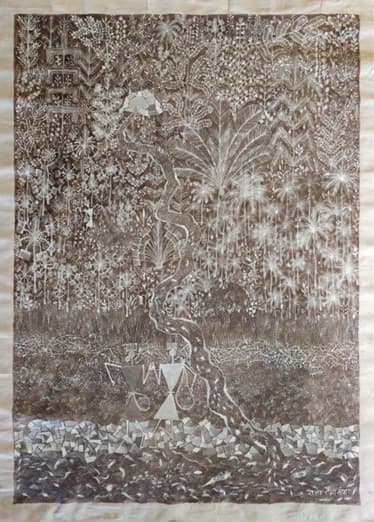 Types of Indian Art - Warli Paintings
A Traditional Art Form from India: Warli Paintings There are many different types of traditional art forms in India, but one that has remained in existence from time immemorial is the Warli painting art form. Warli paintings are characterized by their use of bold colors and simple shapes to create images of men, animals, trees, and plants on the walls of villages or used as decorations during festivals such as the Ganesh Festival or Navratri. Today, Warli paintings continue to be popular as wall décor pieces in homes across India, especially in Mumbai and Gujarat. Here's more about this traditional art form from India. Who is the Warli tribe? The Warlis are a tribe that resides in the North Sahyadri Range in Maharashtra, India. They are known for their warli painting designs, which are done using a mixture of earth and watercolors. The paintings depict scenes from daily life, such as hunting, fishing, and farming. Warli paintings are also used to tell stories and legends. What are the Warli paintings? The practice of Warli art is predicated on the idea of natural beauty, and many aspects of the natural world are often brought into sharp relief. Because agriculture is the primary means of subsistence for the community, members have a lot of admiration for the natural world and the fauna that inhabits it for the commodities that it provides. In a manner somewhat dissimilar to how ancient artworks were executed, it is common practice for warli painters to paint on the backgrounds of their clay houses while working on warli artwork. In Warli art, religious imagery, such as representations of gods and other symbols associated with religion, is never used. It speaks about how humans are reliant on the environment and how they are associated with it. It portrays the earth as a deity. The artworks of the Warli tribe convey a feeling of homogeneity in individuals and underline the tight social interactions that exist among the full members of society. Real-life settings and occurrences served as inspiration for many aspects of the artworks, including the forests, wildlife, festivals, social engagements, and social forms. It is also possible for a Warli artwork to serve as a graphic narrative of one of these classic tales. Many contemporary artists incorporate aspects of the modern environment into their work, such as automobiles, architecture, cycles, electronics, airplanes, and trains. Where can I purchase Warli paintings? You can buy Warli paintings in a number of places, both in India and online. One of the best ways to find a reputable seller is to ask around for recommendations. Once you've found a few potential sellers, take some time to compare prices and shipping costs before making your purchase. You can also find Warli paintings on display in a number of art galleries and museums, which can be a great way to view this traditional art form up close. You can also buy warli paintings online and get them delivered anywhere you want. Conclusion Warli paintings, which are often seen on the walls of villages or as decorations for celebrations like the Ganesh Festival or Navratri, are still widely collected and displayed in houses throughout India, particularly in the metropolitan areas of Mumbai and Gujarat. Don't miss out on these fantastic Warli Art Forms to collect as RtistiQ brings to you the Phygital NFT Folk Art auction that will be held between the 15-18th September 2022.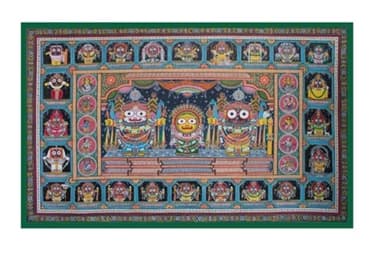 Type of Indian Art - Pattachitra
Pattachitra Paintings: A Journey Through Indian Art Every culture has its own art form, and India is no exception. Paintings are an integral part of Indian history and culture, especially since they date back to the Indus Valley Civilization, where they were used as trade and social currency. Pattachitra paintings, also known as Kamal Pustakam, are part of the traditional folk art of Odisha, India. They tell stories from Hindu mythology using paints made from natural materials like tree bark, leaves, flowers, clay, vegetable dyes, and even cow dung. Learn more about this special art form with our complete guide to Pattachitra Paintings below. What are Pattachitra paintings? Pattachitra paintings are a type of Indian folk art that originated in the state of Odisha. The word patta means cloth in Sanskrit, and chitra means picture. Pattachitra paintings are usually done on cloth or canvas using natural dyes and pigments. The themes of these paintings typically depict Hindu gods and goddesses, religious scenes, and stories from Indian mythology. The Pattachitra painters, also recognized as chitrakars, have mostly been recognized for their depictions of Hindu mythology. Artists use a chalk-and-gum combination to cover the fabric prior to painting. Two separate stones are used to massage the substance into the fabric. Eventually, the fabric has hardened, and the painter begins the painting. Practicing pattachitra requires adherence to a set of norms and regulations. In Pattachitra's artworks, a flowery boundary is a requirement, as is the use of neutral colors in a single tone. As a result, Pattachitra's aesthetic is unique and could not be imitated, making each artist's work unique. Thus, if you like a particular style, you have to find an artist who has mastered that style to try and replicate it. And RtistiQ brings to you that specific artist called KeshabPradhan and you can find his intricate works here at the Folk Art Auction which will take place between 15 – 18 September 2022. Dont miss out on this 1 time opportunity. Styles The most common style of pattachitra painting is the Orissa style, which originated in the state of Orissa in eastern India. The Orissa style is characterized by its use of natural dyes and pigments, as well as by its intricate patterns and designs. Another popular style of pattachitra painting is the Bengal style, which originated in the state of Bengal in northeastern India. How to Recognize a Good Pattachitra Painting If you are looking to buy pattachitra paintings online, look for an artist who has been trained in the traditional style to make sure you get the best pattachitra paintings. The colors should be bright and vibrant, and the lines should be clean and sharp. The painting should tell a story, and the artist should be able to explain the symbolism behind the work. Make sure to buy from a reputable source so you can be sure you're getting a genuine Pattachitra painting online. Conclusion Pattachitra paintings have a long and rich history, dating back to the 7th century CE. These paintings were originally created as temple hangings, but they eventually became popular among the general population as well. Today, Pattachitra paintings are still made in Odisha and are considered to be a valuable part of Indian culture, and they have been incorporated into the modern aesthetics of India.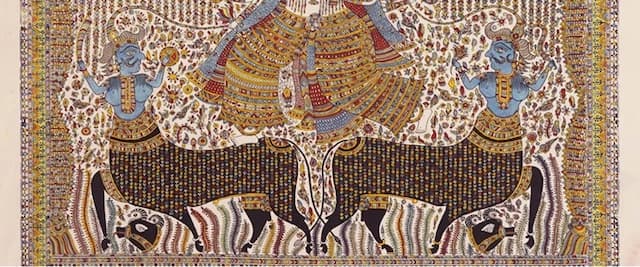 Types of Indian Art - Mata Ni Pachedi
A traditional Indian folk art form, Mata Ni Pachedi Mata ni Pachedi, also known as Mata ki Chowki, is a traditional Indian folk art form from Gujarat. The term "Mata Ni Pachedi" literally means "behind the goddess" and refers to the cloth hangings or veils that are used to cover the images of Hindu goddesses in the temples of Gujarat. The Art form had grabbed headlines recently after the Indian Prime Minister Narendra Modi gifted the Pachedi to the Prime Minister of United Kingdom Rishi Sunak, at the G20 Summit at Bali in 2022. History of this incredible textile art The history of Mata Ni Pachedi can be traced back to the 17th century when the Vaghri community of Gujarat first practised it. The Vaghri community used to travel from village to village, setting up makeshift temples and creating these cloth hangings to depict the goddesses. Over time, the art form evolved and became more sophisticated, using natural dyes, intricate patterns, and detailed depictions of the goddesses. The Gujarat Council on Science & Technology (GUJCOST) applied for the GI tag in 2020 on behalf of the craft, and was awarded the esteemed Geographical Indication Tag on the World Intelectual Property Day on the 26th of April 2023. It is speculated that Gujarat, a historically significant location from which foreign rulers had launched invasions of India, was where this art style first emerged. As raids also often destroyed temples, the nomads came up with a way to keep their religion alive and stop invaders from saying bad things about their gods and goddesses: they put pictures of their gods and goddesses on cloth. The Mata ni Pachedi begins with a hard powder dye bath for the fabric. Fermenting a mixture of iron rust plus jaggery takes around 15 to 20 days, yielding a natural black. The mixture is then cooked with tamarind seed flour, kachka, which is called. Maintaining the solution's viscosity prevents any seepage onto the fabric. Within a hundred years or more, the black created by iron rust leads the fabric to start disintegrating, the painting becomes frail, but the colors stay untouched. The use of gold and silver, formerly common, has been abandoned. Alum is used to make red, kattha is used to make orange, mehendi plants are used to make green, and violet is used to make blue. To fix the colors into the fabric, the material is simmered well with thawli blossom after being rinsed in the neighboring Sabarmati River to remove any surplus dye. The colors would not fade regardless of how many times it was washed or dried. It's important for the artist to be cautious while coloring in the tones so they don't bleed into other parts of the picture. Sanjay Chitara, Ten Mother Goddesses, 2022 Even though paintbrushes have replaced bamboo twigs as the tool of choice, bamboo twigs are still often used for making preliminary sketches and outlines. Brushes were traditionally fashioned from the twigs of palm trees. Chewing the twigs would separate the fibers, making them useful for making a brush. For many years, cotton fabric was the only kind that was used, but recently people have started working on cotton silk as well. Each and every piece of fabric is procured from the local marketplaces of Ahmedabad, which is a center for the textile industry. Cotton vividly retains colors, and after being washed, the pigments stick to the fabric even more strongly. Mata ni Pachedi is a beautiful and unique form of Indian folk art. The brightly colored fabrics and intricate designs are eye-catching and vibrant. This type of textile is typically used in ceremonial contexts such as weddings or religious festivals. Mata ni Pachedi fabrics are also thought to have magical powers and are often used as talismans. Sanjay Chitara, Visat Mata, 2022 Today, Mata Ni Pachedi is practiced by a small community of artisans who have inherited the art form from their ancestors. Some of the major artists who have contributed to the development of this art form include: Raja Chitara: He is one of the most well-known artists of Mata Ni Pachedi and has been practising the art form for over 40 years. His work has been exhibited in various museums and galleries around the world. Govardhan Giri: He is another well-known artist who has been practising Mata Ni Pachedi for several decades. His work is known for its intricate detailing and use of natural dyes. Rakesh Bani: A younger artist gaining recognition for his innovative approach to Mata Ni Pachedi. He often incorporates contemporary themes and designs into his work while maintaining the art form's traditional techniques and motifs. Don't miss out on these fantastic Mata Ni Pachedi Art Forms to collect on RtistiQ from an extraordinary selection of Indian Folk and Tribal Art collection . RtistiQ aims to bring forward these hidden gems to the mainstream in partnership with the families and organisations supporting to maintain the traditions and cultures for our future generation.
ARTICLES ON ART 101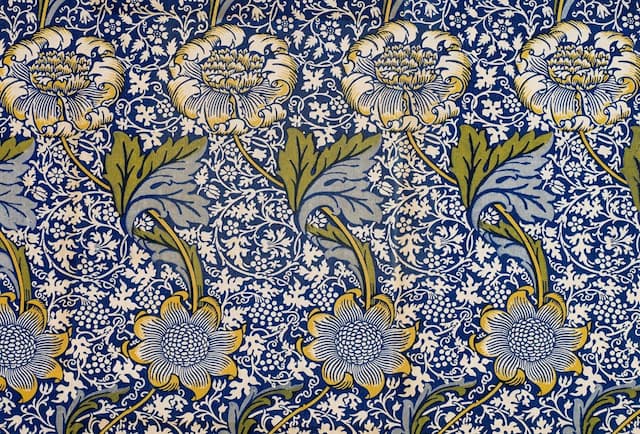 ART 101
Art Deco Styles: An Iconic Fusion of Elegance and Modernity
Art Deco is a prominent design style that emerged in the 1920s and flourished until the outbreak of World War II. Characterized by its luxurious materials, geometric forms, and streamlined aesthetic, Art Deco became a symbol of glamour and sophistication during the interwar period. This design movement impacted various visual arts, architecture, fashion, and interior design aspects. This article will delve into the captivating world of Art Deco styles, exploring its origins, key characteristics, influential artists and architects, and its lasting legacy. Origins and Influences Art Deco drew inspiration from various sources, blending elements from different cultures, historical periods, and artistic movements. The style's name derives from the 1925 Exposition Internationale des Arts Décoratifs et Industriels Modernes held in Paris, where it was first showcased. However, its roots can be traced back to the early 20th century, influenced by the avant-garde art movements of the time, such as Cubism and Fauvism. One of the significant influences on Art Deco was the discovery of King Tutankhamun's tomb in 1922, which sparked a craze for Egyptian motifs and symbolism. This fascination with ancient Egypt led to incorporation of pyramids, sphinxes, hieroglyphics, and other Egyptian-inspired motifs into Art Deco designs. Additionally, the style's streamlined forms and angular geometry were influenced by the emerging field of industrial design and the aesthetic of machines. Key Characteristics Art Deco is characterized by distinct visual features that make it instantly recognizable. Here are some key characteristics of Art Deco styles: Geometric Shapes: Art Deco embraces geometric shapes, such as zigzags, chevrons, triangles, and stepped forms. These shapes are often used to create dynamic, visually striking compositions. Streamlined Silhouettes: Inspired by the sleek lines of modern technology and transportation, Art Deco features streamlined, aerodynamic silhouettes. These can be seen in the period's buildings, furniture, and even fashion designs. Luxurious Materials: Art Deco celebrates luxury and opulence, employing exotic woods, marble, chrome, glass, and precious metals like gold and silver. These lavish materials contribute to the overall sense of elegance associated with the style. Decorative Elements: Art Deco designs often incorporate elaborate decorative elements, such as sunbursts, stylized floral motifs, and geometric patterns. These decorative details add a touch of sophistication to the overall composition. Bold Colors: Art Deco embraces bold, contrasting colour schemes. Vivid hues like royal blue, emerald green, ruby red, and vibrant yellow are frequently used to create a visually striking impact. Sunburst Motifs: The sunburst motif, symbolizing energy and optimism, is a recurring theme in Art Deco designs. It is often represented as a radiating pattern of geometric lines or a stylized sun. Influential Artists and Architects Numerous artists and architects played significant roles in shaping and popularizing Art Deco styles. Here are a few key figures: Tamara de Lempicka: A prominent Art Deco painter, de Lempicka's works epitomize the style's elegance and glamour. Her portraits often featured fashionable, confident women in luxurious settings. Émile-Jacques Ruhlmann: Ruhlmann was a renowned French furniture designer who created exquisite Art Deco pieces. His furniture designs combined luxurious materials with precise craftsmanship and sleek silhouettes. Erté: A Russian-born artist and designer, Erté was renowned for his extravagant fashion illustrations and costume designs. His work showcased the epitome of Art Deco elegance and sophistication. Raymond Hood: An influential architect, Hood's designs include the iconic Rockefeller Center in New York City. He incorporated Art Deco elements into the skyscraper's design, contributing to the style's popularity in the United States. Clarice Cliff: A British ceramic artist, Cliff revolutionized the pottery industry with her bold and colourful Art Deco designs. Her pottery pieces featured geometric patterns and vibrant glazes. Legacy and Modern Interpretations Although the heyday of Art Deco was in the early 20th century, its influence and appeal continue to resonate in modern design. Art Deco elements can be found in contemporary architecture, interior design, and fashion. In architecture, buildings like the Chrysler Building in New York City and the Napier Municipal Theatre in New Zealand exemplify the enduring impact of Art Deco. These structures continue to captivate audiences with their sleek lines, decorative details, and innovative use of materials. In interior design, Art Deco-inspired furniture and decor remain highly sought after. The style's emphasis on luxury and glamour translates well into modern homes, with its sleek lines and geometric patterns adding a touch of sophistication to any space. Art Deco influences can be seen in the designs of many contemporary fashion houses. The use of bold colours, geometric patterns, and luxurious materials harkens back to the elegance and allure of the Art Deco era. Conclusion Art Deco styles represent a fascinating fusion of elegance and modernity. Emerging in the 1920s, this design movement embraced geometric shapes, luxurious materials, and bold colours. Its influence extended to various artistic fields, leaving an indelible mark on architecture, interior design, fashion, and more. With its timeless appeal, Art Deco continues to captivate audiences and inspire contemporary design. The legacy of this iconic style serves as a testament to its enduring popularity and artistic significance.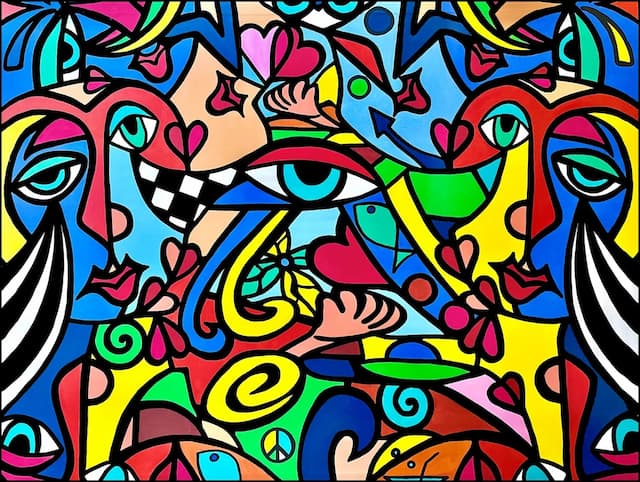 ART 101
Exploring Pop Art: Definition, Movement, and Notable Artists
Pop Art emerged as a vibrant and influential artistic movement in the mid-1950s, challenging traditional notions of art and embracing the popular culture of the time. With its bold imagery, vibrant colors, and incorporation of everyday objects, Pop Art brought art closer to the masses. This article explores the definition, key characteristics, notable artists, and lasting impact of Pop Art on the art world and popular culture. What is Pop Art? Pop Art, short for "popular art," was a movement that emerged in the United States and the United Kingdom during the 1950s and 1960s. It was a reaction against the dominant abstract expressionist movement, which focused on subjective, introspective, and non-representational art. Pop Art, on the other hand, celebrated the ordinary, the commercial, and the mundane, drawing inspiration from mass-produced consumer goods, advertising, and popular culture. What are the characteristics of Pop Art? Appropriation and Repetition: Pop Art often incorporated images and objects taken from popular culture, such as product packaging, comic books, and celebrities. Artists manipulated and repeated these images to highlight their significance and challenge the concept of originality. Bold Colors and Simplified Forms: Pop artists used vibrant, eye-catching colors to attract attention and evoke a sense of consumerism. They simplified forms and employed graphic techniques, reminiscent of advertising and comic book aesthetics. Irony and Critique: Pop Art often conveyed a sense of irony and critique by juxtaposing disparate elements, subverting traditional art forms, and challenging societal norms. It questioned the boundaries between high and low culture, art and mass production, and the commercialization of society. Leading Artists of the Pop Art Movement Andy Warhol: One of the most iconic figures associated with Pop Art, Warhol employed screen-printing techniques to reproduce everyday objects, such as Campbell's soup cans and Coca-Cola bottles. His work explored themes of consumerism, fame, and the cult of celebrity. Roy Lichtenstein: Lichtenstein is renowned for his comic book-inspired paintings, featuring bold lines, Ben-Day dots, and speech bubbles. By appropriating and enlarging comic strip panels, he elevated popular culture to the realm of high art. Claes Oldenburg: Oldenburg's sculptures took ordinary objects and transformed them into monumental works of art. His oversized sculptures of hamburgers, typewriters, and clothespins challenged the viewer's perception of scale and materiality. Richard Hamilton: Considered the father of British Pop Art, Hamilton explored the relationship between art and technology. His collage-like works incorporated images from advertising, cinema, and popular magazines, reflecting the media-saturated society. Impact and Legacy Pop Art's influence extends far beyond its initial emergence in the 1960s. Its vibrant and accessible style has had a lasting impact on contemporary art, design, fashion, and popular culture. Pop Art paved the way for subsequent art movements such as Neo-Pop, Street Art, and the appropriation art of the 1980s. It blurred the boundaries between high and low art, challenged the traditional notions of artistic value, and emphasized the democratization of art. Concluding Remarks Pop Art revolutionized the art world by breaking away from the abstract and introspective tendencies of the time. It celebrated the everyday, the commercial, and the popular culture, making art more accessible to a wider audience. Through its use of appropriation, bold colors, and irony, Pop Art continues to captivate and inspire, leaving an indelible mark on contemporary art and popular culture.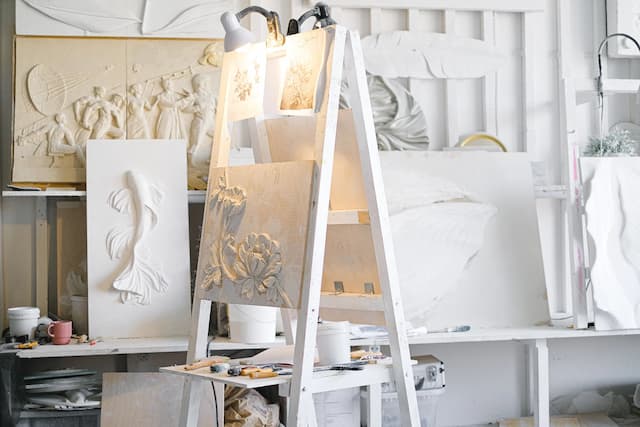 ART 101
Exploring Art Medium: A Fusion of Category and Material in Art Creation
Art is a vast and diverse realm that encompasses a wide range of creative expressions. Within this realm, the concept of "Art Medium" holds a crucial role, serving as the bridge between artistic intent and tangible creation. The medium that an artist chooses to work with can have a significant impact on the style and meaning of the artwork. For example, a painting made with oil paints will have a different look and feel than a painting made with watercolors. In the context of Art attribution "Art Medium" has been used interchangeably to refer both the category of artwork and the materials used to bring forth an artist's vision. This article delves into the multifaceted nature of art medium, exploring its dual significance in the world of art. Art Medium as a Category of Art In its first sense, an art medium represents the various categories or disciplines within the field of art. Each medium possesses distinct characteristics, techniques, and artistic approaches. Let's explore some of the prominent art mediums: Painting: Painting is a traditional and widely recognized medium that employs pigments on surfaces such as canvas, paper, or wood. It encompasses various styles like oil painting, watercolor, acrylics, and mixed media, each offering unique visual qualities and expressive possibilities. Painting, Pop Horizon by Barron Holand Sculpture: Sculpture involves shaping and manipulating materials such as stone, wood, metal, clay, or even found objects. Artists create three-dimensional forms that can range from classical figurative representations to abstract and conceptual installations. Sculpture, S-04 BIG FOOT by Aleks Rosenberg Drawing: Drawing is a fundamental art medium that employs pencils, pens, charcoal, or other tools to create two-dimensional representations. It encompasses techniques like sketching, shading, and hatching, allowing artists to convey ideas, explore compositions, and develop their artistic skills. Drawing, Dancer in Red by NK Hong Photography: Photography born from the marriage of science and art, captures moments through the lens of a camera. It employs light-sensitive materials and digital technologies to immortalize scenes, people, and emotions, providing a unique perspective on the world. Photography, La grève Je T'aime by Gudzovsky Printmaking: Printmaking encompasses various techniques such as etching, lithography, screen printing, and relief printing. Artists create multiple copies of their artworks, each possessing its own subtle variations, by transferring images onto paper or other surfaces. Ceramics: Ceramics involves working with clay, shaping it into objects, and firing them in kilns to achieve hardness and permanence. This ancient medium encompasses functional pottery, decorative vessels, sculptures, and intricate porcelain works. Textiles: Textile art employs fabrics, threads, and fibers to create tactile and visually engaging works. It includes techniques like weaving, embroidery, quilting, and textile installations, exploring themes of culture, identity, and materiality. Installation and Performance Art:: These mediums go beyond traditional forms, embracing immersive experiences and the participation of the audience. Artists use various materials, space, sound, and movement to create site-specific installations or enact performances that challenge the boundaries of art. Digital NFT: Very recently Digital NFT is being regarded as an art medium, and more importantly revolutionising Digital Art representation. Utilizing blockchain technology, NFTs represent unique digital assets, such as artwork, music, or videos, providing a secure and verifiable link between the digital file and ownership rights. Art Medium as Material Used in Art Creation In the alternate context, an art medium refers to the specific materials and tools employed by artists to bring their artistic visions to life. The choice of medium significantly influences the aesthetic outcome and the creative process itself. Artists often use it to describe how they created their artwork, which gives a sense of how it needs to be viewed as well. For e.g. Oil paintings ( referenced as "Oil on Canvas") are best observed from a distance to get a more clearer understanding and the depth of the Art. Again depending on the Category of work there are different materials used to fulfill the Artistic vision of the creator. Here are some examples of art mediums in the context of Material Used Paints: Artists use various types of paints, including oil paints, watercolors, acrylics, and gouache, each with its own characteristics and techniques. These pigments, when combined with binders, allow artists to manipulate color, texture, and opacity on different surfaces. A combination of the paint type and the support used form the Medium used for the artwork, for e.g. Oil on Canvas, Gouache on paper, Acrylic on Linen etc... Drawing Tools: Pencils, pens, charcoal, markers, and pastels are all examples of drawing tools that artists employ. These tools vary in hardness, texture, and line quality, enabling artists to create intricate details or bold, expressive strokes. Sculpting Materials: Sculptors utilize a plethora of materials such as stone, wood, metal, clay, plastic, and even unconventional materials like ice or food. Each material offers its unique qualities, texture, and potential for manipulation. Cameras and Photographic Equipment: With the advent of photography, cameras and photographic equipment became vital art mediums. Film cameras, digital cameras, lenses, lighting equipment, and photo-editing software all contribute to the creation of photographic art. Printmaking Supplies: Printmaking relies on materials like printing plates, inks, brayers, and printing presses. These tools facilitate the transfer of images from the plate to the chosen substrate, resulting in distinct prints with their own visual characteristics. Clay and Kilns: Ceramics artists employ different types of clay, glazes, and firing techniques to shape and fire their creations. The firing process in kilns transforms the raw materials into durable and visually captivating ceramic pieces. Fabrics and Threads: Textile artists utilize a wide range of fabrics, threads, dyes, and surface design techniques to create intricate tapestries, clothing, quilts, or fiber-based sculptures. The choice of fabric and the application of techniques contribute to the overall visual and tactile impact of the artwork. The Importance of Art Medium The medium that an artist chooses to work with can have a significant impact on the style and meaning of the artwork. For example, a painting made with oil paints will have a different look and feel than a painting made with watercolors. The medium can also affect the way that the viewer interacts with the artwork, an example being, a sculpture that is made from metal will feel different to the touch than a sculpture that is made from wood. The art medium is of utmost importance in the representation of art as it influences the aesthetics, technical possibilities, symbolic significance, and cultural context of an artwork. It allows artists to express their vision, engage viewers, and communicate their intended messages effectively. The careful consideration and deliberate selection of the art medium contribute to the overall artistic expression and impact of the artwork.Different art mediums have evolved throughout history and across cultures, reflecting the societal and historical context in which they originated. The selection of a particular medium can evoke associations and references to specific art movements, traditions, or periods. The Future of Art Mediums The art world is constantly evolving, and new art mediums are being developed all the time. For example, digital art is becoming increasingly popular, as artists use computers and other digital tools to create their work. It is impossible to predict what the future holds for art mediums. However, it is likely that new art mediums will continue to be developed, and that artists will continue to experiment with different materials and techniques. It's important to note that the future of art mediums will be shaped by the creativity and experimentation of artists themselves, as they continue to push boundaries, embrace new technologies, and explore innovative approaches to art-making. The possibilities are vast, and the future of art mediums for visual artists holds exciting potential for artistic expression and engagement with audiences. Digital, Augmented and Virtual Realities, Mixed Media, Eco-Friendly Materials, BioArt and Living Materials, all are being explored, included and evolved for Artists to continously push the boundaries of their creative abilities to produce thought provoking artworks. Conclusion In the realm of art, the term "art medium" embraces a dual meaning. It encompasses both the categorization of art forms and the materials employed by artists. The category of art medium reflects the different disciplines and techniques artists employ to create their work, while the material aspect highlights the tangible tools and substances used to manifest their creative visions. Artists' choices of medium significantly influence the visual, tactile, and conceptual qualities of their artworks. Furthermore, contemporary artists often push the boundaries of traditional mediums by exploring hybrid forms and incorporating new technologies. Understanding the significance of art medium enhances our appreciation for the diverse expressions and the innovative approaches artists employ in their creative endeavors.
Sign up for our newsletter to have the latest stories and curated art recommendations delivered straight to your inbox