Subscribe for our newsletter to have the latest stories and curated art recommendations delivered straight to your inbox
COLLECTING ART
Elegant. Eclectic. Exotic. Colonial Style is back in fashion
Like
comments
SAVE
About Colonial Style
Colonial style is an interior design style often associated with the hot climate. Having a controversial history, it emerged during the Age of Discovery (15th and 16th centuries) and reached its highest refinement during the British Empire's heyday, just before WWI. At its peak, a colonial-style house would have been a happy marriage between the best of both East and West. Unique furniture to cater to the British taste was made out of locally sourced wood and decorated exquisitely by master artisans from Africa, India, Asia, and the Caribbean. Today, colonial style defines a timeless aesthetic of natural materials on a plain background, spiced up by curated items. A style that embraces the hot and humid climate and its lavish nature.
Natural materials and rich textures
Given the tropical climate, the furniture was traditionally made from locally sourced wood such as teak or natural grasses, rattan, bamboo, cane, or wicker to allow it to expand and contract depending on the humidity levels. These materials are rich in texture and can add an extra layer of comfort but remain very practical. Banana leaf is woven light fittings, or ceiling fans add an exciting contrast against traditional darker furniture and keep you cool by ensuring better airflow. For indoor-outdoor living, low-maintenance jute rugs and lots of baskets for storage are essential.
NATHAN PADDISON, HoleEarDaze
Exotic prints
Another important element of the colonial interior design style is the prints. Palm trees, tropical flora, fauna, or chinoiseries prints are often featured in this type of interior. Introduce prints subtly by adding soft furnishings, a few cushions on a plain couch, or the upholstery of a chair, or go all out with an entire wall or even a room covered in a statement jungle mural or a botanical-themed wallpaper. For someone far away from the tropics, looking to recreate the look, it might evoke feelings of exciting times of adventure and discovery. Still, for those lucky enough to call the tropics their home, it's a constant reminder of the surrounding natural beauty.
Eclectic collections
Traced back to colonial times, this design style was defined by displaying eclectic artifacts collected during long explorative travels. Nowadays, it is less a Cabinet of Curiosities and more of beautifully curated vignettes of objects acquired during family holidays. Fine China and antique silver can be sat on shelves along with artisan objects, family photos, and hand-made candles – always channel your inner Wes Andersen when it comes to grouping objects.
ANANTA MANDAL BanarasGhat II
Beautiful art
The eclecticism of the style can be successfully paired with contemporary art. Many contemporary artists are depicting nature-related subjects if you wish to highlight this in a more nature-oriented manner. If you prefer to create a more tranquil space, you can choose an atmospheric painting that works perfectly as a binder between the rest of the elements, through color pallet or even subject.
Author: Floarea Baenziger
Design credits:
Vintage British Colonial Style Bamboo and Rattan Lowboy Dresser
Modern Ceiling Lamp in the style of Chinese Lanterns.
Vintage chair upholstered in a chinoiserie pattern called Chinese Garden
A beautiful and inspiring book, Singapore Colonial Style: Interiors of Black & White Houses
SIMILAR ARTICLES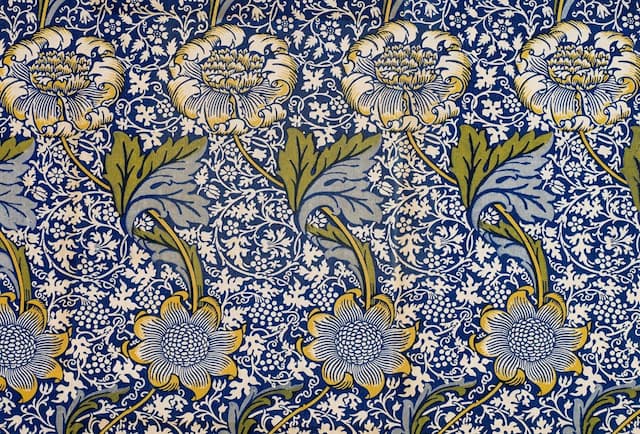 Art Deco Styles: An Iconic Fusion of Elegance and Modernity
Art Deco is a prominent design style that emerged in the 1920s and flourished until the outbreak of World War II. Characterized by its luxurious materials, geometric forms, and streamlined aesthetic, Art Deco became a symbol of glamour and sophistication during the interwar period. This design movement impacted various visual arts, architecture, fashion, and interior design aspects. This article will delve into the captivating world of Art Deco styles, exploring its origins, key characteristics, influential artists and architects, and its lasting legacy. Origins and Influences Art Deco drew inspiration from various sources, blending elements from different cultures, historical periods, and artistic movements. The style's name derives from the 1925 Exposition Internationale des Arts Décoratifs et Industriels Modernes held in Paris, where it was first showcased. However, its roots can be traced back to the early 20th century, influenced by the avant-garde art movements of the time, such as Cubism and Fauvism. One of the significant influences on Art Deco was the discovery of King Tutankhamun's tomb in 1922, which sparked a craze for Egyptian motifs and symbolism. This fascination with ancient Egypt led to incorporation of pyramids, sphinxes, hieroglyphics, and other Egyptian-inspired motifs into Art Deco designs. Additionally, the style's streamlined forms and angular geometry were influenced by the emerging field of industrial design and the aesthetic of machines. Key Characteristics Art Deco is characterized by distinct visual features that make it instantly recognizable. Here are some key characteristics of Art Deco styles: Geometric Shapes: Art Deco embraces geometric shapes, such as zigzags, chevrons, triangles, and stepped forms. These shapes are often used to create dynamic, visually striking compositions. Streamlined Silhouettes: Inspired by the sleek lines of modern technology and transportation, Art Deco features streamlined, aerodynamic silhouettes. These can be seen in the period's buildings, furniture, and even fashion designs. Luxurious Materials: Art Deco celebrates luxury and opulence, employing exotic woods, marble, chrome, glass, and precious metals like gold and silver. These lavish materials contribute to the overall sense of elegance associated with the style. Decorative Elements: Art Deco designs often incorporate elaborate decorative elements, such as sunbursts, stylized floral motifs, and geometric patterns. These decorative details add a touch of sophistication to the overall composition. Bold Colors: Art Deco embraces bold, contrasting colour schemes. Vivid hues like royal blue, emerald green, ruby red, and vibrant yellow are frequently used to create a visually striking impact. Sunburst Motifs: The sunburst motif, symbolizing energy and optimism, is a recurring theme in Art Deco designs. It is often represented as a radiating pattern of geometric lines or a stylized sun. Influential Artists and Architects Numerous artists and architects played significant roles in shaping and popularizing Art Deco styles. Here are a few key figures: Tamara de Lempicka: A prominent Art Deco painter, de Lempicka's works epitomize the style's elegance and glamour. Her portraits often featured fashionable, confident women in luxurious settings. Émile-Jacques Ruhlmann: Ruhlmann was a renowned French furniture designer who created exquisite Art Deco pieces. His furniture designs combined luxurious materials with precise craftsmanship and sleek silhouettes. Erté: A Russian-born artist and designer, Erté was renowned for his extravagant fashion illustrations and costume designs. His work showcased the epitome of Art Deco elegance and sophistication. Raymond Hood: An influential architect, Hood's designs include the iconic Rockefeller Center in New York City. He incorporated Art Deco elements into the skyscraper's design, contributing to the style's popularity in the United States. Clarice Cliff: A British ceramic artist, Cliff revolutionized the pottery industry with her bold and colourful Art Deco designs. Her pottery pieces featured geometric patterns and vibrant glazes. Legacy and Modern Interpretations Although the heyday of Art Deco was in the early 20th century, its influence and appeal continue to resonate in modern design. Art Deco elements can be found in contemporary architecture, interior design, and fashion. In architecture, buildings like the Chrysler Building in New York City and the Napier Municipal Theatre in New Zealand exemplify the enduring impact of Art Deco. These structures continue to captivate audiences with their sleek lines, decorative details, and innovative use of materials. In interior design, Art Deco-inspired furniture and decor remain highly sought after. The style's emphasis on luxury and glamour translates well into modern homes, with its sleek lines and geometric patterns adding a touch of sophistication to any space. Art Deco influences can be seen in the designs of many contemporary fashion houses. The use of bold colours, geometric patterns, and luxurious materials harkens back to the elegance and allure of the Art Deco era. Conclusion Art Deco styles represent a fascinating fusion of elegance and modernity. Emerging in the 1920s, this design movement embraced geometric shapes, luxurious materials, and bold colours. Its influence extended to various artistic fields, leaving an indelible mark on architecture, interior design, fashion, and more. With its timeless appeal, Art Deco continues to captivate audiences and inspire contemporary design. The legacy of this iconic style serves as a testament to its enduring popularity and artistic significance.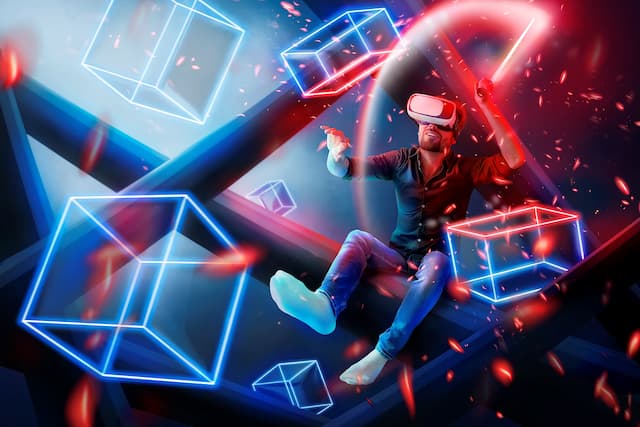 What is Digital Fashion? Is it Art and How to Shop for Digital Fashion?
Introduction The fashion industry's incessant transition into the digital landscape is a perfect example of how lines between the digital and physical worlds are blurring. The advent of Metaverse and Web 3.0 has pushed fashion designers to showcase their IRL collections through digital clothing platforms — providing unique ways for people to interact with fashion trends online. Impressive, isn't it? Well, in this post we will get acquainted with the world of "Digital Fashion" and share ways you can shop for it in 2023! So let's cut to the chase and dive right in, shall we? What is digital fashion? Digital fashion allows consumers to try a virtual dress that has been digitally adapted (virtually fitted) to their bodies through "Virtual Try On" technology powered by Augmented Reality. The idea is to build a fashion product or culture in which the digital dress will become as exclusive as the real one. Imagine gifting someone a dress that doesn't physically exist. That's digital fashion for you. It successfully represents the link between virtual reality and tailoring, but shouldn't be boiled down to just a glorified version of an Instagram filter. Is digital fashion an art? Yes, digital fashion is an art. It is essentially an extension of a designer's digital illustrations. But, digital fashion is more than simply an art gallery. It is an opportunity for fashion designers to showcase their creativity by using digital fashion platforms that allows them to develop more revenue streams. After all, fashion designers can turn their digital outfits into Non-Fungible Tokens (NFTs) and trade them using blockchain. How to shop for digital fashion? Now that you know how digital fashion functions, it's time to get in the game! One of the best ways to shop for digital fashion is through digitalfashion marketplaces. These online marketplaces foster cyber couture and push design boundaries — redefining the world of fashion as we know it. Here are some of the renowned digital fashion houses and marketplaces worth mentioning in the post. Feel free to check them out as the digital fashion products on them are exciting enough to captivate fashion enthusiasts worldwide ● DRESSX ● Replicant ● Auroboros ● DIGITALAX ● The Dematerialised ● Tribute Brand ● XR Couture ● UNXD ● The Fabricant ● Carlings ● Rtfkt ● Happy99 ● Republiqe These digital fashion marketplaces function by using real-time Augmented Reality. Consumers can use their camera phones to try digital fashion products for free. Not just that, consumers will have the choice of transactions when purchasing digital fashion. They can either use "on-chain" or "off-chain" transactions. The former requires users to own a cryptocurrency wallet or open one inside the digital fashion platform, allowing them to turn clothing into a digital asset. The latter involves payment through regular credit cards. Dont miss out on our digital fashion auction taking place between the 26- 29 Jan 2023. Click here and get ready to bid on exclusive items for your digital collectibles. It's your opportunity to build a spectacular digital wardrobe and collect digital fashion art to show off online! Final thoughts! "Digital Fashion" is still an emerging trend that has the potential to make digital wearables and fashion NFTs more accessible — especially since it is powered by exciting innovations. However, brands need to make more and more consumers aware of the attractive features of digital fashion, more importantly, its affordability. We believe that the meta-closet or digital closet is the way of the future and people will give attention to building a digital wardrobe parallel to building a physical one. Did you find this post helpful? Let us know in the comments. Also, don't forget to check out other informative posts in the blog!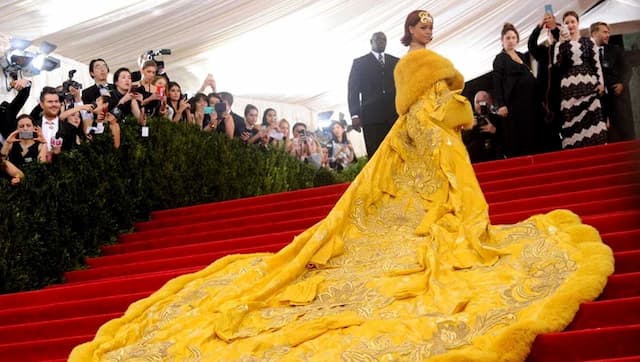 ART AND HIGH FASHION
After months-long waiting and the 2020 cancellation, the Met Gala is about to take place on Monday, September 13. The high-profile event is a fundraising benefit for the Metropolitan Museum of Art in New York City. Under her decades-long patronage of the fashion editor-in-chief of Vogue USA, Anna Wintour has transformed this social and charitable event into the "Fashion's biggest night out". Each year it attracts larger crowds and an impressive list of A-class celebrities among the guests and co-hosts. The Costume Institute will host its first two-part exhibition, on the theme of American fashion, during 2021 and 2022. Part one, "In America: A Lexicon of Fashion," will open in the Anna Wintour Costume Center on September 18, 2021, and will remain on display when "In America: An Anthology of Fashion," opens on May 5, 2022, in the period rooms of the American Wing. Both shows will run through September 5, 2022. Rihanna wearing a spectacular gown created by the Chinese designer Guo Pei at Met Gala 2015 The biggest names in Hollywood are set to descend upon the Metropolitan Museum of Art in a breathtaking red-carpet parade of avant-garde ensembles celebrating fashion as a form of art. On this occasion, we are looking back at the permanent exchange of ideas, concepts, and inspiration between designers and artists. Elsa Schiaparelli The Lobster Dress designed by Elsa Schiaparelli in 1937 in collaboration with Salvador Dali A 2017 reedition of Schiappirelli's design One of the most avant-gardist fashion designers, who remains a rich source of inspiration even today, is Elsa Schiaparelli. She had a keen interest in Dadaism and Surrealism and was part of the social circle of Francis Picabia and Man Ray. Besides being credited with creating the first sweater with a surrealist trompe l'oeil image of a bow, the first newspaper print (repurposed by Jean Paul Gaultier for his couture debut and now considered a staple look of the 90s after being worn by the fictional character Carrie Bradshaw in the HBO TV series Sex and the City) and the first wrap dress (later revisited and adopted by the American designer Diane von Fürstenberg in the 1970s), she is well known for her many collaborations with some of the most innovative artists from the 1930s and '40s. The Swiss artist Alberto Giacometti cast in bronze one-of-a-kind buttons for Schiappirelli's coats. Man Ray often asked her to model for his photographs. Meret Oppenheim designed a fur bracelet in 1936 for Schiaparelli's winter collection, the piece was the precursor to the artist's iconic surrealist fur-covered teacup. An evening coat embroidered in a pattern that reads simultaneously as a vase and two confronting was a product of her collaboration with Jean Cocteau. Perhaps her most famous collaboration was with the surrealist Spanish artist Salvador Dali. In 1935 the duo designed a perfume bottle shaped like a telephone dial, in 1937 the Shoe hat was inspired by a photograph of Dalì with his wife's slipper on his head. Often considered scandalous, as the artists themselves and the female figures that wore dresses (Wallis Simpson were the Lobster Dress on her honeymoon), Schiaparelli's couture creations stood the test of time. The House of Schiaparelli decided to reedit the infamous Lobster dress for the Spring 2017 season. Schiaparelli's collaborations with Dada and Surrealist artists resulted in some of the most renowned works of twentieth-century haute couture Dior Fall/winter 2020/2021 collection, Le Mythe Dior inspired by surrealist female artists Maria Grazia Chiuri Another couturier whose creativity has been shaped by feminist art is the head designer of Dior, the Italian designer Maria Grazia Chiuri. In 2020 Chiuri commission Judi Chicago, the subversive feminist artist, to create a set-cum-art installation for the iconic couture house's spring runway show at the Musée Rodin in Paris. More recently, for the fall/winter 2020/2021 collection (Le Mythe Dior), during the difficult times of the Covid-19 pandemic, the designer created a fairytale world populated by nymphs and naiads, Venus, Narcissus, a faun and inspired by the less-known Surrealist artists and muses: Lee Miller, Dora Maar, Dorothea Tanning, Leonora Carrington, and Jacqueline Lamba. "Surrealist images manage to make visible what is in itself invisible," Chiuri said of the collection in a statement. "I'm interested in mystery and magic, which are also a way of exorcising uncertainty about the future." Yves Saint Laurent The Mondrian Dress design by Yves Saint Laurent in 1965 Piet Mondrian Composition C (No.III) with Red, Yellow and Blue No other moment in the history of fashion captured the public's imagination better than the Mondrian dress designed by the French designer Yves Saint Laurent in the 1960s. This period coincided with the women's liberation movement when women started wearing mini-skirts and loose-fitting dresses that placed fewer constraints on the body. Saint Laurent realized that the planarity of the A dress, very fashionable at that time, was an ideal field for color blocks. He demonstrated a great skill of dressmaking, setting each block of jersey to create the resemblance with the Mondrian paintings and at the same time to accommodate the curves of the female body in the grid of seams. Yves Saint Laurent went on to create haute couture outfits inspired by other artists such as Van Gogh and Picasso, but his Mondrian dress remains until today one of the most recognizable designs and at the same time a cultural symbol of the 60s. Few designers can claim such a profound influence on the way women dress as Yves Saint Laurent. The pieces he pioneered – the man's tuxedo, cut for a woman's body, the safari jacket, the trench coat – are now so congruous with women's wardrobes that they seem like they have been there forever. The marriage between art and fashion is more stable than ever. As recent as 2020, Moschino's Creative Director Jeremy Scott took inspiration from famous painters in his Spring/Summer 2020 collection with models appearing to have stepped straight out of a Picasso's cubist masterpieces. Pierpaolo Piccioli, the creative director of the Italian house Valentino envisioned for his most recent collection a dialogue with more than 15 emerging artists and established artists—including names like Luca Coser, Jamie Nares, Wu Rui, and Malte Zenses. Discover more artworks by emerging and established artists in our curated collections.
ARTICLES ON COLLECTING ART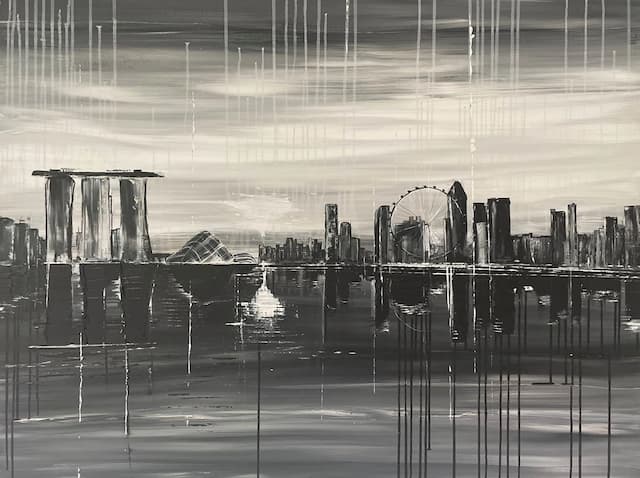 COLLECTING ART
Art Investing Made Easy: How to Choose and Buy Paintings for Sale in Singapore
Are you fascinated by art and looking to invest in this timeless form of expression? Look no further! In this guide, we will take you through the exciting world of art investing and provide you with valuable tips on how to choose and buy paintings for sale in Singapore. With its booming art scene and diverse range of artwork available, Singapore has become a sought-after destination for art enthusiasts and investors alike. Whether you're a seasoned collector or a novice in the art market, we've got you covered. From understanding the different art styles and techniques to identifying promising investment opportunities, we will equip you with the knowledge and skills to make informed decisions. Get ready to embark on a journey of aesthetic appreciation and financial growth as we demystify the process of art investing and help you build a stunning art collection that not only captivates your soul but also enhances your portfolio. The Benefits of Investing in Art Investing in art offers a multitude of benefits that extend beyond purely financial gains. Unlike stocks or bonds, art is a tangible asset that can provide aesthetic pleasure and emotional connection. Additionally, art has historically proven to be a stable and resilient investment, often remaining unaffected by market fluctuations. In times of economic uncertainty, art can act as a safe haven for investors, preserving and even increasing its value. Furthermore, investing in art allows individuals to support and nurture the artistic community, contributing to the cultural enrichment of society. As an art investor, you have the opportunity to be a patron of the arts and promote the work of talented artists. Whether you're seeking financial diversification, personal enjoyment, or a combination of both, art investing can offer a rewarding and fulfilling experience. Art Market Trends in Singapore Singapore's art market has experienced significant growth in recent years, attracting both local and international collectors. The city-state has positioned itself as a hub for art and culture in Southeast Asia, hosting numerous art fairs, exhibitions, and galleries. Singapore's strategic location, strong economy, and supportive government policies have contributed to the flourishing art scene. Notable art events like the Singapore Art Week and ART SG (inaugural event in 2023) have further elevated the city's status as a vibrant art destination. In terms of market trends, contemporary art remains highly sought after, with a focus on works by emerging artists from Singapore and the region. Traditional and modern art from Southeast Asia also enjoy a strong market presence. As the demand for art continues to grow, Singapore offers a fertile ground for art investors to explore and discover promising opportunities. Factors to Consider When Choosing Paintings for Investment Before diving into the world of art investing, it's essential to consider several key factors that can influence the success of your investment. One crucial aspect is the artist's reputation and track record. Established artists with a solid body of work and a history of successful exhibitions are generally considered safer investment choices. However, investing in emerging artists can also yield significant returns if their work shows promise and potential. Another factor to consider is the condition of the artwork. Paintings in good condition with minimal damage or restoration tend to hold their value better over time. Additionally, the rarity and scarcity of a painting can play a crucial role in its investment potential. Limited edition prints, unique compositions, or artworks from a particular period can command higher prices in the market. Lastly, it's important to consider your personal taste and connection to the artwork. Investing in art that resonates with you on an emotional and intellectual level can enhance your overall experience and satisfaction as an art investor. Chen Wen Hsi's Flowers and Birds Researching and Evaluating Artwork Thorough research and evaluation are essential when considering an art investment. Start by familiarizing yourself with different art styles, movements, and techniques. This knowledge will enable you to appreciate and understand artworks more deeply. Attend art exhibitions, visit galleries, and immerse yourself in the art community to gain insights into current artistic trends and developments. Additionally, take advantage of online resources and art databases to research artists, their past sales records, and the trajectory of their careers. Analyze the price history of similar artworks to gauge their potential value appreciation. When evaluating a specific artwork, consider factors such as the artist's reputation, the quality of the piece, its provenance, and any relevant art historical context. Consulting with art experts, curators, and advisors can also provide valuable guidance and expertise in the art evaluation process. Determining the Value of a Painting Determining the value of a painting is a complex process that involves various factors. While there is no foolproof method, several key elements can help assess the potential value of an artwork. The reputation and stature of the artist are fundamental, as artworks by renowned artists tend to command higher prices. The condition of the painting, including factors such as its age, preservation, and restoration history, can significantly impact its value. Rarity and scarcity also play a role, as paintings that are unique or part of a limited edition series often have higher market value. The size and scale of the artwork can also influence its price, with larger pieces generally commanding higher prices. Additionally, the demand for a particular artist's work and the current market trends can affect the value of a painting. Art auction results, gallery sales, and expert opinions can provide valuable insights into the value of a painting, but ultimately, the market dictates its worth. Where to Buy Paintings in Singapore Singapore offers a plethora of options for art enthusiasts and investors looking to buy paintings. The city boasts an impressive array of art galleries, both established and emerging, showcasing diverse artworks from local and international artists. Visiting galleries allows you to view artworks up close, engage with gallery owners, and seek expert advice on your art investment journey. Art fairs and exhibitions are also excellent opportunities to explore a wide range of artworks and discover new talents. The Affordable Art Fair and Art Stage Singapore are popular events that attract art lovers and collectors from around the world. Online platforms and marketplaces have also gained popularity, providing convenient access to a vast selection of artworks. Websites like Artsy and RtistiQ offer a curated collection of artworks, allowing you to browse, inquire, and purchase art from the comfort of your home. Whichever avenue you choose, remember to exercise due diligence, verify the authenticity of the artwork, and negotiate the best possible price. Tips for Buying Paintings at Auctions Art auctions can be exhilarating and offer an opportunity to acquire valuable artworks. However, they can also be intimidating for first-time buyers. Here are some tips to navigate the auction process successfully: Do Your Research: Familiarize yourself with the auction house, the artworks on offer, and their estimated prices. Attend preview events to view the artworks in person and seek advice from experts if needed. Set a Budget: Determine your maximum bidding limit and stick to it. It's easy to get caught up in the excitement of the auction, but it's vital to stay within your financial means. Register in Advance: Register as a bidder before the auction starts to avoid any last-minute complications. Provide the necessary identification and payment details to ensure a smooth bidding process. Observe and Learn: Attend a few auctions as an observer to understand the dynamics, bidding strategies, and price patterns. This experience will help you feel more confident when participating as a buyer. Bidding Tactics: Decide on your bidding strategy beforehand. You can start with conservative bids and gradually increase if necessary, or you can open with a strong bid to deter other bidders. Be patient and avoid getting caught in bidding wars that may drive up the price. Consider Additional Costs: Keep in mind that auction houses charge buyer's premiums, which are additional fees added to the final hammer price. Factor in these costs when determining your budget. Follow Your Gut: Trust your instincts when making a bid. If a painting speaks to you and you believe in its potential, don't hesitate to participate in the bidding process. Art Investment Strategies for Beginners If you're new to art investing, it's essential to develop a strategy that aligns with your investment goals and risk tolerance. Here are a few investment strategies to consider: Diversify Your Portfolio: Invest in different artists, styles, and mediums to spread your risk and increase the potential for returns. A well-diversified art portfolio can provide stability and balance. Focus on Emerging Artists: Investing in emerging artists can be lucrative if you have a keen eye for talent. Look for artists whose work shows promise and potential for future growth. Supporting emerging artists can also be personally fulfilling as you contribute to their artistic journey. Invest in Established Artists: Established artists with a solid track record and a history of successful sales can offer stability and potential appreciation. Research artists with established careers and seek advice from art experts to identify investment-worthy opportunities. Stay Informed: Keep up-to-date with the latest art market trends, attend art events, and engage with the art community. This ongoing education will help you make informed investment decisions and identify emerging trends and opportunities. Consult Art Professionals: Seek advice from art consultants, curators, and advisors who have in-depth knowledge of the art market. They can provide valuable insights, guide your investment strategy, and help you navigate the complexities of the art world. Maintaining and Protecting Your Art Collection Once you've built an art collection, it's essential to take proper care of your artworks to preserve their value and beauty. Here are some tips for maintaining and protecting your art collection: Proper Display and Lighting: Display your artworks in a well-lit area away from direct sunlight, extreme temperature changes, and humidity. Use appropriate hanging systems and frames to ensure the safety and stability of the artworks. Regular Cleaning and Maintenance: Dust and clean your artworks regularly using gentle materials and techniques recommended by professionals. Avoid using harsh cleaning agents or abrasive materials that may damage the artwork. Insurance Coverage: Obtain insurance coverage for your art collection to protect against theft, damage, or loss. Consult with insurance providers who specialize in art insurance to ensure proper coverage for your specific needs. Documentation and Appraisal: Keep detailed records of your art collection, including purchase receipts, provenance, and any relevant certificates of authenticity. Regularly update the appraisals of your artworks to reflect their current market value. Art Storage: If you have limited display space or need to store artworks temporarily, consider professional art storage facilities. These facilities provide controlled environments, security measures, and specialized handling to ensure the safety of your art collection. Conclusion Investing in art is a multifaceted endeavor that combines aesthetic appreciation with financial potential. Singapore's thriving art scene offers a wealth of opportunities for art investors, from established galleries to emerging artists. By understanding the factors that contribute to the value of a painting, conducting thorough research, and developing a well-informed investment strategy, you can embark on a rewarding art investment journey. Remember to diversify your portfolio, stay informed about market trends, and seek guidance from art professionals. As you build your art collection, prioritize the proper maintenance and protection of your artworks to ensure their long-term value and enjoyment. Happy art investing!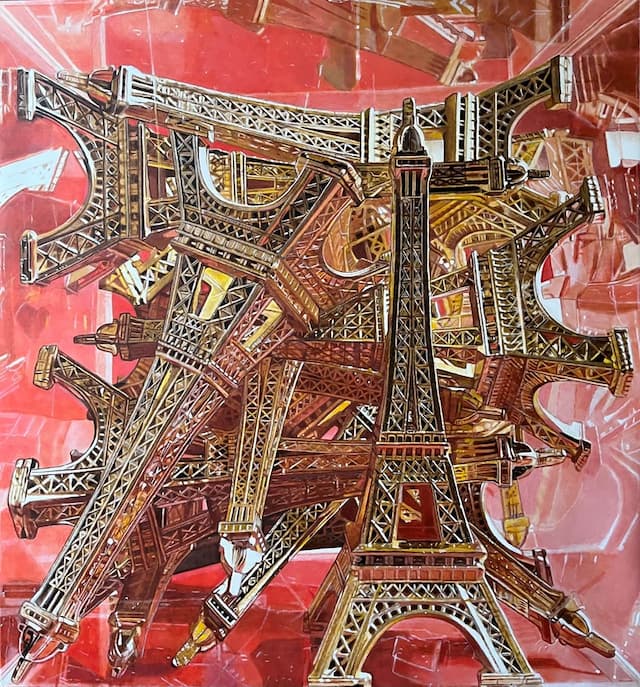 COLLECTING ART
The Incomparable Allure of Original Art: Why Investing in Artists' Creations Triumphs Over Canvas Prints
Art, throughout history, has been a profound means of expressing human emotions, ideas, and culture. It holds the power to captivate, provoke, and inspire. In today's world, the appreciation and consumption of art have evolved thanks to technological advancements that have introduced canvas prints as a more accessible option. However, the allure of original art remains unparalleled. Through this article we deep dive into some of the finer points on why buying an original art from artists triumphs over opting for canvas prints. While Canvas Prints act as a much cheaper option to decor one's space with multitude on websites and stores (e.g. Ikea) to acquire one, but they are as good as any decoratives and depreciates in value immediately after purchase. Here are 10 reasons that anyone should look at investing in Original Art directly from Artists instead of canvas prints 1. The Essence of Creativity and Uniqueness: Original art encapsulates the essence of the artist's creativity and individuality. Every brushstroke, every colour choice, and every detail carries the artist's personal touch, allowing their emotions and perspectives to flow freely onto the canvas. This uniqueness cannot be replicated in a canvas print, which needs more authenticity and depth of the artist's creative process. souvenirs-de-paris-ii by Agnes Lefevre 2. Investing in Culture and History: When you purchase original art, you are not just acquiring a physical piece but investing in culture and history. Art has been pivotal in reflecting societal changes, political climates, and cultural shifts. Owning an original artwork allows you to be a custodian of these narratives, connecting you with the artist's era and their influences. On the other hand, canvas prints lack this historical and cultural context. 3. Supporting Living Artists: Investing in original art directly supports living artists and their livelihoods. Artists pour their heart and soul into their creations, often facing financial challenges to sustain their passion. By purchasing original art, you contribute to their journey, enabling them to continue dedicating themselves to their craft. This support fosters a thriving artistic community and encourages the growth of art. Power by Sudipta Das (Singapore) 4. A Tangible Connection: Original art provides a tangible connection between the artist and the collector. Each piece carries a story, emotion, or concept the artist intended to convey. When you invest in original art, you are not just acquiring a decorative piece but inviting a part of the artist's world into your own, creating a profound connection that canvas prints cannot replicate. 5. The Aesthetics of Imperfection: The imperfections found in original art contribute to its charm and authenticity. These imperfections are a testament to the artist's humanity, showcasing their struggles and triumphs. They tell a story of the artistic process, the evolution of the piece, and the artist's growth over time. Canvas prints, being mass-produced and perfected, lack this organic beauty of imperfection. Lifting Govardhanagiri by Elancheziyan S (India) 6. Value Appreciation: Original artworks have the potential to appreciate in value over time, especially if the artist gains recognition or achieves significant milestones. The rarity and uniqueness of original pieces make them sought after by collectors and art enthusiasts, leading to increased demand and value. On the other hand, canvas prints lack the same potential for value appreciation due to their mass-produced nature. 7. Enhancing Living Spaces: Original art can transform a living space into a unique environment that reflects the owner's personality and taste. The presence of an original artwork adds a touch of sophistication, elegance, and individuality that canvas prints cannot replicate. The energy and emotional resonance that emanates from an original piece elevate the ambience of any room. Harlequin - gold 1 by Aarti Bartake (Singapore) 8. Personalized Commissions: When purchasing original art, you can engage with artists for personalized commissions. This means you can collaborate with the artist to create a piece that resonates deeply with your vision, taste, and preferences. This level of customization goes far beyond the reach of canvas prints, providing you with a truly one-of-a-kind creation. 9. Emotional Investment: Original art can evoke emotions and provoke thought in ways that canvas prints often cannot replicate. The depth of feeling that emanates from an artist's brushstrokes, colour choices, and composition can elicit a wide range of emotional responses, creating a lasting connection between the viewer and the artwork. 10. Preserving Cultural Heritage: Original art contributes to preserving cultural heritage by showcasing diverse perspectives, traditions, and aesthetics. It serves as a visual documentation of different eras, geographies, and ideologies. By investing in original art, you play a role in preserving these diverse cultural narratives for future generations. Tree of Life by Abdul Gafur Khatri (India) In conclusion, while canvas prints offer affordability and convenience, they lack the intangible magic of owning an original piece of art. The authenticity, emotional resonance, and connection that original artworks provide are incomparable. By investing in original art, you not only adorn your living space with beauty but also become a part of a rich artistic legacy, supporting artists, culture, and creativity in a way that canvas prints cannot replicate. So, when contemplating your subsequent art acquisition, consider the irreplaceable value of owning an original masterpiece that carries the artist's heart and soul within its strokes.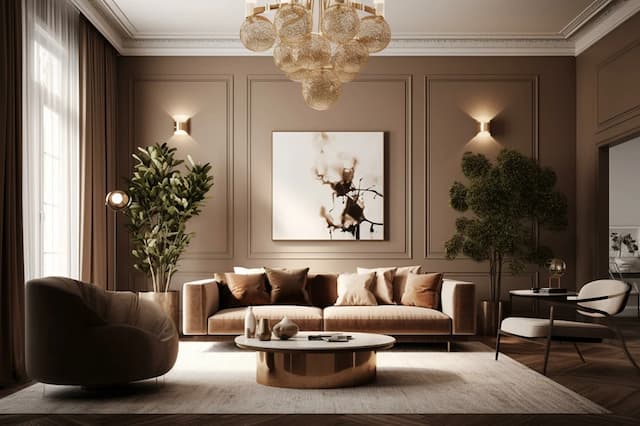 COLLECTING ART
Choosing Art for Your Living Room: Elevate Your Space with Captivating Artworks
The living room is the heart of your home, a space where you relax, entertain guests, and showcase your personal style. Selecting suitable artwork for your living room can add a touch of elegance, maintain harmony, brighten up your space, create a wow factor, and reflect your unique taste. This article will explore various aspects to consider when choosing art for your living room. From size and style to colour scheme and personal preferences, these guidelines will help you curate a captivating collection that enhances the overall aesthetic of your living space. Size and Placement The size and placement of artwork in your living room are crucial considerations. The goal is to find pieces that create a visual impact without overpowering the space. Consider the following factors: Focal Point: Choose one or two more significant artworks to serve as the room's focal point. The artwork could be a striking painting, a statement sculpture, or an oversized photograph. Place them on a prominent wall where they can grab attention and set the tone for the entire space. Proportions: Consider the scale of your living room furniture and the dimensions of the walls. Ensure that the artwork is proportionate to the room's wall space and other elements. For example, a large sectional sofa may require a substantial piece of art to balance the visual weight. Groupings and Gallery Walls: Consider creating a gallery wall or arranging multiple artworks in a group. This approach can add visual interest and create a dynamic display. Mix different sizes and styles, and experiment with layouts before finalizing the arrangement. Eye-Level Placement: Hang artwork at eye level for optimal viewing. The centre of the painting should be approximately 57-60 inches from the floor. Adjustments may be needed based on the average height of your household. Style and Theme The style and theme of your living room play a significant role in determining the type of artwork that will best complement the space. Consider the following: Existing Décor: Evaluate the overall style of your living room, whether it's modern, traditional, minimalist, or eclectic. Look for artworks that harmonize with the existing décor elements, such as furniture, flooring, and architectural details. For example, a contemporary living room may benefit from abstract or geometric artworks. At the same time, a traditional space may call for classical paintings or landscapes. Matching minimalism of the house, infusing abstract art - Abstract no. 4622 black and white minimalism Personal Preference: Your living room reflects your taste and personality. Choose artworks that resonate with your personality, whether from a particular artist, a specific art movement, or a style that you find visually appealing. Select pieces that genuinely speak to you. Room Function: Consider how you use your living room. If it's primarily a space for relaxation and quiet contemplation, choose artworks that create a serene atmosphere, such as soothing landscapes or abstract pieces. If it's a place for social gatherings and lively conversations, opt for bold, vibrant artworks that energize the space. Artistic Variety: Mix different styles and mediums to add depth and visual interest. Experiment with a combination of paintings, prints, photographs, sculptures, or even mixed-media artworks. The variety will enhance the room's richness and showcase your eclectic taste. Colour Scheme The colour scheme of your living room and the artwork you choose should harmonize to create a cohesive and visually pleasing space. Consider the following tips: Complement or Contrast: Choose artworks that either complement or provide a striking contrast to the room's colour palette. Chosing artworks with complementary colours, create a harmonious look to the space. For example, consider artworks with cool blue or green accents if your living room features warm earthy tones. Alternatively, contrasting colours, such as bold reds against neutral tones, can create a vibrant and attention-grabbing effect. Artwork for Trending beige wall - Golden Haze Balance and Harmony: Consider the overall balance of colours in your living room. If the space is rich in colour, opt for artwork with a more muted or monochromatic palette to avoid overwhelming the room. Conversely, bold and colourful paintings can become captivating focal points if your living room is primarily neutral. Highlight Accent Colors: If your living room features specific accent colours, incorporate artwork highlighting those hues. By selecting an artwork in such a way, you can create a cohesive and intentional design. For example, if you have to throw pillows or rugs with yellow pops, consider artworks featuring the same or complementary shades to tie the room together. Personal Touch The artwork in your living room should reflect your personal preferences and experiences. Here are a few suggestions to add a personal touch: Emotional Connection: Choose artworks that evoke emotions or memories. It could be a painting that reminds you of a particular place or a photograph that captures a special moment. Your connection with the artwork will make it more meaningful and enhance your enjoyment of the space. Tidal Melodies by Vicky Yeow Hobbies and Interests: Incorporate artworks that align with your hobbies or interests. If you're passionate about music, consider art pieces inspired by musical instruments or musicians. Landscapes or botanical prints could be a great fit if you love nature. Let your passions shine through the art you choose. La femme au chapeau by Souhayl A Custom Artworks: Commissioning custom artwork gives you a unique and personalized piece for your living room. Collaborate with local artists or artisans to create something tailor-made for your space. This way, you can have a one-of-a-kind artwork that perfectly complements your living room's style and reflects your individuality. Conclusion Selecting artwork for your living room is an opportunity to infuse your personality into your home's central gathering space. By considering factors such as size, placement, style, colour scheme, and personal preferences, you can curate a collection of art that enhances the ambience, serves as a focal point, and sparks conversations. Let your living room art reflect your unique taste and create a space like yours. Enjoy the process of selecting artworks that speak to you, and watch as they transform your living room into a beautiful and visually appealing haven. At RtistiQ we offer a wide variety of selection of works to elevate your living room. Be it large sized paintings, sculptures or photograph we are here to support you in selecting the right artwork that defines your personally. Discover works from our curated collections by our curatorial team. If you would like to get an exclusive session with our curators to support your art selection, click the link CONTACT AN ART ADVISOR and provide us with any specific details you can give us.
Sign up for our newsletter to have the latest stories and curated art recommendations delivered straight to your inbox