Subscribe for our newsletter to have the latest stories and curated art recommendations delivered straight to your inbox
ART MARKET
Art - An Influencer in War
Like
comments
SAVE
Art and war can sound complete opposites - war oppresses and destroys while art creates. But they actually coexist and war is a crucible of art. Art has been used in war situations in a number of ways…before, during and after. Why? Because art is an influencer of thought that reaches all segments of societies and sends out a powerful message for or against warmongering. It provokes, so it can change the way people feel and think.
War art can be made to support it, oppose it, to demoralise opponents and to recover from the catastrophe of it. Artists blend colours, textures and patterns to depict wartime ideologies. Art has been carved from the wreckage of the battle - bullets, shell casings and other debris - often producing unsettling accounts of the calamity. Tools of cruelty have been turned into swords of compassion and the dead have also lived on in the hands of the artists.
Political leaders – monarchs, dictators and democrats have commissioned artists to create propaganda in order to garner support and to urge the public to make material sacrifices and take risks. These artists have depicted the opposing side as aggressive and brutal in order to stimulate critical reflections of animosity for the opposing side. To evoke a sense of nationalism and pride among the citizens, they have depicted battlefield victory and glory.
On the other hand, anti-war organisations have commissioned artists to subvert sympathy for wars. Also, some artists have been official appointees in war situations, sent by their governments to create a record of what was going on or to offer visual slogans to aid morale.
The lessons of art and war are entwined, and art stands as a constant reminder of the hard learnt lessons of the past & present, and the direction of the future.
As we stand now in 2022 with Russia's war on Ukraine entering the second month, RtistiQ has decided to use art and the power of technology to run an NFT art auction of the works of Ukrainian artists to raise money for them. These artists are suffering the horrific consequences of the assault in Ukraine. It is a pragmatic but a different use case, and we hope it can help garner support for these artists thanks to a world of cyber-liberate population. It is also an opportunity for the speculators of this initiative to own tradable and investible alternative assets which ought to prosper in times to come. Refer to our blog article:

We hope through RtistiQ we can continue to use our platform in innovative ways to power the future of art experience around the world while the world is signalling the move to a web3.0 era.
References:
SIMILAR ARTICLES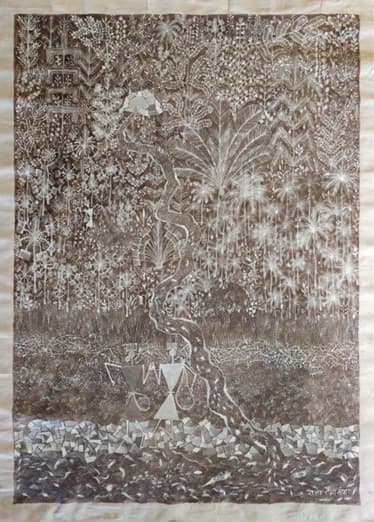 Types of Indian Art - Warli Paintings
A Traditional Art Form from India: Warli Paintings There are many different types of traditional art forms in India, but one that has remained in existence from time immemorial is the Warli painting art form. Warli paintings are characterized by their use of bold colors and simple shapes to create images of men, animals, trees, and plants on the walls of villages or used as decorations during festivals such as the Ganesh Festival or Navratri. Today, Warli paintings continue to be popular as wall décor pieces in homes across India, especially in Mumbai and Gujarat. Here's more about this traditional art form from India. Who is the Warli tribe? The Warlis are a tribe that resides in the North Sahyadri Range in Maharashtra, India. They are known for their warli painting designs, which are done using a mixture of earth and watercolors. The paintings depict scenes from daily life, such as hunting, fishing, and farming. Warli paintings are also used to tell stories and legends. What are the Warli paintings? The practice of Warli art is predicated on the idea of natural beauty, and many aspects of the natural world are often brought into sharp relief. Because agriculture is the primary means of subsistence for the community, members have a lot of admiration for the natural world and the fauna that inhabits it for the commodities that it provides. In a manner somewhat dissimilar to how ancient artworks were executed, it is common practice for warli painters to paint on the backgrounds of their clay houses while working on warli artwork. In Warli art, religious imagery, such as representations of gods and other symbols associated with religion, is never used. It speaks about how humans are reliant on the environment and how they are associated with it. It portrays the earth as a deity. The artworks of the Warli tribe convey a feeling of homogeneity in individuals and underline the tight social interactions that exist among the full members of society. Real-life settings and occurrences served as inspiration for many aspects of the artworks, including the forests, wildlife, festivals, social engagements, and social forms. It is also possible for a Warli artwork to serve as a graphic narrative of one of these classic tales. Many contemporary artists incorporate aspects of the modern environment into their work, such as automobiles, architecture, cycles, electronics, airplanes, and trains. Where can I purchase Warli paintings? You can buy Warli paintings in a number of places, both in India and online. One of the best ways to find a reputable seller is to ask around for recommendations. Once you've found a few potential sellers, take some time to compare prices and shipping costs before making your purchase. You can also find Warli paintings on display in a number of art galleries and museums, which can be a great way to view this traditional art form up close. You can also buy warli paintings online and get them delivered anywhere you want. Conclusion Warli paintings, which are often seen on the walls of villages or as decorations for celebrations like the Ganesh Festival or Navratri, are still widely collected and displayed in houses throughout India, particularly in the metropolitan areas of Mumbai and Gujarat. Don't miss out on these fantastic Warli Art Forms to collect as RtistiQ brings to you the Phygital NFT Folk Art auction that will be held between the 15-18th September 2022.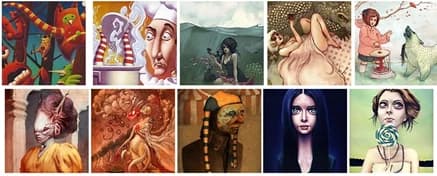 Lowbrow Art Movement: A Journey Through Its Characteristics and Influence
The Lowbrow art movement, also known as pop surrealism, has emerged as a captivating and distinctive artistic movement that challenges traditional norms and blurs the boundaries between high and low culture. Rooted in the rebellious spirit of underground art scenes, Lowbrow art has gained recognition for its unique characteristics, diverse subject matter, and ability to engage viewers with its whimsical, provocative, and often dark narratives. This article delves into the fascinating world of the Lowbrow art movement, exploring its defining characteristics and its profound impact on contemporary art. Origin of Lowbrow Art The origin of Lowbrow art can be traced back to the 1970s in Southern California, specifically in the Los Angeles area. The movement emerged as a response to the dominant art trends of the time and sought to challenge the elitism and exclusivity of the traditional art world. The term "Lowbrow" itself was coined by artist Robert Williams, who used it to describe his own artistic style. Williams, along with other like-minded artists, felt disconnected from the mainstream art scene, which heavily favored abstract expressionism and minimalism. They found inspiration in underground comics, hot rod culture, and other elements of popular and counter-culture. Robert Williams, claims the copyright on the word "Lowbrow" The influence of underground comics, particularly artists such as Robert Crumb, played a significant role in shaping the aesthetics and subject matter of Lowbrow art. These comics often featured satirical, irreverent, and subversive content that resonated with the countercultural movements of the time. The Lowbrow art movement sought to challenge the elitism and exclusivity of highbrow art by incorporating popular culture, comic books, graffiti, street art, and subcultural elements into its visual vocabulary. Rejecting the notion that art should solely focus on lofty concepts or traditional techniques, Lowbrow artists celebrate the kitsch, the strange, and the marginalized, creating a rich tapestry of visually engaging and accessible works. Purple as an Inexplicable Poetic Force, 2015, oil on canvas, courtesy LSU Museum of Art Characteristics of Lowbrow Art Pop Culture Influence: Lowbrow art draws heavily from popular culture, including comic books, cartoons, science fiction, B-movies, and advertising. It embraces the iconography and symbols of these mediums, using them to tell stories, subvert expectations, and critique societal norms. One prominent characteristic of Lowbrow art is its subversion of traditional artistic norms. By appropriating and recontextualizing pop culture imagery, Lowbrow artists challenge the conventional notions of high art, blurring the line between fine art and popular entertainment. This fusion of high and low culture creates a playful and accessible aesthetic that resonates with a broad audience. Skillful Execution: Though often labeled as "low," the technical proficiency of Lowbrow art is noteworthy. Many Lowbrow artists possess strong foundational skills, blending traditional techniques with contemporary approaches. This fusion allows for highly detailed and imaginative creations that captivate viewers with their level of craftsmanship. Lowbrow art encompasses a wide range of artistic styles and mediums, including painting, sculpture, illustration, and digital art. The artists employ a variety of techniques, such as hyperrealism, surrealism, and cartooning, to bring their visions to life. The meticulous attention to detail and the mastery of various mediums demonstrate the artistic prowess of Lowbrow practitioners. Playful and Whimsical Imagery: Lowbrow art often features surreal, whimsical, and fantastical imagery. Artists freely explore the realm of imagination, creating dreamlike scenarios, anthropomorphized characters, and surreal juxtapositions. This infusion of playful elements injects a sense of wonder and joy into the art, captivating audiences with its otherworldly charm. The whimsical nature of Lowbrow art allows viewers to escape the constraints of reality and enter a world of fantasy and possibility. The imagery is often marked by vibrant colors, exaggerated proportions, and fantastical landscapes, transporting viewers to a realm where anything is possible. Dark and Subversive Undertones: While Lowbrow art embraces the playful, it also delves into the darker aspects of human existence. It explores themes of alienation, social commentary, and the human psyche. Through a blend of humor, satire, and irony, Lowbrow artists invite viewers to confront uncomfortable truths, offering a critique of societal norms and challenging established narratives. Lowbrow art often serves as a platform for social and political commentary, tackling issues such as consumerism, environmental degradation, and cultural stereotypes. It exposes the contradictions and absurdities of contemporary society, encouraging viewers to question the status quo and examine their own beliefs and values. Narrative-driven Artworks: Lowbrow art often tells stories, presenting viewers with intricate narratives and inviting them to interpret the visual tales within the artwork. These narratives can be personal, social, or cultural, provoking thought and sparking conversations around the artwork's underlying themes. Lowbrow artists employ storytelling techniques to engage viewers on a deeper level. The narratives within the artworks may be cryptic, leaving room for individual interpretation and multiple layers of meaning. The stories can be fantastical, symbolic, or even autobiographical, allowing viewers to form personal connections with the art and its themes. Influence and Impact The Lowbrow art movement has had a significant impact on the art world and popular culture. Initially relegated to underground galleries and alternative spaces, Lowbrow art has gained recognition and acceptance in mainstream art institutions. Its unique blend of technical skill, popular culture references, and thought-provoking narratives has resonated with audiences around the world, appealing to both art enthusiasts and those outside the traditional art sphere. Moreover, Lowbrow art has influenced and shaped other contemporary art forms, such as street art, illustration, and graphic design. It has blurred the lines between high and low culture, challenging the notion of what constitutes "legitimate" art. By incorporating elements from subcultures, comics, and street art, Lowbrow has breathed new life into the art scene, fostering creativity, diversity, and inclusivity. Conclusion The Lowbrow art movement, with its distinctive characteristics and diverse subject matter, has carved a unique place for itself in the contemporary art landscape. By embracing popular culture, subverting artistic norms, and incorporating whimsical and dark elements, Lowbrow art captivates viewers and invites them to explore new realms of imagination and thought. Through its playful and accessible aesthetic, Lowbrow art has challenged the elitism of the art world, blurring the boundaries between high and low culture. It has inspired a new generation of artists, encouraging them to break free from traditional artistic conventions and explore their own unique voices. The influence of Lowbrow art extends beyond the boundaries of the art world, permeating popular culture and shaping contemporary visual aesthetics. Its impact can be seen in street art, illustration, graphic design, and even fashion.As the Lowbrow art movement continues to evolve and push artistic boundaries, it serves as a testament to the power of art to challenge, provoke, and inspire. By embracing the unconventional and celebrating the extraordinary in the ordinary, Lowbrow art reminds us of the boundless possibilities of artistic expression and the enduring impact it can have on our society and culture.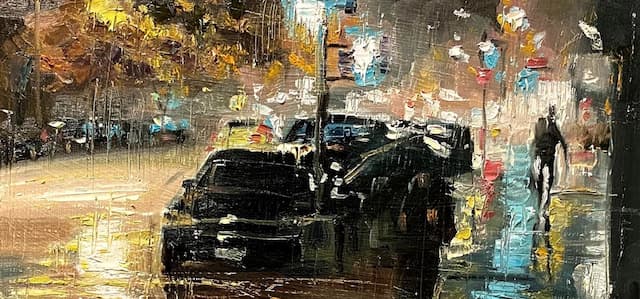 Understanding the Distinction: Contemporary Art vs Modern Art
Over several centuries, Art has evolved with various movements and styles shaping its rich history. Two terms that often confuse people are "contemporary art" and "modern art", more in the context that the words Contemporary and Modern are used interchangeably to mean something in-trend now. While these terms may seem interchangeable, they refer to distinct periods and artistic approaches in the world of art. This article will explore the distinction between contemporary and modern art, shedding light on their characteristics, influences, and significance. Modern Art A Historical Breakthrough Modern Art refers to the period of art that emerged in the late 19th century and prevailed until the mid-20th century. It departed from traditional artistic conventions and embraced innovative techniques, materials, and subject matters. Modern artists sought to challenge established norms and explore new ways of representing the world. One crucial characteristic of Modern Art is its emphasis on experimentation and formal innovation. Artists like Pablo Picasso, Wassily Kandinsky, and Henri Matisse revolutionized art through abstract forms, vibrant colours, and the deconstruction of perspective. They rejected the idea of art solely imitating reality and instead focused on conveying emotional and psychological states. Moreover, modern art was influenced by historical events and societal changes. The impact of World War I, industrialization, and rapid urbanization fueled the desire for artistic expressions that reflected the tumultuous times. Movements such as Cubism, Fauvism, and Surrealism emerged, each with its unique style and thematic focus. Contemporary Art Reflections of the Present In contrast, contemporary art encompasses the artistic practices and expressions of the present time. It emerged in the mid-20th century and continues to evolve as new ideas and technologies emerge. Unlike modern art, Contemporary Art does not adhere to a specific style or movement but embraces diversity and individuality. One defining feature of contemporary art is its inclusivity and openness to various mediums, such as installation, video art, performance, and digital art. Artists like Ai Weiwei, Yayoi Kusama, and Banksy expand the limits of traditional artistic norms and engage with social, political, and cultural issues. Contemporary Art often challenges the viewer's perception, prompting them to question societal norms and ideologies. Another significant characteristic of contemporary art is its global nature. With the advent of technology and globalization, artists have greater access to diverse cultural influences and artistic practices. This has led to a rich tapestry of creative expressions that transcend geographical boundaries and reflect our world's interconnectedness. Conclusion While contemporary art and modern art share a timeline, they are distinct in their approach, style, and influences. Modern Art, emphasizing experimentation and formal innovation, revolutionized the world of Art during the early 20th century. It responded to its time's social and cultural changes and challenged conventional artistic practices. On the other hand, Contemporary Art reflects the artistic expressions of the present moment. It embraces diversity, inclusivity, and new mediums and technologies. Contemporary artists explore a wide range of themes, often engaging with societal issues and pushing the boundaries of traditional art forms. By understanding the differences between Contemporary Art and Modern Art, we can better appreciate the unique contributions of each period and gain a deeper insight into the ever-evolving world of Art. Cover image via Paul Cheng (United States) - Heavy Rain Street
ARTICLES ON ART MARKET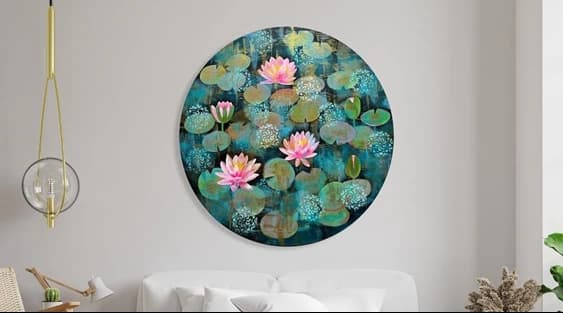 ART MARKET
The Ultimate Guide to Finding the Perfect Art Wall Paintings for Sale
Are you searching for the perfect art wall paintings to elevate your home decor? Look no further! Our ultimate guide has everything you need to know to find that one-of-a-kind masterpiece that will add a touch of sophistication to your living space. We understand that choosing the right wall painting can feel overwhelming with the plethora of options available in the market. That's why we've curated this comprehensive guide to simplify your decision-making process. From understanding different painting styles to selecting the right size and color scheme, our guide covers it all. We'll even walk you through the process of determining your personal taste and aligning it with the atmosphere you want to create in your home. Whether you're a seasoned art enthusiast or a first-time buyer, this guide is designed to help you find the perfect art wall paintings that resonate with your personality. So, get ready to transform your living space into a mesmerizing art gallery with our expert tips and advice. Benefits of incorporating art wall paintings in your home or office Art wall paintings have the power to transform any space, be it your home or office. They serve as a visual expression of your personality, adding depth and character to the walls. One of the key benefits of incorporating art wall paintings is their ability to create a focal point in a room. A well-placed painting can draw the eye and become a conversation starter. It can also help to tie together the various elements of your decor, creating a cohesive and aesthetically pleasing environment. In addition to their decorative value, art wall paintings can also have a positive impact on your mood and well-being. Studies have shown that engaging with art can reduce stress and anxiety, increase feelings of happiness, and even improve cognitive function. By surrounding yourself with artwork that resonates with you, you can create a space that promotes relaxation and creativity. Different types of art wall paintings When it comes to art wall paintings, there is a wide range of styles and genres to choose from. Understanding the different types can help you narrow down your options and find the perfect piece that suits your taste and home decor. One popular style of art wall paintings is abstract art. Abstract paintings are characterized by their non-representational forms and use of color, line, and shape to create a visual language. They can add a sense of energy and intrigue to a space, and their versatility makes them suitable for a variety of interior design styles. For those who prefer a more traditional approach, landscape paintings are a timeless choice. These paintings often depict natural scenery, such as mountains, forests, or seascapes. Landscape paintings can create a sense of tranquility and bring the beauty of the outdoors into your home. Another popular genre is portrait painting. Portraits capture the likeness and personality of a person, making them a great choice for adding a personal touch to your space. Whether you opt for a classic portrait or a contemporary interpretation, these paintings can make a bold statement and become a focal point in any room. Factors to consider when choosing art wall paintings Choosing the perfect art wall painting involves considering several factors that will help you make an informed decision. By taking these factors into account, you can ensure that the painting you choose not only fits your personal taste but also complements your existing decor. One of the first things to consider is the size of the painting. The size of the artwork should be proportional to the wall it will be displayed on. A large painting on a small wall can overwhelm the space, while a small painting on a large wall may get lost and fail to make an impact. Take measurements of your wall and consider the scale of the room to determine the appropriate size for your painting. Another important factor is the color scheme of the painting. The colors should harmonize with the overall color palette of the room. Consider the dominant colors in your decor and look for paintings that incorporate similar hues. This will help create a cohesive and visually pleasing environment. The subject matter of the painting is also a crucial consideration. Think about the atmosphere you want to create in the room. Do you want a serene and calming space? In that case, landscape or abstract paintings may be a good choice. If you want to make a bold statement or showcase your personality, consider opting for a painting with a strong subject or vibrant colors. Lastly, don't forget to consider your personal taste and emotional connection to the artwork. Art is subjective, and what resonates with one person may not resonate with another. Choose a painting that speaks to you on a deeper level, evokes emotions, and reflects your unique style and personality. Where to find art wall paintings for sale Now that you have a clear idea of the type of art wall painting you're looking for, it's time to explore the various avenues where you can find them for sale. From online marketplaces to art galleries and local artists, each option offers its own advantages and unique selection of artwork. Online marketplaces have become a popular destination for art buyers. Websites like RtistiQ, Saatchi Art, and Artsy connect artists with buyers from all over the world. These platforms offer a wide range of art wall paintings in different styles, sizes, and price ranges. They often have search filters that allow you to narrow down your options based on your preferences, making it easier to find the perfect piece. Art galleries and exhibitions are another great place to find art wall paintings. Visiting galleries allows you to see the artwork in person and get a better sense of its size, texture, and overall impact. Many galleries also represent emerging artists, giving you the opportunity to discover unique and undiscovered talent. If you're looking for something truly one-of-a-kind, consider reaching out to local artists or independent sellers. Many artists have their own websites or social media platforms where they showcase and sell their work. Buying directly from the artist not only supports their creative journey but also allows you to establish a personal connection and learn more about the inspiration behind the painting. No matter where you choose to buy your art wall painting, it's important to do your research and ensure that the seller is reputable. Read reviews, check their return policy, and ask any questions you may have before making a purchase. Investing in art is a personal experience, and finding the right seller can make all the difference. Tips for selecting the perfect art wall painting Now that you know where to find art wall paintings, let's delve into some expert tips for selecting the perfect piece that will enhance your home decor and bring joy to your space. Research and Explore: Take the time to research different artists, styles, and genres. Look for inspiration in magazines, art blogs, and social media platforms. Visit museums and galleries to get a better understanding of what resonates with you. Consider the Space: Before making a purchase, visualize how the painting will fit into your space. Consider the lighting, furniture arrangement, and overall ambiance of the room. Take into account the size, color, and subject matter of the painting to ensure it complements the space. Set a Budget: Art wall paintings can vary greatly in price, so it's important to set a budget before you start your search. Determine how much you're willing to spend and stick to it. Remember that art is an investment, and finding a piece you love within your budget is possible. Ask for Expert Advice: If you're unsure about the technical aspects of a painting or need guidance in making a decision, don't hesitate to seek expert advice. Consult with art consultants, interior designers, or even the artists themselves. They can offer valuable insights and help you make an informed choice. Trust Your Instincts: Ultimately, trust your instincts and choose a painting that speaks to you. Art is meant to evoke emotions and create a personal connection. If a painting resonates with you on an emotional level and brings you joy, it's likely the perfect choice for your home. By following these tips, you can navigate the world of art wall paintings with confidence and find the perfect piece that will enhance your living space for years to come. Conclusion Finding the perfect art wall painting may seem like a daunting task, but with the right knowledge and guidance, it can be an enjoyable and rewarding experience. By understanding different painting styles, considering important factors such as size and color scheme, and exploring various avenues for purchasing art, you can find a piece that truly reflects your personality and elevates your home decor. Remember that art is subjective, and what matters most is finding a painting that resonates with you on a deeper level. Trust your instincts, explore different options, and take the time to appreciate the beauty and creativity that art wall paintings bring to your living space. So, start your journey today! Transform your walls into a mesmerizing art gallery and create a space that not only inspires but also reflects your unique style and personality. Happy art hunting!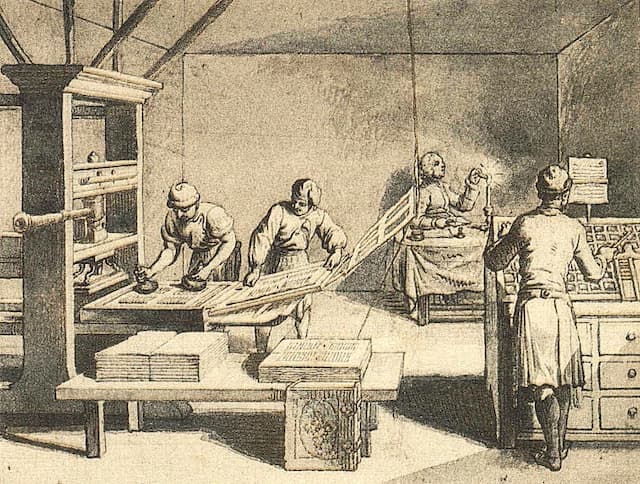 ART MARKET
Unveiling Limited Edition Prints: Are They Worth Collecting?
In the world of art, limited edition prints have garnered significant attention and debate over their value and worth. These prints, often produced by artists in limited quantities, have become popular for art enthusiasts to own a piece of their favourite works without breaking the bank. However, the question remains: are limited edition prints worth anything as an investment and a source of aesthetic pleasure? The reality is that Prints can be just as valuable as any other artwork created and have exceeded value in millions for some rare works by master artists. The Frugal Repast (Le Repas frugal), an etching by Pablo Picasso part of the La Suite des saltimbanques series created in 1904, is considered the first significant attempt by the artist in Printmaking, sold for GBP 6,014,500, in the year 2022 at christies. This article delves into the various facets of limited edition prints, exploring their history, factors affecting their value, and whether they hold lasting significance in the art market. The History of Limited Edition Prints Limited edition prints trace their origins back to the earliest forms of printmaking. Printmaking, as a technique, dates back to ancient civilizations such as the Egyptians and Chinese. However, producing prints in limited quantities gained traction during the Renaissance period in Europe. Artists like Albrecht Dürer and Rembrandt created engravings and etchings that were not only artistic masterpieces but also showed a shift in how art could be produced and distributed. Fast-forward to the 20th century, and limited edition prints began gaining prominence. Artists like Pablo Picasso, Salvador Dalí, and Andy Warhol embraced printmaking to make their art accessible to a broader audience. The Indian Master Raja Ravi Varma, gained large scale prominence due to lithographic prints, specifically of Gods and Godesses that he paiinted. The ability to reproduce artworks precisely and at a lower cost than original paintings made prints an attractive medium for artists and collectors. Factors Affecting the Value of Limited Edition Prints A complex interplay of factors influences the value of limited-edition prints. Here are some key aspects that contribute to their worth: Edition Size: One of the defining features of limited edition prints is the restricted number of copies produced. Generally, the smaller the edition size, the higher the perceived value. A print from an edition of 10 will likely hold more value than one from 100. Artist's Reputation: The artist's reputation plays a significant role in determining the value of their limited edition prints. Prints by renowned artists with established careers are more likely to appreciate value over time. Authenticity and Provenance: Authenticity is crucial in the art market. Limited edition prints with proper documentation and provenance are more valuable as they assure buyers of the artwork's legitimacy. Condition: The condition of the print also impacts its value. Well-preserved prints, without damage or discolouration, tend to command higher prices. Rarity: While the term "limited edition" implies rarity, some prints within an edition might be more sought after due to factors such as variations in colour or unique characteristics. Subject Matter: The subject of the print and its relevance to the artist's body of work can affect its value. Prints featuring iconic motifs or themes closely associated with the artist will likely be more valuable. Artistic Technique: The printmaking technique used can influence value. Specific techniques like etching, lithography, and serigraphy (silkscreen printing) require intricate skills and can add to the appeal and value of the print. Market Demand: Market trends and demand play a significant role in determining the value of limited edition prints. If a particular artist's work becomes fashionable or is featured in exhibitions, it can increase demand and higher prices. Limited Edition Prints as Investments Limited edition prints have often been seen as a way for collectors to invest in art without the hefty price tag of an original painting. However, the investment potential of these prints is a subject of debate. While some limited edition prints by highly regarded artists have appreciated significantly in value over time, not all prints yield substantial returns. The art market can be unpredictable, and factors such as shifts in artistic taste, economic conditions, and changes in the artist's popularity can impact the investment value of prints. Investing in limited edition prints requires careful research and consideration. It's essential to research the artist's career trajectory, study market trends, and consult experts before purchasing with the expectation of financial gain. Like any investment, risks are involved, and it's important not to rely solely on limited edition prints as a means of financial growth. Aesthetic Value and Enjoyment Beyond the realm of investment, limited edition prints hold intrinsic value in terms of aesthetics and personal enjoyment. Owning a limited edition print allows art enthusiasts to experience the beauty and creativity of an artist's work firsthand. These prints can serve as entry points into an artist's larger body of work, allowing viewers to connect with their artistic vision and style. Limited edition prints also allow individuals to decorate their living or working spaces with art that resonates with them. The affordability of prints compared to original artworks makes it possible for a broader range of people to own pieces that align with their artistic preferences. The Changing Landscape with Digital Art Digital technology has introduced a new dimension to the world of limited edition prints through the emergence of digital art and NFTs (Non-Fungible Tokens). NFTs allow digital artists to create limited edition digital artworks that are unique, provably authentic, and can be bought, sold, and owned on blockchain platforms. This raises questions about the value of traditional limited-edition prints in a world where digital art is gaining prominence. While digital art and NFTs have their own merits and challenges, traditional limited-edition prints continue to hold their place in the art market. The tactile quality of a physical print, the historical significance of printmaking techniques, and the enduring appeal of owning a tangible piece of art contribute to the lasting value of traditional limited edition prints. In Conclusion Whether limited edition prints are worth anything encompasses a multifaceted discussion. While these prints may not always yield substantial financial returns as investments, their value extends far beyond monetary considerations. Limited edition prints allow art enthusiasts to engage with the creative output of talented artists, enriching their lives aesthetically and emotionally. As the art market continues to evolve, limited edition prints remain an accessible and valuable means of connecting with art. Whether cherished for their aesthetic allure or sought after as collectibles, these prints are a testament to the enduring power of art to inspire, provoke, and delight.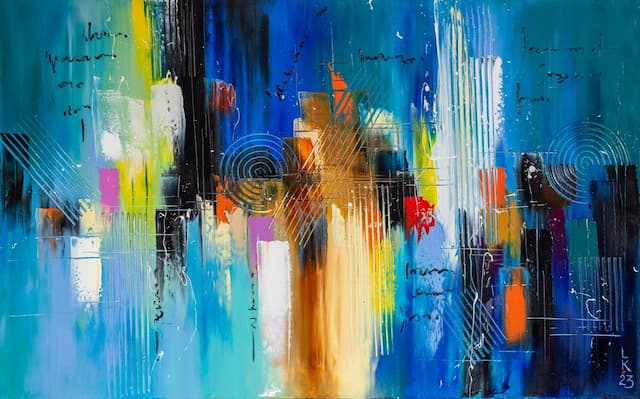 ART MARKET
Famous Abstract Art and Artists
Abstract art is a captivating and revolutionary movement that emerged in the early 20th century, challenging the conventions of representational art. It sought to express emotions, ideas, and concepts through non-representational forms, focusing on the interplay of colour, line, shape, and composition. Abstract art opened up new possibilities for artists to explore the depths of their creativity and create works that transcend the confines of reality. The article embarks on a journey through the world of famous abstract art and delves into the lives and masterpieces of renowned abstract artists who have significantly contributed to this dynamic and expressive genre. Wassily Kandinsky (1866-1944) Russian-born artist, Wassily Kandinsky, is widely regarded as one of the pioneers of abstract art. He believed that art should visually represent the artist's inner spiritual and emotional experiences. Kandinsky's early works were influenced by Russian folk art and Impressionism. However, his encounter with the artworks of the Fauvists and the vibrant colours of Matisse sparked his shift towards abstraction. Kandinsky's abstract artworks, such as "Composition VII" and "Yellow-Red-Blue," exemplify his exploration of colour, form, and composition. He believed that colour had a direct emotional and spiritual impact on the viewer. His compositions often feature bold geometric shapes, swirling lines, and vibrant, contrasting colours. Kandinsky's art not only pushed the boundaries of representation but also sought to evoke profound emotional responses from the viewer, transcending the limitations of figurative art. Color Study. Squares with Concentric Circles (1913), Is one of Kandinsky's most recognisable artworks. A small artwork on the study of colour colour combinations and the perception it carries is reverred as his most famous artwork. Piet Mondrian (1872-1944) Dutch painter Piet Mondrian was crucial in developing abstract art, particularly geometric abstraction. He believed that art should strive for universal harmony and balance, which could be achieved through simplification and using primary colours and straight lines. Mondrian's iconic works, such as "Composition with Red, Blue, and Yellow" and "Broadway Boogie-Woogie," embody his distinctive style. He utilized a grid of horizontal and vertical lines intersecting with primary colours and black and white rectangles. Mondrian sought to reduce art to its essential elements, emphasizing the fundamental relationships between form, colour, and space. His artworks are characterized by order, clarity, and geometric precision. Composition with Red, Blue and Yellow (1930), is an abstract masterpiece, featuring geometric shapes and primary colors, embodying the principles of De Stijl movement. Mondrian's use of straight lines and primary colors evokes a sense of harmony and balance, making it a timeless representation of modern art. The artwork has become an influential symbol of abstract expressionism and continues to inspire artists and art enthusiasts around the world. Kazimir Malevich (1879-1935) Kazimir Malevich, a Russian avant-garde artist, was a prominent figure in the development of abstract art, particularly within the Suprematist movement. He believed in the power of pure geometric forms to evoke emotion and spirituality. Malevich's most famous work, "Black Square," created in 1915, is a seminal piece in the history of abstract art. It is a bold and radical composition with a black square on a white background. Malevich described this work as the "zero degree" of painting, representing the pure essence of art stripped of any representational elements. Through Suprematism, Malevich sought to free art from the constraints of the material world and explore the transcendental nature of pure form and colour. Joan Miró (1893-1983) Joan Miró, a Spanish painter, sculptor, and ceramicist, was known for his playful and imaginative abstract artworks. His style bridged the gap between abstraction and surrealism, combining organic shapes, biomorphic forms, and symbolic elements. Miró's works, such as "The Tilled Field" and "Harlequin's Carnival," feature vibrant colours, curvilinear shapes, and whimsical symbols. He often incorporated dreamlike and childlike imagery, blurring the lines between reality and the subconscious. Miró's art exudes a sense of spontaneity, freedom, and exploration of the inner self. He believed that art should evoke emotions and connect with the viewer subconsciously. Joan Miró – Harlequin's Carnival (1924 – 1925) Jackson Pollock (1912-1956) American artist Jackson Pollock was a crucial figure in the Abstract Expressionist movement. He revolutionized the art world with his unique approach to painting, which involved pouring and dripping paint onto a canvas on the floor. Pollock's famous "drip paintings," such as "Number 1, 1950 (Lavender Mist)" and "Autumn Rhythm (Number 30)," are dynamic and energetic compositions. Through his innovative technique, he explored the physicality of paint and the spontaneous gestures of the artist's hand. Pollock's artworks are characterized by intricate webs of drips, splatters, and gestural marks, creating a sense of movement, rhythm, and chaos. His works embody a raw and emotional expression, inviting viewers to interpret and engage with the artwork on a visceral level. No. 5, (1948) is considered one the most famous as well as the most expensive painting by Jackson Pollock Mark Rothko (1903-1970) American painter Mark Rothko is known for his large-scale colour field paintings that evoke deep emotional responses. Rothko believed that art should create an intimate and immersive experience, allowing viewers to contemplate the complexities of the human condition. Rothko's signature style involved large rectangular fields of colour, often stacked or overlapping. His compositions, such as "No. 61 (Rust and Blue)" and "White Center (Yellow, Pink and Lavender on Rose)," feature vibrant hues that seem to radiate from within the canvas. Rothko sought to create a sense of spiritual transcendence through his artworks, inviting viewers to immerse themselves in the luminous fields of colour and engage with the profound emotional depth conveyed. The famous "Orange, Red and Yellow" (1961) is not just the most famous but also grossed the highest Auction value Concluding Remarks The famous abstract artists and their artworks have left an indelible mark on the art world. Through their bold experimentation, they pushed the boundaries of artistic expression, challenging traditional notions of representation and emphasizing the power of colour, form, and composition. Wassily Kandinsky, Piet Mondrian, Kazimir Malevich, Joan Miró, Mark Rothko and Jackson Pollock are just a few visionary artists who have shaped the trajectory of abstract art. Their works continue to inspire and captivate audiences, inviting viewers to embark on a journey of introspection, emotion, and personal interpretation. Abstract art remains a testament to the limitless possibilities of human creativity and the power of art to transcend the boundaries of the tangible world. Main Image: Strange City by Liubov Kuptsova
Sign up for our newsletter to have the latest stories and curated art recommendations delivered straight to your inbox