Subscribe for our newsletter to have the latest stories and curated art recommendations delivered straight to your inbox
COLLECTING ART
The Top 3 Reasons Collectors Should Invest In Non-Fungible Tokens (NFTs)
Like
comments
SAVE
One cannot remain oblivious to the current buzz around NFTs. Almost all niches are talking about it, but the entertainment industry, including gaming, the visual arts, sports, and music, have benefited the most.
If you're interested in investing in NFTs but aren't sure what they are but want a high-level overview, this blog is an excellent place to start.
What is an NFT?
NFT (Non-fungible token) describes a token that is both unique and unreplicable since it is composed of discrete parts that no one cannot use interchangeably. It means there is only one NFT in circulation, in contrast to the millions of units in circulation for cryptocurrencies. As they can be copied or traded for another, they can be bought and sold like any other piece of art.
Since blockchain technology is utilized to verify the authenticity of NFTs, it will quickly expose any forgeries. For example, you can copy or take a photo of "Mona Lisa" art, but it doesn't mean you have the original art in your possession. To put it simply, NFT is effective in the same way.
To clarify the operation of NFTs, let's assume we have access to a single image we can mint in the blockchain as NFT, and then we can sell it on the NFT marketplace.
What is the meaning of a fungible token?
Start by looking at this type of token for simplicity's sake. Tokens that are "fungible" can be traded for other tokens of the same type.
Here's an example: a friend borrowed an old $10 bill. After a while, this friend can return a brand new $10 note, which will still be worth the same as the old one. However, NFTs cannot be exchanged for another asset, such as you cannot exchange Mona Lisa art just by copying it.
What benefits investors will get from NFTs?
As a cryptocurrency-like digital representation of rare items, NFTs have provided a new revenue stream for collectors and artists.
In their digital form, fewer expenditures associated with upkeep and more asset protection are two other benefits of NFTs. In addition, it opens the door for traders and collectors to transact NFTs with reduced transaction costs, which could eventually transform how we gather rare collections.
Some specific advantages of NFT are as follows.
1. Investors get ownership authenticity.
Blockchain technology ensures the integrity of NFTs by linking the asset to a single record of ownership. NFTs can only ever have one owner, as their indivisibility makes it impossible to divide them among other people.
2. Verifiable originality of items.
Furthermore, blockchain stores additional metadata about the integrity of NFTs, such as who owns them. This is why NFTs cannot be copied, replicated, or substituted for another.
3. Easily transferable.
For example, the gaming business is where the benefits of NFTs become most apparent. We used to be able to leave in-game purchases in the game if we chose to stop playing permanently, but now we can take them with us. In addition, NFTs let players acquire virtual objects within a game and hold onto them indefinitely, whether using them in-game or putting them away in a digital wallet when they're done.
Conclusion
NFTs are a promising asset class for the knowledgeable investor, notwithstanding their relative novelty. They are indestructible and immune to environmental and mechanical factors. As a result, you could use them to make millions.
If you would like to know then please do write to artworks@rtistiq.com or drop us a message by visiting our Contact Us page.
SIMILAR ARTICLES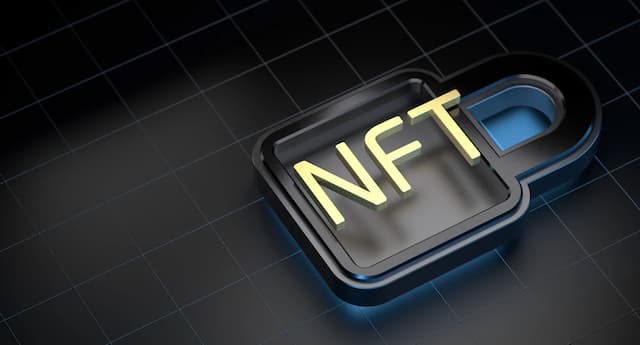 Protecting Your Digital Assets and NFTs
With the rising popularity of NFTs and blockchain technology, it has become extremely important for NFT owners to protect their digital assets from theft or hackers. Below are a few tips you can follow to protect your NFT collection: Never disclose the private key or seed phrase of your wallets When you buy an NFT it resides in your wallet. Wallets like Metamask have a seed phrase and each account in it has a private key. Both of them should be kept secret and should not be shared with anyone. Sharing these will give the control of your wallet to the other and they can easily transfer your digital assets/NFTs to their wallets. Keep your digital assets/NFTs in multiple wallets In case you hold a large number of NFTs, another way to protect them is to keep them in different wallets. You can use a wallet to purchase the NFTs from different marketplaces and after that you can transfer them to another wallet which you haven't connected with any marketplace. By spreading your NFTs across different wallets, you can minimise the chance of losing all your NFTs as there is less chance of all your wallets getting hacked together. But this comes at a cost, you will have to bear the transaction charges for the wallet to wallet transfers. Use hardware wallets Hardware wallets are another excellent option to protect your Digital Assets. Although it comes at a cost but is one of the safest options to secure your assets. Ledger and Trezor are two most popular options for hardware wallets. These wallets keep the private key offline and thus provide an extra layer of security. Beware of Scammers With NFT marketplaces becoming more popular with the rise in crypto trading, there is also an increase in the number of scammers on these platforms. The most common way of scamming is through Discord DMs saying you have won an NFT from a popular NFT project. Before clicking on any such links you should double check with the NFT Project's site or with any other community members. It's better not to trust any links which you receive in Twitter, Discord etc from people you don't actually know. Increase your knowledge about NFTs and Marketplaces Whenever you buy an NFT, spend some time to gain knowledge about that NFT project and its future roadmap. You should increase your knowledge about the NFT marketplaces so that you don't fall into the trap of scammers. For example, Opensea shows a blue checkmark next to verified projects. Likewise each platform will have its own way to show authentic NFTs. Self educating is the best way to identify scammers and to be safe from them. Follow the guidelines above to ensure you are able to robustly safeguard your NFTs. Your digital assets are as important and valuable as your physical ones and need an equal level of protection.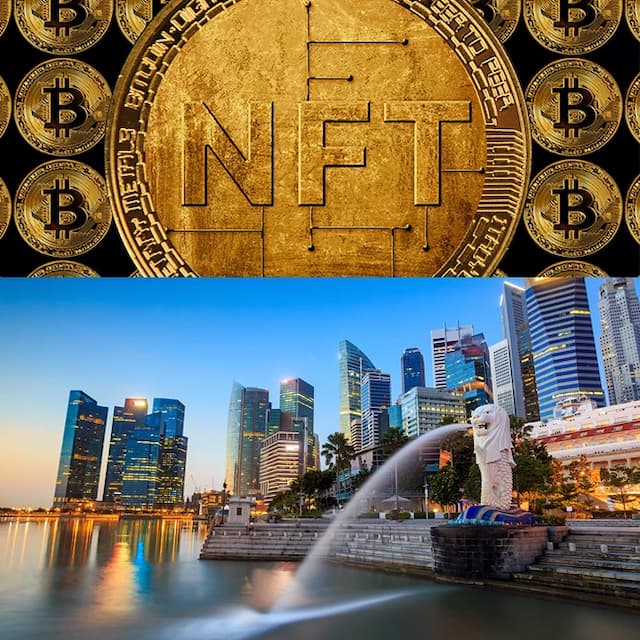 Singapore To Charge Income Tax on NFTs
Lawrence Wong, Singapore's finance minister, announced today that "prevailing income tax rules will apply" to Income derived from non-fungible token (NFT) transactions. He stated that the tax treatment and economics "will be determined based on the nature and use of the NFT." According to Wong, some individuals may also derive capital gains from such transactions. Those profits won't be deducted because the country does not have a regime of taxing capital gains. Different countries have been releasing Taxation plans for NFTs and Crypto Assets, including Australia, the United States of America, and India. The announcement has clarified the Taxation regime for NFT transactions treated as Income or Capital Gains to be considered under regular tax brackets in Singapore. On the other hand, India has taken a different approach with a proposed higher tax bracket of 30% for any Crypto and NFT transactions. Blockchain-based NFTs serve as tokenized cryptographic assets to represent ownership of unique items. The acceptance of crypto is growing globally within the mainstream. Also, NFTs gained prominence from the end of 2020 and took a significant leap in 2021 with a transaction volume estimated at $41 Billion. Singapore has one of the lowest income tax rates in Asia. The country offers several tax breaks and boasts a relatively lower corporate tax rate and top personal tax bracket, plus it does not levy taxes on capital gains. However, the country has plans to raise income taxes for the high earners.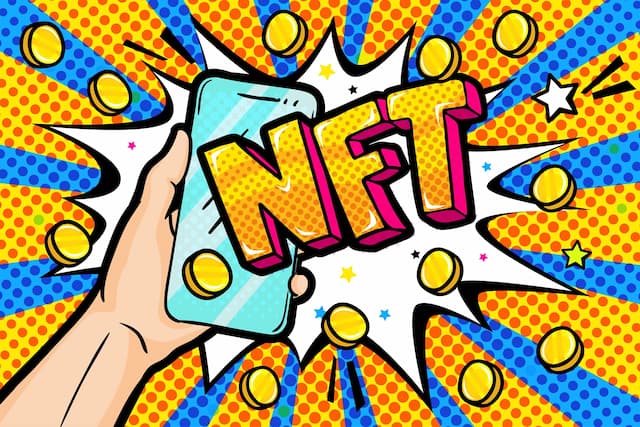 How NFTs are Benefiting the Art Marketplace
Non-fungible tokens (NFTs) are certainly popular, and in the last year they have dominated art news headlines with tales of extravagant price tags. It's a lot of heat and excitement, but just because NFTs are selling for a lot of money, does that really mean that they are good for the art marketplace? After all, there are plenty of items that sell at traditional auction houses for tens of millions of dollars, but very few artists and art lovers actually see any benefit from that kind of wealth being thrown around. But NFTs are different. They could very well reshape the way we think about buying and selling art, and they are overturning age-old expectations — in many ways for the better. Let's look at some of the ways that NFTs are benefiting the art market. Greater Control for the Artists In the art market as we've known it, gallerists and art dealers have a lot of power. Their expertise and connections give them the ability to find buyers for artwork, and they can be especially helpful for artists just starting to break into higher prices. So what's the problem with this system? Artists themselves rarely have the time to become experts in the art market or make the connections they need to move their art. That puts them at a power disadvantage. Even worse? There is almost a cultural stigma against artists diving into the pedestrian world of commerce. But NFTs allow certain new conditions for sales, conditions that artists can build into an NFT of their work. For instance, you can make an NFT of a digital work of art and guarantee that every time it is resold, the artist gets 10% of the price. What's better, artists have access to the bidding information and the entire provenance of their work. That means they can see everyone who bought their artwork and how much they paid. This single change will revolutionize the artworld by leaps and bounds, helping artists to get more of the money their work generates. Greater Access for Art Lovers on Marketplaces On the other side of the coin are the art lovers. Many people want to buy art , but if you aren't well connected, it can be hard to have access to everything that's actually available out there. Of course, gallerists and auction houses and art dealers want to meet with and encourage every single art buyer. But the reality is that there is an emphasis on big time art buyers in the current art market. After all, if you are an art dealer with limited resources, are you going to focus on the tycoon you know who spends millions on art each year , or the middle income art lover just now wanting to buy? With NFTs, marketplaces are wide open. Auctions are available to everyone, and little if any information is reserved for a select few. This is letting more people leap into the world of art buying. That combined with the empowerment of artists means a lot more direct buying and selling of art. NFTs Are Changing When we think of NFTs in the artworld today, we predominantly think of auctions for blocks in a blockchain that are linked to digital files — like JPGs, MPEGs, GIFs, and so on. This has caused many to scratch their heads because when you purchase NFT arts for sale, you aren't the only person with access to the art work. Anyone can still copy and share these files infinitely. But here is the thing: NFTs aren't done evolving, not by a long shot. Remember when we talked about artists being able to use NFTs to get 10% of all future sales of their art? That's what is called a smart contract. These are critical elements of NFTs, giving people the ability to have contract clauses automatically fulfilled when certain terms are met. And since NFTs copy the provenance of an artwork in a safe and secure way, they take the burden of provenance off of both the artist and the art buyer. Put these two things together, and you can see how NFTs won't just become interlinked with the digital art market. They can also become critical features of the physical art market. As NFTs grow and change, we will see the art market shifting along with them. We are standing at the precipice of a major development in the art world. NFTs are going to be a core piece of this change.
ARTICLES ON COLLECTING ART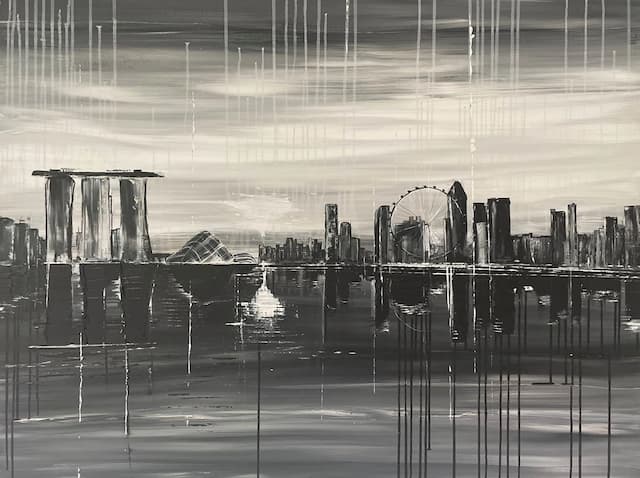 COLLECTING ART
Art Investing Made Easy: How to Choose and Buy Paintings for Sale in Singapore
Are you fascinated by art and looking to invest in this timeless form of expression? Look no further! In this guide, we will take you through the exciting world of art investing and provide you with valuable tips on how to choose and buy paintings for sale in Singapore. With its booming art scene and diverse range of artwork available, Singapore has become a sought-after destination for art enthusiasts and investors alike. Whether you're a seasoned collector or a novice in the art market, we've got you covered. From understanding the different art styles and techniques to identifying promising investment opportunities, we will equip you with the knowledge and skills to make informed decisions. Get ready to embark on a journey of aesthetic appreciation and financial growth as we demystify the process of art investing and help you build a stunning art collection that not only captivates your soul but also enhances your portfolio. The Benefits of Investing in Art Investing in art offers a multitude of benefits that extend beyond purely financial gains. Unlike stocks or bonds, art is a tangible asset that can provide aesthetic pleasure and emotional connection. Additionally, art has historically proven to be a stable and resilient investment, often remaining unaffected by market fluctuations. In times of economic uncertainty, art can act as a safe haven for investors, preserving and even increasing its value. Furthermore, investing in art allows individuals to support and nurture the artistic community, contributing to the cultural enrichment of society. As an art investor, you have the opportunity to be a patron of the arts and promote the work of talented artists. Whether you're seeking financial diversification, personal enjoyment, or a combination of both, art investing can offer a rewarding and fulfilling experience. Art Market Trends in Singapore Singapore's art market has experienced significant growth in recent years, attracting both local and international collectors. The city-state has positioned itself as a hub for art and culture in Southeast Asia, hosting numerous art fairs, exhibitions, and galleries. Singapore's strategic location, strong economy, and supportive government policies have contributed to the flourishing art scene. Notable art events like the Singapore Art Week and ART SG (inaugural event in 2023) have further elevated the city's status as a vibrant art destination. In terms of market trends, contemporary art remains highly sought after, with a focus on works by emerging artists from Singapore and the region. Traditional and modern art from Southeast Asia also enjoy a strong market presence. As the demand for art continues to grow, Singapore offers a fertile ground for art investors to explore and discover promising opportunities. Factors to Consider When Choosing Paintings for Investment Before diving into the world of art investing, it's essential to consider several key factors that can influence the success of your investment. One crucial aspect is the artist's reputation and track record. Established artists with a solid body of work and a history of successful exhibitions are generally considered safer investment choices. However, investing in emerging artists can also yield significant returns if their work shows promise and potential. Another factor to consider is the condition of the artwork. Paintings in good condition with minimal damage or restoration tend to hold their value better over time. Additionally, the rarity and scarcity of a painting can play a crucial role in its investment potential. Limited edition prints, unique compositions, or artworks from a particular period can command higher prices in the market. Lastly, it's important to consider your personal taste and connection to the artwork. Investing in art that resonates with you on an emotional and intellectual level can enhance your overall experience and satisfaction as an art investor. Chen Wen Hsi's Flowers and Birds Researching and Evaluating Artwork Thorough research and evaluation are essential when considering an art investment. Start by familiarizing yourself with different art styles, movements, and techniques. This knowledge will enable you to appreciate and understand artworks more deeply. Attend art exhibitions, visit galleries, and immerse yourself in the art community to gain insights into current artistic trends and developments. Additionally, take advantage of online resources and art databases to research artists, their past sales records, and the trajectory of their careers. Analyze the price history of similar artworks to gauge their potential value appreciation. When evaluating a specific artwork, consider factors such as the artist's reputation, the quality of the piece, its provenance, and any relevant art historical context. Consulting with art experts, curators, and advisors can also provide valuable guidance and expertise in the art evaluation process. Determining the Value of a Painting Determining the value of a painting is a complex process that involves various factors. While there is no foolproof method, several key elements can help assess the potential value of an artwork. The reputation and stature of the artist are fundamental, as artworks by renowned artists tend to command higher prices. The condition of the painting, including factors such as its age, preservation, and restoration history, can significantly impact its value. Rarity and scarcity also play a role, as paintings that are unique or part of a limited edition series often have higher market value. The size and scale of the artwork can also influence its price, with larger pieces generally commanding higher prices. Additionally, the demand for a particular artist's work and the current market trends can affect the value of a painting. Art auction results, gallery sales, and expert opinions can provide valuable insights into the value of a painting, but ultimately, the market dictates its worth. Where to Buy Paintings in Singapore Singapore offers a plethora of options for art enthusiasts and investors looking to buy paintings. The city boasts an impressive array of art galleries, both established and emerging, showcasing diverse artworks from local and international artists. Visiting galleries allows you to view artworks up close, engage with gallery owners, and seek expert advice on your art investment journey. Art fairs and exhibitions are also excellent opportunities to explore a wide range of artworks and discover new talents. The Affordable Art Fair and Art Stage Singapore are popular events that attract art lovers and collectors from around the world. Online platforms and marketplaces have also gained popularity, providing convenient access to a vast selection of artworks. Websites like Artsy and RtistiQ offer a curated collection of artworks, allowing you to browse, inquire, and purchase art from the comfort of your home. Whichever avenue you choose, remember to exercise due diligence, verify the authenticity of the artwork, and negotiate the best possible price. Tips for Buying Paintings at Auctions Art auctions can be exhilarating and offer an opportunity to acquire valuable artworks. However, they can also be intimidating for first-time buyers. Here are some tips to navigate the auction process successfully: Do Your Research: Familiarize yourself with the auction house, the artworks on offer, and their estimated prices. Attend preview events to view the artworks in person and seek advice from experts if needed. Set a Budget: Determine your maximum bidding limit and stick to it. It's easy to get caught up in the excitement of the auction, but it's vital to stay within your financial means. Register in Advance: Register as a bidder before the auction starts to avoid any last-minute complications. Provide the necessary identification and payment details to ensure a smooth bidding process. Observe and Learn: Attend a few auctions as an observer to understand the dynamics, bidding strategies, and price patterns. This experience will help you feel more confident when participating as a buyer. Bidding Tactics: Decide on your bidding strategy beforehand. You can start with conservative bids and gradually increase if necessary, or you can open with a strong bid to deter other bidders. Be patient and avoid getting caught in bidding wars that may drive up the price. Consider Additional Costs: Keep in mind that auction houses charge buyer's premiums, which are additional fees added to the final hammer price. Factor in these costs when determining your budget. Follow Your Gut: Trust your instincts when making a bid. If a painting speaks to you and you believe in its potential, don't hesitate to participate in the bidding process. Art Investment Strategies for Beginners If you're new to art investing, it's essential to develop a strategy that aligns with your investment goals and risk tolerance. Here are a few investment strategies to consider: Diversify Your Portfolio: Invest in different artists, styles, and mediums to spread your risk and increase the potential for returns. A well-diversified art portfolio can provide stability and balance. Focus on Emerging Artists: Investing in emerging artists can be lucrative if you have a keen eye for talent. Look for artists whose work shows promise and potential for future growth. Supporting emerging artists can also be personally fulfilling as you contribute to their artistic journey. Invest in Established Artists: Established artists with a solid track record and a history of successful sales can offer stability and potential appreciation. Research artists with established careers and seek advice from art experts to identify investment-worthy opportunities. Stay Informed: Keep up-to-date with the latest art market trends, attend art events, and engage with the art community. This ongoing education will help you make informed investment decisions and identify emerging trends and opportunities. Consult Art Professionals: Seek advice from art consultants, curators, and advisors who have in-depth knowledge of the art market. They can provide valuable insights, guide your investment strategy, and help you navigate the complexities of the art world. Maintaining and Protecting Your Art Collection Once you've built an art collection, it's essential to take proper care of your artworks to preserve their value and beauty. Here are some tips for maintaining and protecting your art collection: Proper Display and Lighting: Display your artworks in a well-lit area away from direct sunlight, extreme temperature changes, and humidity. Use appropriate hanging systems and frames to ensure the safety and stability of the artworks. Regular Cleaning and Maintenance: Dust and clean your artworks regularly using gentle materials and techniques recommended by professionals. Avoid using harsh cleaning agents or abrasive materials that may damage the artwork. Insurance Coverage: Obtain insurance coverage for your art collection to protect against theft, damage, or loss. Consult with insurance providers who specialize in art insurance to ensure proper coverage for your specific needs. Documentation and Appraisal: Keep detailed records of your art collection, including purchase receipts, provenance, and any relevant certificates of authenticity. Regularly update the appraisals of your artworks to reflect their current market value. Art Storage: If you have limited display space or need to store artworks temporarily, consider professional art storage facilities. These facilities provide controlled environments, security measures, and specialized handling to ensure the safety of your art collection. Conclusion Investing in art is a multifaceted endeavor that combines aesthetic appreciation with financial potential. Singapore's thriving art scene offers a wealth of opportunities for art investors, from established galleries to emerging artists. By understanding the factors that contribute to the value of a painting, conducting thorough research, and developing a well-informed investment strategy, you can embark on a rewarding art investment journey. Remember to diversify your portfolio, stay informed about market trends, and seek guidance from art professionals. As you build your art collection, prioritize the proper maintenance and protection of your artworks to ensure their long-term value and enjoyment. Happy art investing!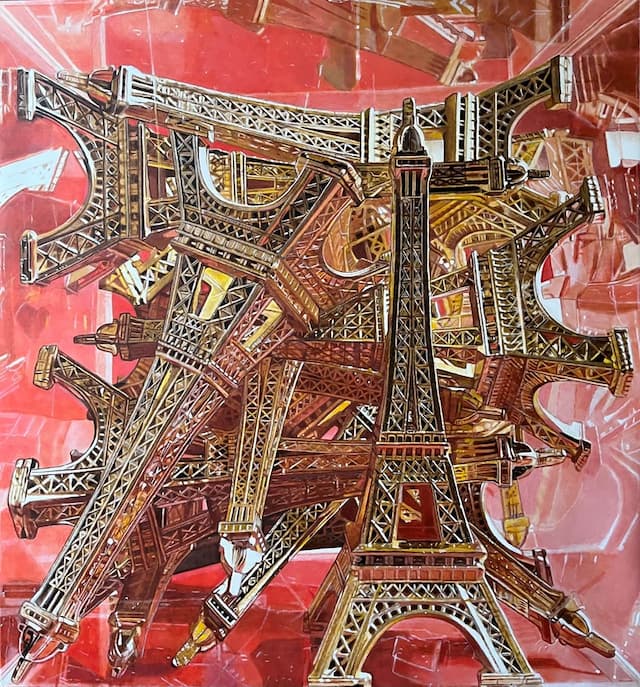 COLLECTING ART
The Incomparable Allure of Original Art: Why Investing in Artists' Creations Triumphs Over Canvas Prints
Art, throughout history, has been a profound means of expressing human emotions, ideas, and culture. It holds the power to captivate, provoke, and inspire. In today's world, the appreciation and consumption of art have evolved thanks to technological advancements that have introduced canvas prints as a more accessible option. However, the allure of original art remains unparalleled. Through this article we deep dive into some of the finer points on why buying an original art from artists triumphs over opting for canvas prints. While Canvas Prints act as a much cheaper option to decor one's space with multitude on websites and stores (e.g. Ikea) to acquire one, but they are as good as any decoratives and depreciates in value immediately after purchase. Here are 10 reasons that anyone should look at investing in Original Art directly from Artists instead of canvas prints 1. The Essence of Creativity and Uniqueness: Original art encapsulates the essence of the artist's creativity and individuality. Every brushstroke, every colour choice, and every detail carries the artist's personal touch, allowing their emotions and perspectives to flow freely onto the canvas. This uniqueness cannot be replicated in a canvas print, which needs more authenticity and depth of the artist's creative process. souvenirs-de-paris-ii by Agnes Lefevre 2. Investing in Culture and History: When you purchase original art, you are not just acquiring a physical piece but investing in culture and history. Art has been pivotal in reflecting societal changes, political climates, and cultural shifts. Owning an original artwork allows you to be a custodian of these narratives, connecting you with the artist's era and their influences. On the other hand, canvas prints lack this historical and cultural context. 3. Supporting Living Artists: Investing in original art directly supports living artists and their livelihoods. Artists pour their heart and soul into their creations, often facing financial challenges to sustain their passion. By purchasing original art, you contribute to their journey, enabling them to continue dedicating themselves to their craft. This support fosters a thriving artistic community and encourages the growth of art. Power by Sudipta Das (Singapore) 4. A Tangible Connection: Original art provides a tangible connection between the artist and the collector. Each piece carries a story, emotion, or concept the artist intended to convey. When you invest in original art, you are not just acquiring a decorative piece but inviting a part of the artist's world into your own, creating a profound connection that canvas prints cannot replicate. 5. The Aesthetics of Imperfection: The imperfections found in original art contribute to its charm and authenticity. These imperfections are a testament to the artist's humanity, showcasing their struggles and triumphs. They tell a story of the artistic process, the evolution of the piece, and the artist's growth over time. Canvas prints, being mass-produced and perfected, lack this organic beauty of imperfection. Lifting Govardhanagiri by Elancheziyan S (India) 6. Value Appreciation: Original artworks have the potential to appreciate in value over time, especially if the artist gains recognition or achieves significant milestones. The rarity and uniqueness of original pieces make them sought after by collectors and art enthusiasts, leading to increased demand and value. On the other hand, canvas prints lack the same potential for value appreciation due to their mass-produced nature. 7. Enhancing Living Spaces: Original art can transform a living space into a unique environment that reflects the owner's personality and taste. The presence of an original artwork adds a touch of sophistication, elegance, and individuality that canvas prints cannot replicate. The energy and emotional resonance that emanates from an original piece elevate the ambience of any room. Harlequin - gold 1 by Aarti Bartake (Singapore) 8. Personalized Commissions: When purchasing original art, you can engage with artists for personalized commissions. This means you can collaborate with the artist to create a piece that resonates deeply with your vision, taste, and preferences. This level of customization goes far beyond the reach of canvas prints, providing you with a truly one-of-a-kind creation. 9. Emotional Investment: Original art can evoke emotions and provoke thought in ways that canvas prints often cannot replicate. The depth of feeling that emanates from an artist's brushstrokes, colour choices, and composition can elicit a wide range of emotional responses, creating a lasting connection between the viewer and the artwork. 10. Preserving Cultural Heritage: Original art contributes to preserving cultural heritage by showcasing diverse perspectives, traditions, and aesthetics. It serves as a visual documentation of different eras, geographies, and ideologies. By investing in original art, you play a role in preserving these diverse cultural narratives for future generations. Tree of Life by Abdul Gafur Khatri (India) In conclusion, while canvas prints offer affordability and convenience, they lack the intangible magic of owning an original piece of art. The authenticity, emotional resonance, and connection that original artworks provide are incomparable. By investing in original art, you not only adorn your living space with beauty but also become a part of a rich artistic legacy, supporting artists, culture, and creativity in a way that canvas prints cannot replicate. So, when contemplating your subsequent art acquisition, consider the irreplaceable value of owning an original masterpiece that carries the artist's heart and soul within its strokes.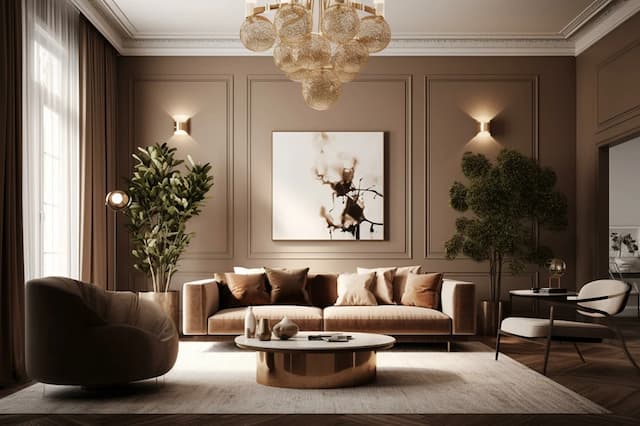 COLLECTING ART
Choosing Art for Your Living Room: Elevate Your Space with Captivating Artworks
The living room is the heart of your home, a space where you relax, entertain guests, and showcase your personal style. Selecting suitable artwork for your living room can add a touch of elegance, maintain harmony, brighten up your space, create a wow factor, and reflect your unique taste. This article will explore various aspects to consider when choosing art for your living room. From size and style to colour scheme and personal preferences, these guidelines will help you curate a captivating collection that enhances the overall aesthetic of your living space. Size and Placement The size and placement of artwork in your living room are crucial considerations. The goal is to find pieces that create a visual impact without overpowering the space. Consider the following factors: Focal Point: Choose one or two more significant artworks to serve as the room's focal point. The artwork could be a striking painting, a statement sculpture, or an oversized photograph. Place them on a prominent wall where they can grab attention and set the tone for the entire space. Proportions: Consider the scale of your living room furniture and the dimensions of the walls. Ensure that the artwork is proportionate to the room's wall space and other elements. For example, a large sectional sofa may require a substantial piece of art to balance the visual weight. Groupings and Gallery Walls: Consider creating a gallery wall or arranging multiple artworks in a group. This approach can add visual interest and create a dynamic display. Mix different sizes and styles, and experiment with layouts before finalizing the arrangement. Eye-Level Placement: Hang artwork at eye level for optimal viewing. The centre of the painting should be approximately 57-60 inches from the floor. Adjustments may be needed based on the average height of your household. Style and Theme The style and theme of your living room play a significant role in determining the type of artwork that will best complement the space. Consider the following: Existing Décor: Evaluate the overall style of your living room, whether it's modern, traditional, minimalist, or eclectic. Look for artworks that harmonize with the existing décor elements, such as furniture, flooring, and architectural details. For example, a contemporary living room may benefit from abstract or geometric artworks. At the same time, a traditional space may call for classical paintings or landscapes. Matching minimalism of the house, infusing abstract art - Abstract no. 4622 black and white minimalism Personal Preference: Your living room reflects your taste and personality. Choose artworks that resonate with your personality, whether from a particular artist, a specific art movement, or a style that you find visually appealing. Select pieces that genuinely speak to you. Room Function: Consider how you use your living room. If it's primarily a space for relaxation and quiet contemplation, choose artworks that create a serene atmosphere, such as soothing landscapes or abstract pieces. If it's a place for social gatherings and lively conversations, opt for bold, vibrant artworks that energize the space. Artistic Variety: Mix different styles and mediums to add depth and visual interest. Experiment with a combination of paintings, prints, photographs, sculptures, or even mixed-media artworks. The variety will enhance the room's richness and showcase your eclectic taste. Colour Scheme The colour scheme of your living room and the artwork you choose should harmonize to create a cohesive and visually pleasing space. Consider the following tips: Complement or Contrast: Choose artworks that either complement or provide a striking contrast to the room's colour palette. Chosing artworks with complementary colours, create a harmonious look to the space. For example, consider artworks with cool blue or green accents if your living room features warm earthy tones. Alternatively, contrasting colours, such as bold reds against neutral tones, can create a vibrant and attention-grabbing effect. Artwork for Trending beige wall - Golden Haze Balance and Harmony: Consider the overall balance of colours in your living room. If the space is rich in colour, opt for artwork with a more muted or monochromatic palette to avoid overwhelming the room. Conversely, bold and colourful paintings can become captivating focal points if your living room is primarily neutral. Highlight Accent Colors: If your living room features specific accent colours, incorporate artwork highlighting those hues. By selecting an artwork in such a way, you can create a cohesive and intentional design. For example, if you have to throw pillows or rugs with yellow pops, consider artworks featuring the same or complementary shades to tie the room together. Personal Touch The artwork in your living room should reflect your personal preferences and experiences. Here are a few suggestions to add a personal touch: Emotional Connection: Choose artworks that evoke emotions or memories. It could be a painting that reminds you of a particular place or a photograph that captures a special moment. Your connection with the artwork will make it more meaningful and enhance your enjoyment of the space. Tidal Melodies by Vicky Yeow Hobbies and Interests: Incorporate artworks that align with your hobbies or interests. If you're passionate about music, consider art pieces inspired by musical instruments or musicians. Landscapes or botanical prints could be a great fit if you love nature. Let your passions shine through the art you choose. La femme au chapeau by Souhayl A Custom Artworks: Commissioning custom artwork gives you a unique and personalized piece for your living room. Collaborate with local artists or artisans to create something tailor-made for your space. This way, you can have a one-of-a-kind artwork that perfectly complements your living room's style and reflects your individuality. Conclusion Selecting artwork for your living room is an opportunity to infuse your personality into your home's central gathering space. By considering factors such as size, placement, style, colour scheme, and personal preferences, you can curate a collection of art that enhances the ambience, serves as a focal point, and sparks conversations. Let your living room art reflect your unique taste and create a space like yours. Enjoy the process of selecting artworks that speak to you, and watch as they transform your living room into a beautiful and visually appealing haven. At RtistiQ we offer a wide variety of selection of works to elevate your living room. Be it large sized paintings, sculptures or photograph we are here to support you in selecting the right artwork that defines your personally. Discover works from our curated collections by our curatorial team. If you would like to get an exclusive session with our curators to support your art selection, click the link CONTACT AN ART ADVISOR and provide us with any specific details you can give us.
Sign up for our newsletter to have the latest stories and curated art recommendations delivered straight to your inbox