Subscribe for our newsletter to have the latest stories and curated art recommendations delivered straight to your inbox
ART INSIGHT
The Intersection of Art and Spirituality: Exploring Ramadan through Art
Like
comments
SAVE
Ramadan is a time of spiritual reflection and devotion for Muslims around the world. Art has long been a way to express and explore religious beliefs, and during Ramadan, it takes on a special significance. From calligraphy to paintings, explore the beauty of Ramadan through the lens of art.
Understanding the significance of Ramadan
Ramadan is the ninth month of the Islamic calendar and is considered the holiest month for Muslims. It is a time of fasting, prayer, and reflection, as well as a time for giving to those in need. During this month, Muslims abstain from food, drink, and other physical needs from dawn until sunset. It is a time for spiritual growth and strengthening one's relationship with God. Ramadan is also a time for community and family gatherings, where people come together to break their fast and share meals.
The role of art in expressing spirituality
Art has long played a significant role in expressing spirituality, and many different religions and spiritual practices incorporate art into their worship and rituals. Art has the power to convey complex and abstract ideas in a way that words sometimes cannot, and it allows individuals to explore and express their spiritual experiences in a visual, tangible form.
Art can also be used as a tool for meditation, reflection, and contemplation. Many spiritual practices incorporate art into their rituals and practices to help individuals connect with their inner selves, their beliefs, and the divine. During Ramadan, art plays an essential role in helping Muslims connect with their faith and express their devotion. From intricate calligraphy to colourful paintings, art depicts the beauty and significance of this holy month. It is a way to capture the essence of Ramadan and share it with others, creating a sense of community and unity among Muslims around the world.
Exploring traditional Islamic art forms
Traditional Islamic art forms, such as calligraphy, geometric patterns, and arabesque designs, have been used for centuries to express the beauty and spirituality of Islam. During Ramadan, these art forms are often incorporated into decorations, clothing, and food. Calligraphy, in particular, is highly revered in Islamic art as it is used to write verses from the Quran and other religious texts. Islamic art's intricate patterns and designs are also symbolic, representing the unity and interconnectedness of all things in the universe.
Universe and Genesis by ABDUL MOHSEN KHANJI
Contemporary artists and their Ramadan-inspired works
Ramadan has inspired many contemporary artists and has created works that reflect the beauty and spirituality of this holy month. One such artist is Laila Shawa, a Palestinian artist who has created a series of works inspired by the call to prayer during Ramadan. Another artist, Ahmed Mater, has created a series of photographs that capture the essence of Ramadan in Saudi Arabia. These works, and many others, showcase the intersection of art and spirituality during this special time of year.

How art can enhance our spiritual experience during Ramadan
Art has the ability to evoke emotions and connect us to something greater than ourselves. During Ramadan, art can enhance our spiritual experience by visually representing the beauty and meaning behind this holy month. Whether it's through calligraphy, paintings, or photography, art can help us reflect on the values of Ramadan, such as compassion, gratitude, and community. By incorporating art into our Ramadan practices, we can deepen our connection to our faith and even more appreciate the beauty of this particular time.
Ramadan is a month of fasting, prayer, and spiritual reflection for Muslims around the world. Art can play an essential role in enhancing our spiritual experience during Ramadan by providing a visual and creative expression of our faith and beliefs. Here are some ways in which art can enhance our spiritual experience during Ramadan:
Calligraphy: Calligraphy is an important art form in Islamic culture and is often used to represent spiritual messages and verses from the Quran. During Ramadan, calligraphy can be used to decorate homes, mosques, and other spaces with messages of faith, devotion, and gratitude.
Islamic geometric patterns: Islamic geometric patterns are another important art form that can be used to enhance our spiritual experience during Ramadan. These patterns are not only aesthetically pleasing but also have spiritual significance, representing the unity and harmony of the universe.
Islamic art and architecture: Islamic art and architecture are rich in symbolism and spiritual meaning, and can be used to enhance our spiritual experience during Ramadan. Visiting Islamic art museums, galleries, and architectural sites during Ramadan can provide a deeper understanding and appreciation of the history and culture of Islam.
Photography and other forms of art: Photography, painting, and other forms of art can also be used to enhance our spiritual experience during Ramadan. These art forms can be used to capture and express the beauty and meaning of the month of Ramadan and can serve as a reminder of the spiritual significance of the month.

If you're interested in exploring Islamic art and its role in contemporary culture, be sure to check out RtistiQ's new collection, Islamic Fun ki Tashreeh, available at https://art.rtistiq.com/en/collections/cultural-festivity-collection. With its vibrant colors and bold designs, this collection celebrates the beauty and diversity of Islamic art while showcasing the creativity of contemporary artists. We hope that this collection will inspire you to discover more about Islamic art and its enduring legacy.
SIMILAR ARTICLES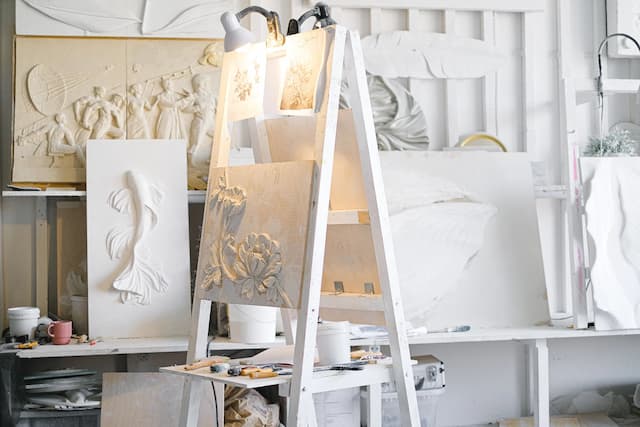 Exploring Art Medium: A Fusion of Category and Material in Art Creation
Art is a vast and diverse realm that encompasses a wide range of creative expressions. Within this realm, the concept of "Art Medium" holds a crucial role, serving as the bridge between artistic intent and tangible creation. The medium that an artist chooses to work with can have a significant impact on the style and meaning of the artwork. For example, a painting made with oil paints will have a different look and feel than a painting made with watercolors. In the context of Art attribution "Art Medium" has been used interchangeably to refer both the category of artwork and the materials used to bring forth an artist's vision. This article delves into the multifaceted nature of art medium, exploring its dual significance in the world of art. Art Medium as a Category of Art In its first sense, an art medium represents the various categories or disciplines within the field of art. Each medium possesses distinct characteristics, techniques, and artistic approaches. Let's explore some of the prominent art mediums: Painting: Painting is a traditional and widely recognized medium that employs pigments on surfaces such as canvas, paper, or wood. It encompasses various styles like oil painting, watercolor, acrylics, and mixed media, each offering unique visual qualities and expressive possibilities. Painting, Pop Horizon by Barron Holand Sculpture: Sculpture involves shaping and manipulating materials such as stone, wood, metal, clay, or even found objects. Artists create three-dimensional forms that can range from classical figurative representations to abstract and conceptual installations. Sculpture, S-04 BIG FOOT by Aleks Rosenberg Drawing: Drawing is a fundamental art medium that employs pencils, pens, charcoal, or other tools to create two-dimensional representations. It encompasses techniques like sketching, shading, and hatching, allowing artists to convey ideas, explore compositions, and develop their artistic skills. Drawing, Dancer in Red by NK Hong Photography: Photography born from the marriage of science and art, captures moments through the lens of a camera. It employs light-sensitive materials and digital technologies to immortalize scenes, people, and emotions, providing a unique perspective on the world. Photography, La grève Je T'aime by Gudzovsky Printmaking: Printmaking encompasses various techniques such as etching, lithography, screen printing, and relief printing. Artists create multiple copies of their artworks, each possessing its own subtle variations, by transferring images onto paper or other surfaces. Ceramics: Ceramics involves working with clay, shaping it into objects, and firing them in kilns to achieve hardness and permanence. This ancient medium encompasses functional pottery, decorative vessels, sculptures, and intricate porcelain works. Textiles: Textile art employs fabrics, threads, and fibers to create tactile and visually engaging works. It includes techniques like weaving, embroidery, quilting, and textile installations, exploring themes of culture, identity, and materiality. Installation and Performance Art:: These mediums go beyond traditional forms, embracing immersive experiences and the participation of the audience. Artists use various materials, space, sound, and movement to create site-specific installations or enact performances that challenge the boundaries of art. Digital NFT: Very recently Digital NFT is being regarded as an art medium, and more importantly revolutionising Digital Art representation. Utilizing blockchain technology, NFTs represent unique digital assets, such as artwork, music, or videos, providing a secure and verifiable link between the digital file and ownership rights. Art Medium as Material Used in Art Creation In the alternate context, an art medium refers to the specific materials and tools employed by artists to bring their artistic visions to life. The choice of medium significantly influences the aesthetic outcome and the creative process itself. Artists often use it to describe how they created their artwork, which gives a sense of how it needs to be viewed as well. For e.g. Oil paintings ( referenced as "Oil on Canvas") are best observed from a distance to get a more clearer understanding and the depth of the Art. Again depending on the Category of work there are different materials used to fulfill the Artistic vision of the creator. Here are some examples of art mediums in the context of Material Used Paints: Artists use various types of paints, including oil paints, watercolors, acrylics, and gouache, each with its own characteristics and techniques. These pigments, when combined with binders, allow artists to manipulate color, texture, and opacity on different surfaces. A combination of the paint type and the support used form the Medium used for the artwork, for e.g. Oil on Canvas, Gouache on paper, Acrylic on Linen etc... Drawing Tools: Pencils, pens, charcoal, markers, and pastels are all examples of drawing tools that artists employ. These tools vary in hardness, texture, and line quality, enabling artists to create intricate details or bold, expressive strokes. Sculpting Materials: Sculptors utilize a plethora of materials such as stone, wood, metal, clay, plastic, and even unconventional materials like ice or food. Each material offers its unique qualities, texture, and potential for manipulation. Cameras and Photographic Equipment: With the advent of photography, cameras and photographic equipment became vital art mediums. Film cameras, digital cameras, lenses, lighting equipment, and photo-editing software all contribute to the creation of photographic art. Printmaking Supplies: Printmaking relies on materials like printing plates, inks, brayers, and printing presses. These tools facilitate the transfer of images from the plate to the chosen substrate, resulting in distinct prints with their own visual characteristics. Clay and Kilns: Ceramics artists employ different types of clay, glazes, and firing techniques to shape and fire their creations. The firing process in kilns transforms the raw materials into durable and visually captivating ceramic pieces. Fabrics and Threads: Textile artists utilize a wide range of fabrics, threads, dyes, and surface design techniques to create intricate tapestries, clothing, quilts, or fiber-based sculptures. The choice of fabric and the application of techniques contribute to the overall visual and tactile impact of the artwork. The Importance of Art Medium The medium that an artist chooses to work with can have a significant impact on the style and meaning of the artwork. For example, a painting made with oil paints will have a different look and feel than a painting made with watercolors. The medium can also affect the way that the viewer interacts with the artwork, an example being, a sculpture that is made from metal will feel different to the touch than a sculpture that is made from wood. The art medium is of utmost importance in the representation of art as it influences the aesthetics, technical possibilities, symbolic significance, and cultural context of an artwork. It allows artists to express their vision, engage viewers, and communicate their intended messages effectively. The careful consideration and deliberate selection of the art medium contribute to the overall artistic expression and impact of the artwork.Different art mediums have evolved throughout history and across cultures, reflecting the societal and historical context in which they originated. The selection of a particular medium can evoke associations and references to specific art movements, traditions, or periods. The Future of Art Mediums The art world is constantly evolving, and new art mediums are being developed all the time. For example, digital art is becoming increasingly popular, as artists use computers and other digital tools to create their work. It is impossible to predict what the future holds for art mediums. However, it is likely that new art mediums will continue to be developed, and that artists will continue to experiment with different materials and techniques. It's important to note that the future of art mediums will be shaped by the creativity and experimentation of artists themselves, as they continue to push boundaries, embrace new technologies, and explore innovative approaches to art-making. The possibilities are vast, and the future of art mediums for visual artists holds exciting potential for artistic expression and engagement with audiences. Digital, Augmented and Virtual Realities, Mixed Media, Eco-Friendly Materials, BioArt and Living Materials, all are being explored, included and evolved for Artists to continously push the boundaries of their creative abilities to produce thought provoking artworks. Conclusion In the realm of art, the term "art medium" embraces a dual meaning. It encompasses both the categorization of art forms and the materials employed by artists. The category of art medium reflects the different disciplines and techniques artists employ to create their work, while the material aspect highlights the tangible tools and substances used to manifest their creative visions. Artists' choices of medium significantly influence the visual, tactile, and conceptual qualities of their artworks. Furthermore, contemporary artists often push the boundaries of traditional mediums by exploring hybrid forms and incorporating new technologies. Understanding the significance of art medium enhances our appreciation for the diverse expressions and the innovative approaches artists employ in their creative endeavors.
All About Graffiti Art and Art Brut
In the urban landscape, vibrant forms of artistic expression emerge, challenging conventional notions of art and engaging with communities in unconventional ways. Two distinctive art forms that have garnered attention for their rawness and unfiltered creativity are graffiti art and Art Brut. Some of the most notorious names of contemporary art come from the world of graffiti. And while formal training and historic institutions still hold a massive presence in the art world, we are seeing more and more outsiders storm the gates and break through to become major names. That's why we put together this guide to understand the types of graffiti art and art brut better. With this new knowledge, you'll be able to better appreciate this diverse and dynamic realm of creative expression. What is Graffiti Art? Graffiti is a kind of art brut. It is any drawing or writing made on a surface, typically in public view. Graffiti itself is about as old as humanity. But beginning in the 1980s, graffiti began to be shown in fine art institutions, like galleries and museums. With the inclusion of many major graffiti artists into the formal art world, the lines have become more and more blurred. Graffiti art now refers to a thriving genre of art that uses the styles and techniques of street graffiti, but with finished products that are meant for more traditional art spaces. Some of the most well known artists of the last fifty years are graffiti artists, including the late Jean-Michel Basquiat. What's the difference between graffiti and street art? The terms "graffiti" and "street art" are often used interchangeably, but they do have distinct characteristics that set them apart: Graffiti artists, like the famous Banksy, create and present their art in public spaces. Frequently, their art is not sanctioned by the owners of the property that the art is painted on. For this reason, graffiti art typically are revolutionary or otherwise transgressive themes. While graffiti can be seen as a subset of street art, the key difference lies in the legality and intent behind the creations. Graffiti is often associated with unauthorized markings and can be viewed as an act of rebellion or vandalism, whereas street art is generally more accepted and embraced by communities as a form of public art. However, it's worth noting that the line between graffiti and street art can be blurred, and there are artists who bridge both realms, incorporating elements of graffiti within their street art pieces. Ultimately, both graffiti and street art play vital roles in shaping the visual landscape of cities, sparking conversations, and challenging societal norms through artistic expression in public spaces. If you are still confused, see this helpful guide: Graffiti art is often associated with illicit, unauthorized markings made on public spaces using various tools like spray paint, markers, or etching tools. Historically, graffiti has been associated with acts of vandalism and considered a form of public defacement. Street art, on the other hand, encompasses a broader range of artistic expressions in public spaces. Street artists often create their works with the permission of property owners or as part of organized initiatives to beautify urban environments. Street art is typically more intricate, visually elaborate, and conceptually driven compared to traditional graffiti. How Graffiti Art Started Graffiti art began as street art, and people often use the words graffiti and street art interchangeably. But a few New York City gallerists in the 1980s saw graffiti as a blooming world of creative expression. And soon, they were exhibiting the work of graffiti artists. A particular hotbed was the East Village in Manhattan. Fun Gallery and Now Gallery helped lead the way in presenting graffiti art in a new light. By placing the work by these outsider artists in the context of a gallery, audiences began to appreciate the art on a deeper level. Artists like Keith Haring, Crash, Lady Pink, and Jean-Michel Basquiat became major names in the art world. They inspired new generations of graffiti artists to pursue the style — as street art, gallery exhibits, or both. Today, major corporations have hired graffiti artists to promote products . Major auction houses sell graffiti art. And you can buy graffiti art at countless galleries around the world. Famous Graffiti Paintings Curious to see some great graffiti art? We've put together a few of the most impressive and noteworthy examples. Untitled Skull (1982) by Jean-Michel Basquiat Copyright Jean-Michel Basquiat This painting is legendary not only as part of Basquiat's skull series, but also because of the major headlines it made in 2017. It was that year that Sotheby's New York sold it for a staggering $110.5 million dollars, blowing past its $57 million estimate. Ignorance = Fear (1989) by Keith Haring Copyright Keith Haring Foundation This work epitomized Haring's use of art as a tool to raise political consciousness. As a gay activist, the AIDS epidemic was central to much of Haring's work in the 1980s. This painting united his powerful pop and graffiti hybrid style to deliver an important message. The Breakdown Comes (1983) by Lady Pink Copyright Lady Pink This masterpiece of graffiti art by Lady Pink reveals the deep anxieties of the middle class in 1980s New York City as an empowering fantasy of the downtrodden in the same time and place. The vitality and playfulness of the artwork helps the complex themes go down enjoyably. Graffiti art is such an exciting realm of the art world. Now a few generations into its acceptance into the establishment, it still continues to push boundaries and grab our attention. Now that you know a little more about it, you can shop graffiti art from this fascinating genre that RtistiQ has put together for you to explore. What is Art Brut? Art brut is a term coined by French artist Jean Dubuffet in the 1940s, literally meaning raw art. Dubuffet used the term to describe the realm of artwork made outside of the formal and academic art world. Sometimes called outsider art, artbrut contains a broad spectrum of work. The term is often used with a bias toward Western art circles. For instance, artists in hunter gatherer tribes might be highly trained and create pieces inside a well codified tradition, but their work might still be considered art brut to some critics—so a reader has to consider who is using the term and how. Art Brut artists typically have no formal artistic training and often face societal marginalization or live with mental health challenges. Their works are characterized by their authenticity, unconventionality, and a lack of adherence to traditional artistic norms. Art Brut encompasses a wide range of styles and techniques. Artists often work with unconventional materials and mediums, using found objects, discarded materials, or natural elements. Their creations are deeply personal and reflect their individual experiences, inner worlds, and unique perspectives. Art Brut has provided a platform for artists who have been marginalized or overlooked by the art establishment. Figures such as Adolf Wölfli, Henry Darger, and Martín Ramírez have gained recognition posthumously for their extraordinary bodies of work. Art Brut challenges the boundaries of what is considered "art" and questions the prevailing criteria for artistic validation. Famous Art Brut Paintings Many Art Brut artists remain relatively unknown, with their works often discovered posthumously. However, there are a few notable Art Brut paintings that have gained recognition and influenced the art world. Here are a few examples: Adolf Wölfli's crazy controversial Art: Adolf Wölfli, a Swiss artist and psychiatric patient, produced an extensive body of work during his confinement. His intricate and highly detailed drawings depict fantastical landscapes, intricate patterns, and narratives from his own imaginary world. Prisoner Drawings is a series of densely packed compositions that reveal Wölfli's creative vision and psychological complexity. "Götter [gods]" by August Walla: August Walla, an Austrian artist with schizophrenia, created a range of powerful and expressive artworks. "Mystery Train" by Martín Ramírez: Martín Ramírez, a Mexican-American artist, created intricate drawings while institutionalized in psychiatric hospitals. His works often feature repetitive lines and motifs, including trains, figures, and animals. Conclusion: Graffiti art and Art Brut are two distinct forms of artistic expression that have captivated audiences with their rawness, authenticity, and unconventional approaches. Graffiti art, born from underground subcultures, challenges social norms and transforms the urban landscape into a vibrant visual tapestry. Art Brut, created by self-taught artists, provides a platform for marginalized voices and challenges established artistic conventions. Together, these art forms exemplify the power of artistic expression to transcend boundaries, spark dialogue, and redefine the notion of what art can be in our complex and diverse world. Check out the Graffiti and Art Brut Collection on RtistiQ to explore some of magnificent works in recent times.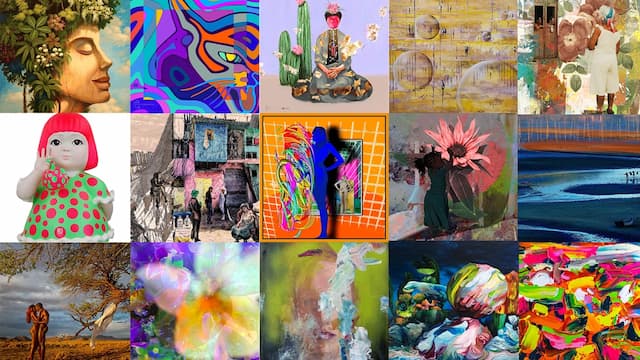 Exploring Visual Art Styles You Should Know: A Quick Snapshot
Art is a vast and diverse realm that encompasses a wide range of styles and movements. Each art style represents a unique approach to creative expression, influenced by historical, cultural, and artistic contexts primarily originating in Europe and later in United States, but had influences and impacts beyond the continent. In this comprehensive guide, we will explore 20 Visual art styles that have shaped the artistic landscape, from ancient to contemporary times. Understanding these styles will deepen your appreciation and knowledge of art history and provide a foundation for exploring the rich tapestry of artistic endeavors. Renaissance Art (14th-17th Centuries): The Renaissance period witnessed a revival of classical ideals and a focus on naturalistic representation. Artists like Leonardo da Vinci, Michelangelo, and Raphael created works that emphasized proportion, perspective, anatomical accuracy, and a sense of idealized beauty. Renaissance art marked a significant shift from the religious and symbolic art of the Middle Ages. Renaissance art not only transformed the artistic landscape but also had a profound impact on Western culture as a whole. It laid the foundation for future artistic movements and continues to inspire and influence artists to this day. The legacy of Renaissance art serves as a testament to the timeless beauty and enduring power of human creativity. Raphael's Renaissance masterwork The School of Athens, 1511. Via Musei Vaticani Baroque Art (17th-18th Centuries): Baroque art emerged in the 17th century and was characterized by grandeur, dramatic lighting, and ornate details. Artists such as Caravaggio and Gian Lorenzo Bernini created dynamic compositions that conveyed a sense of movement, emotional intensity, and theatricality. The art of this period often featured dramatic, swirling forms, rich colors, and intricate details. Baroque artists employed techniques such as chiaroscuro to create a sense of depth and dramatic contrast. Religious themes remained prominent, with grandiose depictions of biblical scenes and saints, reflecting the influence of the Catholic Church. Whether in painting, sculpture, or architecture, Baroque art sought to engage the senses, create a sense of awe, and convey the power and majesty of the subjects depicted. The Martyrdom of St Matthew by Caravaggio, 1600, in Contarelli Chapel, Rome Neo-Classicism (Late 18th-Early 19th Century): Neo-Classicism revived the classical ideals of ancient Greece and Rome, emphasizing harmony, balance, and idealized forms. Artists like Jacques-Louis David and Jean-Auguste-Dominique Ingres drew inspiration from classical mythology, history, and literature, seeking to convey noble and moral themes.Neo-Classical artists idealized the human form, drawing from classical sculpture to portray figures with anatomical accuracy and a sense of idealized beauty. Neo-Classicism represented a return to classical ideals and a rejection of the excesses of the preceding artistic styles. It emphasized order, balance, and rationality, celebrating the timeless beauty of classical art while reflecting the cultural and political climate of its time. Giovanni Paolo Panini, "Ancient Rome," 1757. Image via Wikimedia Commons. Realism (19th Century): Realism emerged in the mid-19th century as a reaction against romanticism and sought to depict subjects with accuracy and fidelity to detail. Artists focused on portraying the everyday, mundane aspects of life, often exploring social issues and reflecting the realities of the time. Notable realist painters include Gustave Courbet and Jean-François Millet. Realism often delved into social issues and political realities, shedding light on the harsh conditions of the working class and critiquing societal norms. Realist artists focused on ordinary people, everyday activities, and common landscapes, highlighting the beauty and significance of the mundane. Realism laid the foundation for subsequent art movements like Impressionism and social realism, influencing the direction of art in the late 19th and early 20th centuries. The Stonebreakers by Gustave Courbet, 1849, via Phaidon Press Impressionism (Late 19th Century): Impressionism revolutionized the art world in the late 19th century. Artists such as Claude Monet, Pierre-Auguste Renoir, and Edgar Degas sought to capture the fleeting effects of light and atmosphere, using loose brushwork and vibrant colors. Impressionist works often depicted scenes of leisure, landscapes, and urban life. Impressionists explored the changing qualities of light and shadow, capturing the effects of light on different surfaces and objects. Their compositions often featured unconventional framing, cropped viewpoints, and a sense of spontaneity. The advent of photography influenced their compositional choices and encouraged a focus on the immediacy and spontaneity of the moment. Impression Sunrise by Claude Monet in 1872 Pointillism (Late 19th Century): Pointillism, developed by Georges Seurat and Paul Signac, involved the use of small dots or points of pure color to create the illusion of form and depth. The technique relied on the viewer's eye to blend the dots of color optically, resulting in vibrant and luminous paintings. Pointillist artists created their works by applying small dots of pure color to the canvas, which were then blended by the viewer's eye. The juxtaposition of different colored dots produced optical color mixing, creating vibrant and luminous effects. Pointillism was influenced by Impressionism, but it took the exploration of light and color to a more systematic and calculated level. Paul Signac (1863-1935), Capo di Noli, 1898, oil on canvas Art Nouveau (Late 19th-Early 20th Century): Art Nouveau embraced organic forms, flowing lines, and intricate patterns inspired by natural elements. This style influenced various art forms, including painting, architecture, and design. Artists like Gustav Klimt and Alphonse Mucha incorporated curvilinear motifs and stylized representations of flowers, plants, and female figures. Artists embraced new materials like iron, glass, and ceramic, combining traditional craftsmanship with modern techniques. Art Nouveau celebrated beauty, artistic expression, and a departure from historical styles, setting the stage for later modernist movements. Gustav Klimt, Portrait of Adele Bloch-Bauer I, 1907 Expressionism (Late 19th-Early 20th Century): Expressionism sought to convey the emotional and psychological aspects of the human experience. Artists like Edvard Munch, Ernst Ludwig Kirchner, and Egon Schiele used distorted forms, intense colors, and gestural brushwork to express inner turmoil and explore the darker aspects of the human psyche. Artists employed vigorous and gestural brushwork, emphasizing the raw and spontaneous execution of their artworks. Expressionism sought to delve into the depths of human emotions and explore the complexities of the human condition. The Scream by Edvard Munch (1893) Fauvism (Early 20th Century): Fauvism, led by artists such as Henri Matisse and André Derain, emerged in the early 20th century. Fauvist artists used bold, non-naturalistic colors to express emotions and evoke an immediate response. The movement rejected traditional representation and emphasized the use of color as an independent and expressive element. Fauvists embraced spontaneity and freedom in their brushwork, rejecting academic constraints and embracing raw and gestural techniques. They aimed to evoke emotions and convey the artist's subjective experience, rather than objective reality. Artists explored the emotional and symbolic potential of color juxtapositions, experimenting with the interaction of hues. 'The Roofs of Collioure', 1905 by Henri Matisse Dadaism (Early 20th Century): Dadaism emerged during World War I as a reaction against societal conventions and the horrors of war. Artists such as Marcel Duchamp and Hannah Höch employed irony, absurdity, and ready-made objects to challenge established norms and question the nature and purpose of art itself. Dadaists embraced absurdity, irrationality, and nonsensical elements in their artworks, seeking to disrupt established modes of thinking. They incorporated everyday objects and ready-mades into their artworks, questioning the concept of originality and challenging the distinction between art and ordinary objects. Dadaism paved the way for later artistic movements, including Surrealism and Conceptual Art. Fountain, 1917 by Marcel Duchamp (1964 Replica by Tate) Cubism (Early 20th Century): Pioneered by Pablo Picasso and Georges Braque, Cubism challenged traditional perspectives by presenting objects from multiple viewpoints simultaneously. Cubist artworks deconstructed forms into geometric shapes and fragmented planes, emphasizing the two-dimensional nature of the canvas. Analytical Cubism and Synthetic Cubism were two major phases within this movement. They analyzed the subject matter, reducing it to basic geometric forms to explore its essence and underlying structure. They incorporated elements of collage, using materials like newspaper clippings, fabric, and other found objects to add texture and depth to their works. Cubism sought to engage the viewer intellectually, inviting them to interpret and decipher the fragmented forms and multiple perspectives. Glass on table by Georges Braque in 1909 Surrealism (Early 20th Century): Surrealism emerged as a literary and artistic movement in the early 20th century, influenced by the writings of Sigmund Freud. Surrealist artists, including Salvador Dalí, René Magritte, and Max Ernst, aimed to unleash the power of the subconscious mind. They created dreamlike and often bizarre compositions, juxtaposing seemingly unrelated elements to provoke emotional and psychological responses. Artists employed techniques like automatic drawing and spontaneous painting to bypass conscious control and access the subconscious. They questioned societal norms and challenged conventional notions of reality, often blending the ordinary with the extraordinary. Surrealists used symbolic motifs, dreamscapes, and strange transformations to evoke a sense of mystery and provoke emotional responses. The Lovers, 1928 By Rene Magritte Abstract Art (20th Century): Abstract art encompasses a wide range of styles that do not attempt to represent recognizable forms or subjects. Artists like Wassily Kandinsky and Piet Mondrian sought to convey emotions, ideas, or spiritual concepts through non-representational imagery. Abstract art relies on shapes, colors, lines, and textures to evoke a response from the viewer. Abstract artists used color for its emotive and symbolic qualities, often employing bold and unconventional color choices to evoke mood and provoke responses. Artists employed gestural and expressive brushstrokes, layering paint and creating texture to add depth and visual interest to their works. Abstract art invited viewers to interpret and engage with the artwork based on their own perceptions and emotions, emphasizing individuality. Flying Home No 1 by Bea Garding Schubert Abstract Expressionism (1940s-1950s): Abstract Expressionism marked a shift towards non-representational art and emphasized the expression of emotions and ideas. Artists like Jackson Pollock, Willem de Kooning, and Mark Rothko used bold brushwork, gestural movements, and vibrant colors to convey intense emotional states. This movement became synonymous with the post-World War II American art scene. IN_ADAPTE 11 2021 by META MARICARMEN HERNANDEZ Pop Art (1950s-1960s): Pop Art emerged as a reaction to the mass consumer culture of the 1950s and 1960s. Artists such as Andy Warhol, Roy Lichtenstein, and Claes Oldenburg incorporated everyday objects, advertisements, and popular culture references into their works. They employed techniques of reproduction, bold colors, and irony to critique and celebrate the influence of mass media and consumerism. Pop Horizons by Barron Holland Minimalism (1960s-1970s): Minimalism sought to strip art down to its essential elements, often reducing forms to simple geometric shapes and emphasizing clean lines and neutral colors. Artists like Donald Judd, Dan Flavin, and Agnes Martin rejected personal expression and focused on the purity of form and the viewer's direct experience with the artwork. Photorealism (1960s-1970s): Photorealism aimed to create paintings or drawings that closely resemble high-resolution photographs. Artists such as Chuck Close and Richard Estes employed meticulous attention to detail, precise brushwork, and a focus on capturing everyday scenes and objects with astonishing realism. Trocadero 2021 by AGNES LEFEVRE Graffiti Art (20th-21st Centuries): Graffiti art has its roots in street culture and has evolved into a recognized art form. It encompasses various styles, techniques, and messages. Street artists employ spray paint, stencils, and bold lettering to create public murals, tags, and social commentaries. Banksy and Jean-Michel Basquiat are notable graffiti artists who have gained international recognition. Expectation 2021 by SAUNDRA FLEMING Contemporary Art (Late 20th Century-Present): Contemporary art refers to the art being created in the present time and encompasses a diverse range of styles and approaches. It reflects the current socio-political climate, technological advancements, and cultural shifts. Contemporary artists employ various mediums, techniques, and concepts to challenge conventions, explore new ideas, and engage with the complexities of our modern world. Conclusion: Exploring different visual art styles allows us to appreciate the breadth and depth of human creativity throughout history. Each style represents a unique artistic approach, influenced by historical, cultural, and artistic contexts. From the realism of the 19th century to the contemporary experiments of today, these art styles have shaped the course of art history and continue to inspire and challenge artists and art enthusiasts alike. By delving into these visual art styles, we can develop a deeper understanding and appreciation of the diverse and dynamic world of art.
ARTICLES ON ART INSIGHT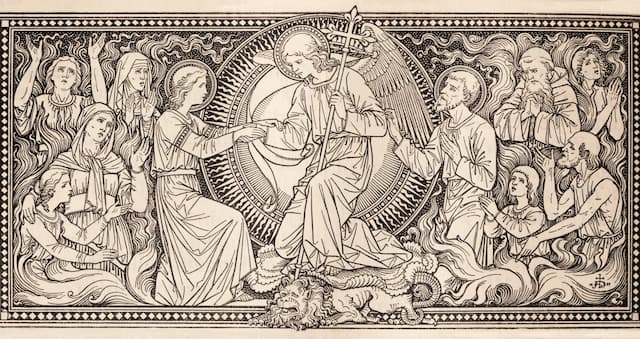 ART INSIGHT
How to Tell a Lithograph from a Painting: A Comprehensive Guide
Art enthusiasts and collectors often come across various forms of visual art, including lithographs and paintings. While both mediums have their own unique appeal, it is important to understand the differences between them. This article aims to provide a comprehensive guide on how to differentiate between a lithograph and a painting, considering their techniques, materials, and characteristics. By gaining insights into these key factors, you'll be equipped with the knowledge to identify and appreciate these art forms more effectively. Understanding Lithographs A lithograph is a type of printmaking technique that involves the process of drawing or painting on a stone or metal plate. It is based on the principle of oil and water repelling each other. The artist creates an image on the stone using specialized tools, and then applies ink to the stone's surface. The ink adheres to the image while being repelled by the wet areas, and a piece of paper is pressed onto the plate to transfer the image. A more detailed article on Lithographs can be referenced in the article What Is A Lithograph. Analyzing Painting Techniques Painting, on the other hand, involves the application of pigments onto a surface, typically canvas, using various tools like brushes, knives, or even fingers. Paintings can be created with different types of paints, such as oil, acrylic, watercolor, or gouache. Artists have greater freedom to manipulate the paint, creating textures, layering colors, and incorporating various brushstrokes, thereby resulting in a unique and original piece of artwork. There are a few key differences between lithographs and paintings that can help you tell them apart. Paper: Lithographs are typically printed on high-quality paper, such as rag paper or watercolor paper. Paintings, on the other hand, can be painted on any type of paper, including newsprint, canvas, or wood. Ink: Lithographs are printed with ink that is specifically designed for lithography. This ink is water-based and has a high viscosity, which means that it is thick and does not flow easily. Paintings, on the other hand, can be painted with any type of paint, including oil paint, acrylic paint, or watercolor paint. Printing process: Lithographs are printed using a process called intaglio printing. This process involves pressing the plate against the paper in a very controlled manner. Paintings, on the other hand, are painted by hand, and there is no such control over the application of paint. Texture: Lithographs typically have a smooth, even texture. Paintings, on the other hand, can have a variety of textures, depending on the type of paint and brushstrokes used. Signature: Lithographs are typically signed by the artist. Paintings, on the other hand, are not always signed. Examining the Surface One of the key ways to differentiate between a lithograph and a painting is by examining the surface closely. Lithographs typically have a flat, smooth texture with even ink distribution. Due to the nature of the printing process, the lines and colors in lithographs tend to be more uniform and consistent. In contrast, paintings often exhibit varied textures, visible brushstrokes, and an overall three-dimensional quality. The presence of texture is a strong indicator of an original painting. Inspecting the Signature Another important aspect to consider is the presence of an artist's signature. In most cases, lithographs are signed in pencil, usually at the bottom margin, while paintings are typically signed in paint directly on the artwork itself. Examining the signature can provide valuable insights into the authenticity and origin of the piece. Additionally, lithographs may have edition numbers or impressions indicating the total number of prints made from the original plate. Assessing the Color Saturation Color saturation is another distinguishing factor between lithographs and paintings. Lithographs tend to have more consistent color saturation throughout the print, with an absence of subtle variations that are commonly seen in paintings. Paintings, on the other hand, often exhibit subtle color shifts, gradients, and nuanced tonal variations, showcasing the artist's hand in mixing and applying the pigments. Considering the Frame and Glass The framing and glass used can also provide clues about whether you're looking at a lithograph or a painting. Paintings are usually framed with a mat and glass, which helps protect the artwork and enhance its presentation. In contrast, lithographs are typically framed without glass, as the glass can cause unwanted reflections and interfere with viewing the image. Moreover, lithographs are often mounted directly on the backing board to prevent any damage caused by the pressure of the glass. Conclusion Distinguishing between a lithograph and a painting requires a keen eye and understanding of the key differences in technique, materials, and characteristics. By examining the surface, signature, color saturation, and framing, you can confidently identify whether you are looking at a painting or a Lithograph.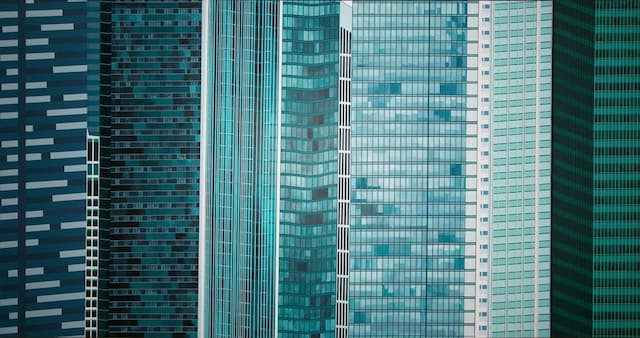 ART INSIGHT
Singapore Art and Artists: Exploring the Rich Cultural Tapestry and Creative Expression
Singapore is a vibrant city-state that has a thriving arts and culture scene. Over the years, Singapore has seen the emergence of numerous talented artists who have made significant contributions to the local and international art scene. In recent years, the art scene in Singapore has experienced significant growth and development, further solidifying its position as a vibrant cultural hub. Here's a glimpse into Singapore's art and artists: Art Movements in Singapore: Compared to European and other Asian counterparts, Art is relatively young in Singapore and driven mainly by the many cultures and traditions that make up Singapore society. What makes Singaporean Art more distinct is the merging of Chinese, Malay and European Art forms with a blend of localised cultural heritage, indigenous beliefs and popular practices in Singapore. Here is an overview of the key periods and milestones in the history of visual art in Singapore: Early Art Influences (Pre-19th Century): Before the 19th century, Singapore was primarily a trading port, and the cultures of the Malay Archipelago, China, India, and the West predominantly influenced art. Traditional art forms, such as batik, sculpture, and calligraphy, were practised by local artisans. Colonial Influence (19th-early 20th century): The arrival of British colonial rule in the 19th century brought Western influences to Singapore. European artists and art teachers introduced academic art practices, such as oil painting and portraiture, to local students. Notable artists during this period include Raffles Institution founder Sir Thomas Stamford Raffles and his wife, Sophia Raffles. Nanyang Style and Cultural Identity (mid-20th century): In the 1950s, a significant art movement known as the Nanyang Style emerged in Singapore. Led by four master artists of the time, Liu Kang, Chen Wen Hsi, Georgette Chen and Cheong Soo Pieng, this movement combined Chinese ink painting techniques with Western art styles, creating a distinctive fusion. The Nanyang Style was a form of cultural expression exploring the identity of the Southeast Asian region and its people. Modern Art Society (mid-20th century): In the 1960s, the Modern Art Society was established, advocating for modern art practices and promoting local artists. This period marked a shift towards experimentation and exploring abstract and conceptual art forms. Artists like Lim Yew Kuan and Anthony Poon were instrumental in driving the development of modern art in Singapore. Contemporary Art and Global Recognition (late 20th century-present): In the late 20th century, Singapore's art scene continued to evolve and embrace contemporary art practices. The opening of institutions like the Singapore Art Museum (SAM) in 1996 and the National Gallery Singapore in 2015 provided platforms for local and international contemporary artists. Singapore's participation in international art events, such as the Venice Biennale and the Singapore Biennale, further propelled its global recognition. Most Notable Artists of Singapore Singapore has been home to many prominent Artists continuously gaining International reputations. Here are some of the most notable and significant artists from the city-state of Singapore Georgette Chen (1906-1993) was a Chinese-born Singaporean painter known for her realistic portraits and landscapes. She is considered one of the pioneers of modern art in Singapore and a key figure of the "Nanyang School" of Art. She had spent much of her early life in China, France and New York, before making Singapore her home in the year 1954 to spend later years of her life. GEORGETTE CHEN, BOATS AND SHOPHOUSES , (credit: Sotheby's) Chen Wen Hsi (1906-1991) was a Chinese-born Singaporean painter known for his lyrical landscapes and portraits. Similar to other prominent artists Chen Wen Hsi, had spent a good part of his life in China before making Singapore his permanent home. He along with four other prominent artists founded the Nanyang Style of Painting in the year 1953, creating a watershed moment for the Singapore Art scene. In 1964 he was awarded with the "Public Service Star" award. One of his paintings "Two Gibbons Amidst Vines", addorns the back of every $50 note of Singapore. The gibbons are there not only to beautify the note but they also signify a great artist who contributed his entire whole life to the art world. Cheong Soo Pieng (1917-1983) was another prominent Chinese-born Singaporean painter known for his abstract paintings. He along with Chen Wen Hsi, Georgette Chen and Liu Kang founded the Nanyang style of art, one of the most important movements of Singapore's cultural History. After migrating to Singapore in 1946, he took up Art teaching at the Nanyang Academy of Fine Arts, and began his fervent amalgamation of Western and Chinese pictorial styles. Best known for his stylized depictions of Malay and Balinese women, he worked in a unique aesthetic that blended Hindu, Chinese, and Modernist European influences. Lim Tze Peng (born 1921) is a Singaporean painter known for his Chinese ink paintings. He is considered one of the most influential artists of his generation in Singapore. His masterpieces have been exhibited in many local and international exhibitions and prominent art centers in Singapore, including the Singapore Art Museum and Nanyang Academy of Fine Arts.. Hundred and two years old Mr Lim currently is the oldest living Artist of Singapore and was awarded the Cultural Medallion in 2003 for his vast contributions to the Art and Culture of the Country. LIM TZE PENG (courtesy South China Morning Post) Amanda Heng (born 1951): Amanda Heng is a contemporary artist known for performing art and installations. She often addresses issues of gender, identity, and social norms in her works and has exhibited her art internationally. She rose to pominance in the 1990's and is considered a pioneer of Performance Arts in Singapore. She is among the first Singaporean Artists to win the distinguished Benesse Prize and also awarded Cultural Medallion for Visual Arts in 2010. Among the many firsts that she brought to the Art scene in Singapore, includes the founding of the Artists Village in 1988 and then later in 1999 she formed the Women in The Arts (WITA) Collective, the first Artists run collective in Singapore. Tan Swie Han (born 1943) Born in Indonesia Tan Swie Han is a Singaporean multi-disciplinary Artist who migrated from Indonesia in 1946 and is known for his Chinese calligraphy and Contemporary Art Sculptures. He is also distinguished as being the most expensive artist in Singapore after he sold his painting "Moon is Orbed" for S$3.7M in the year 2012 and later again broke his own record by selling his ink on rice-paper artwork "Bada Shanren" for S$4.4M. Tan Swie Han (courtesy Straits Times) Yeo Shih Yun (born 1976): Yeo Shih Yun is a Singaporean artist known for her abstract ink paintings. She combines traditional Chinese ink painting techniques with contemporary approaches, creating bold and expressive artworks reflecting her experiences and emotions. Jane Lee (born 1963): Jane Lee is a contemporary artist known for her experimental approach to painting. She often uses unconventional materials such as epoxy paint and polyurethane foam to create textured and multi-dimensional artworks that challenge traditional notions of painting. Lee has toyed with the painting structure to create rich and tactile abstract works that frequently combine two into three dimensions. These are just a few examples of the many talented artists from Singapore who have significantly contributed to the local and international art scene. The art scene in Singapore continues to evolve and grow, with new artists constantly emerging and pushing the boundaries of artistic expression. Head on to our curated collection Inspired-By-Singapore with a selection of works created by Artists worldwide that could illustrate different sides of Singapore's cultural diversity. Part of this collection is a selection of paintings by the Australian artist Dean O'Callaghan painted and inspired by Singapore's cityscapes and exclusively available on RtistiQ.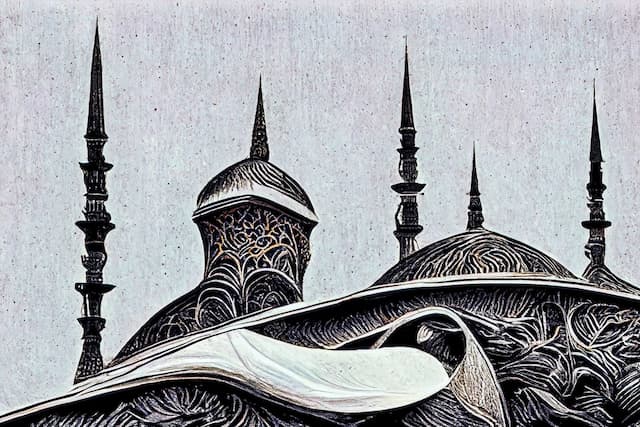 ART INSIGHT
Exploring the Intricate Techniques of Islamic Art
Islamic art is a rich and diverse artistic expression shaped by centuries of cultural and religious influences. From calligraphy to geometric patterns, this guide explores Islamic art's various styles and techniques and how they have evolved over time. What are Islamic Art styles and techniques in the contemporary art market? Islamic Art encompasses various styles and techniques, some of which have been adapted and incorporated into contemporary art markets. Here are some examples: Calligraphy: Islamic calligraphy is one of the most recognisable art forms in the world. It involves the writing of Quranic verses or other Islamic phrases in a decorative way. Contemporary artists have experimented with this style by incorporating it into paintings, sculptures, and installations. Calligraphy is also used to decorate buildings, textiles, and other objects, and is often combined with other forms of Islamic art, such as geometric patterns and floral motifs. The beauty of calligraphy lies in its ability to convey meaning and emotion through the careful arrangement of letters and words. Geometric patterns: Geometric patterns are common in Islamic Art and are often used to decorate mosques and other religious buildings. Contemporary artists have also incorporated these patterns into their work, creating modern pieces rooted in Islamic tradition. Some common geometric shapes used in Islamic art include circles, squares, triangles, and stars. These shapes are often combined to create intricate and mesmerizing patterns that are both beautiful and meaningful. Miniature painting: Miniature painting is a traditional Islamic art form that involves creating small, detailed paintings on paper or other surfaces. Contemporary artists have continued to use this technique, often with a modern twist, creating works that are both intricate and innovative. Metalwork: Islamic metalwork is known for its intricate designs and detailed craftsmanship. Contemporary artists have continued to use metalworking techniques to create modern pieces that are both functional and aesthetically pleasing. Ceramics: Islamic ceramics are often decorated with intricate patterns and designs. Contemporary artists have continued to use this technique, creating modern ceramics that are both beautiful and functional. Islamic art styles and techniques have a rich history that inspires contemporary artists worldwide. By blending traditional Islamic techniques with modern styles and materials, these artists are creating a new and exciting form of Art that celebrates both the past and present. The influence of nature and floral motifs Nature and floral motifs are also commonly found in Islamic art. These motifs are often used to symbolize growth, renewal, and the beauty of the natural world. Islamic artists often use stylized versions of flowers, leaves, and vines in their designs, incorporating them into geometric patterns or using them as standalone elements. The use of nature and floral motifs in Islamic art reflects the importance of nature in Islamic culture and the belief in the interconnectedness of all living things. Working across various disciplines, Mobeen Akhtar details her fondness for arabesque by using natural pigments extracted from minerals, rocks and earth as she aims to practise the traditional methods so they may be recognised and enjoyed today, as they were in the past. The role of color and symmetry in Islamic art Color and symmetry are two important elements in Islamic art. The use of vibrant colors, such as blues, greens, and reds, is common in Islamic art and is often used to create a sense of harmony and balance. Symmetry is also a key feature of Islamic art, with many designs featuring intricate geometric patterns that are perfectly balanced on both sides. This symmetry is believed to reflect the order and balance found in the natural world and is a reflection of the Islamic belief in the unity and harmony of all things. Is Islamic Art a religious-only Art? Islamic Art is not solely religious but strongly connects to the Islamic faith and culture. Islamic Art encompasses various artistic forms and styles, including calligraphy, geometric patterns, miniatures, textiles, ceramics, metalwork, and architecture. Multiple cultures and regions have influenced these art forms throughout Islamic history and have been used for religious and secular purposes. Islamic Art can be found in various settings, from religious spaces like mosques and madrasas to secular areas like homes, palaces, and public buildings. In addition, Islamic Art has been appreciated and collected by people of various faiths and cultures throughout history. While Islamic Art often incorporates Islamic themes and motifs, it is not limited to religious subjects. Many Islamic artists throughout history have drawn inspiration from the natural world, human figures, and other non-religious subjects. In contemporary Art, Islamic art styles and techniques continue to inspire artists of all backgrounds and beliefs. By blending traditional Islamic techniques with modern styles and materials, these artists are creating a new and exciting form of Art that celebrates both the past and present. Is Islamic Art only practised by Muslims? Islamic Art has its roots in the Islamic faith and culture, but it is not limited to only Muslims. Islamic Art encompasses various artistic forms and styles, including calligraphy, geometric patterns, miniatures, textiles, ceramics, metalwork, and architecture. Multiple cultures and regions have influenced these art forms throughout Islamic history, and they have been appreciated and practised by people of different faiths and backgrounds. Many non-Muslim artists and artisans have contributed to the development of Islamic Art throughout history. In medieval Spain, for instance, Christian and Jewish artists worked alongside Muslim artisans to create some of the most stunning examples of Islamic Art and architecture. And in modern times, many contemporary artists and designers from diverse backgrounds have been inspired by Islamic Art and its techniques, incorporating them into their works. Furthermore, many Islamic art forms have been used for religious and secular purposes. Islamic architecture, for example, is often used for public buildings and private homes, regardless of the faith or background of the owner. Similarly, Islamic calligraphy and geometric patterns are often used in various artistic and decorative contexts, from book design to interior decoration. Final Thoughts! In conclusion, Islamic art is a form of art that is enjoyed by people of all backgrounds, cultures, and faiths. Its beauty and significance can be appreciated by anyone with an appreciation for art and culture. Head on to a very special collection of Islamic Art from Artists across different part of the world on RtistiQ - Cultural festivity Art Collection
Sign up for our newsletter to have the latest stories and curated art recommendations delivered straight to your inbox