Subscribe for our newsletter to have the latest stories and curated art recommendations delivered straight to your inbox
ART MARKET
NFT Releases In Support of Ukraine
Like
comments
SAVE
As ARTnews had put it, 'It's about uniting to save lives'. Spare rooms, free doctors, addition of terminals by satellite broadband service providers to help keep the people of Ukraine online… support has been outpouring by people, companies, governments and other organisations like the IMF. The fascinating power of community and sheer generosity is breathtaking in crisis situations. And this time there is something else too.
Since the conflict began, the relatively young non-fungible-token (NFT) community joined forces to harness the power of the new age through blockchain & crypto to raise aid. It was definitely off to a good start and continues in a positive vein. From the international community to the Ukrainian private and government bodies, many joined hands in several initiatives to help.
In this article, we will highlight some of them:

Mykhailo Fedorov, Ukraine's minister of digital transformation, has spearheaded the country's push to raise funds in crypto assets and distributed ledger technology. Just this week, March 30, the Ukrainian government turned to the metaverse and launched an NFT 'Meta History: Museum of war' to help fund the fight. The country's Ministry of Digital Transformation has minted 54 NFTs to raise awareness and support the Ukrainian military and civilians. The tokens will be taking the form of artists' illustrations linked to major events in the war.
The mission statement was stated as "to preserve the memory of the real events of that time, to spread truthful information among the digital community in the world and to collect donations for the support of Ukraine."
This article by fortune provides further details:

On March 14, Ukraine launched the website above to allow people around the world to make crypto donations. By amassing the first donations at the beginning of the conflict, the organisation has raised more than $71 million.

Vogue Ukraine & Vogue Singapore
Can fashion and art, especially digital, be anything beyond frivolous? The good news is yes. Traditional infrastructures and institutions are under attack in a war situation and cryptocurrency can become even more useful as a medium. Vogue Ukraine and Vogue Singapore set up an initiative with six Ukrainian and Ukrainian-based artists and designers. The exclusive collection was put up on Opensea and included works from Anna October, Anton Belinskiy, DressX, Gunia Project, Ienki Ienki and Gudu. Each NFT was available in 50 editions at 0.5ETH. All proceeds were donated to 'Save The Children Ukraine'.

TIMEPieces, the web3 community and NFT initiative from TIME put up a collection of unique artworks from the community's artists inspired by the spirit of the Ukrainian people. Each artwork had a starting bid of 0.22ETH, with 100% of proceeds supporting humanitarian & relief efforts for Ukraine. Many generously donated their works to build a better future for the Ukrainian people.

Swimmer Cindy Ong launched NFT collection
Malaysian swimming champion and world masters champion Cindy Ong launched a NFT project on Opensea on March 20 to raise funds for the people of Ukraine.

Charity NFT Art Auction for Ukrainian Artists by RtistiQ
Last but not the least, the exclusive #NFTArtForAid NFT auction of works by Ukrainian artists will be available on our platform - RtistiQ from 7-10 April. 50+ artists and over 1000 NFTs. The NFT drop will feature works from Tatyana Binovska, Irina Loktionova, Nataliya Bagatskaya, Laifalight, Anastasiia Palashynska, among others.
RtistiQ will not charge any commissions to the artists part of this auction. Additionally, by enabling the smart contract on RtistiQ, the artists are granted a 10% resale royalty. Minting will happen on Polygon and we hope that the funds raised will be a significant vehicle for a life changed for the better for the artists we have been working so closely with.
The global NFT journey has only just begun. The consensus on the value of NFTs has remained controversial. Those who believed in it thought that the primary utility was an investment in the metaverse, or the proto-metaverse. However, the above use cases show there are more and the technology is likely to stick and accompany us all into the future.

SIMILAR ARTICLES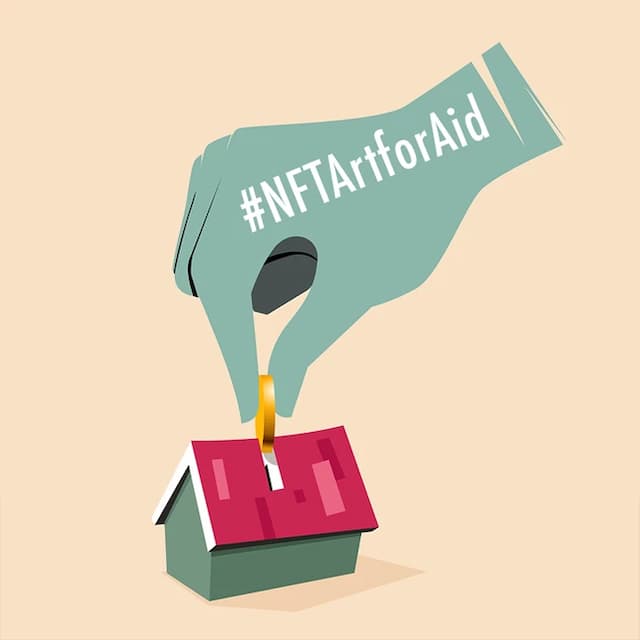 Sending Help to Ukrainian Artists In This Hour of Maximum Need Through A Charity NFT Art Auction
The multifaceted work of Ukrainian artists has been welcomed by art buyers and collectors at home and throughout the world. But the war on Ukraine has ravaged the lives of these talented and driven artists and for the entire country as well. The events taking place feel unreal. Civilians have been forced to flee their homes and leave behind what they own due to this humanitarian crisis. Is seeing it in the news enough to make a difference? We think not. The crisis demands that we stand with the people who are being impacted by it and act in our capacities with a human-centric approach. So many Ukrainian artists have lost their homes, families and everything they had. They have lost the paintings they have worked so hard to create. Their paintings were both sources of inspiration and income, and now these precious pieces are gone or destroyed. The RtistiQ team had announced last week an upcoming non-fungible token (NFT) Drop of Women Artists, but given the current situation, we have decided to postpone it for a few weeks and instead give our fullest support to the Ukrainian artists right now. Art is in our spirit and in our destiny and to support these Ukrainian artists, RtistiQ will be launching a charity NFT art auction of their works. This is a corporate social responsibility initiative auction that will run from 7-10 April. Bidding is open to everyone. There will be no commissions charged to the artists in this auction and the entire mint cost and transaction cost will be borne by RtistiQ. It is urgent and these artists need emergency aid, shelter & supplies, and that's where the proceeds from this first-ever charity auction of NFT artworks by RtistiQ will go. We at RtistiQ aim to give Ukrainian artists hope through our online art platform. As we raise money for a noble cause, we hope that the world can show it's support for the Ukrainian artists by participating in this deed. We are ready to step up their art into the digital world so that the world can experience the metaverse first-hand - and in the process raise vital funds for these artists who are now in dire need of them in this particularly critical time.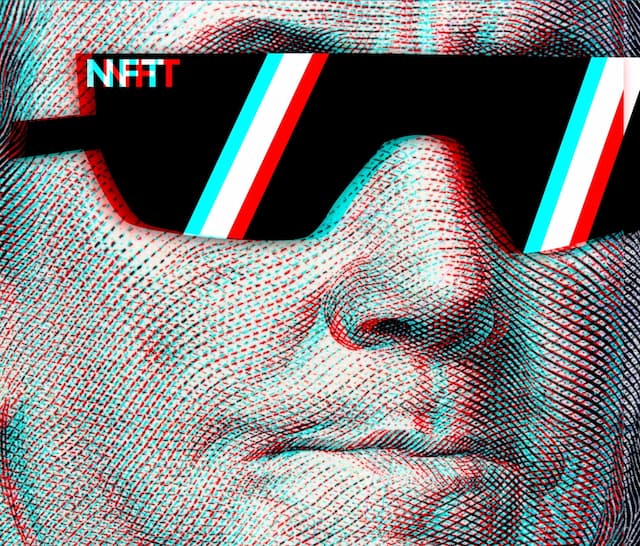 RISE OF NFT IN 2021 PAVING THE WAY FOR EPIC GROWTH
Over the past few months, non-fungible tokens, or the NFTs, have burst into the mainstream, expanding and challenging our collective understanding of ownership. But what are they? In this article, we provide a brief introduction to NFTs, a roundup of 2021 and why we believe they are paving the way for strong growth in years to come. WHAT IS AN NFT? WHAT DOES IT STAND FOR? HOW DO THEY WORK? Non-fungible, meaning they cannot be exchanged and hold a unique representation. The term 'Token' refers to unit of value that is stored on a secure distributed ledger called a blockchain. Essentially, an NFT is a digital asset that is a publicly verifiable intellectual property authenticated on a blockchain, mainly on Ethereum, which further can record all the transactions (namely the provenance) on the ledger in a tamper-proof manner. The asset can be physical & tangible or digital & intangible and can record the ownership of art, image, video, video game skin, trademark, cryptokitty and much more. HOW TO DETERMINE THE VALUE OF AN NFT? The value of an NFT is what the market says it is—which means what someone is willing to pay to own the NFT vs. its copy. Several factors gauge the NFTs' worth such as rarity, utility and tangibility. The value of an NFT also differs for short- or long-term holding, depending on the asset the NFT represents. Before investing on NFT's it is often a good practice to research more about the creator, rarity and the long term view, similar to any asset investment. NFTs ARE JUST GETTING STARTED Though the NFTs have been around since 2014, they have roared in popularity only in 2021. They are still in the very first stages just like the iPhone was in its first year. The simple iPhone applications of that time have now moved to the Ubers of the world, the scanner, a portal to the new world experience of augmented reality, earthquake early warning system, a healthcare partner in our pocket and more. The NFT minefield is likely to take a similar curve and be a formative business model catalyst not only in the crypto space but extending to all sorts of industries and niches. Their popularity took off in March this year when a British auction house - Christie's sold an NFT of "Everydays—The First 5,000 Days", a work of art by Mike Winkelmann for a whopping $69m. NFT art sales have hit $3.5B this year so far and the total sales volume surged to $10.7B as this asset frenzy hit a new high. SO NFT IS NOT ONLY FOR DIGITAL ART? That's right. Many associate NFT with digital art, but this ecosystem is not only limited to that. They can actually be used to authenticate and auction any kind of collectible. There have been a growing number of marketplaces dedicated to assets that have emerged this year. A large number of celebrities, brands and sporting organizations are now fuelling awareness. Indian celebrities from the world of Bollywood and cricket are launching digital memorabilia through NFT, hoping to rake in hundreds of thousands of dollars by cashing in on growing interest in such assets. Bollywood superstars Amitabh Bachhan, Kamal Haasan, Salman Khan are testing waters. The CEO of Coinbase "Brian Armstrong'' stated that he believes that the new NFT marketplace could be bigger than its cryptocurrency business. An example of NFTs bringing more programmability to tangible assets is the luxury jewelry brand Asprey that recently announced that it would be utilizing NFTs tied to each of its jewelry pieces to solve the problem of liquidity and difficulty in confirming authenticity. Each of its jewelry will now come with an NFT. WHAT'S AHEAD We believe that 2022 will be a breakout year for NFTs. Millennials, and Gen Zs, have digital lives and it's natural to want to take digital representations into their worlds. They are here to stay, dominate and slay. There is much more to come with their use in the metaverse and in the Ethereum Naming Service (ENS). So much of the world is yet to discover them. Disney, one of the largest media conglomerates in the world, has just begun it's journey with NFTs this month. Athletes have barely discovered it. So many companies outside of crypto are only now beginning to realize that they have thousands of assets that can be traded as NFTs. It is almost a blank canvas that is ready to break out. How big can it get and what next? The speculation is that at the current pace it could be a 100 Billion market in 2022, that is next year! We are bullish on the possibilities it offers and its place in the future. Are you?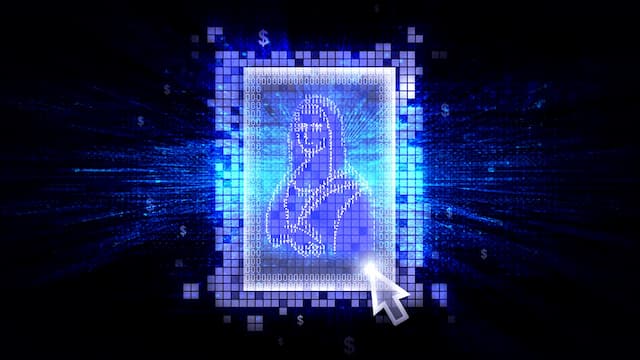 Three things you can do with your Digital NFT Art collection
NFTs have become extremely popular in a short period of time. Crypto enthusiasts and collectors are looking for opportunities to hold the rare immutable NFT assets. But many crypto newcomers don't quite know what to do with NFTs after they buy them and it is sitting in their crypto wallet. This article aims to explain the popular uses of Art NFTs that you might have bought on our platform RtistiQ. There are many different types of NFTs and what you can do with an NFT is largely determined by the type of asset you have purchased. Essentially a non-fungible token, or NFT is a form of digital asset that is unique and uses blockchain to record its ownership status. NFTs can only have one official owner at a time, and if you have purchased an artwork on RtistiQ, you are the lucky one to own it. This token is now secured by the blockchain - no one can modify the record of ownership or copy & paste a new NFT into existence. So does it come with copyright transfer too? No, an NFT is not to be confused with copyright – an NFT gives you a proof of ownership. There is no copyright transfer, unless explicitly mentioned. You get ownership of the artwork, with the licensing terms encoded as metadata. Some creators will let you use your copy only for personal use, while others might permit commercial uses. The ownership of the unique token has been transferred to your wallet via your public address, proving that your copy of the digital file is the original one. Your private key is the proof-of-ownership, and the content creator's public key serves as a certificate of authenticity for that particular digital asset. So what to do with the NFTs now that you have bought them? Depends how you want to be involved, but you have the following three main options. Hold your 'Collectible' and add it to your collection Art NFTs are great 'collectibles'. Just like paintings that you display in your home are unique pieces of art without any copies, an art NFT is a digital form that is unique. You can enrich your visual experience with it and it can gain value over time. This makes them potentially a great investment. The more rare NFTs you have in your collection, the more exclusive it becomes. 2. Display the NFT in a digital or physical gallery, or in the Metaverse NFTs provide intrinsic and social status value which can be showcased in NFT displays and video frames. NFT display apps on iPhones and tablets. Inside the metaverses – Decentraland, Cryptovoxels, etc. On the wall - printed and framed (if the contract permits). An NFT Display is a unique and snazzy way to display your asset with a certificate of ownership alongside it. An NFT display is connected to your wallet, to prove ownership of your NFT. It offers high quality visual and audio output, and comes with aesthetic frames and swivel mounts, and state-of-the-art features like gesture and voice controls Netgear's Meural Canvas II, Canvia – Digital Art Canvas, BlockFrame NFT – Digital NFT Display Frame, Samsung – The Frame, Lago – The Frame and Blackdove Digital Canvas are a few of the trending options. 3. List your NFT for sale in a secondary marketplace and resell You could resell your NFT to try and turn a profit when the time is right. You have full right to list your NFT for sale on an NFT marketplace such as OpenSea, Rarible, Nifty Gateway, Larva Lab, Axie Infinity, SuperRare and more. Once you complete your listing on the marketplace, your NFT will be available for purchase on it. You can promote the sale to potential patrons via your website or social media channels. Do note that there are associated gas fees that might be incurred in case of making changes or removing your listing. Some creators may demand a royalty every time someone resells the piece. In that case royalties are built into the NFTs. In the near future, RtistiQ expects the infrastructure that supports NFTs to catch up even more and there will be further use cases for the emerging technology. Facebook renamed themselves to Meta last year, Microsoft joined the metaverse hosting immersive meetings with avatars…and many other companies are joining the boom. With the NFT ecosystem growing, it looks like NFTs are here to stay, dominate and slay.
ARTICLES ON ART MARKET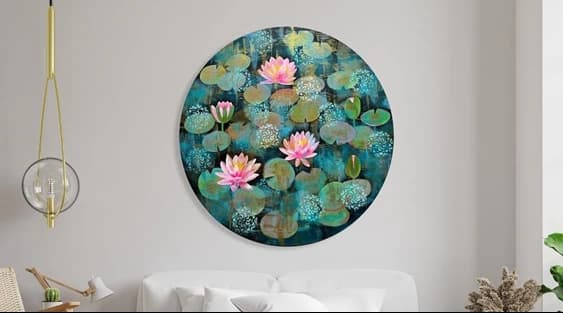 ART MARKET
The Ultimate Guide to Finding the Perfect Art Wall Paintings for Sale
Are you searching for the perfect art wall paintings to elevate your home decor? Look no further! Our ultimate guide has everything you need to know to find that one-of-a-kind masterpiece that will add a touch of sophistication to your living space. We understand that choosing the right wall painting can feel overwhelming with the plethora of options available in the market. That's why we've curated this comprehensive guide to simplify your decision-making process. From understanding different painting styles to selecting the right size and color scheme, our guide covers it all. We'll even walk you through the process of determining your personal taste and aligning it with the atmosphere you want to create in your home. Whether you're a seasoned art enthusiast or a first-time buyer, this guide is designed to help you find the perfect art wall paintings that resonate with your personality. So, get ready to transform your living space into a mesmerizing art gallery with our expert tips and advice. Benefits of incorporating art wall paintings in your home or office Art wall paintings have the power to transform any space, be it your home or office. They serve as a visual expression of your personality, adding depth and character to the walls. One of the key benefits of incorporating art wall paintings is their ability to create a focal point in a room. A well-placed painting can draw the eye and become a conversation starter. It can also help to tie together the various elements of your decor, creating a cohesive and aesthetically pleasing environment. In addition to their decorative value, art wall paintings can also have a positive impact on your mood and well-being. Studies have shown that engaging with art can reduce stress and anxiety, increase feelings of happiness, and even improve cognitive function. By surrounding yourself with artwork that resonates with you, you can create a space that promotes relaxation and creativity. Different types of art wall paintings When it comes to art wall paintings, there is a wide range of styles and genres to choose from. Understanding the different types can help you narrow down your options and find the perfect piece that suits your taste and home decor. One popular style of art wall paintings is abstract art. Abstract paintings are characterized by their non-representational forms and use of color, line, and shape to create a visual language. They can add a sense of energy and intrigue to a space, and their versatility makes them suitable for a variety of interior design styles. For those who prefer a more traditional approach, landscape paintings are a timeless choice. These paintings often depict natural scenery, such as mountains, forests, or seascapes. Landscape paintings can create a sense of tranquility and bring the beauty of the outdoors into your home. Another popular genre is portrait painting. Portraits capture the likeness and personality of a person, making them a great choice for adding a personal touch to your space. Whether you opt for a classic portrait or a contemporary interpretation, these paintings can make a bold statement and become a focal point in any room. Factors to consider when choosing art wall paintings Choosing the perfect art wall painting involves considering several factors that will help you make an informed decision. By taking these factors into account, you can ensure that the painting you choose not only fits your personal taste but also complements your existing decor. One of the first things to consider is the size of the painting. The size of the artwork should be proportional to the wall it will be displayed on. A large painting on a small wall can overwhelm the space, while a small painting on a large wall may get lost and fail to make an impact. Take measurements of your wall and consider the scale of the room to determine the appropriate size for your painting. Another important factor is the color scheme of the painting. The colors should harmonize with the overall color palette of the room. Consider the dominant colors in your decor and look for paintings that incorporate similar hues. This will help create a cohesive and visually pleasing environment. The subject matter of the painting is also a crucial consideration. Think about the atmosphere you want to create in the room. Do you want a serene and calming space? In that case, landscape or abstract paintings may be a good choice. If you want to make a bold statement or showcase your personality, consider opting for a painting with a strong subject or vibrant colors. Lastly, don't forget to consider your personal taste and emotional connection to the artwork. Art is subjective, and what resonates with one person may not resonate with another. Choose a painting that speaks to you on a deeper level, evokes emotions, and reflects your unique style and personality. Where to find art wall paintings for sale Now that you have a clear idea of the type of art wall painting you're looking for, it's time to explore the various avenues where you can find them for sale. From online marketplaces to art galleries and local artists, each option offers its own advantages and unique selection of artwork. Online marketplaces have become a popular destination for art buyers. Websites like RtistiQ, Saatchi Art, and Artsy connect artists with buyers from all over the world. These platforms offer a wide range of art wall paintings in different styles, sizes, and price ranges. They often have search filters that allow you to narrow down your options based on your preferences, making it easier to find the perfect piece. Art galleries and exhibitions are another great place to find art wall paintings. Visiting galleries allows you to see the artwork in person and get a better sense of its size, texture, and overall impact. Many galleries also represent emerging artists, giving you the opportunity to discover unique and undiscovered talent. If you're looking for something truly one-of-a-kind, consider reaching out to local artists or independent sellers. Many artists have their own websites or social media platforms where they showcase and sell their work. Buying directly from the artist not only supports their creative journey but also allows you to establish a personal connection and learn more about the inspiration behind the painting. No matter where you choose to buy your art wall painting, it's important to do your research and ensure that the seller is reputable. Read reviews, check their return policy, and ask any questions you may have before making a purchase. Investing in art is a personal experience, and finding the right seller can make all the difference. Tips for selecting the perfect art wall painting Now that you know where to find art wall paintings, let's delve into some expert tips for selecting the perfect piece that will enhance your home decor and bring joy to your space. Research and Explore: Take the time to research different artists, styles, and genres. Look for inspiration in magazines, art blogs, and social media platforms. Visit museums and galleries to get a better understanding of what resonates with you. Consider the Space: Before making a purchase, visualize how the painting will fit into your space. Consider the lighting, furniture arrangement, and overall ambiance of the room. Take into account the size, color, and subject matter of the painting to ensure it complements the space. Set a Budget: Art wall paintings can vary greatly in price, so it's important to set a budget before you start your search. Determine how much you're willing to spend and stick to it. Remember that art is an investment, and finding a piece you love within your budget is possible. Ask for Expert Advice: If you're unsure about the technical aspects of a painting or need guidance in making a decision, don't hesitate to seek expert advice. Consult with art consultants, interior designers, or even the artists themselves. They can offer valuable insights and help you make an informed choice. Trust Your Instincts: Ultimately, trust your instincts and choose a painting that speaks to you. Art is meant to evoke emotions and create a personal connection. If a painting resonates with you on an emotional level and brings you joy, it's likely the perfect choice for your home. By following these tips, you can navigate the world of art wall paintings with confidence and find the perfect piece that will enhance your living space for years to come. Conclusion Finding the perfect art wall painting may seem like a daunting task, but with the right knowledge and guidance, it can be an enjoyable and rewarding experience. By understanding different painting styles, considering important factors such as size and color scheme, and exploring various avenues for purchasing art, you can find a piece that truly reflects your personality and elevates your home decor. Remember that art is subjective, and what matters most is finding a painting that resonates with you on a deeper level. Trust your instincts, explore different options, and take the time to appreciate the beauty and creativity that art wall paintings bring to your living space. So, start your journey today! Transform your walls into a mesmerizing art gallery and create a space that not only inspires but also reflects your unique style and personality. Happy art hunting!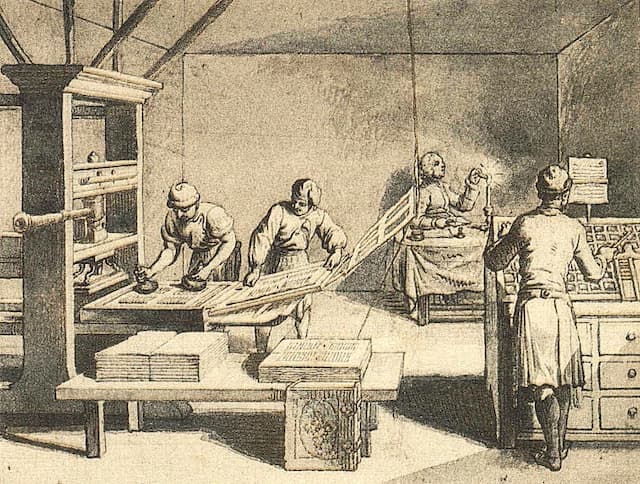 ART MARKET
Unveiling Limited Edition Prints: Are They Worth Collecting?
In the world of art, limited edition prints have garnered significant attention and debate over their value and worth. These prints, often produced by artists in limited quantities, have become popular for art enthusiasts to own a piece of their favourite works without breaking the bank. However, the question remains: are limited edition prints worth anything as an investment and a source of aesthetic pleasure? The reality is that Prints can be just as valuable as any other artwork created and have exceeded value in millions for some rare works by master artists. The Frugal Repast (Le Repas frugal), an etching by Pablo Picasso part of the La Suite des saltimbanques series created in 1904, is considered the first significant attempt by the artist in Printmaking, sold for GBP 6,014,500, in the year 2022 at christies. This article delves into the various facets of limited edition prints, exploring their history, factors affecting their value, and whether they hold lasting significance in the art market. The History of Limited Edition Prints Limited edition prints trace their origins back to the earliest forms of printmaking. Printmaking, as a technique, dates back to ancient civilizations such as the Egyptians and Chinese. However, producing prints in limited quantities gained traction during the Renaissance period in Europe. Artists like Albrecht Dürer and Rembrandt created engravings and etchings that were not only artistic masterpieces but also showed a shift in how art could be produced and distributed. Fast-forward to the 20th century, and limited edition prints began gaining prominence. Artists like Pablo Picasso, Salvador Dalí, and Andy Warhol embraced printmaking to make their art accessible to a broader audience. The Indian Master Raja Ravi Varma, gained large scale prominence due to lithographic prints, specifically of Gods and Godesses that he paiinted. The ability to reproduce artworks precisely and at a lower cost than original paintings made prints an attractive medium for artists and collectors. Factors Affecting the Value of Limited Edition Prints A complex interplay of factors influences the value of limited-edition prints. Here are some key aspects that contribute to their worth: Edition Size: One of the defining features of limited edition prints is the restricted number of copies produced. Generally, the smaller the edition size, the higher the perceived value. A print from an edition of 10 will likely hold more value than one from 100. Artist's Reputation: The artist's reputation plays a significant role in determining the value of their limited edition prints. Prints by renowned artists with established careers are more likely to appreciate value over time. Authenticity and Provenance: Authenticity is crucial in the art market. Limited edition prints with proper documentation and provenance are more valuable as they assure buyers of the artwork's legitimacy. Condition: The condition of the print also impacts its value. Well-preserved prints, without damage or discolouration, tend to command higher prices. Rarity: While the term "limited edition" implies rarity, some prints within an edition might be more sought after due to factors such as variations in colour or unique characteristics. Subject Matter: The subject of the print and its relevance to the artist's body of work can affect its value. Prints featuring iconic motifs or themes closely associated with the artist will likely be more valuable. Artistic Technique: The printmaking technique used can influence value. Specific techniques like etching, lithography, and serigraphy (silkscreen printing) require intricate skills and can add to the appeal and value of the print. Market Demand: Market trends and demand play a significant role in determining the value of limited edition prints. If a particular artist's work becomes fashionable or is featured in exhibitions, it can increase demand and higher prices. Limited Edition Prints as Investments Limited edition prints have often been seen as a way for collectors to invest in art without the hefty price tag of an original painting. However, the investment potential of these prints is a subject of debate. While some limited edition prints by highly regarded artists have appreciated significantly in value over time, not all prints yield substantial returns. The art market can be unpredictable, and factors such as shifts in artistic taste, economic conditions, and changes in the artist's popularity can impact the investment value of prints. Investing in limited edition prints requires careful research and consideration. It's essential to research the artist's career trajectory, study market trends, and consult experts before purchasing with the expectation of financial gain. Like any investment, risks are involved, and it's important not to rely solely on limited edition prints as a means of financial growth. Aesthetic Value and Enjoyment Beyond the realm of investment, limited edition prints hold intrinsic value in terms of aesthetics and personal enjoyment. Owning a limited edition print allows art enthusiasts to experience the beauty and creativity of an artist's work firsthand. These prints can serve as entry points into an artist's larger body of work, allowing viewers to connect with their artistic vision and style. Limited edition prints also allow individuals to decorate their living or working spaces with art that resonates with them. The affordability of prints compared to original artworks makes it possible for a broader range of people to own pieces that align with their artistic preferences. The Changing Landscape with Digital Art Digital technology has introduced a new dimension to the world of limited edition prints through the emergence of digital art and NFTs (Non-Fungible Tokens). NFTs allow digital artists to create limited edition digital artworks that are unique, provably authentic, and can be bought, sold, and owned on blockchain platforms. This raises questions about the value of traditional limited-edition prints in a world where digital art is gaining prominence. While digital art and NFTs have their own merits and challenges, traditional limited-edition prints continue to hold their place in the art market. The tactile quality of a physical print, the historical significance of printmaking techniques, and the enduring appeal of owning a tangible piece of art contribute to the lasting value of traditional limited edition prints. In Conclusion Whether limited edition prints are worth anything encompasses a multifaceted discussion. While these prints may not always yield substantial financial returns as investments, their value extends far beyond monetary considerations. Limited edition prints allow art enthusiasts to engage with the creative output of talented artists, enriching their lives aesthetically and emotionally. As the art market continues to evolve, limited edition prints remain an accessible and valuable means of connecting with art. Whether cherished for their aesthetic allure or sought after as collectibles, these prints are a testament to the enduring power of art to inspire, provoke, and delight.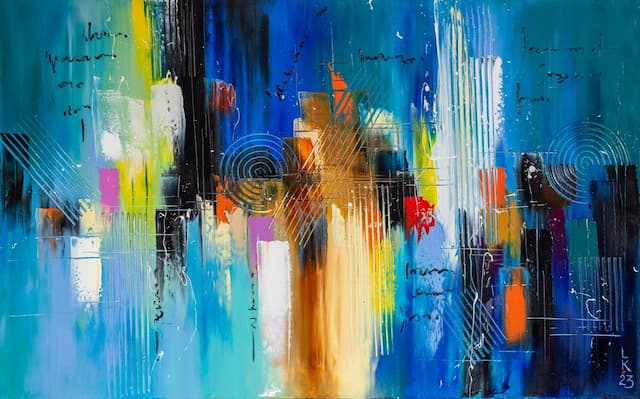 ART MARKET
Famous Abstract Art and Artists
Abstract art is a captivating and revolutionary movement that emerged in the early 20th century, challenging the conventions of representational art. It sought to express emotions, ideas, and concepts through non-representational forms, focusing on the interplay of colour, line, shape, and composition. Abstract art opened up new possibilities for artists to explore the depths of their creativity and create works that transcend the confines of reality. The article embarks on a journey through the world of famous abstract art and delves into the lives and masterpieces of renowned abstract artists who have significantly contributed to this dynamic and expressive genre. Wassily Kandinsky (1866-1944) Russian-born artist, Wassily Kandinsky, is widely regarded as one of the pioneers of abstract art. He believed that art should visually represent the artist's inner spiritual and emotional experiences. Kandinsky's early works were influenced by Russian folk art and Impressionism. However, his encounter with the artworks of the Fauvists and the vibrant colours of Matisse sparked his shift towards abstraction. Kandinsky's abstract artworks, such as "Composition VII" and "Yellow-Red-Blue," exemplify his exploration of colour, form, and composition. He believed that colour had a direct emotional and spiritual impact on the viewer. His compositions often feature bold geometric shapes, swirling lines, and vibrant, contrasting colours. Kandinsky's art not only pushed the boundaries of representation but also sought to evoke profound emotional responses from the viewer, transcending the limitations of figurative art. Color Study. Squares with Concentric Circles (1913), Is one of Kandinsky's most recognisable artworks. A small artwork on the study of colour colour combinations and the perception it carries is reverred as his most famous artwork. Piet Mondrian (1872-1944) Dutch painter Piet Mondrian was crucial in developing abstract art, particularly geometric abstraction. He believed that art should strive for universal harmony and balance, which could be achieved through simplification and using primary colours and straight lines. Mondrian's iconic works, such as "Composition with Red, Blue, and Yellow" and "Broadway Boogie-Woogie," embody his distinctive style. He utilized a grid of horizontal and vertical lines intersecting with primary colours and black and white rectangles. Mondrian sought to reduce art to its essential elements, emphasizing the fundamental relationships between form, colour, and space. His artworks are characterized by order, clarity, and geometric precision. Composition with Red, Blue and Yellow (1930), is an abstract masterpiece, featuring geometric shapes and primary colors, embodying the principles of De Stijl movement. Mondrian's use of straight lines and primary colors evokes a sense of harmony and balance, making it a timeless representation of modern art. The artwork has become an influential symbol of abstract expressionism and continues to inspire artists and art enthusiasts around the world. Kazimir Malevich (1879-1935) Kazimir Malevich, a Russian avant-garde artist, was a prominent figure in the development of abstract art, particularly within the Suprematist movement. He believed in the power of pure geometric forms to evoke emotion and spirituality. Malevich's most famous work, "Black Square," created in 1915, is a seminal piece in the history of abstract art. It is a bold and radical composition with a black square on a white background. Malevich described this work as the "zero degree" of painting, representing the pure essence of art stripped of any representational elements. Through Suprematism, Malevich sought to free art from the constraints of the material world and explore the transcendental nature of pure form and colour. Joan Miró (1893-1983) Joan Miró, a Spanish painter, sculptor, and ceramicist, was known for his playful and imaginative abstract artworks. His style bridged the gap between abstraction and surrealism, combining organic shapes, biomorphic forms, and symbolic elements. Miró's works, such as "The Tilled Field" and "Harlequin's Carnival," feature vibrant colours, curvilinear shapes, and whimsical symbols. He often incorporated dreamlike and childlike imagery, blurring the lines between reality and the subconscious. Miró's art exudes a sense of spontaneity, freedom, and exploration of the inner self. He believed that art should evoke emotions and connect with the viewer subconsciously. Joan Miró – Harlequin's Carnival (1924 – 1925) Jackson Pollock (1912-1956) American artist Jackson Pollock was a crucial figure in the Abstract Expressionist movement. He revolutionized the art world with his unique approach to painting, which involved pouring and dripping paint onto a canvas on the floor. Pollock's famous "drip paintings," such as "Number 1, 1950 (Lavender Mist)" and "Autumn Rhythm (Number 30)," are dynamic and energetic compositions. Through his innovative technique, he explored the physicality of paint and the spontaneous gestures of the artist's hand. Pollock's artworks are characterized by intricate webs of drips, splatters, and gestural marks, creating a sense of movement, rhythm, and chaos. His works embody a raw and emotional expression, inviting viewers to interpret and engage with the artwork on a visceral level. No. 5, (1948) is considered one the most famous as well as the most expensive painting by Jackson Pollock Mark Rothko (1903-1970) American painter Mark Rothko is known for his large-scale colour field paintings that evoke deep emotional responses. Rothko believed that art should create an intimate and immersive experience, allowing viewers to contemplate the complexities of the human condition. Rothko's signature style involved large rectangular fields of colour, often stacked or overlapping. His compositions, such as "No. 61 (Rust and Blue)" and "White Center (Yellow, Pink and Lavender on Rose)," feature vibrant hues that seem to radiate from within the canvas. Rothko sought to create a sense of spiritual transcendence through his artworks, inviting viewers to immerse themselves in the luminous fields of colour and engage with the profound emotional depth conveyed. The famous "Orange, Red and Yellow" (1961) is not just the most famous but also grossed the highest Auction value Concluding Remarks The famous abstract artists and their artworks have left an indelible mark on the art world. Through their bold experimentation, they pushed the boundaries of artistic expression, challenging traditional notions of representation and emphasizing the power of colour, form, and composition. Wassily Kandinsky, Piet Mondrian, Kazimir Malevich, Joan Miró, Mark Rothko and Jackson Pollock are just a few visionary artists who have shaped the trajectory of abstract art. Their works continue to inspire and captivate audiences, inviting viewers to embark on a journey of introspection, emotion, and personal interpretation. Abstract art remains a testament to the limitless possibilities of human creativity and the power of art to transcend the boundaries of the tangible world. Main Image: Strange City by Liubov Kuptsova
Sign up for our newsletter to have the latest stories and curated art recommendations delivered straight to your inbox