Subscribe for our newsletter to have the latest stories and curated art recommendations delivered straight to your inbox
INTERVIEWS
Interview with the Artist Vivian Loh Hui Ting
Like
comments
SAVE
The global art industry is filled with talented artists who are the doorway to our future. They are disrupters who constantly continually push us to visualise the world from a different perspective.
RtistiQ is an online art gallery to connect both art lovers and renowned artists across the world.
In this interview series, we take you through our featured artists' background, their passion for art, as well as their personal thoughts on the current art landscape.
Enjoy.
Introduction:
Vivian Loh Hui Ting is like a breath of fresh air in the artworld. She is a multi-disciplinary artist who specializes in oil paintings, murals, assemblages, digital illustrations and drawings. Vivian holds a fine arts degree from Lasalle College of Arts, where she had secured 30 Art Friends II scholarship as well as the Lasalle scholarship. She has a diverse and interesting range of projects in her portfolio including Mural projects for schools and private clients, logo designing for companies, conducting workshops and instructing art at primary schools. She has also been associated with a charity auction to help raise funds for school children in Jakarta.
Vivian gets her inspiration from everyday life, the little things and moments that most of us fail to notice. She aspires to cross the thin line between reality and fantasy, translating the sensations she feels into a visual language and layering her work with it. She attempts, through her work, to let the viewer experience the sensation of the image, rather than the image itself.
Featured below is an interview with Vivian.
Q: Tell us a little bit about you and your art.
I have always been dabbling in art since childhood, I gravitate naturally towards it. I always wanted to be an artist. During secondary school, I remember, I was one of the only painting students in my school. After a brief stint in fashion designing, I came back to studying art. It was during this time I pondered over the type of artwork I wanted to create and the medium I wanted to experiment with.
Q: What medium do you prefer? Do you experiment with other media as well?
Previously I preferred oil painting but now I experiment with different media. My current favorite is a mix of spray painting and acrylic painting. It's a new medium that I am experimenting with and I quite enjoy it. I am also experimenting with digital art. I can work faster digitally and can combine my photographs into the digital process to create a new illustration.
Q: What themes do you enjoy pursuing?
I take a lot of photographs of day to day life. I click a picture of anything that catches my attention. I love documenting small moments or things that we usually forget about as we go about our busy days. I collect these photographs and turn it into a sort of collage. When I review this collage, a theme presents itself through the pictures. I weed out the photos that don't seem to fit in and keep the photos that seem closer to the image in my subconscious mind. When we go about our daily lives, we are naturally attracted to things that are linked to our subconscious mind, a part of our brain we don't normally use.
Q: Where do you look for inspiration?
I usually find inspiration in the photographs I click, which feature our daily lives. Other than the images I click, I admire the works of James Jean. The formal aspects of his work inspire me. The way he chooses colors, the way he sketches etc. I find that my work also evolves as I grow older. Mark Rothko is another artist who has inspired me. His paintings have no physical representation, it's just color. It touches a deep cord with the viewers and makes them emotional. I am drawn towards sublime pieces of art. It appears very simple on the surface, but as you invest yourself into it deeper, layers begin to reveal themselves.
Q: How would you describe the Singaporean art scene?
At present, it's more of digital art and interactive installation work. You download an app and the participants are invited to view the artwork digitally. There is more of public art in Singapore like art
festivals. In today's world, people tend to enjoy artworks which are 'instagrammable'.
Q: How important is heritage for your Art?
I have Malaysian roots and though I was born in Singapore, I have family based in Malaysia whom I visit often. The natural environment and culture there, which is very different from that in Singapore, have influenced me tremendously.
Q: When did you discover Chinese calligraphy and how has it inspired your art? Tell us about the series of paintings available on RtistiQ?
My paintings on RtistiQ are titled Bloom, Spring breeze and Evanescence. Evanescence was inspired by Chinese calligraphy.
When I visited China, I chanced upon senior citizens in a park, writing poems in Chinese calligraphy on the ground. The interesting part was that they used water as the medium. They would write a couple of lines and invite strangers passing by to continue it. The water evaporates after a while and there is no documentation of it. It exists only in our memory. My painting was inspired by that moment when I watched the interaction between strangers and the water evaporating. I was fascinated by the ephemeral quality of it, just like life.
I took a lot of photos and printed them out and put them on the floor. To others, the background in the paintings like bloom and spring breeze may look like abstract art, like I've randomly thrown paint on it. But in reality, I traced the shadows of trees on the floor and photographed it. So, all these little bits, the foreground, background etc. are layered on each other. Stronger colors are actually the light on the floor which I photographed. I tried to paint the exact shade onto the canvas and so these little bits, layers upon layers, make the painting whole, which is in a way, like our lives.
Q: What do you wish to communicate through your paintings?
Through my paintings, I am trying to make sense of my subconscious mind and translate it to colors on the canvas, to create a sublime and powerful image. All my paintings are based on small everyday occurrences that we mostly don't pay attention to. I use color and form to give shape to and put the forgotten ordinary moments in the spotlight. Many times, I have noticed that, although I am present physically in a space, my mind is not present there. This duality of existence fascinates me. I may be chatting with my family, but my mind would be distracted by a particular shade of light on the floor or how the breeze is making my skin feel.
Q: You have an impressive portfolio as a graphics designer. What is the difference between being an artist and being a graphic designer/illustrator?
I find that drawing manually allows more flexibility and I have to be more mindful of what I do. Whereas digital illustrations allow more room for errors, since you can easily correct them.
Q: How does an emerging artist like you promote her work? Tell us about social media, is Instagram the main promoting tool for your work as illustrator and artist?
I usually promote my work on Instagram as it gets more views. It's an easier format to work with and very user friendly. I would say social media plays a very important role in promoting artwork in present times.
Q: How do you think online art platforms have impacted the art industry?
A lot of people can access your work if its available online, but the internet is filled with all kinds of artwork. Hence, a serious buyer may not be able to locate an artist. Art platforms like RtistiQ, makes it easier for artists to connect with serious buyers. In Singapore, a lot of artists do not have studios, so they cannot exhibit their paintings. Personal websites lack in technical quality to give a clear picture of the artwork to the viewers. Platforms like RtistiQ have specialized tools which help buyers view the artwork with all its finer nuances intact.
Q: Professionally how has the year 2020 been for you? What are your upcoming projects in the new year 2021?
I graduated last year. So, this year I was exploring avenues to showcase my artwork and also experimenting with different medium. I plan to run some workshops in 2021 and am looking out to
rent a space for it. Also, in the pipeline, is a project where I am planning to collaborate with an NGO for an exhibition which will tentatively be held in February 2021.
******************************************************************************
If you are looking to buy paintings online explore our wide selection of paintings on sale here at RistiQ art marketplace.
To read other interview series, check out our recent interview with two prominent artists Aude Rech and Lynne Godina where they shared tips on how you can increase sales during the holiday season.
Author: Anupama Vijayakumar
Explore our Curated Collections
58 ARTWORKS

37 ARTWORKS

Art To Get You Into The Halloween Spirit

96 ARTWORKS

"Bringing Magic to Children's Rooms with Art"

32 ARTWORKS

Pink is Not Only for Barbie

27 ARTWORKS

Enchanting Autumn: A Symphony of Colors

22 ARTWORKS

45 ARTWORKS

Contemporary Indian Art 2.0

31 ARTWORKS
SIMILAR ARTICLES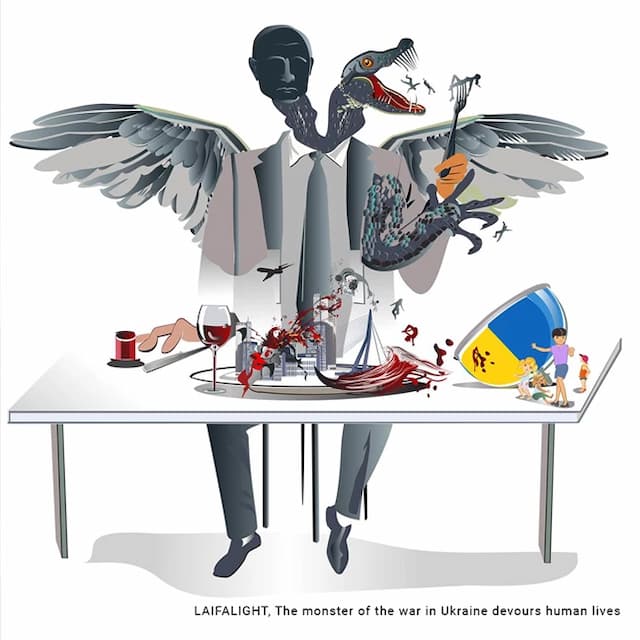 An Interview with Ukrainian Artist Anna Laifalight as Invasion Continues
Anna Laifalight - Digital artist since 2009. Based in Kyiv, Ukraine. RtistiQ: What is your current situation Anna? Anna: From the very beginning of the war on February 24, my family decided to stay in Kyiv. But, on the 21st day of the war, I moved with my daughter to a quieter area in western Ukraine to my parents since there were explosions in our district and a large nine-story residential building was damaged not far from the house where we live in Kyiv. My husband and many other families with children still remain in their homes in Kyiv, and constantly testify about the explosions. RtistiQ: Explain more about your art. Anna: I mainly create digital art in Adobe Illustrator. That's why it is easy for me to take everything necessary for it with me to another place: my laptop, my wacom tablet and an external hard drive. I have been working as a digital artist since 2009. My first collaboration as an artist was with stock agencies such as Shutterstock, Creative market, Adobe stock. Lately I saw that my artworks were used around the Globe in different projects, including many commercial ones. Some of them you can be seen here: https://www.laifalight.com/custom-design . I started to get freelance orders for art from different countries from time to time. In 2020 I launched my own site https://laifalight.com where I decided to represent only exclusive artworks. Although I have never arranged personal exhibitions, I found my art printed on canvases, book covers, murals, paper glasses, and textiles worldwide. "The series of beautiful streets with fashion people '' has become my "visit card" and has been created by me in my own way since 2010. RtistiQ: What do you think of NFTs? Anna: The use of the technology (NFT / Blockchain) provides a great opportunity for fairness to the authors, as this will help to avoid theft of digital works. Thank you for supporting artists from Ukraine in such a difficult time of the war. Our country and people are in great need of support.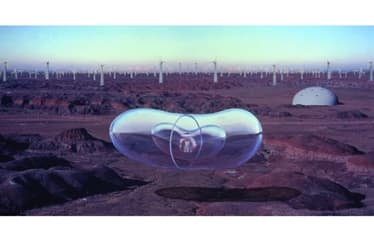 5 Japanese Artists You Should Know
With the excitement of the Summer Olympic Games Tokyo 2020 still fresh in our memory and the Paralympic Games Tokyo 2020 just around the corner, Japan is still on our minds. Unfortunately, we were not able to cheer live for our favorite athletes or to get lost in translation on Tokyo's vibrant streets, but nothing stops us from discovering more about the unique Japanese history, culture, and art. Because of its long isolation as an island nation, Japan's history overflows with one-of-a-kind perspectives and unique cultural forms. That independent streak makes Japanese art an always exciting realm of new experiences and fresh ideas. Over the 20th century, Japanese artists also began leading the pop art blend of mainstream fare with a critical artistic lens, while often embedding a rich mixture of themes and nods to historical legacy. Despite Japan's incredible cultural output, many people around the world are not nearly as familiar with artists from the nation as they should be. Below, we've put together a list of five Japanese artists you should know. This is by no means a comprehensive list, and it's in no particular order. This is a quick stroll through Japanese visual art, something to get you started on your own journey of discovery. 1. Mariko Mori Courtesy Museum of Contemporary Art North Miami Mariko Mori (1967) is an artist known for work in many fields, including: sculpture, digital art, and photography. Her oeuvre is filled with futuristic visions embedded with a profound influence from Japanese history. Her work plays with imaginative worlds and space-age forms, and the end result is always ethereal and mysterious. Some of Mori's pieces are particularly sweeping in scope. Primal Rhythm saw her place sculptures in a bay, standing above the water in haunting silence. One, Sun Pillar, is a transparent sculpture that juts out of a large rock. Beside it in the water is Moon Stone, an orb that changes its color depending on the tide. While the shapes and material appear futuristic, they collaborate with the natural environment. It's both beautiful and poignant, and it gives us an opportunity to rethink the way we interact with the world around us. Mori's profile has steadily risen since the 1990s, and for good reason. She continues to explore new methods while staying true to the conceptual depth and attention to form that have made her work an integral part of contemporary art. 2. Yuko Mohri Copyright Yuko Mohri Yuko Mohri (1980) is an installation artist who recombines items from our day-to-day life into what she calls "ecosystems." These installations often seem perilously balanced. Mohri includes sound and narrative as well, often telling stories through Rube Goldberg-like contraptions. In Moré Moré (Leaky), the artist made visual riffs on the use of buckets and plastic to catch leaking rain water that she saw in a subway station. Many of her pieces focus on the relationship between the human built world and the natural world. But the work is never overly ponderous. Often, the installations create a sense of fun. 3. Takashi Murakami Copyright Takashi Murakami Takashi Murakami (1962) is one of the most controversial artists in the contemporary scene. His anime-influenced sculpture and design have become the center of massive debates in the art world. Plus, his forays into commercial work have made him more popular than ever among fashionistas while angering art world purists. Murakami describes his style as "superflat," a term he also used for postwar Japanese culture as a whole. Aesthetically, the term refers to Japan's legacy of 2D art with little use of perspective. But societally, it points to the reduction of class influence on Japan. Today, Murakami asserts, the differences between high and low culture have flattened out into a single plane. Murakami has done everything from an anime-character sculpture show at Versaille, album covers for the likes of Kanye West, and hypebeast fashion crossover designs with Supreme. His flower motif is world famous, appearing on Louis Vuitton bags and jewelry worn by hip hop artists. It's become a kind of calling card for the rebel. Today, he devotes a large amount of his time cultivating the careers of young Japanese artists while still making art that destroys our notion of high and low culture. 4. Yoshitomo Nara Courtesy Wikipedia Yoshitomo Nara (1959) is a sculptor and painter who creates images of childhood with an unsettling undercurrent of horror. His subject matter is very consistent, but it is through this steady stream of similar images that he's been able to communicate so effectively. His characters, children with cartoonishly large eyes, are often engaged in naughty behavior, a rebelliousness that matches the artist's own. Nara constantly subverts the nostalgia of childhood while still evoking it. The effect is a strange blend of the cute and concerning. Nara is closely associated with another member of this list, Murakami, as both a contemporary and as a fellow traveller in the superflat school. But while Murakami is in a pitched battle between the high and low, Nara is much more focused on the expression of genuine human emotion. In 2020, the Los Angeles County Museum of Art held a retrospective of Nara's work spanning 36 years. The major event has helped boost his recognition outside of Japan. A well-earned honor 5. Yasumasa Mormura Copyright Yasumasa Mormura Yasumasa Mormura(1951) is a master of parody and humorous counterfeiting. But while many of his pieces are great fun, his career has an undercurrent of serious critique at its heart. Mormura's pieces appropriate the great works of Western art and other iconic images, inserting his own photography into them. The works are strangely shocking. We are so used to the Mona Lisa, we feel at home within its frame. And then to see it changed into a self portrait of Mormura himself turns everything on its head. It's a confrontation with the dominance of Western culture throughout the world. It subverts not only our expectation of a given painting, but our expectation of Western art as the source of all great masterpieces. In this way, Mormura is something of a punk rock artist. His themes of identity and imperialism are incredibly relevant to our times. That is why, late in his career, Mormura is still able to command attention for his important work. Asian art is more popular than ever, and collecting them is a fascinating hobby that can enrich your life through beauty, culture and education. Learn why you should start collecting Asian Art today.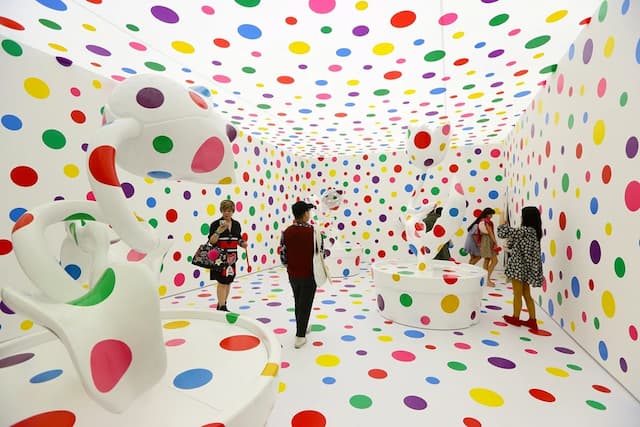 10 Contemporary Asian Artists You Should Know
The world of contemporary art is a vast and ever-evolving landscape, with artists from different corners of the globe making their mark on the artistic discourse. Despite its size and wealth of artistic talent, the art of Asia remains largely unexplored for many people around the world. In this article, we explore the works of nine talented contemporary Asian artists who have been instrumental in shaping the art scene, challenging conventions, and offering fresh perspectives. From traditional mediums to innovative techniques, these artists showcase the rich diversity and cultural vibrancy of Asia's art scene. Yayoi Kusama (Japan) Kusama has been an institution of the contemporary art scene since the 1960s. Her work in pop-art and performance art over the years are now the stuff of legend. Her installations are particularly popular. She often works with red and white polka dot motifs in her installations (like at the Singapore Biennale in 2006 and at the Matsumoto City Museum of Art).More recently, she created an Infinity Room—a dark, mirror-covered enclosure with hanging lights that appear to go on forever. Through her signature use of repetitive patterns and vibrant colors, Kusama explores themes of infinity, self-obliteration, and the interplay between the individual and the cosmos. Her immersive installations, such as "Infinity Mirror Rooms," invite viewers to delve into their own introspection and experience the boundless nature of existence. Kusama's career has spanned fashion, film, painting, performance, and even writing. Nam June Paik (South Korea) Nam June Paik is a highly influential and pioneering contemporary Korean artist who is often regarded as the "father of video art." Born in Seoul, South Korea, in 1932, Paik's groundbreaking work has left an indelible mark on the art world, merging technology, performance, and popular culture in innovative and thought-provoking ways. Paik's work encapsulates the second half of the 20th century. Much of it involved creating sculptures and installation pieces using manipulated television sets and embracing themes of communication and the rapid expanse of technology. Maybe his most notable achievement is TV Buddha (a series beginning in 1974). In this, a statue of the Buddha watches a small television that displays a live feed of the statue itself. Bharti Kher (India) Bharti Kher, an Indian-born artist, explores themes of identity, gender, and mythology in her multidisciplinary practice. Known for her distinctive use of bindis (forehead decorations), Kher's works often incorporate found objects and traditional Indian iconography. Her thought-provoking sculptures and installations challenge societal norms and invite contemplation on the role of women in Indian culture. The artist's works have been exhibited internationally and have garnered critical acclaim. Her powerful and visually arresting pieces have been showcased in prominent institutions and galleries, including the Tate Modern in London, the Museum of Contemporary Art in Tokyo, and the Guggenheim Museum in New York. Bharti Kher's contributions to contemporary art have made a significant impact, both in India and on the global stage. Through her compelling and thought-provoking works, she continues to push boundaries, challenge conventions, and provoke dialogue about the complexities of identity and culture in our interconnected world. Ai Weiwei (China) Ai is an influential contemporary artist and political activist. His work, connected to the Excessevist movement, includes video, sculpture and installation. One of his most popular pieces is Sunflower Seeds (2010). It was made for the Tate Modern's Turbine Hall. It is made up of one hundred million porcelain sunflower seeds—all handcrafted to perfection. The seeds were spread to fill the 1,000 square meter area and stacked up to 10 centimeters high. Through various mediums, including sculpture, photography, and installation, Ai Weiwei addresses issues such as human rights, freedom of expression, and the role of the individual in society. His thought-provoking artworks challenge authority and shed light on the complexities of contemporary Chinese society. His political advocacy for democracy and human rights in his home country has made him a controversial figure there. Sopheap Pich (Cambodia) Sopheap Pich is a celebrated contemporary artist from Cambodia whose works combine sculpture, installation, and conceptual art to explore themes of memory, history, and the relationship between humans and the natural world. Born in Battambang, Cambodia, in 1971, Pich experienced the devastating effects of the Khmer Rouge regime, which greatly influenced his artistic practice.Pich uses highly selective materials (like rattan, bamboo, dye, glue, and metal) to connect with his Cambodian heritage. These traditional materials are transformed into intricate sculptures that are both captivating and ephemeral. Pich's art is deeply rooted in his personal experiences and the history of Cambodia. He often incorporates materials deeply connected to Cambodian culture, such as rattan, bamboo, and found objects, into his sculptures and installations. Through his work, Pich explores the complexities of memory, displacement, and the process of healing in the aftermath of war. As the most internationally recognizable Cambodian artist, his work is an important porthole into a culture that is emerging as a major player in the artworld. Han Sai Por (Singapore) Han is a sculptor with a naturalist's heart. Many of her best known pieces are stone installations crafted to plant forms—mimicking the look and feel of seeds and fruits. But she is also renowned for her geometric work that carefully replicates a logical thought process through visual exploration. Han Sai Por's artistic practice is deeply rooted in her fascination with organic forms found in nature, such as rocks, trees, and water. Her sculptures often incorporate materials like stone, bronze, and wood, which she meticulously carves, shapes, and manipulates to create abstract yet evocative forms. Her works reflect her deep understanding of the inherent beauty and energy present in the natural world. One of Han Sai Por's notable series is the "Rock Series," where she explores the diverse textures, patterns, and qualities of rocks. Through her skillful manipulation of materials, she captures the essence of rocks, conveying their solidity, weight, and geological history. Her sculptures, which range from small, handheld pieces to monumental installations, celebrate the harmonious coexistence of humans and nature. The Tropical Leaf, Installation outside One Raffles Quay, Singapore Her work appears in public spaces throughout the world, making her art some of the most viewed on the planet, though many people might not recognize that they have walked by, touched and appreciated her work. David Medalla (Philippines) David Medalla, a Filipino artist, was born in Manila in 1942 and has made significant contributions to the international art world. As a multidisciplinary artist, Medalla has explored various mediums, including sculpture, installation, performance art, and painting, throughout his career. His experimental and boundary-pushing approach to art has garnered recognition and acclaim. Medalla was one of the major Filipino voices in contemporary art. And he built that voice using a tremendous range of disciplines, including: sculpture, painting, installation, and more. Medalla's early works were influenced by the Fluxus movement, a global network of artists that emerged in the 1960s. He became associated with the movement and participated in Fluxus events and exhibitions, collaborating with renowned artists such as Yoko Ono and John Cage. Medalla's works often incorporated ephemeral materials and explored concepts of process, transformation, and audience participation. He began his career creating performance art that brought him to prominence and connected him to key artists in Europe. Later, he co-founded the Signal Gallery in London where he spent time working with an international group of artists. He also helped fund and support revolutions as the chairman of Artists for Democracy. One of Medalla's most famous works is "A Stitch in Time" (1968), an ongoing participatory performance piece that involves visitors threading and weaving a collective tapestry. The artwork symbolizes the interconnectivity of individuals and the shared experiences that shape our world. Rirkrit Tiravanija (Thailand) TRirkrit Tiravanija is a highly regarded contemporary artist originally from Argentina but of Thai descent. Born in Buenos Aires in 1961, Tiravanija is known for his influential contributions to the field of relational aesthetics, a concept that emphasizes social interaction and participation as integral components of an artwork.. Tiravanija is a contemporary artist who uses concepts from architecture to reinvent to engage with that central question: how to live? He often creates rooms or entire buildings that reformat the way people cook and eat food or engage in leisure activities. In Untitled 1999 (a replication of the artist's own apartment in the East Village), participants in the exhibition lived inside it while it was being shown. Tiravanija's works often explore themes of community, cultural exchange, and globalization. He draws inspiration from his Thai heritage and frequently incorporates elements of Thai culture into his installations. His artwork serves as a platform for dialogue, fostering connections and understanding among diverse audiences. Beyond his installations, Tiravanija has also created multimedia works, including video, photography, and text-based pieces. He often collaborates with other artists and musicians, further emphasizing the communal aspect of his art and expanding the possibilities for creative expression. Tiravanija's influential contributions to contemporary art have earned him numerous accolades and exhibitions in prestigious galleries and museums worldwide. He has participated in major international art events such as the Venice Biennale and Documenta, solidifying his position as a significant figure in the global art scene. Tiravanija's continuously playful insight into our lives makes his work exciting and always engaging on a personal level. Shooshie Sulaiman (Malaysia) Born in Kuala Lumpur, Sulaiman's works encompass a diverse range of mediums, including painting, sculpture, installation, and multimedia art. Known for her thought-provoking exploration of identity, history, and cultural heritage, Sulaiman's art carries a powerful narrative that challenges and engages viewers. Sulaiman is an artist who sets a critical eye to today's culture and the way it both produces and views art. Her oeuvre includes installation, architecture, writing, and drawing. Many of her pieces In the Kedai Runcit No.12 (Sundry Shop No.12, 2011) installation, she created a Malaysian general store that sold food and art side-by-side, completely recontextualizing both. It highlights the importance of art as a nutritious activity, as well as highlighting its current status as a mere commodity. Sulaiman's inventive and always growing catalogue of provocative work make her one of the contemporary Asian artists you should know. Conclusion: The ten contemporary Asian artists highlighted in this article represent a mere fraction of the vibrant artistic talent emerging from the region. Through their unique perspectives, innovative techniques, and thought-provoking themes, they challenge traditional boundaries, question societal norms, and invite viewers to reconsider their perceptions. These artists contribute to the global art scene, enriching it with the cultural diversity and depth of the Asian artistic landscape. As they continue to create, these visionary artists pave the way for further exploration and appreciation of contemporary Asian art.
ARTICLES ON INTERVIEWS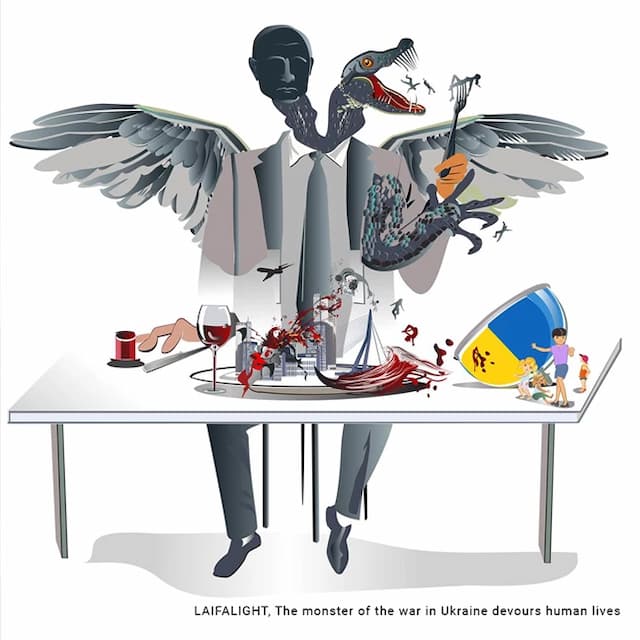 INTERVIEWS
An Interview with Ukrainian Artist Anna Laifalight as Invasion Continues
Anna Laifalight - Digital artist since 2009. Based in Kyiv, Ukraine. RtistiQ: What is your current situation Anna? Anna: From the very beginning of the war on February 24, my family decided to stay in Kyiv. But, on the 21st day of the war, I moved with my daughter to a quieter area in western Ukraine to my parents since there were explosions in our district and a large nine-story residential building was damaged not far from the house where we live in Kyiv. My husband and many other families with children still remain in their homes in Kyiv, and constantly testify about the explosions. RtistiQ: Explain more about your art. Anna: I mainly create digital art in Adobe Illustrator. That's why it is easy for me to take everything necessary for it with me to another place: my laptop, my wacom tablet and an external hard drive. I have been working as a digital artist since 2009. My first collaboration as an artist was with stock agencies such as Shutterstock, Creative market, Adobe stock. Lately I saw that my artworks were used around the Globe in different projects, including many commercial ones. Some of them you can be seen here: https://www.laifalight.com/custom-design . I started to get freelance orders for art from different countries from time to time. In 2020 I launched my own site https://laifalight.com where I decided to represent only exclusive artworks. Although I have never arranged personal exhibitions, I found my art printed on canvases, book covers, murals, paper glasses, and textiles worldwide. "The series of beautiful streets with fashion people '' has become my "visit card" and has been created by me in my own way since 2010. RtistiQ: What do you think of NFTs? Anna: The use of the technology (NFT / Blockchain) provides a great opportunity for fairness to the authors, as this will help to avoid theft of digital works. Thank you for supporting artists from Ukraine in such a difficult time of the war. Our country and people are in great need of support.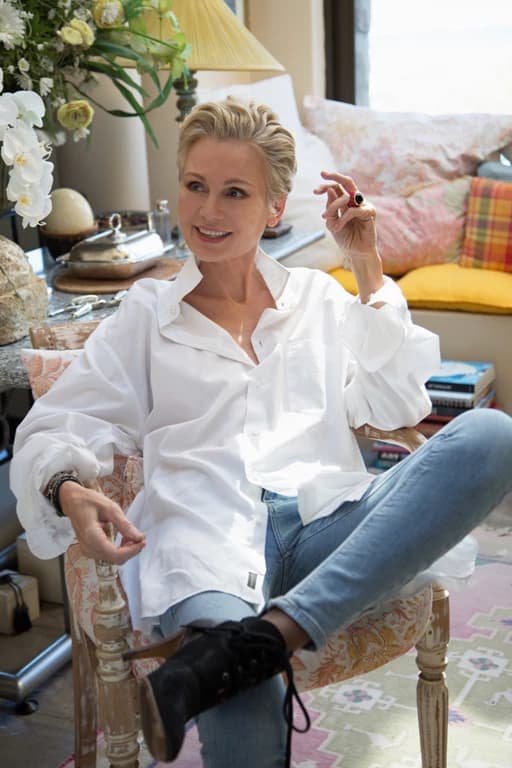 INTERVIEWS
Get to Know Claire Denarie-Soffietti
Claire Denarie depicts quiet moments: serene portraits; a tranquil woodland path; a woman lounging on a chair. From Pink Elephants to Charlie Chaplin's and Coco Chanels. However, the colors are more intense than in reality, while the compositions are so tightly framed that they become dynamic, and the portrait subjects never reveal all to the viewer. Soffietti's figures have secrets and hint at an interior world within the picture frame. It is her wonderfully palpable painting style and bold color choice that makes the 2D picture world seem more real than our very own. Get up close and personal with Claire Danerie. Tell us a little bit about your background and why you chose to be an artist? I didn't choose to be an artist, I always painted as a need. Rationally, I studied law to give myself a chance in the world. Too many starving artists around to even entertain the thought of becoming one... yet, insidiously, painting crawled back into my life uncontrollably. I paint because I was put on earth to create, I think, and my four children are the living testimony of my craving for creativity. I waffle with my hands all day long, hiding and secretly hoping someone will get my message in a bottle. Your artworks always give the viewers a feeling of stories unfolding right in front of their eyes. How important is sharing an experience or memory in your creative process? Of course, paintings are part of a story. They have a beginning and an end and they initiate and finish beyond the canvas. They are the reflection of a thought, a deed, the memory of an event which took place in a far, far away land, buried deep inside. Again, I create hoping someone will understand the meaning of the vision but ultimately, it makes little difference as the process is unconditional; I shall paint whether viewers like it or not because it is beyond me. Of course, I crave recognition and I need acknowledgement (nobody likes talking to themselves) but I don't really need validation. I paint in the hope I will give someone joy but I also understand that my work doesn't have to speak to everybody and it's okay. The communion is instant and everlasting. The world has just become a better place. My culture also naturally greatly impacts the way I paint. I'm inevitably a product of my upbringing. I am fundamentally an impressionist at heart. What lingers and stays like a good wine long after the sip, is what I'm after. The message is delivered to the senses, the heart and soul are vibrating in communion. Tell us about the textures in your paintings. Le Chant De La Cigale, 2020, Acrylic on canvas Growing Love, 2021, Acrylic on canvas No matter the subject, I build a landscape, a "skin" with an average of 9 coats. Zoom in on any of my paintings and you'll understand. All my works have veins or scars running between the canvas and their subjects . What you call texture is for me a living organism which is paramount to the finished entity. Texture gives life. This is where I spend a great deal of time: the life support of the painting. For a skin to be strong and healthy, I need the natural fiber (100% Cotton Duck or linen stretched preferably on a large canvas). Then, the elasticity is given by the oil or the Acrylics. The alchemy is provided with the addition of ingredients such as oil pastels, dry chalks, ink or any medium that seems appropriate at the time. I have no shame, nor pride and I never feel the urge to justify the purity of my sources. Who are your biggest influencers? The French impressionists are a significant influence due to my childhood. Colours are everything to me (after texture). Colours give me goosebumps, they make my heart sing and trigger all my senses. A sad day becomes joyful just at the thought of colours. My pulse goes through the roof at the simple glance of a Gaugin. Lautrec is strength. Vlaminck, contrasts, Matisse, simplicity. Derain, joy. Picasso, the absence of boundaries, Van Gogh all the above reunited, plus vulnerability. I am also very much a fauvist at heart because of their use of colours. This fabulous movement survived from 1904 to 1908 before it got engulfed by new fashionable trends. The fauvists linked directly colours to impressions and they remain formidable in my book. How has your practice changed over time? Form used to matter, I wanted people to laugh out of an excess of despair and my subjects were grotesque. I was trying to depict human nature and that's all that mattered. With time, I became more demanding (with myself), less tolerant too. The mission became: progress, be better, search for honesty, don't settle, you can do better. My subjects changed, they became less amusing but more profound. The metamorphosis slowly took place and the real journey began. I was a painter for the long run. How do you set yourself apart from other artists within your space? Simple. I don't compare. Everyone has been placed on this earth to create and do what they need to do. I rave and recognise how incredible artists around me are. I am also very much aware that it is the alchemy of all these qualities together that make an artist and we all have our forte. Personally, I only hope that no one paints like me, for better or for worse. Sartre once said, "I am the king of the perception of my world."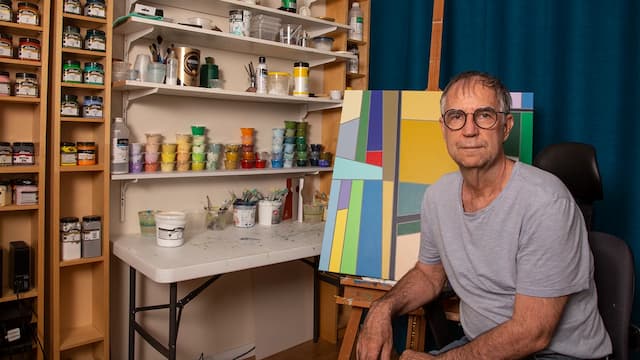 INTERVIEWS
Get to know Dean O'Callaghan
Dean O'Callaghan is an Australian artist and educator. After decades of juggling between the two careers, he is now a full-time artist. His very well defined minimalist geometric abstract style has brought him a well-deserved recognition. His art has been part of numerous exhibits in Australia and are now part of private collections. Get to know Dean and find out what are his current projects and plans. 1. Where do you live? I live and work from my studio in Moora, a rural Western Australian town around 187km north of the city of Perth. 2. Tell us a bit about you and your artistic career? I Studied Fine Arts and I took an Education Degree course at Curtin University of Technology and graduated with a Bachelor of Education with distinction in 1990. In 1983, I became a member of the Western Australian Contemporary Art Society and from 1987 to 1988, was elected president of the Society. During this time, I participated in many mixed exhibitions at various galleries in Perth and Fremantle. I have held three pivotal solo exhibitions in 1995, 99 and 2019. I lectured part time in visual arts in Technical and Further Education Colleges in Western Australia. Art by Georgia O'Keeffe,Alexander Rodchenko and Patrick Wilson 3. What are the biggest sources of your inspiration? I'm inspired by modern and contemporary architecture found in New York, Singapore, Melbourne, and Perth. I love Georgia O'Keeffe's cityscapes paintings, the New York-based artist Gary Petersen and I follow Californian artist Patrick Wilson. I admire the work of Russian artists and photographers such as El Lissitzky, Alexander Rodchenko and Arkady Sjaichet. Another constant source of inspiration are the rural landscapes of Western Australia. 4. Is there a single work, a project that is pivotal in your career? Solo exhibition in 2019 was a pivotal moment in the development of my minimalist style. 5. Could you please describe your creative process? I like to work through a process of exploring ideas using digital drawing tools. From there I transfer my design to canvas using a grid method. I mask up the canvas and apply an underpainting for each hue using a brush and follow up with final applications of color using either spray or brush techniques. By using this underpainting and spray technique, I feel that I have the option to allow subtle color variations to come through. It also provides a strong base for any final spray application. Once I have my areas of color completed, I apply line work which provides another dimension to my work. 6. What is behind the pictorial language of geometric abstraction? With my work based on architectural forms, I was looking to simplify, and to minimize the forms down to their basic shapes. Building facades, windows etc. were all treated in flat areas of colors and I became particularly interested in the Deconstructive architecture style developed in the 1980's. With the work I produced based on rural landscapes, the geometric shapes and color were directly influenced by the shapes of fields, the color of various crops over a growing season, and road networks crisscrossing the landscape. From the beginning of 2021, I decided to take out diagonal lines and shapes and use only vertical and horizontal lines and shapes. I felt a sense of calm contemplation coming through my paintings and I became interested in using tonal variations and lines to create depth within my paintings. Enter Stage Left, 2021, Acrylic on canvas Summer Nights, 2021, Acrylic on canvas 7. In addition to being an artist you are an art educator, what advice would you give to a young artist? Having lectured in visual arts for many years, my advice to young artists is to be true to yourself. Although it is important to take influences from other artists, contemporary as well as historically, always aim to explore ways you can bring this into your own experiences and cultural heritage. Contemporary art is not about a style. It is more about what the concept is and how you use techniques and media to communicate your concept. 8. What are you working on right now? I continue to work on my paintings based on abstract minimalist forms. While I have been fortunate to have work shown on platforms such as RtistiQ, I am looking forward to an opportunity to exhibit my work in either a Singapore or European art gallery in 2022-23. 9. How did the pandemic affect your creative process? I am very fortunate to be living and working in Western Australia which has been on the most part, free from Covid 19 lockdowns. Recently my paintings have developed a Covid 19 theme but mostly, my creativity continues as normal. However, travelling internationally or indeed within Australia has led to a couple of cancelations to prominent art fairs. Arrival, 2020, Acrylic on canvas Outward Bound, 2020, Acrylic on canvas 10. Any thoughts on social media and art? Social media has provided an excellent way to get feedback from people from around the world. It's also a way to get noticed and develop networking opportunities with galleries and art fair directors. 11. What else should we know about you? I have undertaken collaborative work with the Moora Indigenous community with the most recent being a mural at the town speedway. Learn more about the project here. Discover more art by Dean O'Callaghan by checking his profile on RtistiQ.
Sign up for our newsletter to have the latest stories and curated art recommendations delivered straight to your inbox